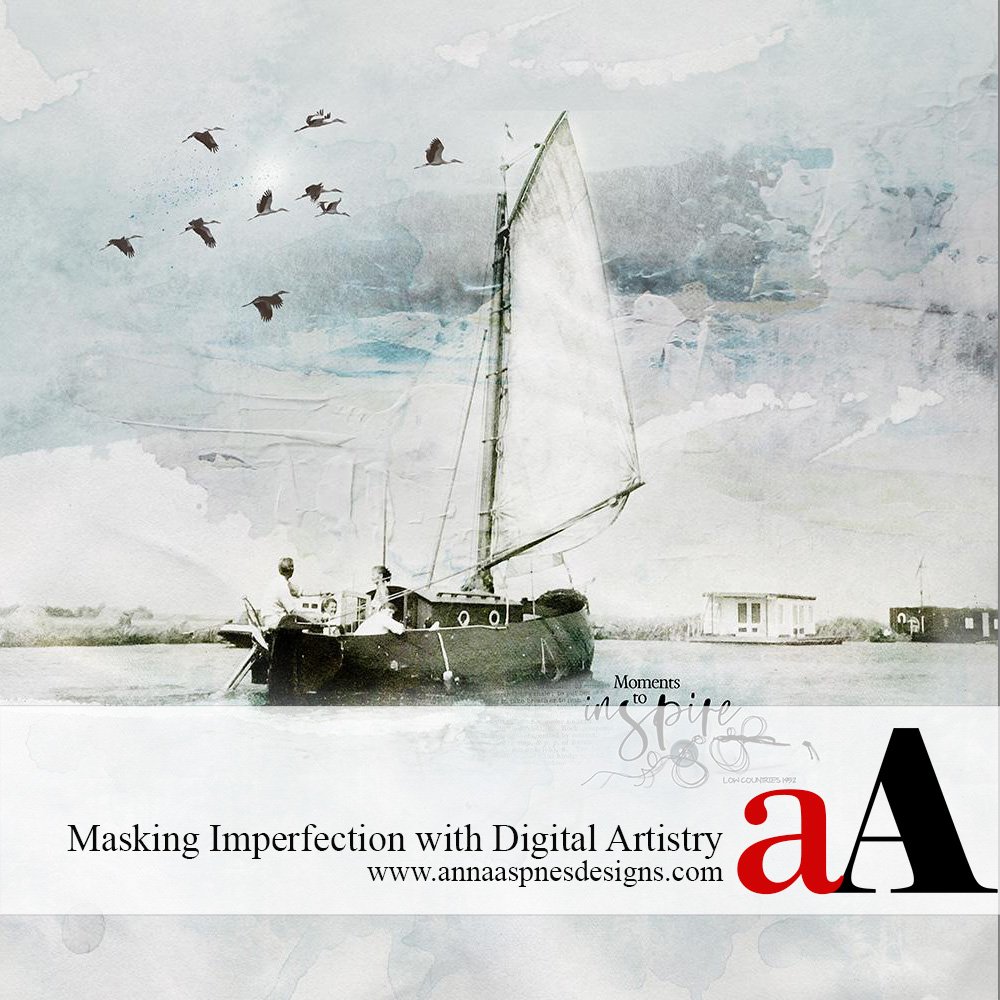 Creative Team Member, Viv Halliwell, shares her techniques for masking imperfection with Digital Artistry.
Masking Imperfection with Digital Artistry
A layout can often come together simply with just a few supplies.
For this layout the following DigitalART supplies were used:
1. Edit your Photo
Convert the image to Black and White.
Open the image in Photoshop.
Select and open a  light colored solid paper that complements the photo.
Move the photo onto the chosen background paper.
Apply an Inverted Mask to the photo layer in the Layers Panel.
Use a brush with the Paintbrush Tool  to reveal areas of the image.
Apply Blending Mode of choice (Color Burn.)
Note. You do not need to have a perfect image for this editing technique.
2. Create a Foundation
Create a custom artsy background for your photo.
Select a solid paper as background is a good place to begin.
Using highly textured ArtsyTransfers to build visual interest.
Modify and adjust the layers as preferred – In this case a Hue and Saturation Adjustment Layer was added to complement the watery look.
Use ArtsyStains with the Paint Brush Tool complementary colors to add visual interest and create cohesion.
Apply Blending Modes and reduce Opacity of WordTransfers to imply meaning.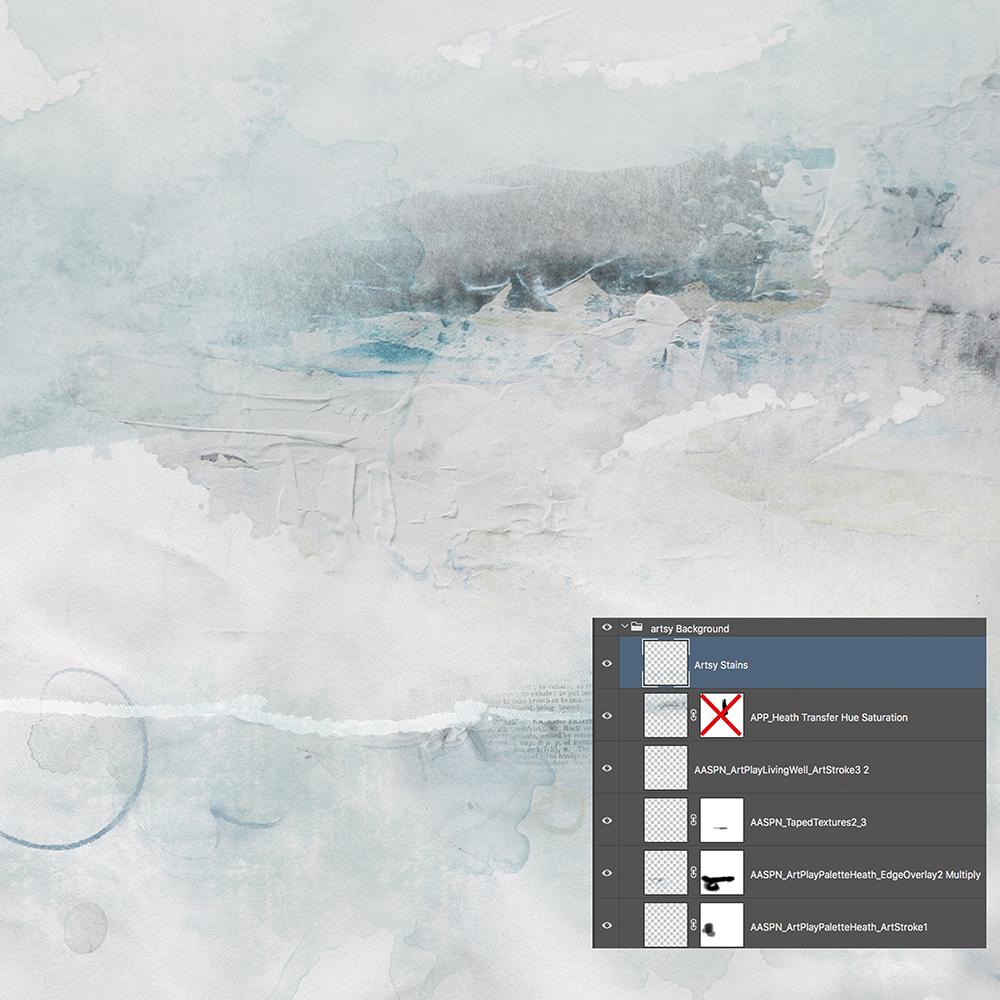 3. Add Embellishment
Add additional element to your layout to increase Visual interest.
Simplicity is key – Don;t be tempted to add too many embellishments.
Create a secondary focal point to add balance to the composition. In this case one person in the boat was looking at the sky at the MultiMedia Birds.
Include Date and Location in a small sized font that doesn't overshadow the layout.
SUMMARY
Subtle textures in ArtsyTransfers creates movement.
Minimal embellishment enhances without overpowering the artistry.
Brushes enhance the composition with subtle effect.
A landscape  photo is a good starting point.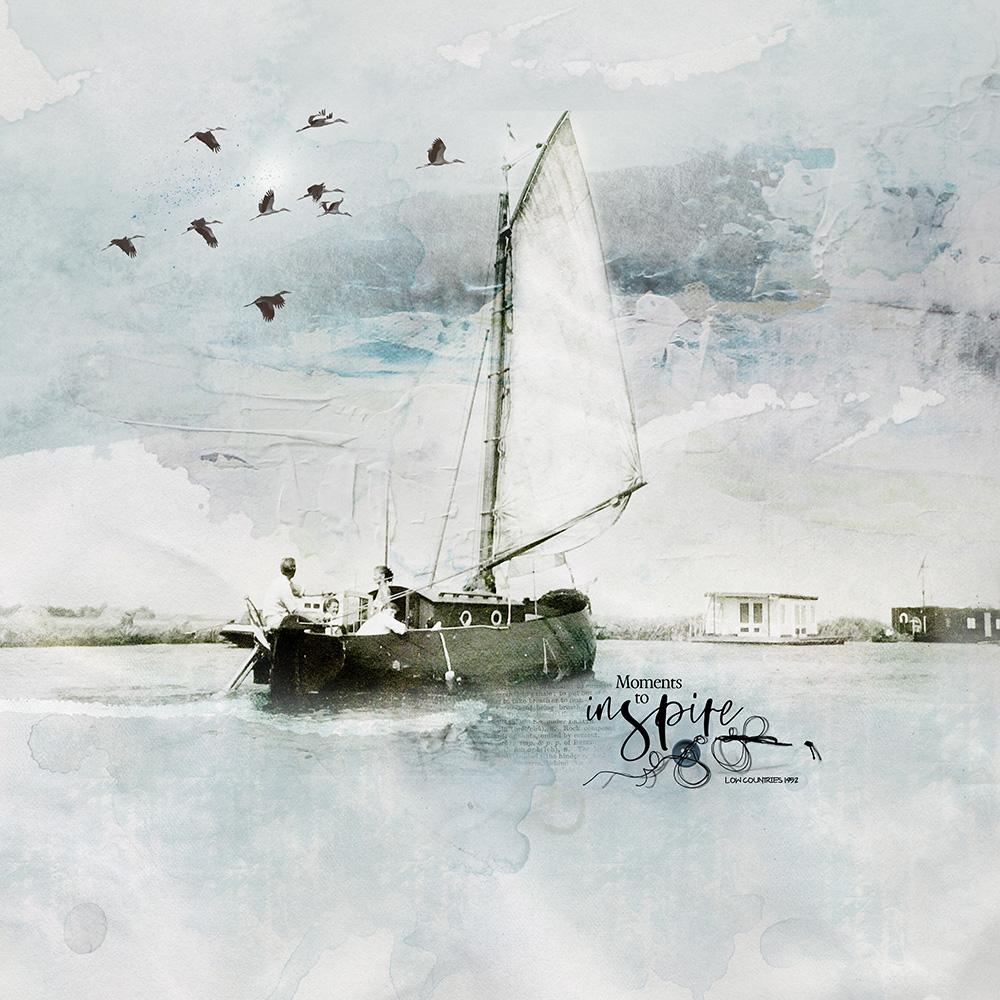 Post your layouts using this Masking Imperfection with Digital Artistry Tutorial and Artsy Digital Scrapbooking Design ideas in the Gallery.
And if you like this post, please help us help you by sharing it using the social media buttons below.