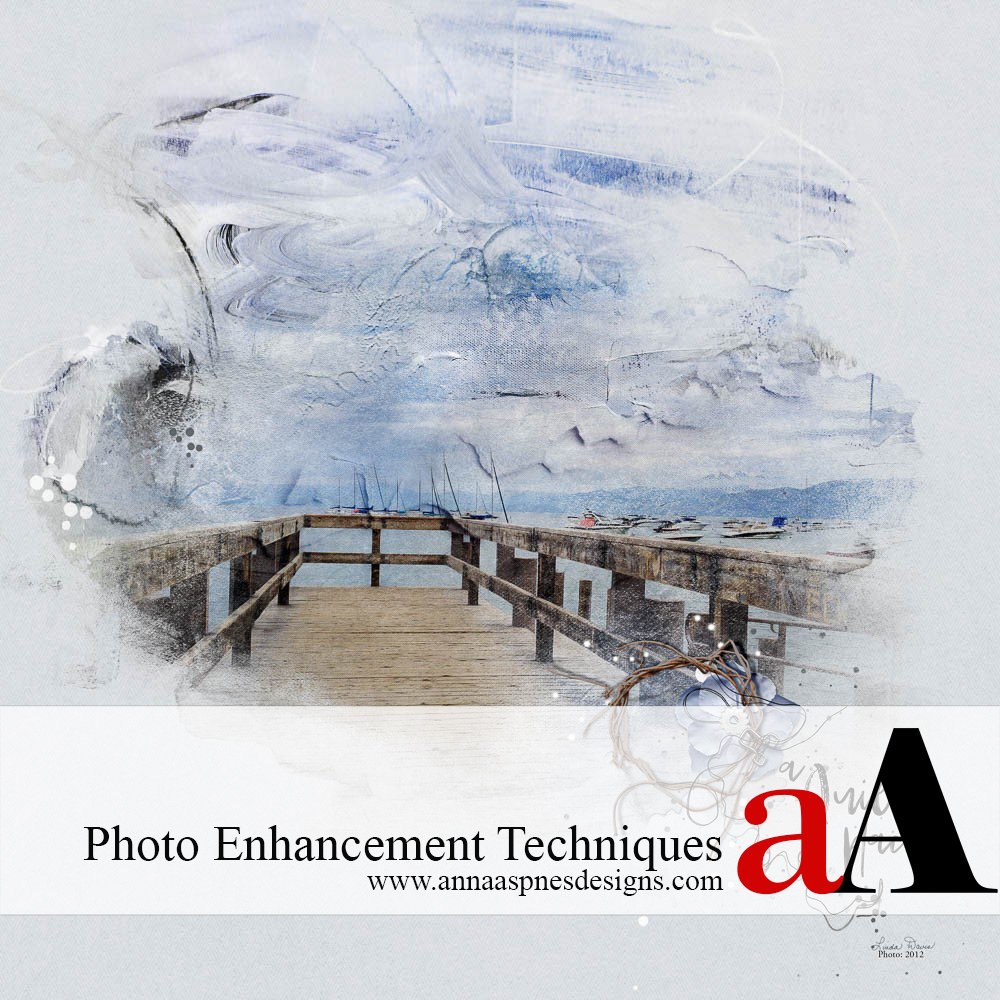 Today, Creative team member, Linda Davis shares her Photo Enhancement Techniques.
As I was creating this page, two factors influenced my thinking.
I am a photo-centric scrapbooker, meaning that I generally focus first on selecting the photos I want to use on a page.  Often, that means working with less than perfect photos. The photo that I used on this page had a stormy sky and view of the pier, but the horizon line was right in the middle rather than on the thirds in terms of composition. Essentially I used artsy paper 5 and transfer 5 to improve my photo's composition and enhance it's stormy sky.
Up until last fall when the operating system on my Mac was updated, I used a little program that allowed me to preview .abr brush files. Instead of viewing the .abr file in my outdated program, I opened the .abr brush file from ArtPlay Palette Milieu in Photoshop and stamped each brush on a blank layer just to see what they looked like before deciding to use two brushes from the ArtPlay Palette as well as brush 2 from AnnaBlendz Artsy No. 3 on the layer masks attached to my photo copies. .abr files are far more flexible to use than the .png brush copies, especially on layer masks.
Photo Enhancement Techniques
Masking Original Photo
Duplicate the original photo three times.
Apply a watercolor effect to the second copy using a filter in Photoshop or a plug-in like Topaz Studio.
Change the Blending Mode of the top copy to Soft Light blend mode at 100%.
Attach an Inverted Layer Mask to each photo.
Use AnnaBlendz Artsy Brushes as well as brush 11 and 13 from ArtPlay Palette Milieu to bring back in the photo.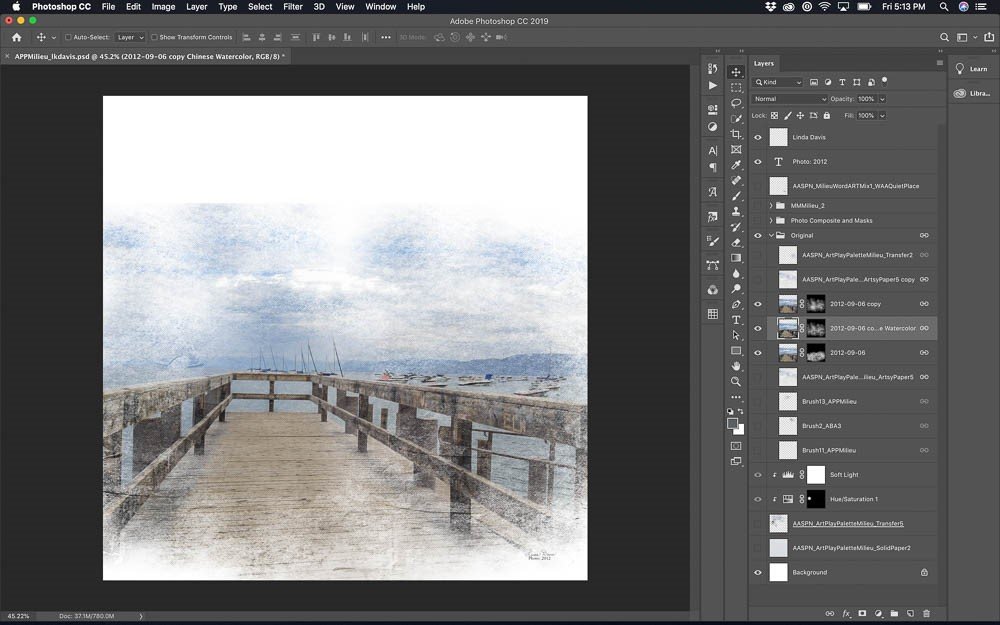 Place Artsy Paper and Transfer
Place Artsy Paper #5 from ArtPlay Palette Milieu below the photo layers.
Above the photo layers, place  another copy of paper #5 and change the Blending Mode to Linear Burn at 75% opacity.
Above the boats on the right, place transfer #2 from ArtPlay Palette Milieu.
Create a composite of the photo layers and Artsy Paper #5 by pressing CMD/CTRL + OPT/ALT + SHIFT + E.
Note: After creating the composite I grouped the original photo layers and turned off the group.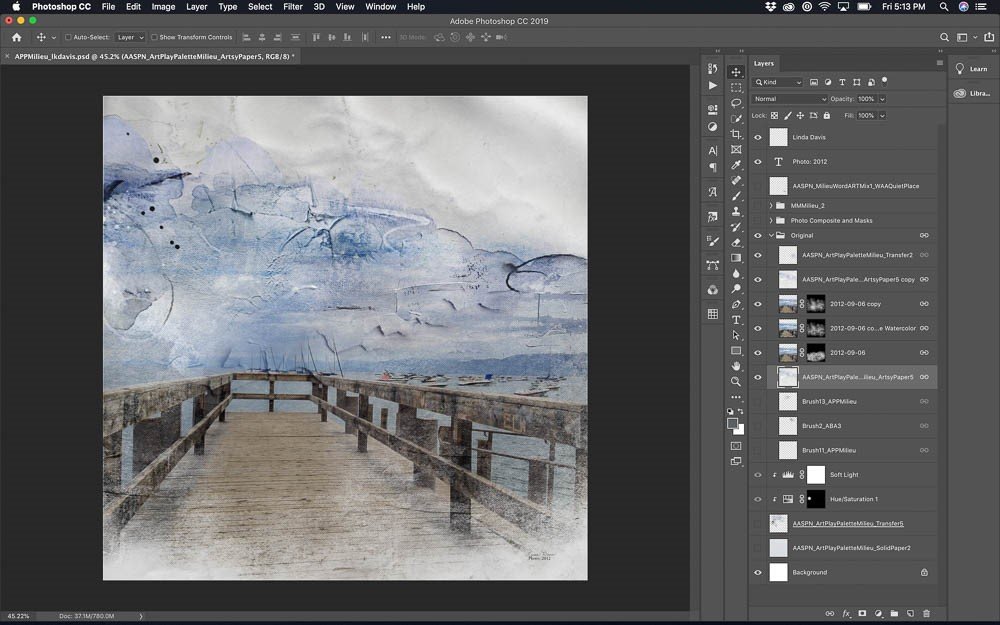 Clip Photo Layer to FotoBlendz Mask

Clip Photo Copies to FotoBlendz Masks
Note: Above the composite copies clipped to masks, I added two Adjustment Layers: one on Screen Blending Mode at 30% and another on Soft Light at 100%.

Place Transfer
Place Solid Paper #2 from ArtPlay Palette Milieu below the composite layers.
Above Solid Paper #2, place transfer #5 from ArtPlay Palette Milieu adding an adjustment layer on Soft Light Blending Mode at 100%.
Adjust the color of the rounded area on the left with a Hue and Saturation Adjustment Layer.
Invert the mask on the Adjustment Layer.
With the Foreground Color set on white, use a soft round brush to reveal just the area needing a color change.

Add Elements and WordART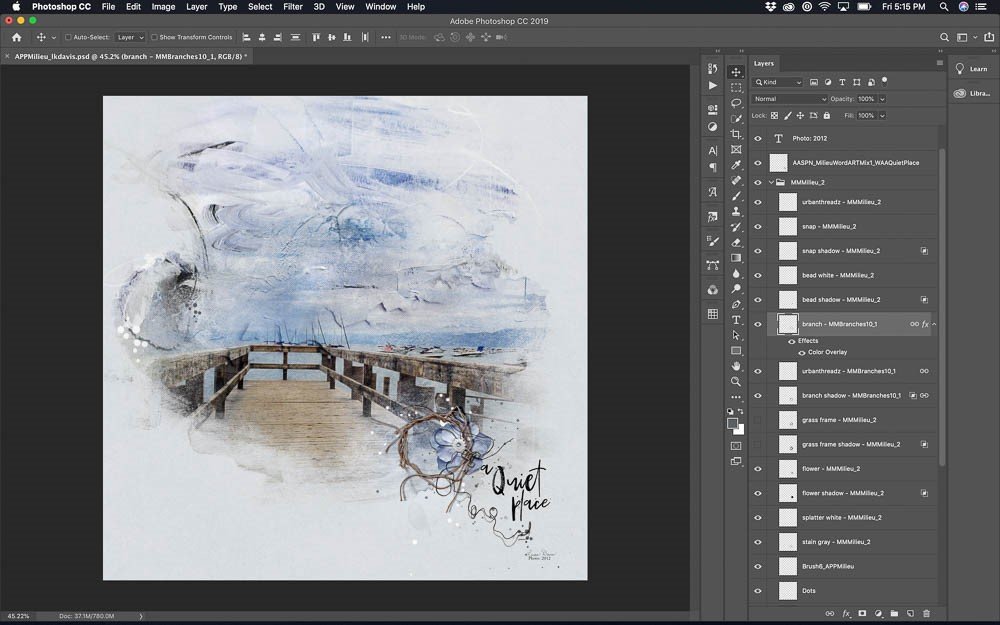 Post your digital artistry and artsy digital scrapbooking pages in The Gallery, and if you liked this Photo Enhancement Techniques Tutorial, please consider sharing it using the social media buttons below.