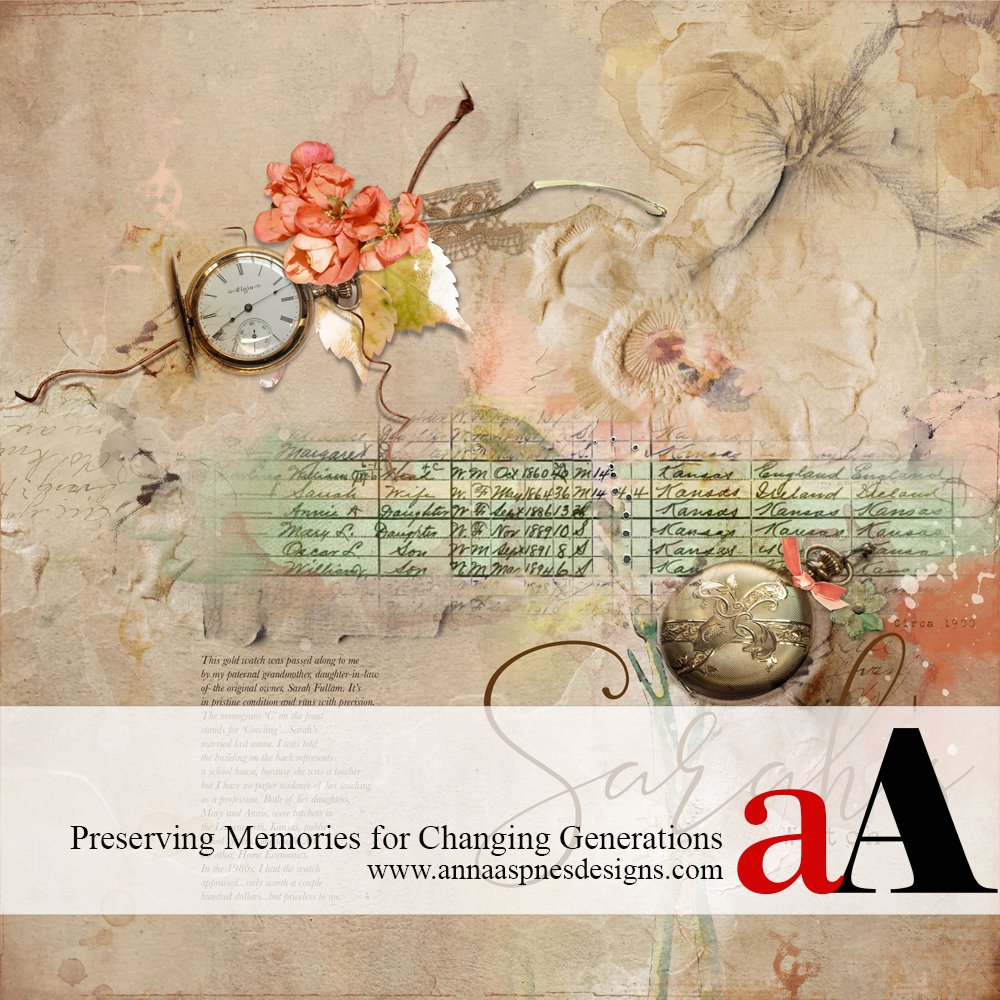 Creative Team Member, Marnie, shares her thoughts for Preserving Memories for Changing Generations.
Preserving Memories for Changing Generations
Recently, I've realized I fall into the category of 'aging Baby Boomer whose kids don't want your stuff'…a hard pill to swallow.
"Younger generations have been molded by very different cultural forces," according to Amy Lynch, a consultant for BridgeWorks, a firm that studies generational trends.
During their formative years, "the pace of life sped up immensely, producing people who value time and experiences more than objects. They'd rather inherit money to travel than a piece of furniture" (Kim Palmer, Star Tribune).
I'm not a pack rat by any means, but I am sentimental.
It's been challenging to accept the reality that my cherished heirlooms, don't carry value for my sons.
But what about…
The 100 year-old rocking chair that's faithfully accompanied the lullabies sung to four generations of babies?
My maternal Grandmother's china teapot filled time and again with steeping green tea?
Dad's aggie marbles he played with as a child?
If they don't have a tangible place in the future, what can I do to preserve their significance in the family history?
My solution… photograph, scan, and document.
The ArtsyMemorabilia workshop was just the ticket to accomplishing my project.
The class videos are filled with artsy inspiration, techniques, and approaches for incorporating documents and dimensional keepsakes into digital artistry and scrapbooking pages.
The class content is applicable to many themes and not limited to HeritageART.
Class topics include Introduction and Definitions; Digitatization Methods; Artsy Techniques and Approaches; and Conclusions.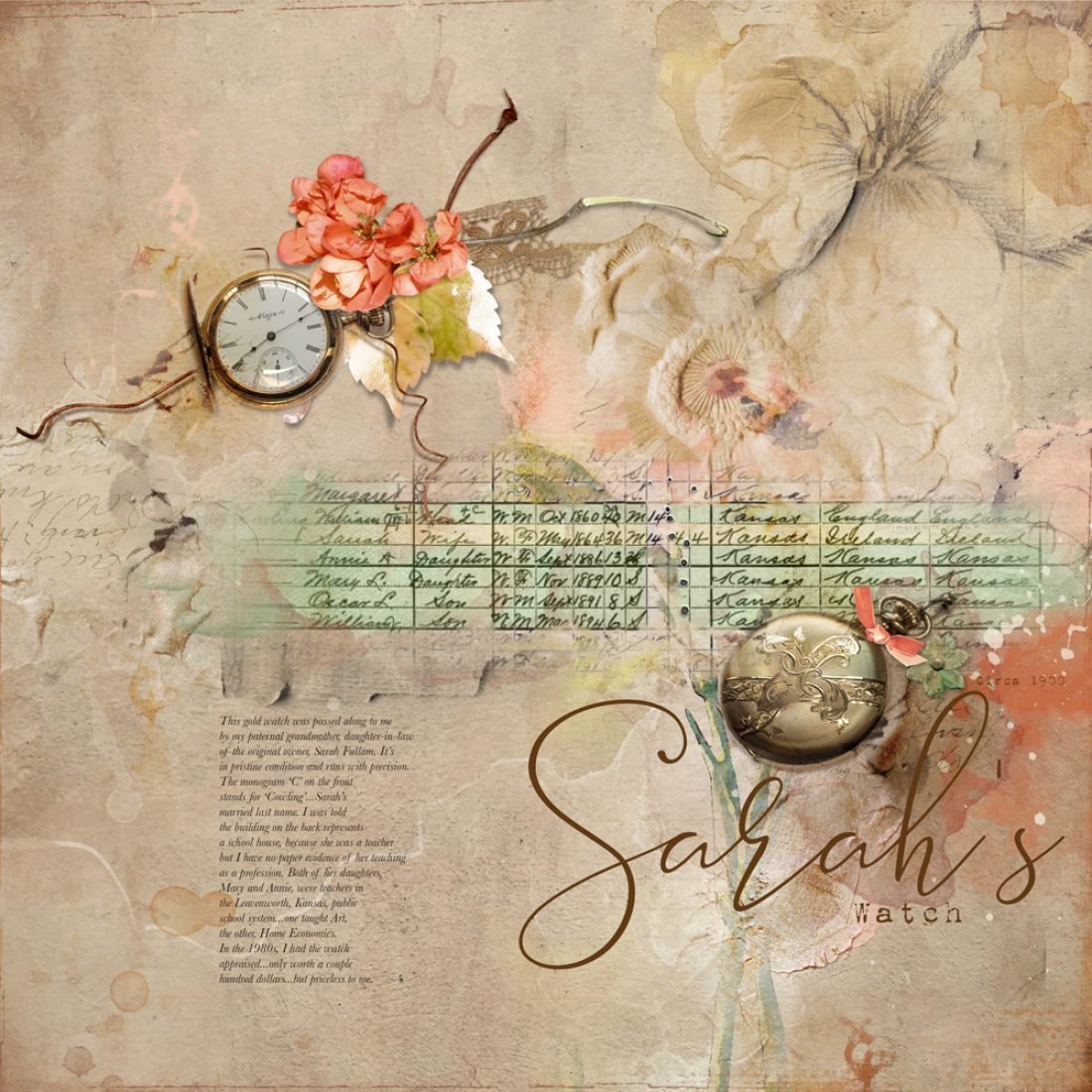 In 'Sarah's Watch', I applied blending methods to incorporate census records per examples shared in ArtsyMemorabilia.
The watch was photographed and and extracted with feathered edges.
The image was then layered with multiple Transfers and Blending Modes to yield an 'aged' appearance.
ArtsyMemorabilia also provides step-by-step instruction and visuals for adding dimensional items without extraction.
I'm already employing this method in new pages and enjoying the flexibility it allows.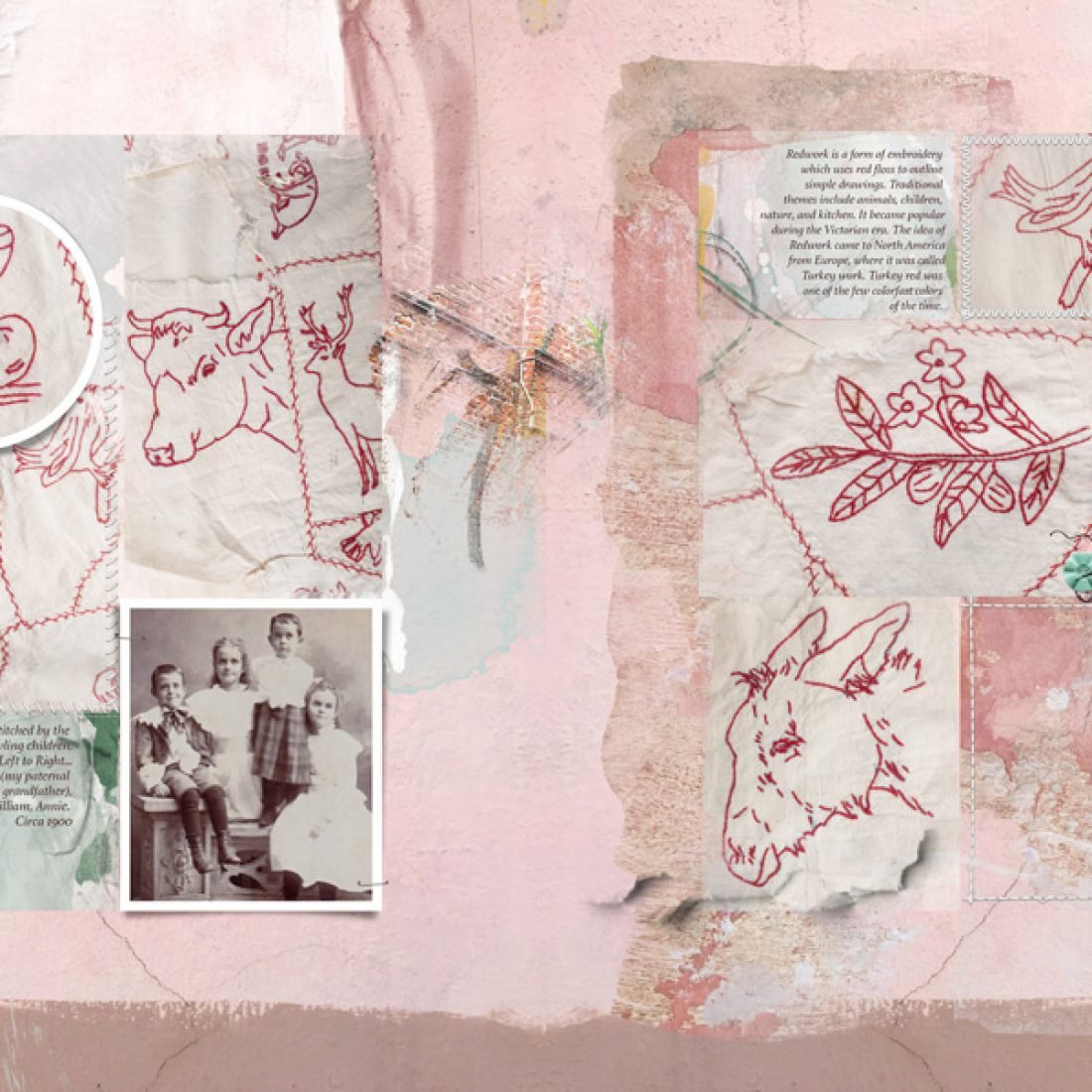 I've considered donating the family 'Quilt' top to the Kansas Historical Society so I wanted to document it for posterity.
FotoInspired Templates allowed multiple views of the quilt and created a sense of the patchwork effect.
Sections of the quilt were photographed and clipped to the template masks.
ArtPlay Palette Portiere with its rustic quality conveys a passage of decades.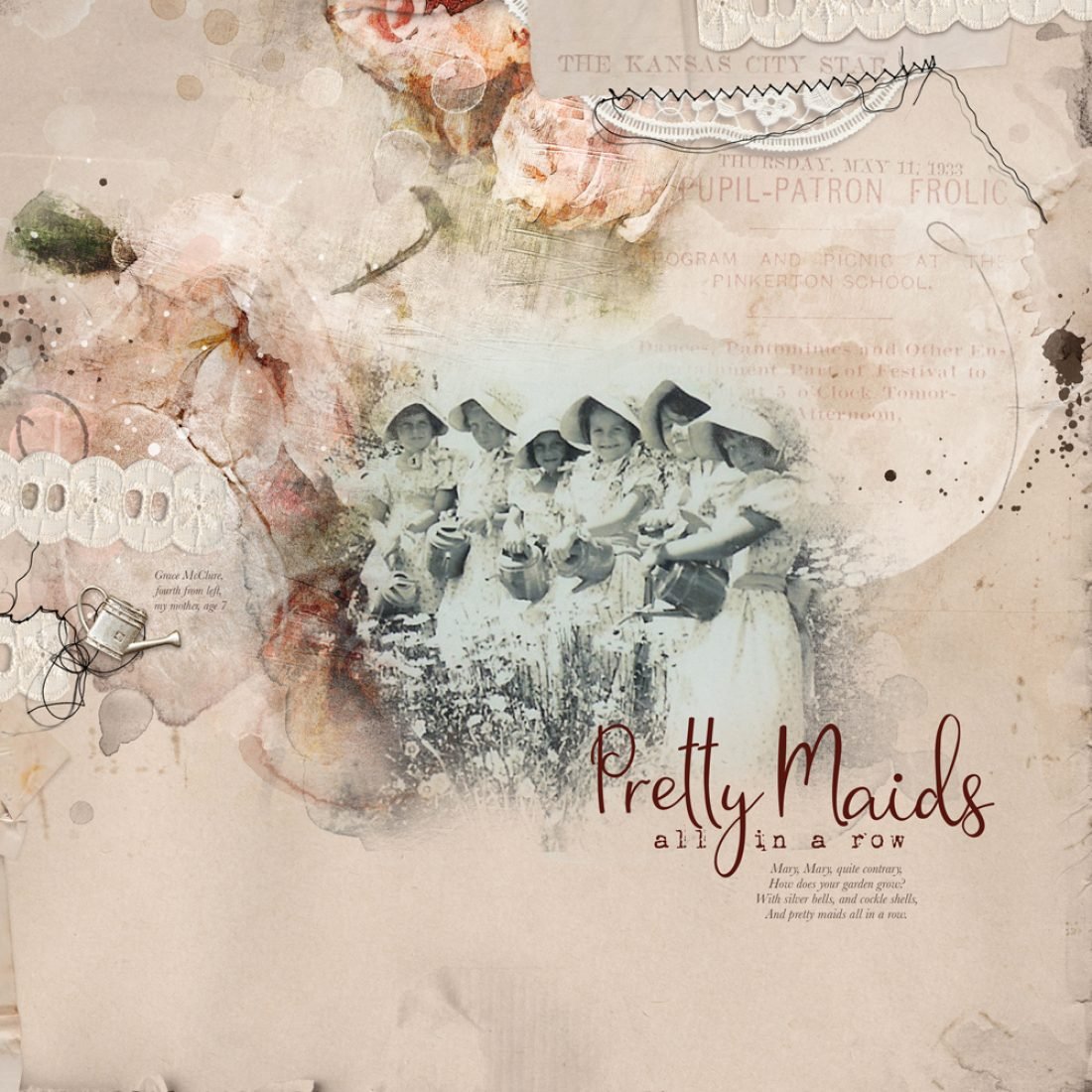 Pretty Maids was created before I unearthed the original newspaper article from my stash of personal ephemera.
ArtsyMemorabilia taught me how to create brushes from memorabilia and sparked a new thrill of creating brushes from documents.
By following her instructions, I was able to make several brushes from the newspaper and stamped them on the layout.
Now I can part with the yellowed, brittle paper keepsake.
As I continue documenting family heirlooms, I actually feel release from the tangible items.
In generations to come, I hope these pages will yield a sense of roots for a future historian or sentimentalist.
Special Discount
Use coupon code: Save10AM
Valid through Sunday 17th March 2019.
Post your digital artistry and artsy digital scrapbooking pages in The Gallery, and if you liked this Inspired by Preserving Memories for Changing Generations Tutorial, I would be grateful if you would consider sharing it with your digital friends using the social media buttons below.