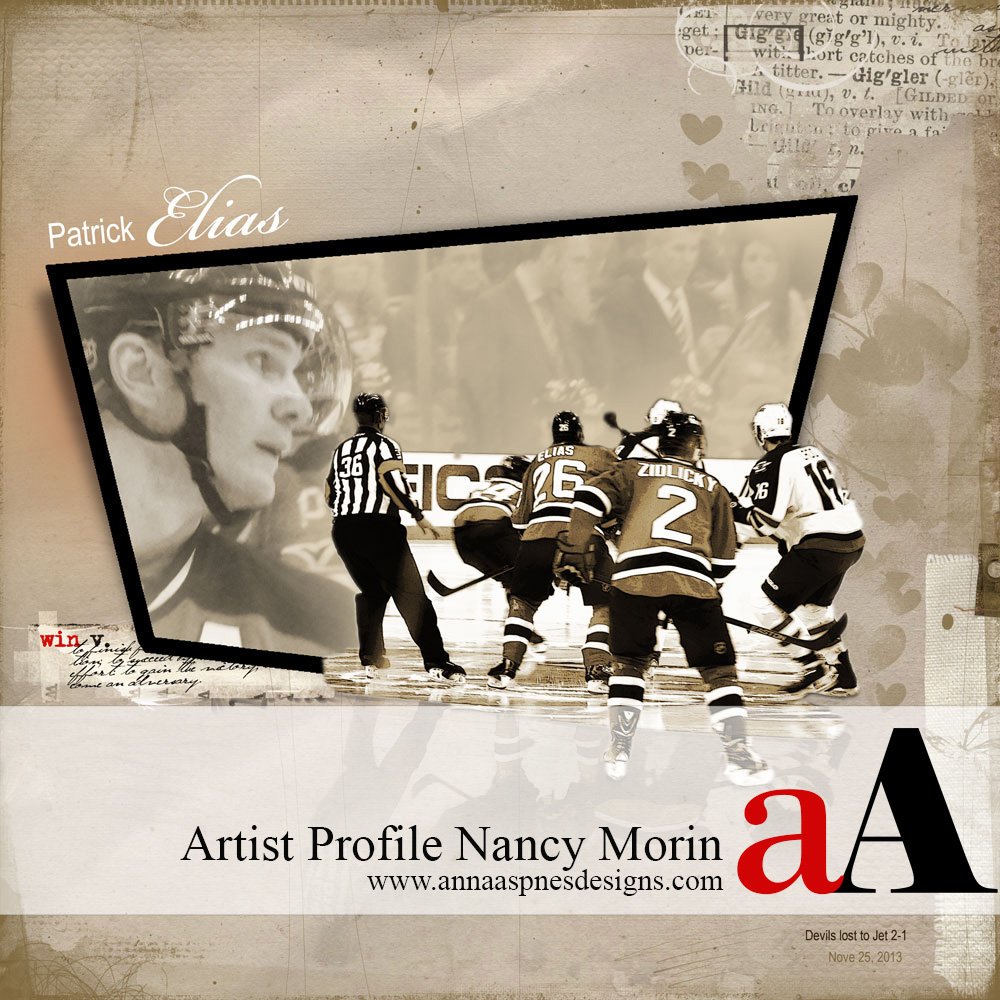 Today we are sharing a Q & A Artist Profile Nancy Morin.
Nancy Morin is a digital memory keeper and digital artist who loves creating unique art using Anna Aspnes Designs.
Big thanks to Nancy for allowing us to share her artistry.
Artist Profile Nancy Morin
Tell us a little about yourself and how you first discovered digital art. 
I am a retired Pharmaceutical Scientist. I worked for Merck for 26+ years. One of the projects I worked on eventually made it to the market as HeartGuard for dogs.
I was laid off which, in retrospect, was the best thing that happened. Being at home I had to find a hobby.
I have always loved taking photos and for a while I was a paper scrapbooker, but I hated the mess and clean up.
While surfing online, I came across a digital scrapbooking site and was hooked. They had classes for beginners and since I was already doing digital photos it was a perfect match.
When you created Luther and I, what gave you the idea for the film strip frame of your purple tennis shoe? 
I wanted to highlight the shoe as the color was so distinct from the rest of the colors and I wanted to have a delineation between the photo and the background.
Anna's ArtPlay Palette Snapshot has the film strip and I thought the it and the charm would show the love I have for Luther.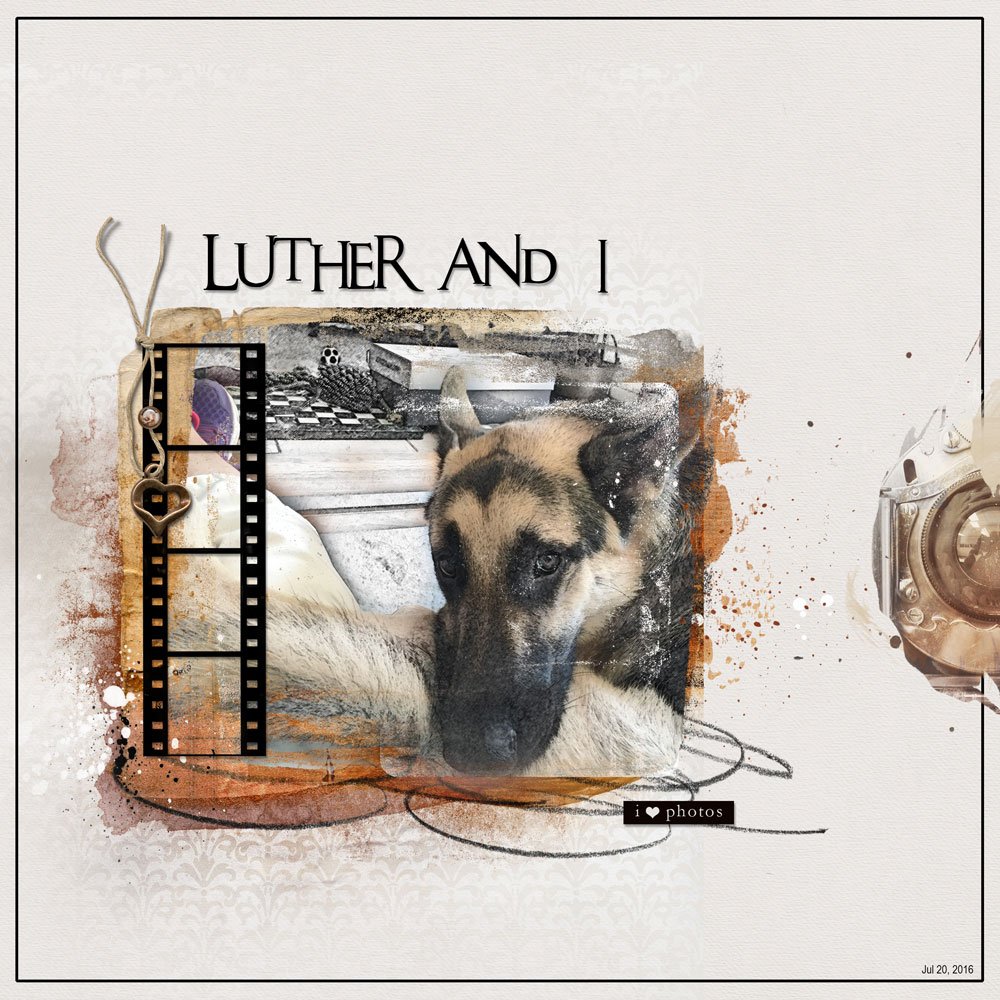 Anyone familiar with your work knows that you are an avid New Jersey Devils hockey fan and that you take fabulous photos of your team. What sparked your interest in hockey and what sport would you follow if all the Devils retired? 
I have loved sports my whole life. I have great memories of watching football and baseball with my dad.
When I got married and moved to Madison, Wisconsin with my husband, he got his graduate degree at the University of Wisconsin, and I had to learn the winter sports. Students were given access to cheap seats for the University's hockey team. With the help of his lab mates we became hockey fans.
We watched Mark Johnson and Bobby Suter play. They went on to win the 1980 Gold Medal in Lake Placid, New York. Mark Johnson became a NJ Devil so I became a NJ Devils' fan. But I can watch any hockey game.
If there was no hockey I would watch pro-cycling. I have always loved to ride my bike so to watch these men race their bikes up and down mountains and do it while going 25 mph or way faster just amazes me. During the summer, I get the Giro d'Italia, the Tour de France and the Vuelta de Espana – The races are in Europe, I get them in the morning and I love it.
It motivates me to go out and ride my bike. I was able to go to France and see the final stage of the 100th Tour de France. It was so fun and even my sister who had no clue about bike races thought it was pretty cool.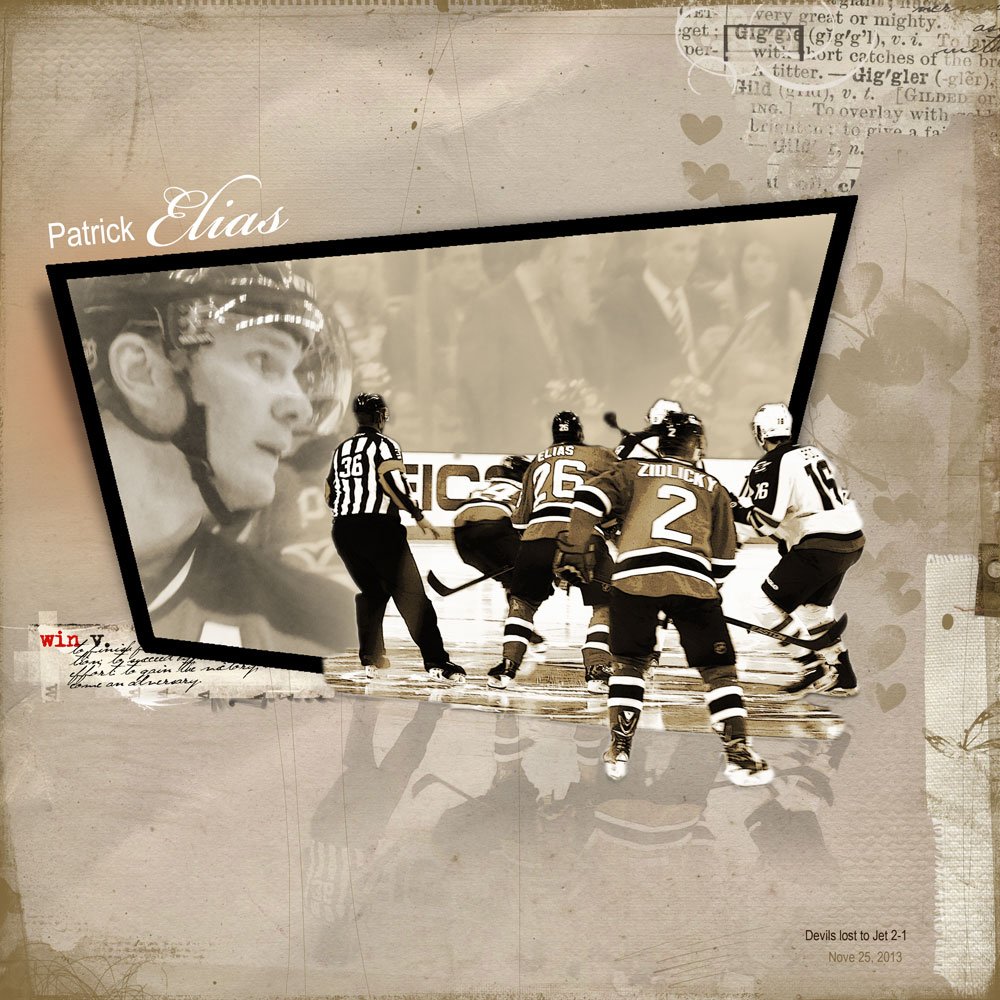 You do a fair amount of traveling and create wonderful travel albums. What keeps you motivated to finish an album? Do you have a design concept for the album in mind before you begin? 
After retiring I developed wanderlust. I find that after I have finished a doing a book about the trip cements the highlights and I love reliving the fun times. Since I always go with someone I love to finish the albums, then create books to give to my fellow travelers.
But on thinking about the question more in depth I use my pages as diary pages. I have always kept a written diary and I still do but both my sons have reading problems so by making these visual pages I hope that in the future they will see how they have changed and how I felt about them and what my days were like.
I love reading books based on diaries of women and so that motivates me too. As an aside I go on a yearly birding trip with two avid birders, Doug and Dave. Doug showed Dave the book I made and he could not wait to have his book.
Anna makes the most awesome Template Albums and I use those as a starting place. I loved her suggestion in her album class to pre-select a few of the ArtPlay Palettes that have the colors, elements and transfers that fit your trip. Then add the extras like stitching, ScripTease or WordART.
When I find a photo that I think deserves to really be shown off, I will do a page from scratch. There is plenty of inspiration in the Anna Gallery at O'Scraps if I get stuck.
This makes it easy and fast to get the album done.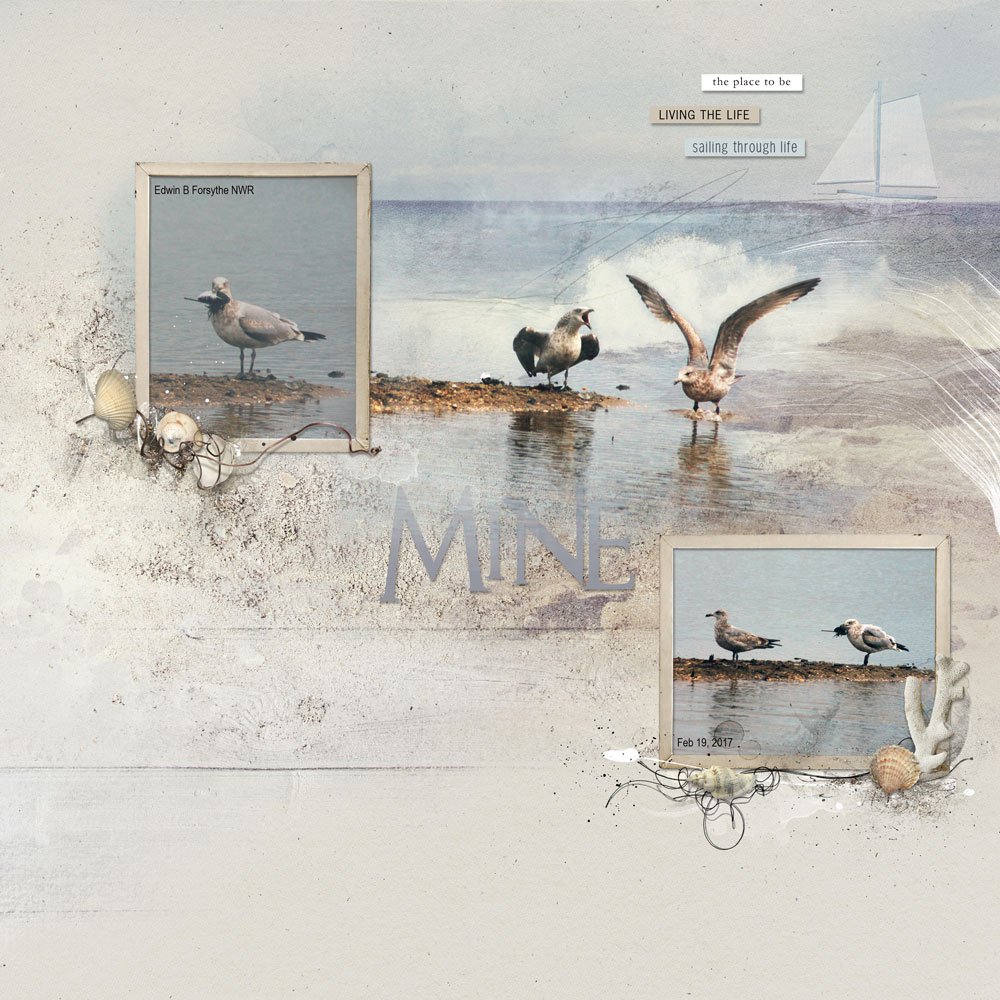 When you scrap, do you have anything in particular you like to listen to? 
I love listening to country music but, in the background, I usually have on a sporting event. I can listen to the game broadcast and when something exciting happens I look up and of course there are always replays.
Do you have a favorite ArtPlay Palette or a favorite Anna product? Why do you like to work with Anna's products when you design your pages? 
I have two really favorite ArtPlay Palettes Canyon and Crazy Life.
I have absolutely no artistic talent. I cannot draw a straight line, and my people still look like a Kindergartener drew them, so when I found Anna's designs, I saw that you can be artistic without having to draw straight lines.
To me, Anna's designs really let the photos shine. She uses minimal elements so the photos are not hidden.
Her digital supplies, I found to be very intimidating to begin with, and if it were not for her Creative Team, I would not even have tried.  Her team shares how each page was created so you too can try to duplicate the page. I also love that each week there are challenges by her team.
But best of all, her team makes sure that all pages in her gallery receive comments. As time has passed because of these comments all in her gallery are more prone to leaving comments on other's pages and you really start to form a bond and really get to know the people who post.
I really like that!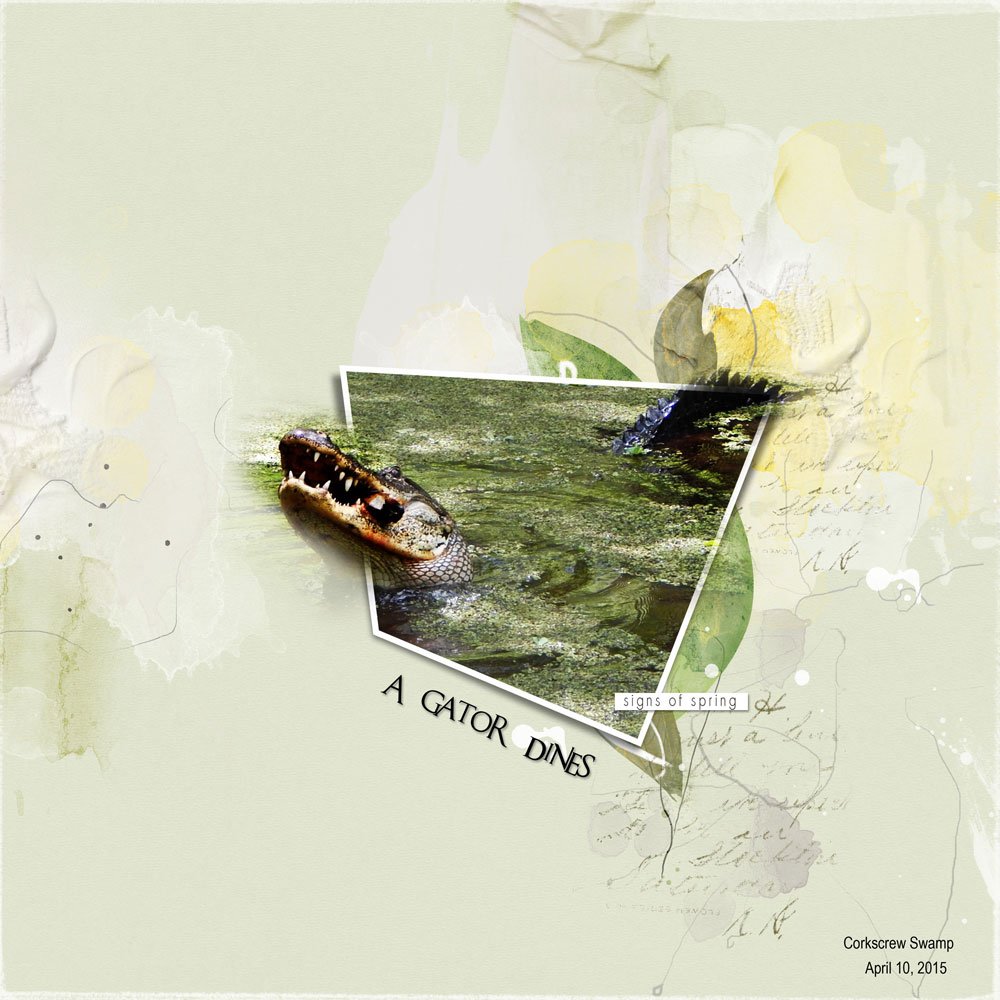 How do you organize all of your digital supplies?
I organize my files by designer names. But I really only use Anna's supplies.
So, for her supplies, I have a folder of just previews separated into the same categories as in the store and another folder of the products.
I create a new folder when starting a new project into which I put her supplies.
I use a Mac Pro laptop and all photos are stored in Photos.
My supplies are backed up on EHDs and CrashPlan.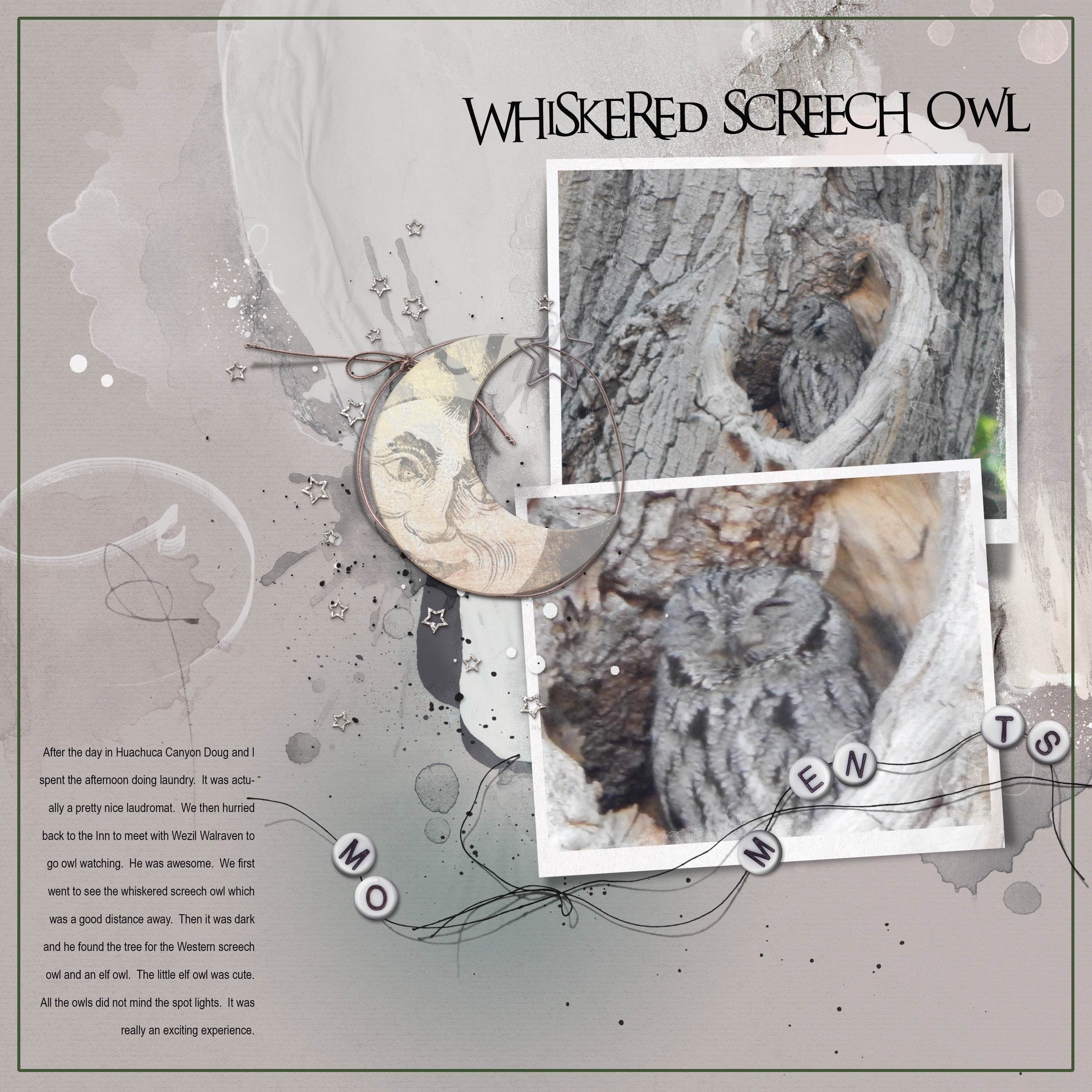 We hope you have enjoyed this Artist Profile Nancy Morin. You can see more work by Artist Profile Nancy Morin in her extensive gallery.
The Artist Profiles is a category of posts in which we aim to inspire you with the work of other artists, photographers, memory keepers, makers and curators. I believe we can learn much from others and inspiration can come from a variety of creative sources.
Please email me if you are interested in having your work featured in this space.