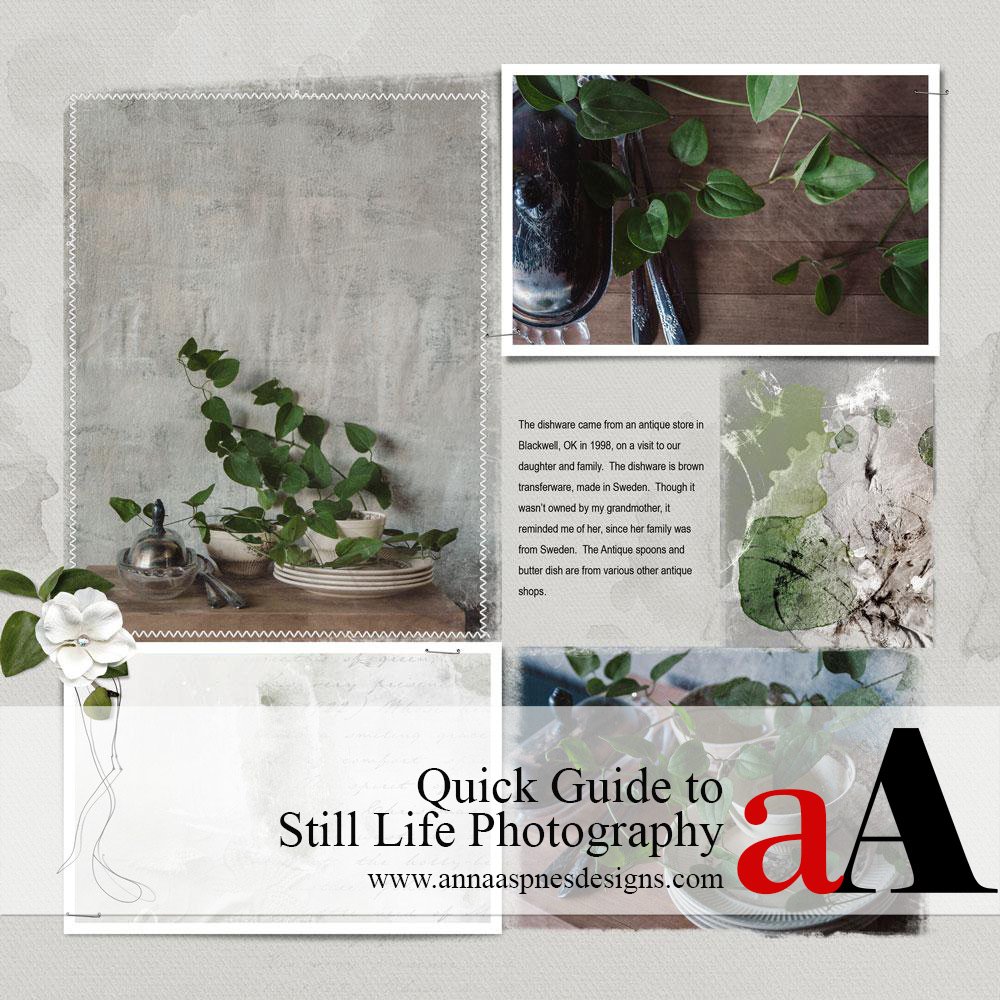 Today, former Creative Team Member, Beverly, is sharing her Quick Guide to Still Life Photography.
This is the second part in a series of Still Life Photography posts, and the last one in the series, though she might be back as a guest at some point. 
Quick Guide to Still Life Photography
This is the second part in a series of Still Life Photography posts.
1. Still Life Preparations
Considerations for set-up
Find a location with good light in your home and look for a window, or door, or even the garage floor with the door open.
Establish what will be the backdrop to your scene, such as cloth, paper or similar texture.
Determine direction of light, for example I tend to set up my scene with the light coming from the left side of the scene.
Create your set up.
Stage the scene based on a theme.
Gather a few items you cherish, and love, such as vintage bottles, antique dishes, tarnished silver, small family heirlooms, spools of threads, sewing items, hand made heirlooms, and flowers.
Create a focal point around your main featured item, such as a flower, stacked dishes, a pair of ladies gloves, or piece of jewelry.
Arrange supporting items around the focal point in a pleasing style.
Move pieces around after reviewing the scene.
Shoot Your Scene.
Begin taking photos.
The beauty of taking still life scenes is having the ability to retake it at will.
Note. My still scene consists of a few old china plates, cup, and tarnished butter dish, long silver teaspoons, and a long snippet of clematis vine.
Below is a "pull back" of my set-up, unedited.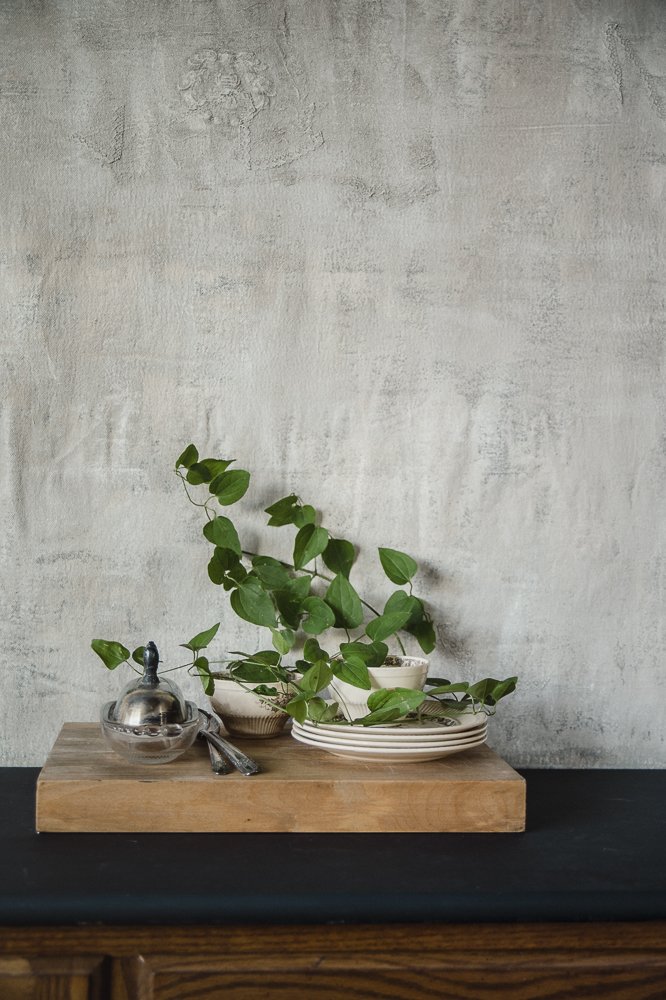 This scene was set up on my enclosed back porch in the morning shade (west side of the house) with good side north light.
Layering up gives height and variation – The plates were stacked on a worn cutting board on top of a small hutch.
Greenery provides movement, texture and color – Notice how the greenery supports the silver spoons and butter dish.
Use texture and color variation to add interest – Create a hand painted canvas drop cloth by adding several coats of off white paint on a painters canvas.
Place items fairly close in proximity to each other to create connection and a cozy 'clustered' feel.
Shoot in manual, and with no flash, to avoid harsh color changes and unwanted cast shadows.
Edit in Photoshop or Lightroom.
Upload your photos into your editing software, review and tag your favorites. O
Note that once my favorites are selected, I delete all the others, to eliminate clutter in my Lightroom library.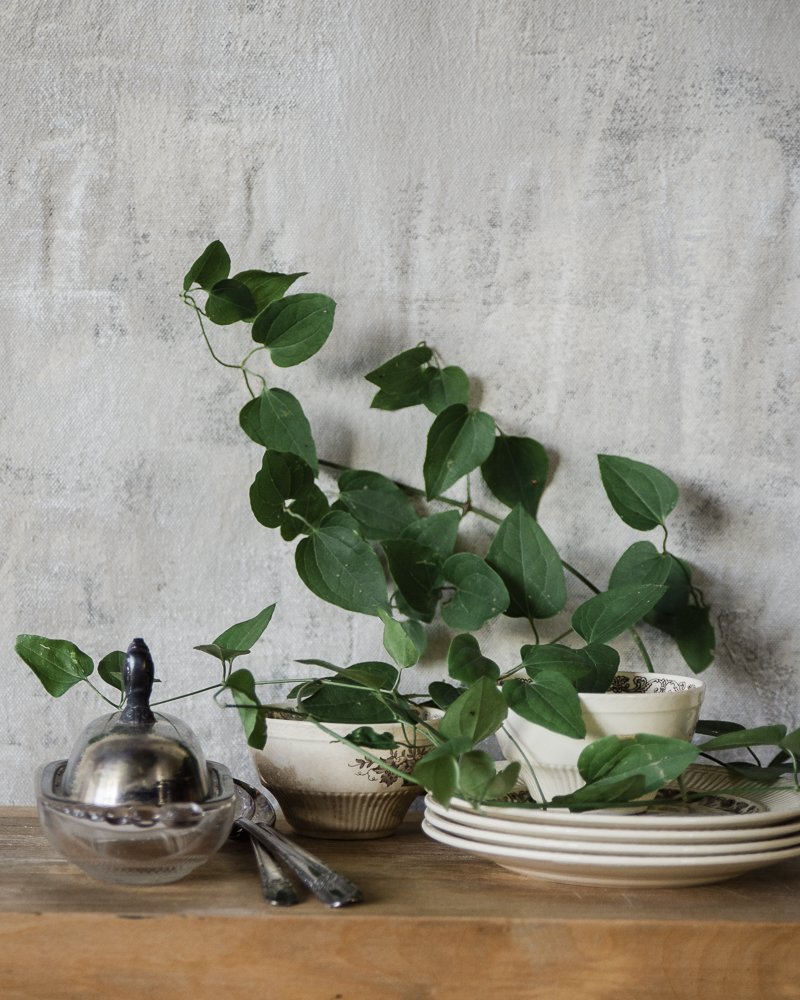 Edited with a Lightroom preset, and cropped.
2. Through the Lens
Experiment with different angles.
Move your camera around the scene with your camera to find interesting angles.
Look from above and below.
Crouch low and climb tall.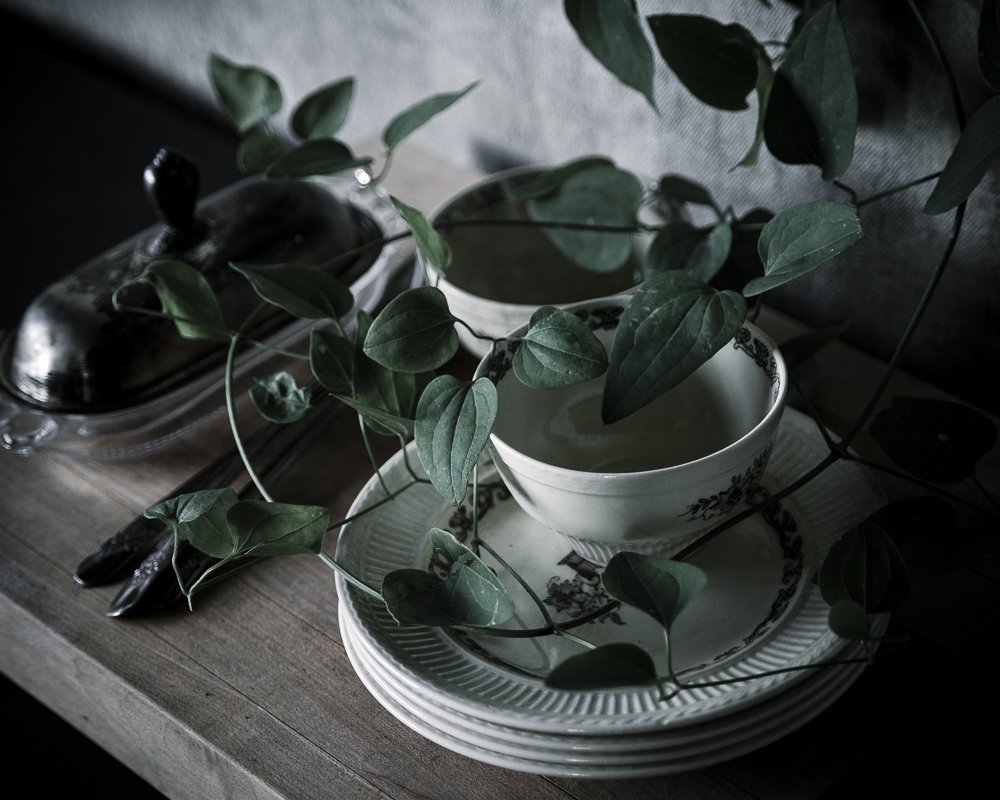 Edited in LR with a preset for a moody tone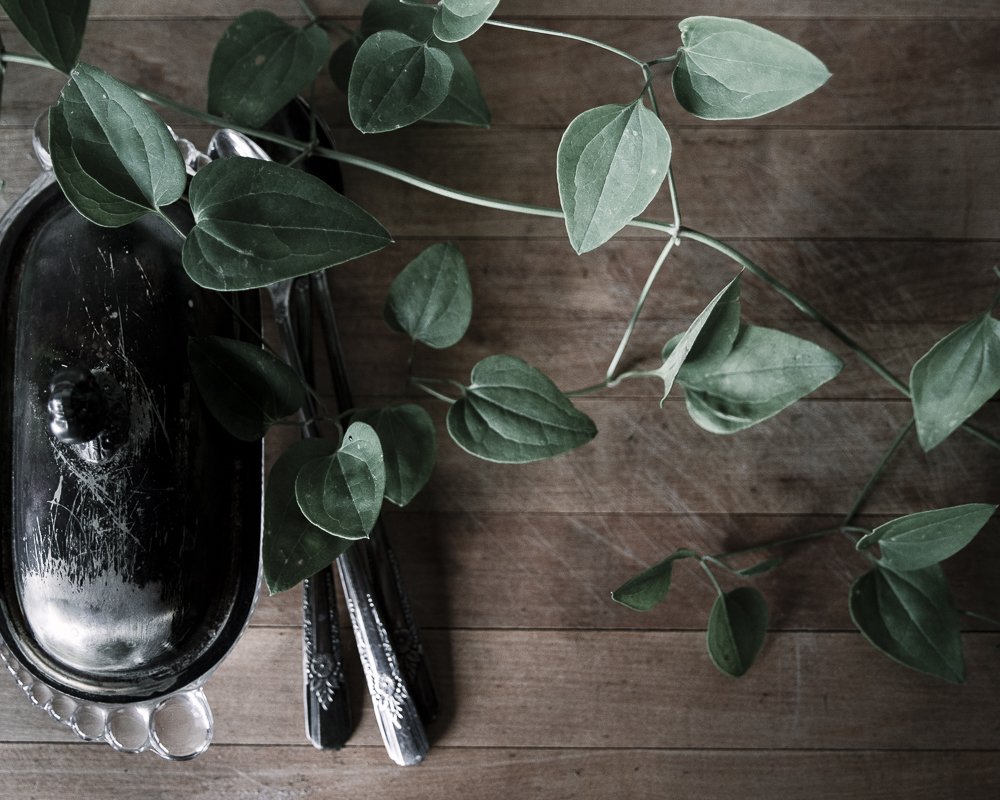 Shoot from above
Combine with

a

A

DigitalART
Create a digital scrapbooking or photo artistry layout using a FotoInspired Template.
Clip the photos and DigitalART supplies of your choice to the masks in the template.
Embellish and add words to personalize as preferred.
See this post for further layout guidance.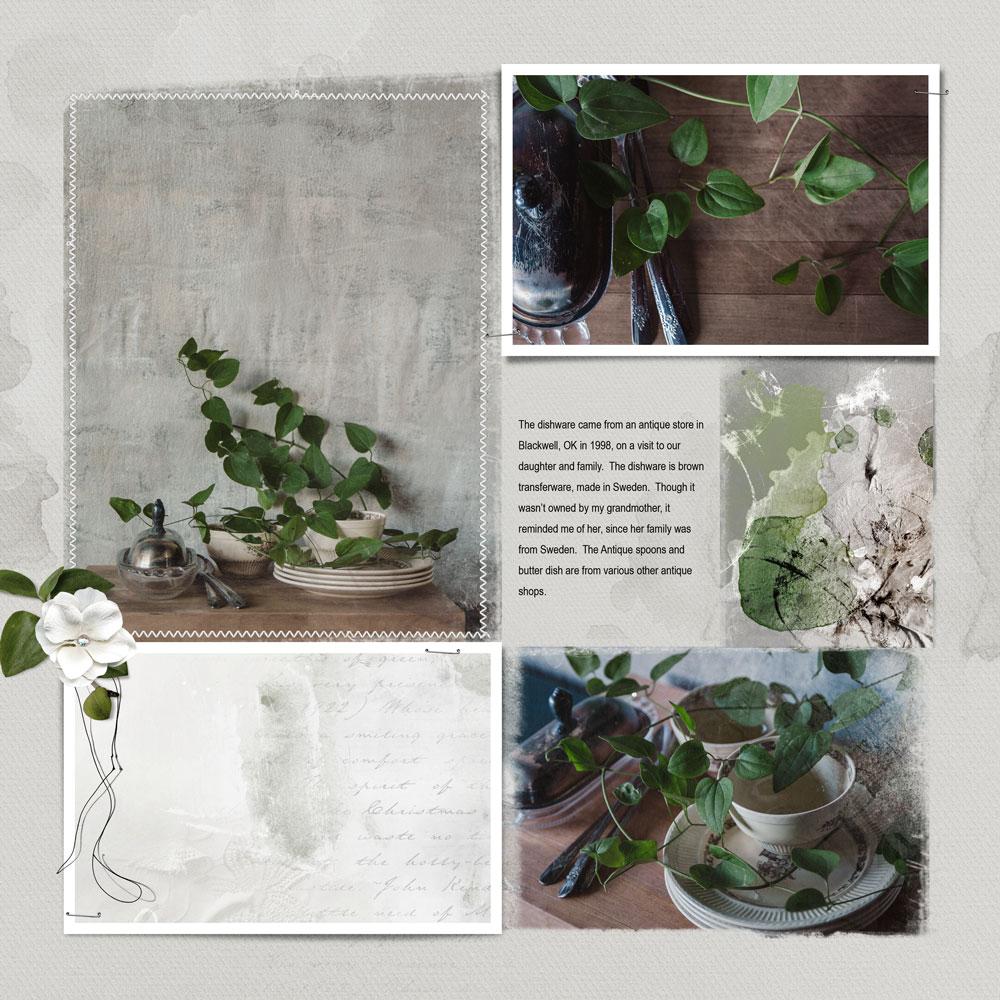 Summary
In this tutorial, you learned how to:
Choose a location
Set up a still life scene
Review selected items
Take photos from different angles
Create a digital layout.
POST YOUR  LAYOUTS USING these Still Life in the Making TECHNIQUEs IN THE ANNAGALLERY.
And if you liked this post, leave some love in the comments below.