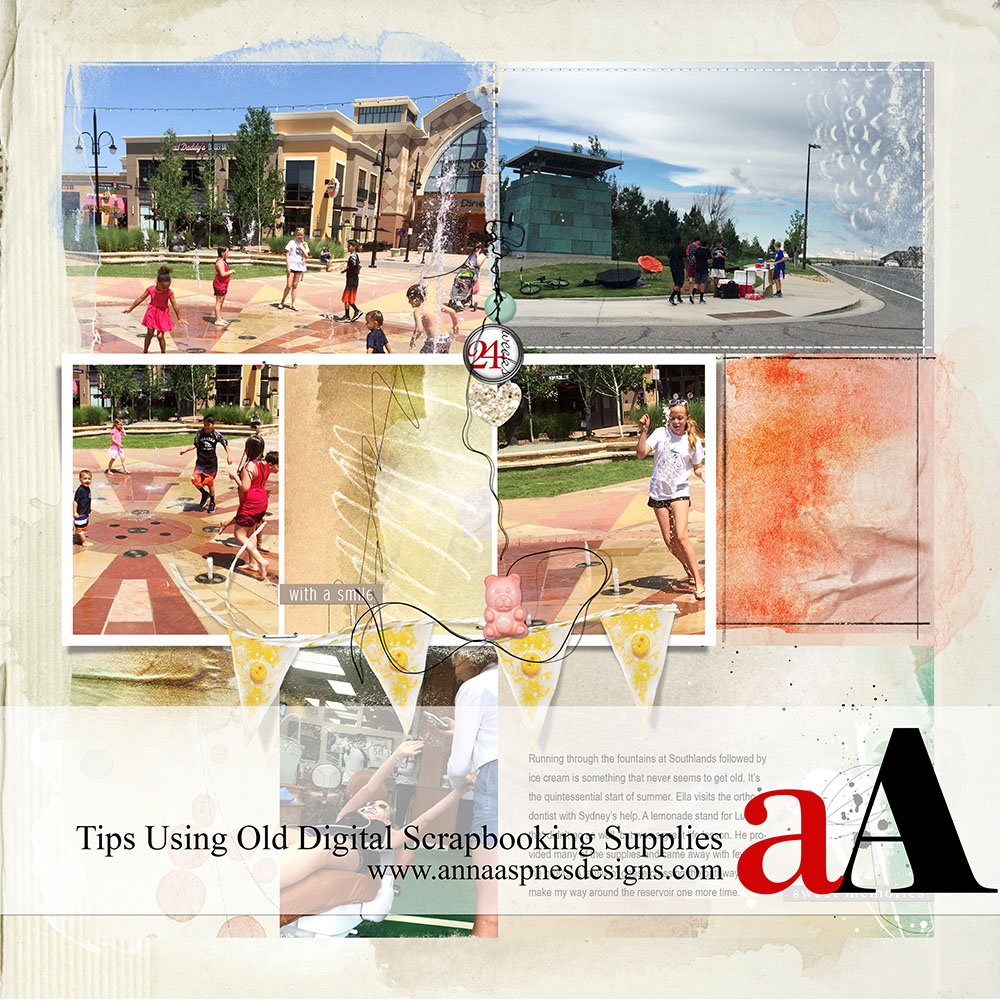 Today, I'm sharing a few tips using old digital scrapbooking supplies in your digital artistry and artsy digital scrapbooking layouts.
Tips Using Old Digital Scrapbooking Supplies
We all have older digital scrapbooking in our archives.
But do you actually use them?
The temptation is often to bypass them in favor of something new.
Save (and promptly lose) them to a different hard drive
Or even delete them, as DigitalART supplies are both plentiful and easy to discard or replace.
Revisiting older digital scrapbooking supplies is a bit like looking back on old photos.
They can transport you back to a particular point in time and each one holds the opportunity to tell a perfect story.
Don't be too quick to bypass the 'classics'.
Although the ArtPlay Palettes DigitalART product range has evolved over the years.
Each one has a role to play in telling your stories and creating art.
There are a number of different ways you can use the tools in Adobe Photoshop and Elements to update your stash.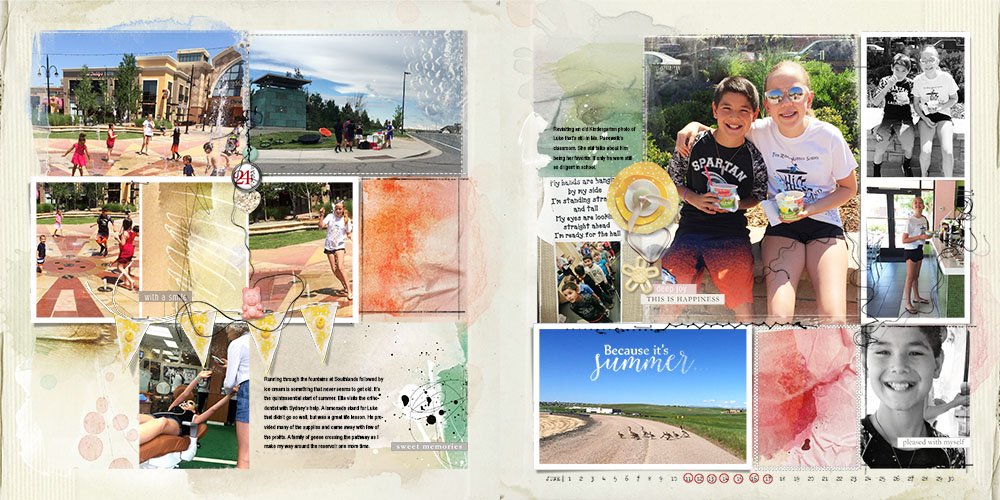 FotoInspired 2016 | Week 24
The completion of another double-page spread FotoInspired 2016 project led me to revisit ArtPlay Palette Joy (created year 2014).
While digital supplies do not age and fade the same way as physical paper products do, they can become lack-lustre in terms of trends and designer evolution.
Use the following tips and techniques to jazz up and renew your older ArtPlay Palettes.
1. Brightness and Contrast
Digital scrapbooking papers benefit from boosting the brightness and contrast in the same way as photos.
Go to Image> Adjustments> Levels (Photoshop) or Enhance> Adjust Lighting> Levels (Elements).
Move the 'black lever' to make the shadows darker and the 'white slider' to make the highlights brighter.
2. Increase Saturation.
Re-energize colors by bumping up the color saturation.
Go to Image> Adjustments> Hue/Saturation (Photoshop) or Enhance> Adjust Lighting> Hue/Saturation (Elements).
Move the Saturation lever to the right.
3. Soft Light Blending Mode.
Use the Soft Light Blending Mode to change the saturation, brightness and contrast of the layer.
Duplicate the layer and apply the Soft Light Blending Mode from the Layers Panel to the Copy layer
4. Add Texture.
Newer ArtPlay Palettes showcase more texture and therefore greater visual interest.
Add this to older artsy digital scrapbooking supplies through the use of 'texture-style' BrushSets.
Stamp a texture brush in the color of your choice and apply a Multiply or Linear Burn Blending Mode.
See this workshop (also available in Photoshop Elements) for further guidance on using brushes and adding texture to your pages.
5. Mix With New
Combine elements from ArtPlay Palettes old and new to create a juxtaposition of modern and classic.
This approach updates older digital scrapbooking pages and creates tension in your digital artistry and scrapbooking.
Simply use them together or blend using brushes.
Special Offer.
Try these techniques out for yourself on ArtPlay Palette Joy.
Save 40% through next Tuesday, June 27th, 2017.
Use Coupon Code: ArtPlayWithJOY40
How do you use older digital scrapbooking supplies?
Let me know in the comments below, and if you liked this Tips Using Old Digital Scrapbooking Supplies post, please consider sharing using the social media buttons below.