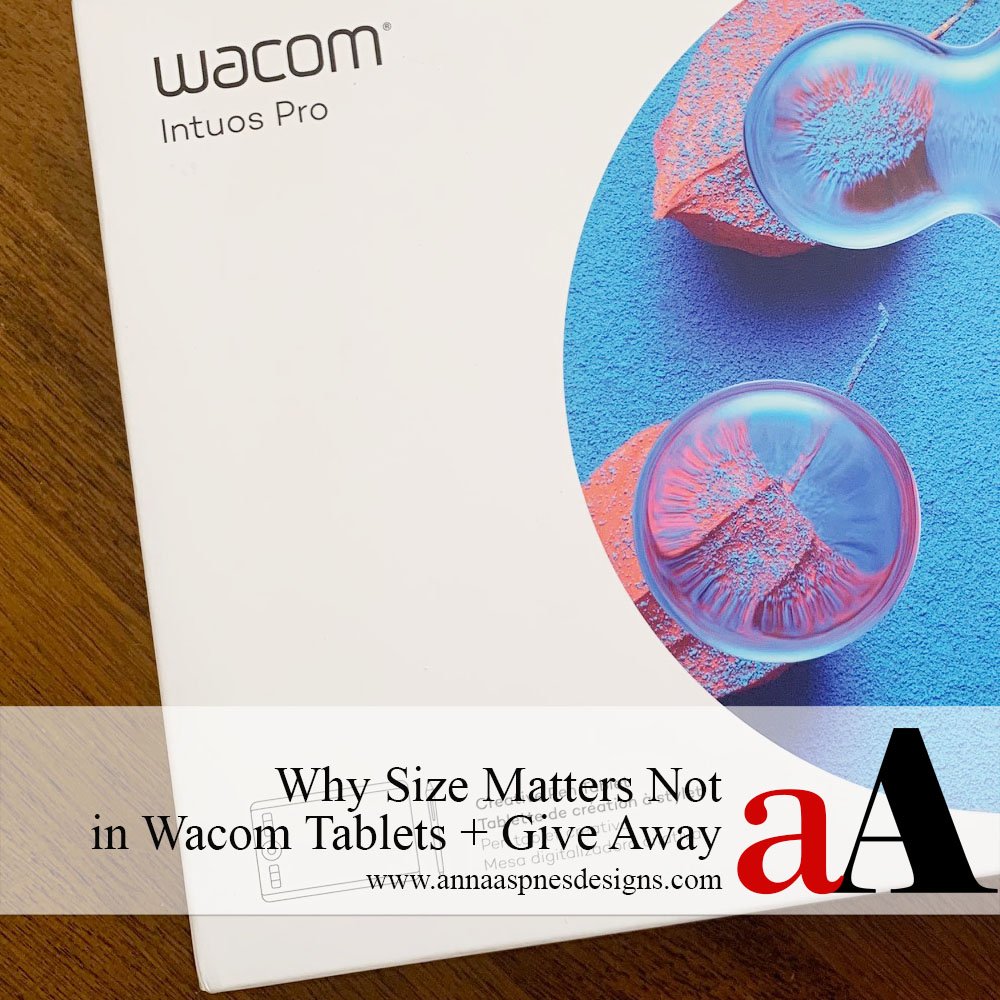 Today I'm sharing a post Why Size Matters Not in Wacom Tablets complete with a Giveaway.
Why Size Matters Not in Wacom Tablets
A 17 year career in digital artistry, with almost as many years using a Wacom pen and tablet, has not only enhanced my creative experience, but generated a few surprises too.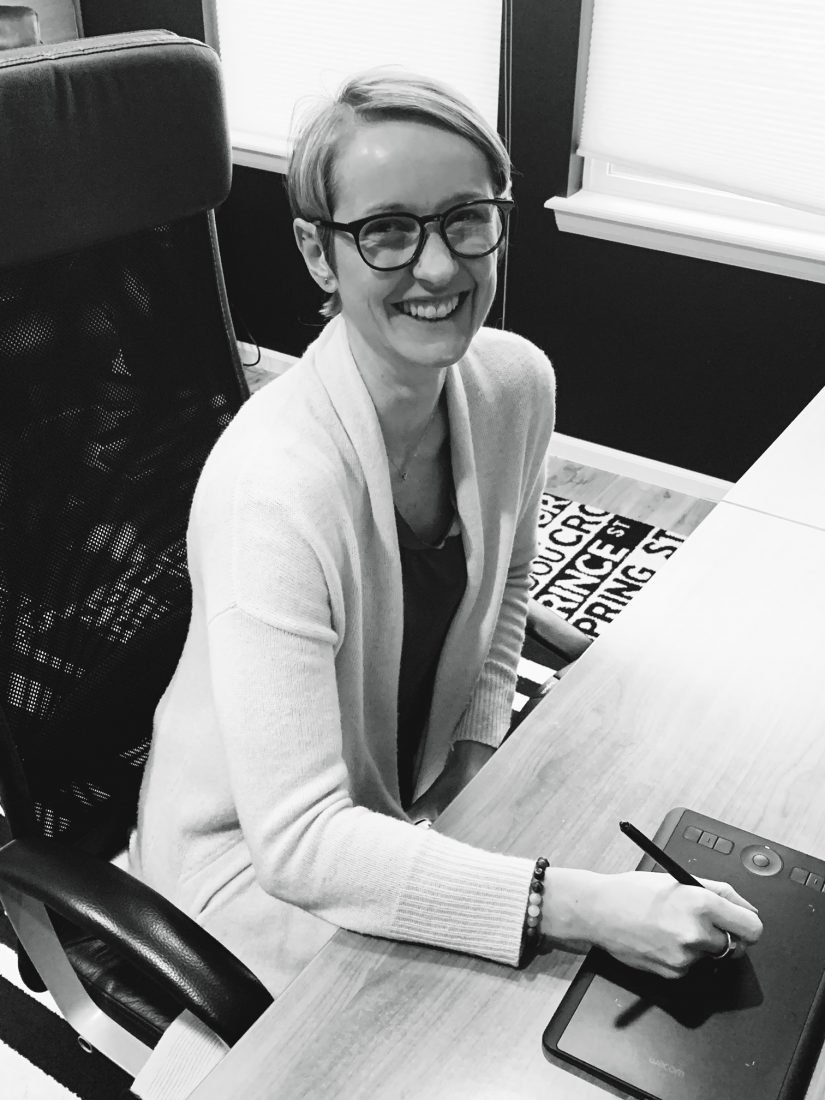 Many a tablet and pen has graced my work space throughout the years, from the smaller 'cheap and cheerful' models, to larger more expensive versions.  It usually stands to reason that, the more you pay and the bigger you go, particularly where technology is concerned, the better the device will be.
My personal experience, however, completely disproved this misconception, and supports the notion that size matters not where Wacom tablets are concerned.
Bigger Isn't Always Better
Larger relates to occupation of space, complexity and overall cost.
Size equates to the amount of physical space an object such as a tablet occupies in your environment, leaving less room for everything else you need to create. This could be the cup of coffee that eases you into your zone, inspirational prompts or other tools of your trade.
A smaller tablet can help minimize the desk clutter, which in turn, will free up your mental capacity for more ingenuity and creativity in your craft. Many creatives, including myself, are directly impacted by the state of their environment and a mode of 'creative chaos' is not something that works for everyone.
Bigger is often associated with complexity and monetary expense. When you pay more, you usually get more for your investment. You may not need all the included functionality, and such complexity can cost you precious time in actually making the artistry happen. Being tempted by the added 'bells and whistles' may also lead to a steeper learning curve and distraction.

Creativity on the Move
The world has become smaller with more people travelling larger distances on a more regular basis.
Whether you are traveling to another country, or your local coffee shop, you are probably on the move a LOT more than your Grandparents were in their generation. Size matters in terms of the portability of the items you wish to carry with you on your travels both near and far.
Smaller devices and tools allow you to take more with you, have more choice and options, in creating your artistry on the go. It's the different between maneuverability with ease and lugging around a heavy appendage.
It's so much easier and more attractive to slip a small slim tablet alongside your laptop than to struggle to accommodate an additional large device.

Let the Technology Support the Artistry
Any tool used by an artist should be intuitive and enhance the creative experience.
Wacom tablets offer a digital artist more precision than can be gleaned through the use of mouse, but it should also be an intuitive experience that mirrors the process of tracing, art stroke making and detail work found in tactile art mediums.
A tablet can mapped to the size of your computer screen, but the size of tablet relates directly to the surface area an artist's hand must move in order to create the desired results. A larger tablet has a greater surface area over which the hand can or must move which can also result in aches and pains resulting from over exaggerated mark making.
The surface area of a smaller tablet is often more appropriate, and intuitive, in the case of writing, drawing or creating extractions from photos, unless your preference, of course, is to create over-sized artwork.
Less is More
Small is BEST when it come to Wacom tablets.
Larger tablets may be the more ostentatious choice with all the shiny gadgetry, but smaller tablets with their ease of use, shorter learning curve and less intrusive 'footprint,' will always be my preference.
This is why I see the new Wacom Intuos Pro Small being my new favorite tablet. My ability to trace, select, draw, extract photos and create digital artistry on-the-go become easier without losing the pro features, which are always so fun to play with. I get the best of BOTH worlds. I've added the new Wacom Pro Pen slim, a stylus with all the power of Wacom Pro Pen 2 technology in a slimmer form factor. It comes comes with an elegant case for portability too!
See this post on the Wacom community website.
Wacom Intuous Pro Small Giveaway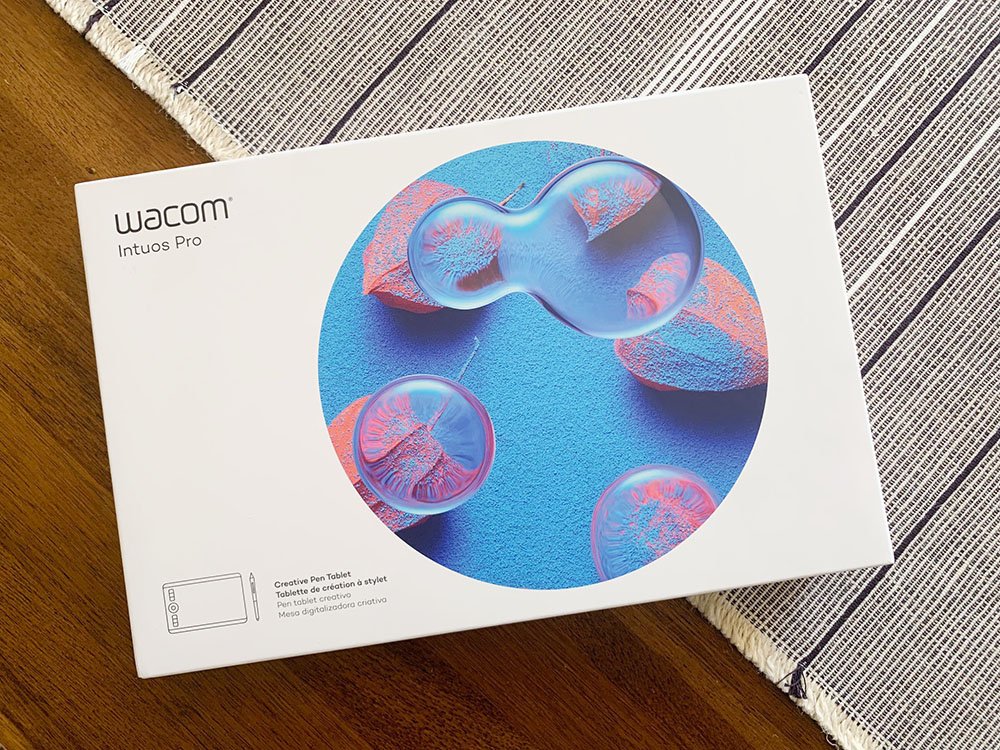 Wacom have generously provided a Wacom Intuos Pro Small to give away to ONE randomly-selected [aalog0] community member.
COMPLETE AS MANY 'TASKS' FROM THE FOLLOWING LIST AND LEAVE A SEPARATE COMMENT BELOW TELLING ME WHICH YOU'VE DONE.
 The more you participate, the more entries you get.
Leave a comment telling me what you would like to learn if I created a new Pen & Tablet Class.
Leave me a review for ANY of the classes you've already taken at Anna Aspnes Designs. Note that EACH review gets you another entry into the give away but be sure to leave a SEPARTE comment below for each ONE. Log into your account at Anna Aspnes Designs and locate the REVIEW tab beneath the preview image of each class.
Follow me on Instagram.
Like the Anna Aspnes Designs Facebook Page.
Sign up for AnnaNews, if you haven't already done so, by entering your name in the 'Learn to ArtPlay' sign-up at Anna Aspnes Designs.
A winner will be RANDOMLY selected and posted on the aA Blog on Tuesday May 21st, 2019 at 2 pm MDT.
United States Residents ONLY (as you will be responsible for any import taxes)