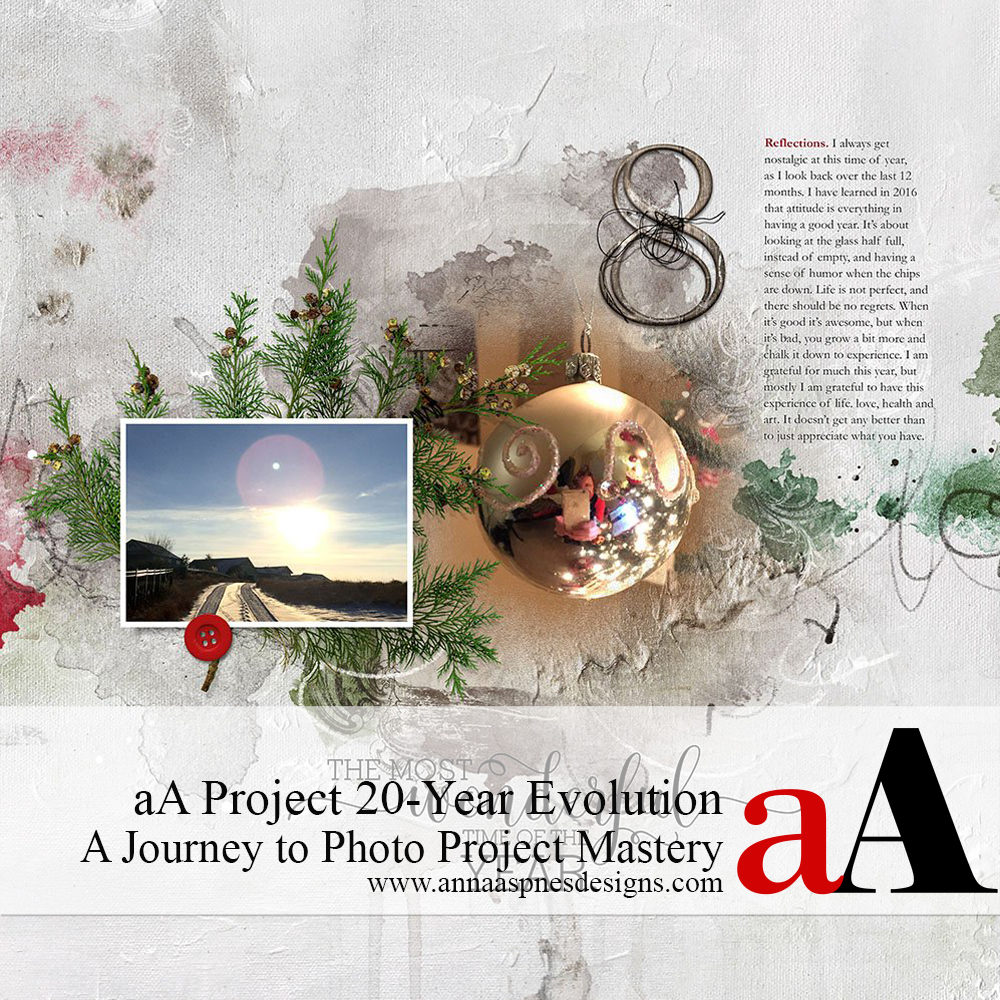 In this post, I'm sharing the story around the aAProject 20-Year Evolution.
a
A

Project 20-Year Evolution
I've been scrapbooking one way or another since I was a child.
Sticking fabric, cut-outs, and memorabilia on paper has always been my jam.
I have been an artist and craft-lover from the get-go.
Scrapbooking evolved into memory keeping when I became a Mum.
Ella was born in year 2002, while we were stationed at Misawa Air Force Base, in Japan.
I wanted a way to share her, with our families overseas, so I began paper scrapbooking.
Year 2003
This was the beginning of the Holiday Project for me.
Ella was 18 months old and I documented her first 'real' Christmas Day.
i.e. She was beginning to get the magic of Christmas.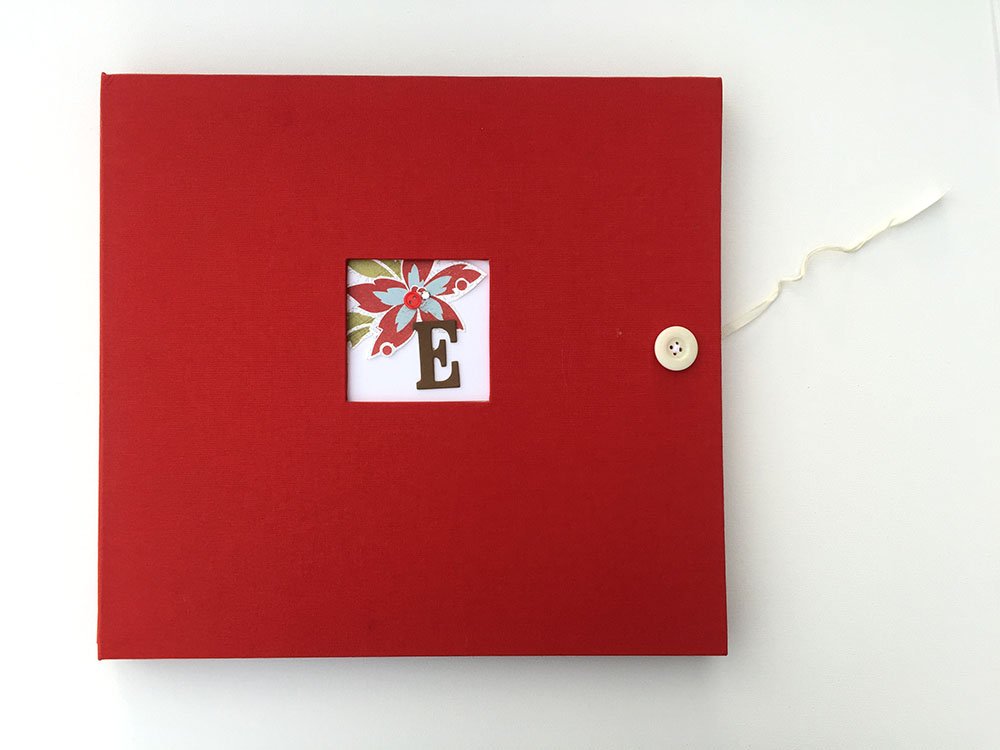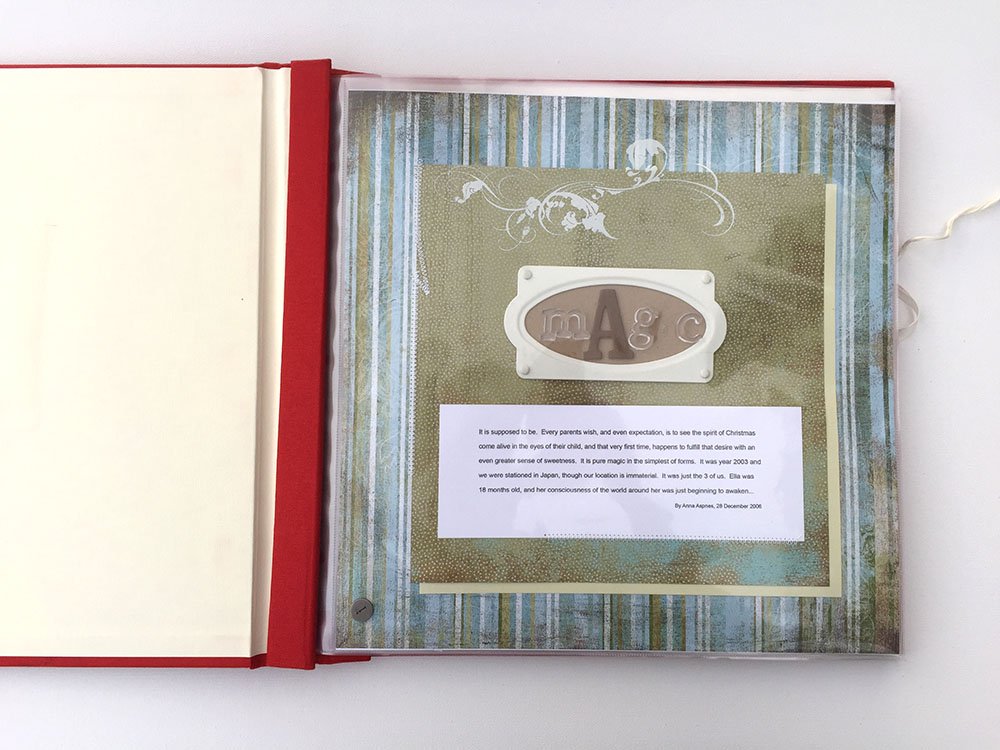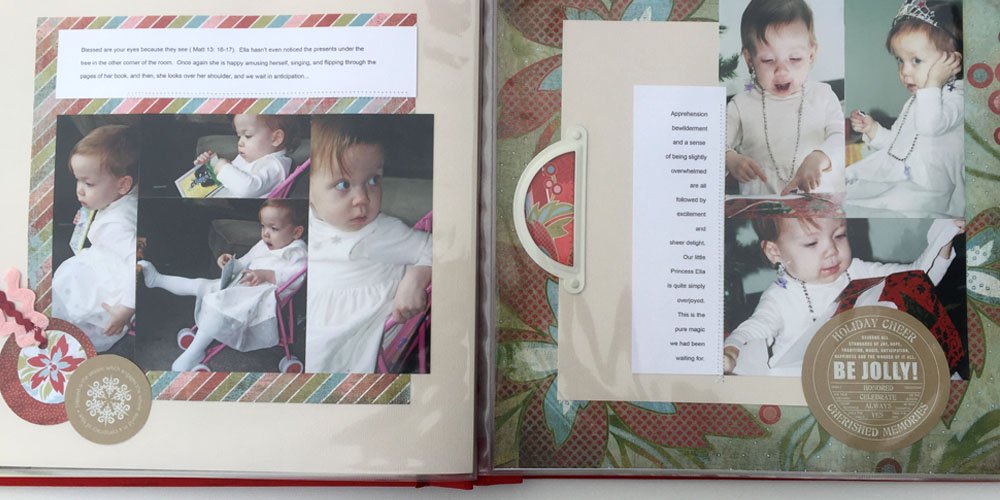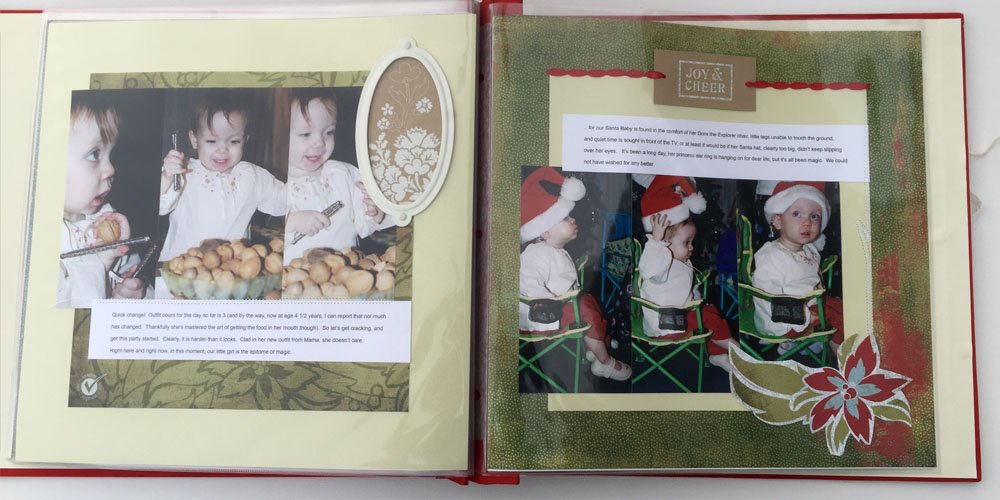 Year 2004
Luke arrived about 19 years ago.
This holiday season was more about Surviving a very unhappy baby with colic.
Year 2005
Another Christmas Day Album
These chronological approaches to documenting just One Day worked well, enabling me to capture all those little moments, that are so special when your children are small.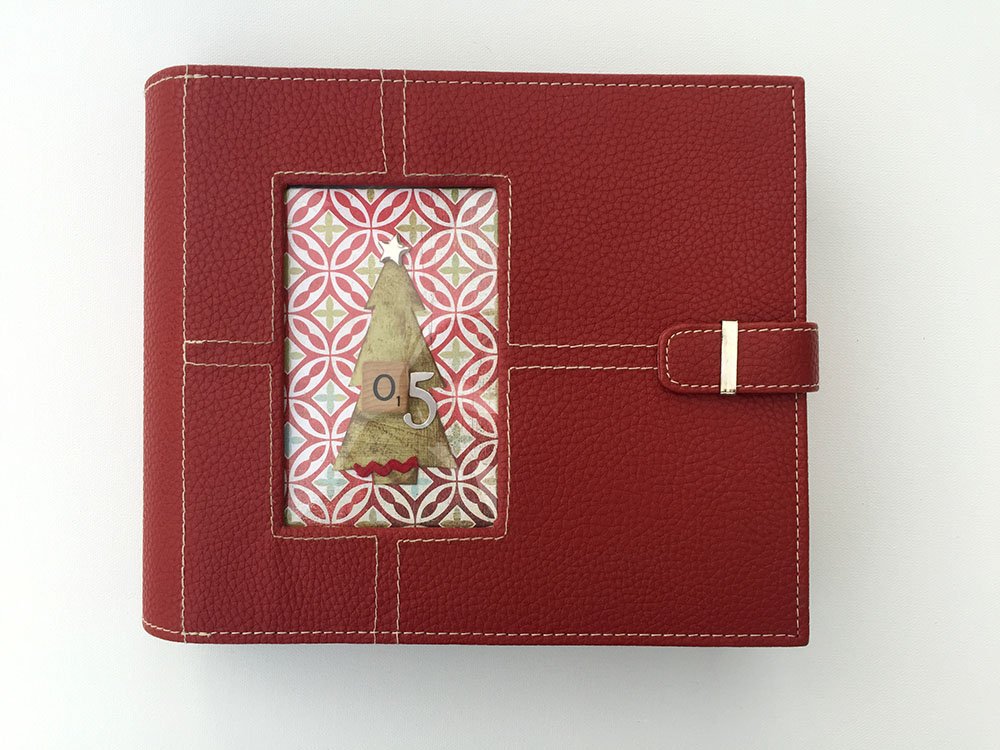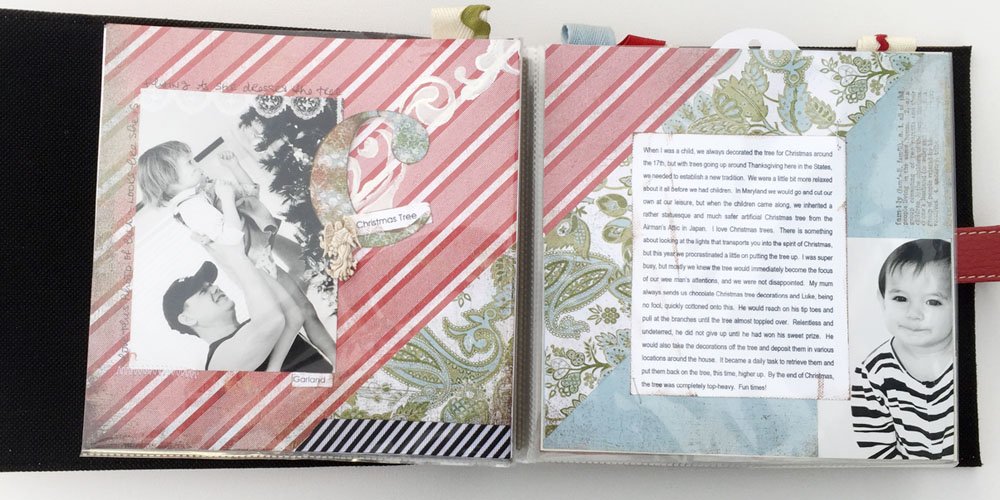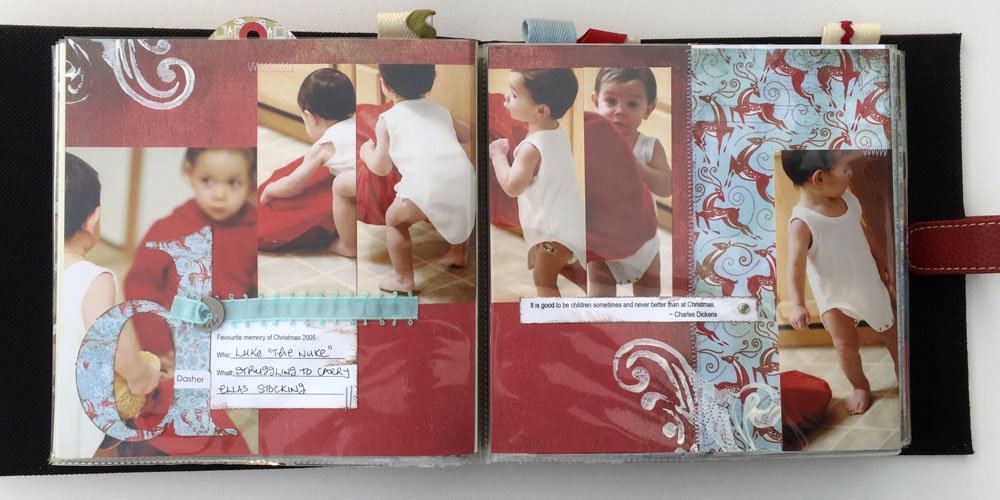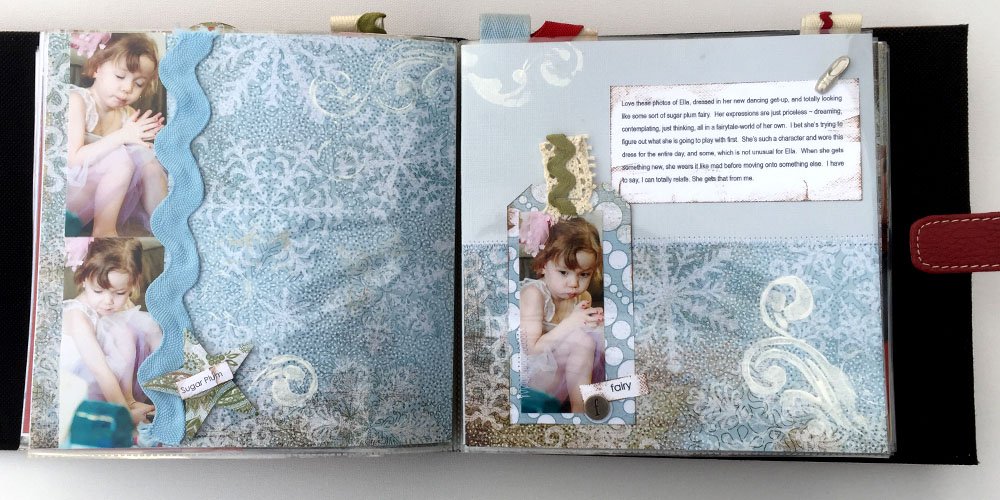 Year 2006
Thanksgiving in Denver
We made the trip with our 2 and 4-year-old from Alaska, where we were living, to see family and friends in Denver.
A Holiday Project at this stage in my life might just have pushed me over the edge 🙂
Year 2007
Enter Ali Edwards Days of December
I attempted my First month-long project using a collection of templates by Jessica Sprague.
We had just got back from Thanksgiving in Hawaii and we were ALL sick the entire month of December.
I think it was the most miserable Christmas on record.
I ended up with pneumonia just before Christmas, and we had to cancel our trip to see Santa, in Fairbanks, Alaska.
But this was when I grasped the concept of celebrating the Every Day and finding joy in the worst of circumstances.
A seed had been planted…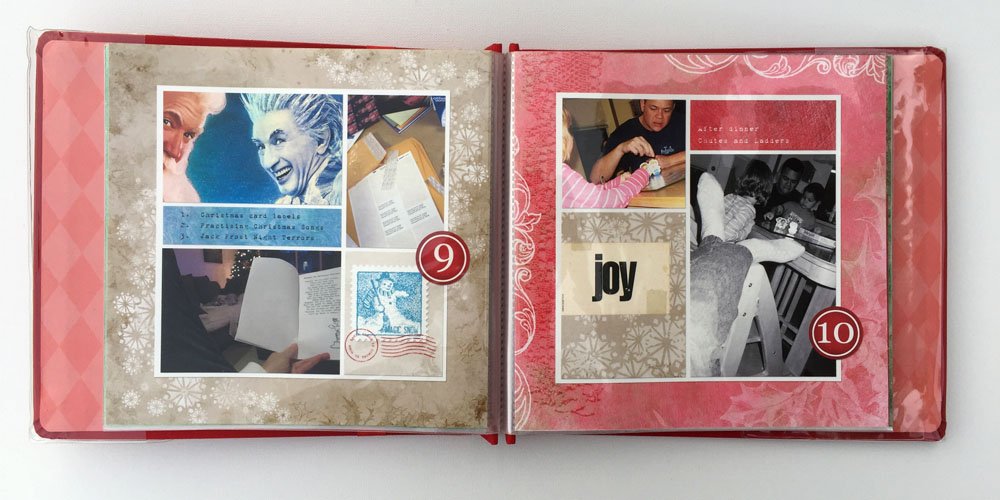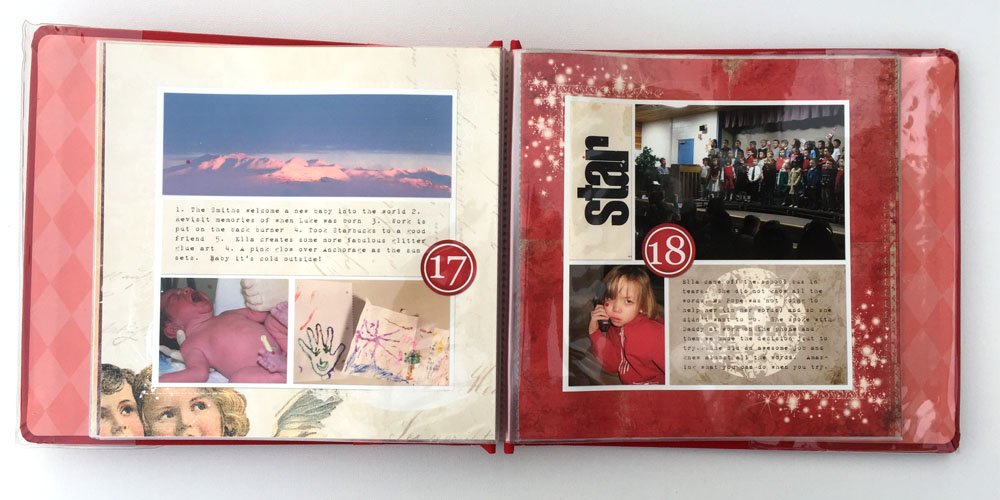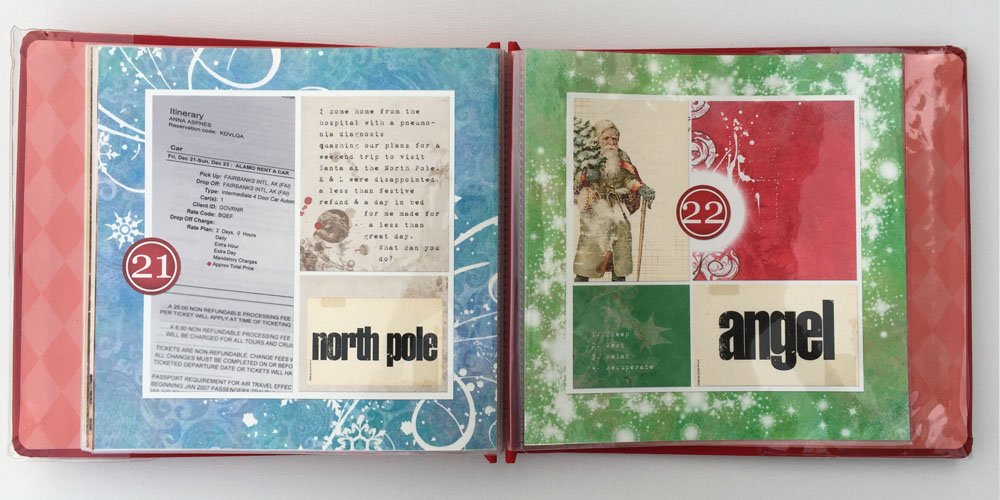 Year 2008
A Wedding in the United Kingdom.
My sister got married in Scotland and we enjoyed Christmas with my family in England.
An England 2008 album trumped a Holiday Project.
Year 2009-2010
The beginning of Curated Albums.
I played around with telling my stories through a Series of layouts curated into a photo book.
I liked the freedom to create art, but reinvention with every layout is both Time-Consuming and leads to disjointed double-page spreads when placed together in album format.
Something new learned, to discard or carry on to the next year.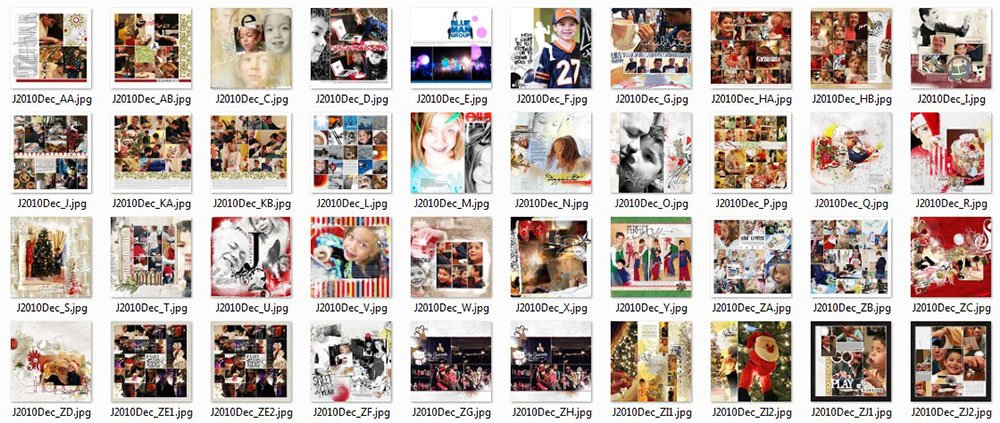 Year 2011
The First 'Official' Holiday Project.
I created the first Holiday Project Template Album, for sale under the Anna Aspnes Designs brand.
I shared my process, techniques, and pages via blog posts on the old Anna Aspnes Designs Typepad Blog (which no longer exists).
The focus was Combining the magic of Christmas with everyday moments, and the double-page spreads were titled, according to the big themes of the season.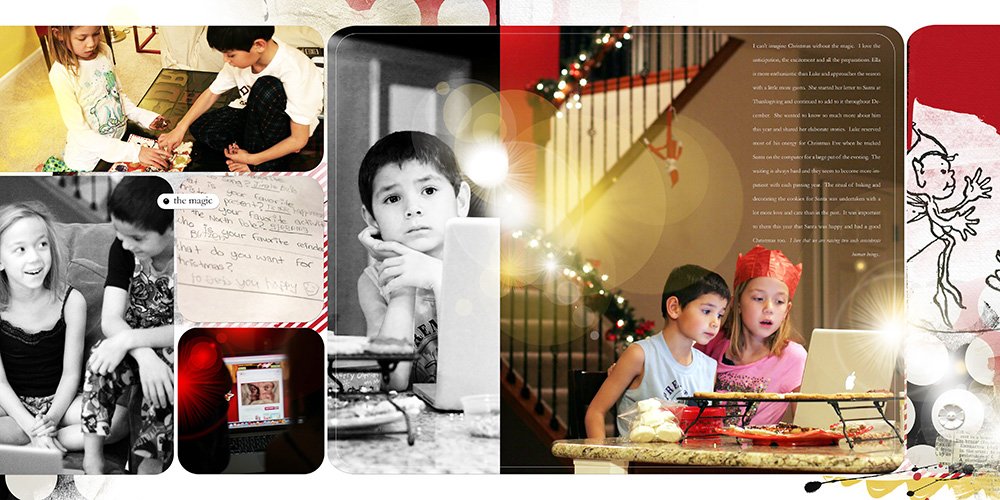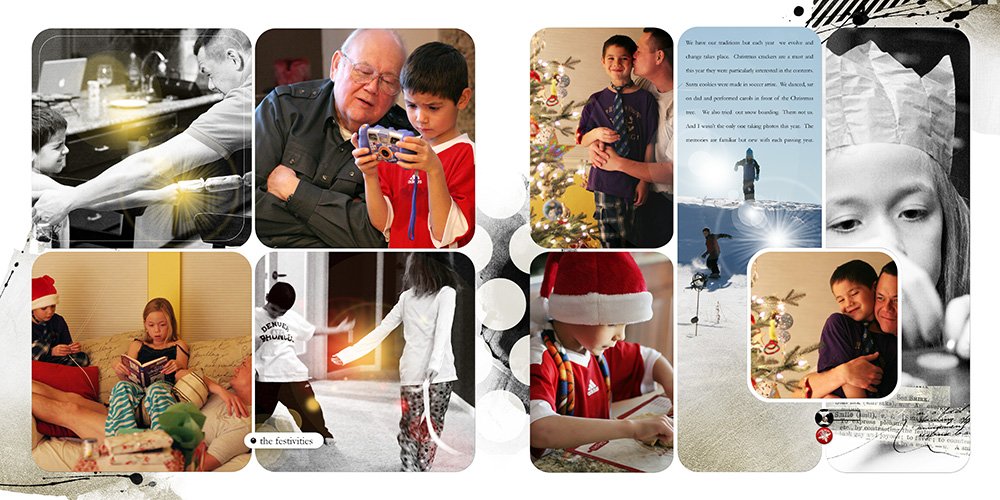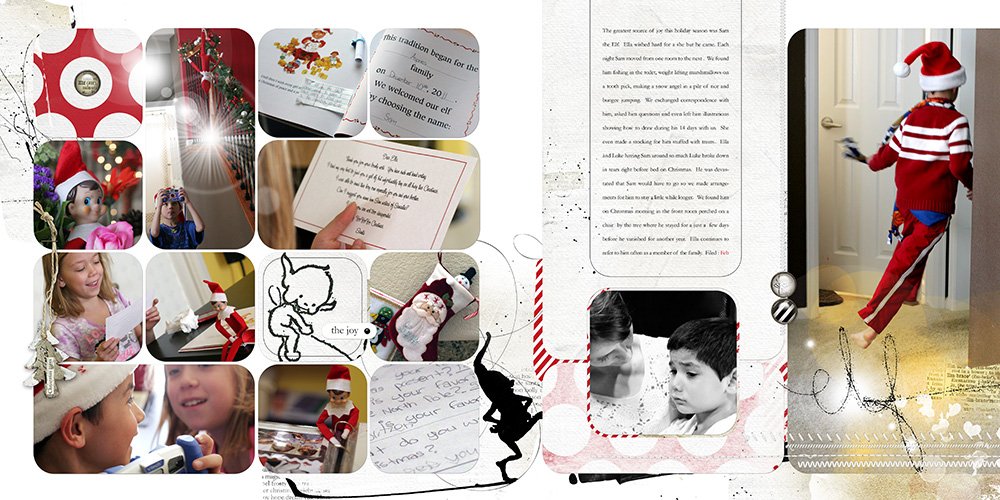 Year 2012
The project quickly evolved in terms of style and approach.
As I went about my day, I settled on a Word Inspiration, that became the topic of my page.
I then Paired my single word with photos and a story to coordinate.
At this point, the digital scrapbook Project is about seasonal Magic but also stories, photos, and anecdotes from the past 12 months, that I wanted to share.
The project is becoming an opportunity to reminisce on the past year and create one last 'Hurrah' in my documenting endeavors.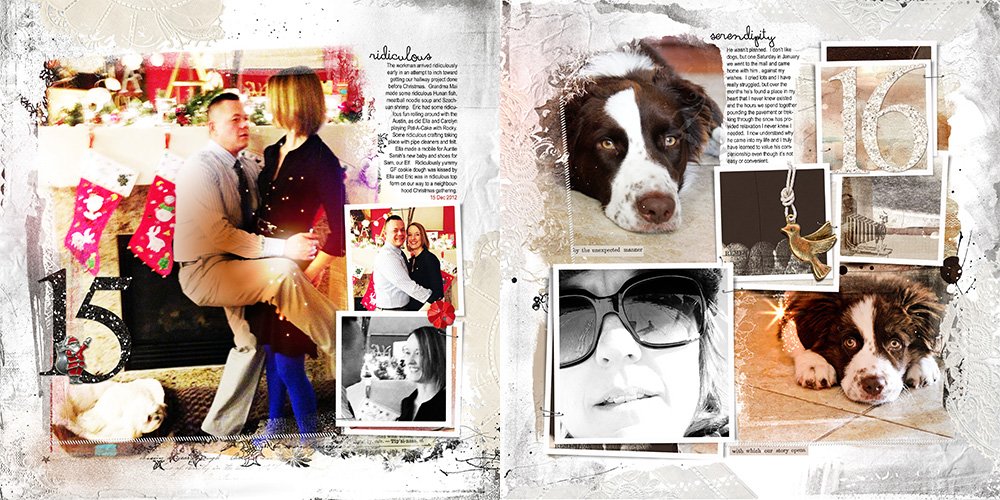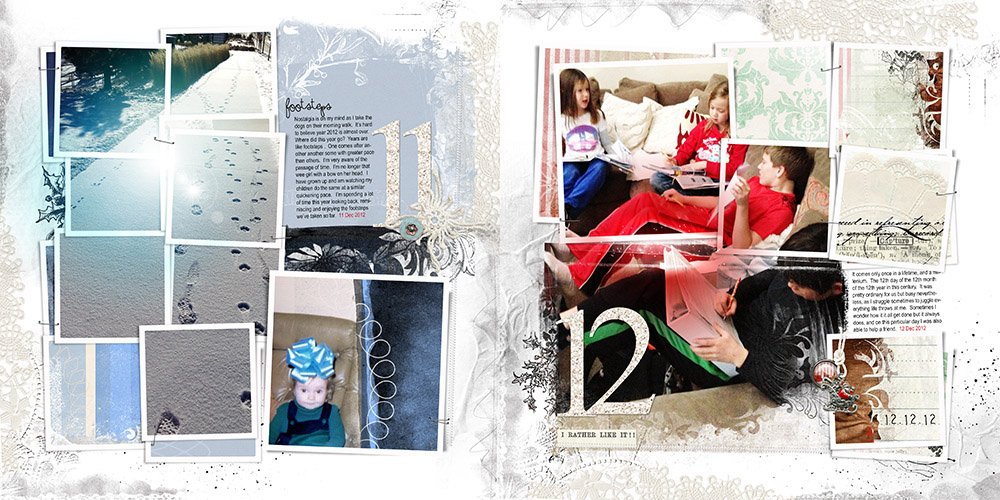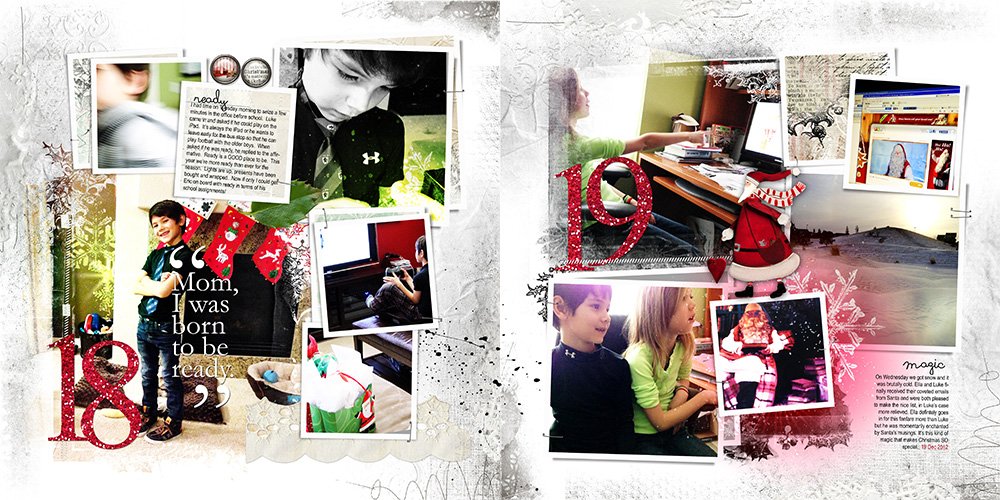 Year 2013
This was the year I started combining photos from previous years and decades.
I introduced photos and memories from my childhood and made Comparisons with Ella and Luke.
This led to comparing photos with Similar themes from different periods in my digital scrapbook pages.
The project had evolved to gathering photos that Support The Story, based on one word that summed up the day.
I just LOVE this approach.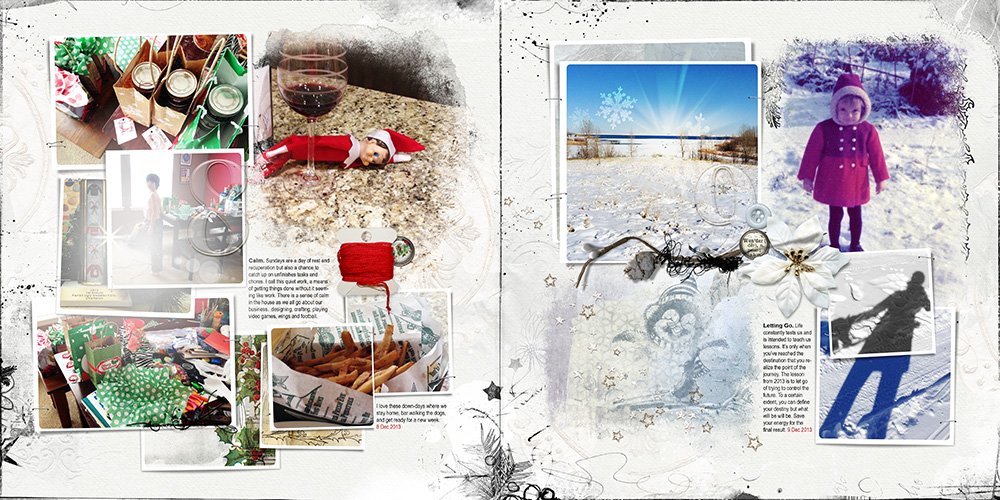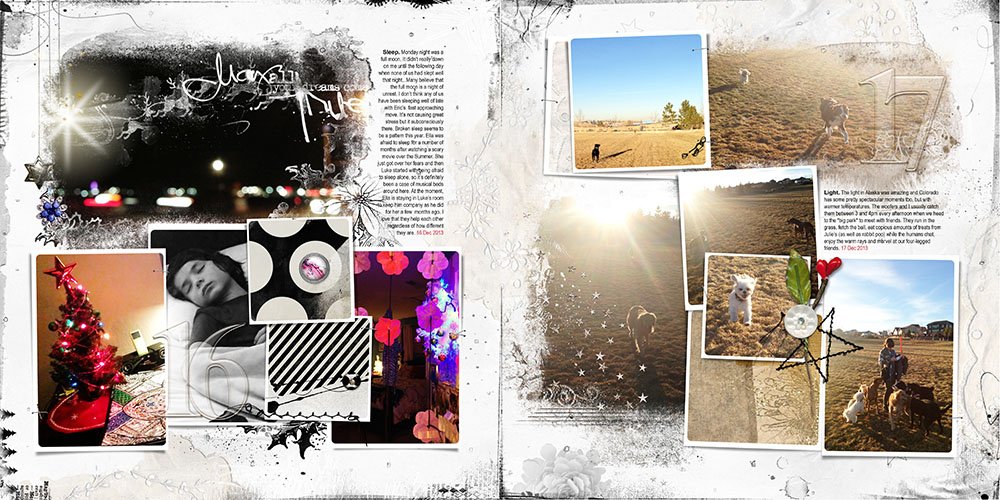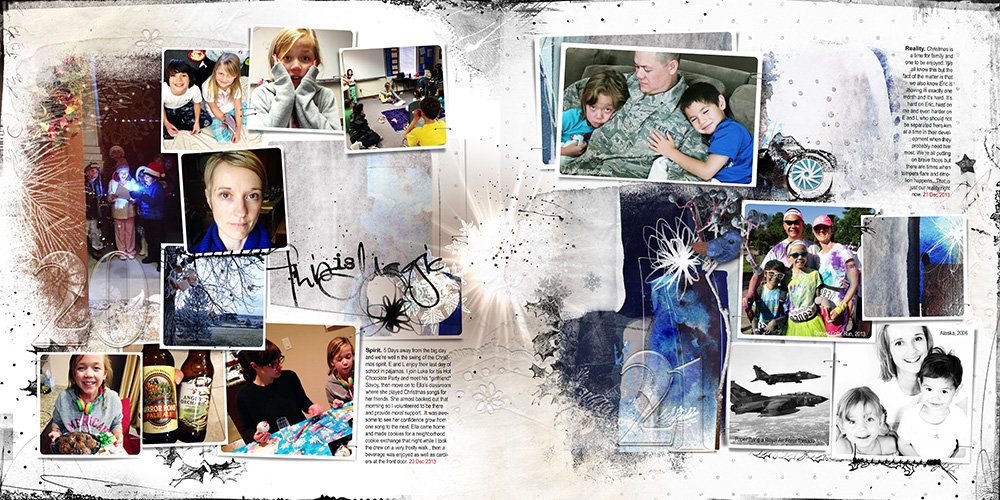 Year 2014
The project becomes more refined.
I'm now Honing the approach further, in terms of the time it takes to complete the digital scrapbooking pages without sacrificing Meaning.
The focus is less on the art and More on the photos and stories.
The aim is to maximize the time I have available during this busy season.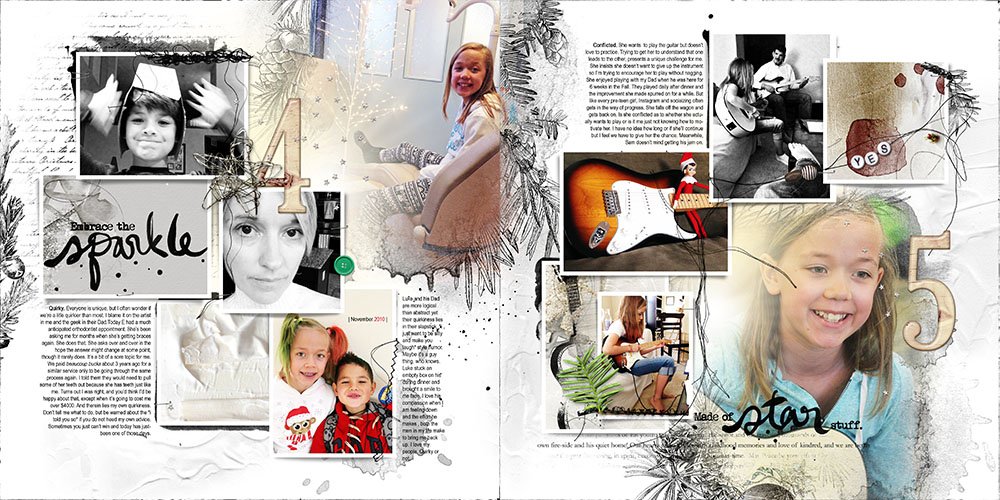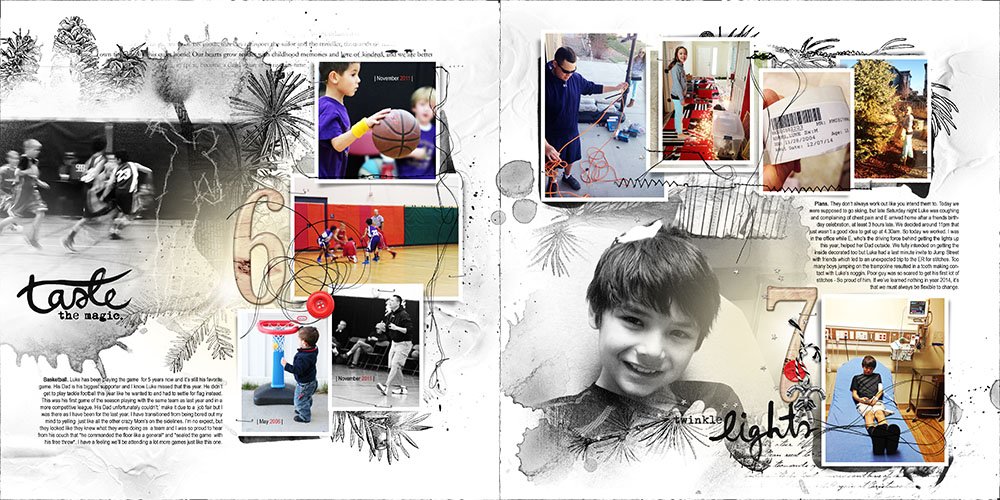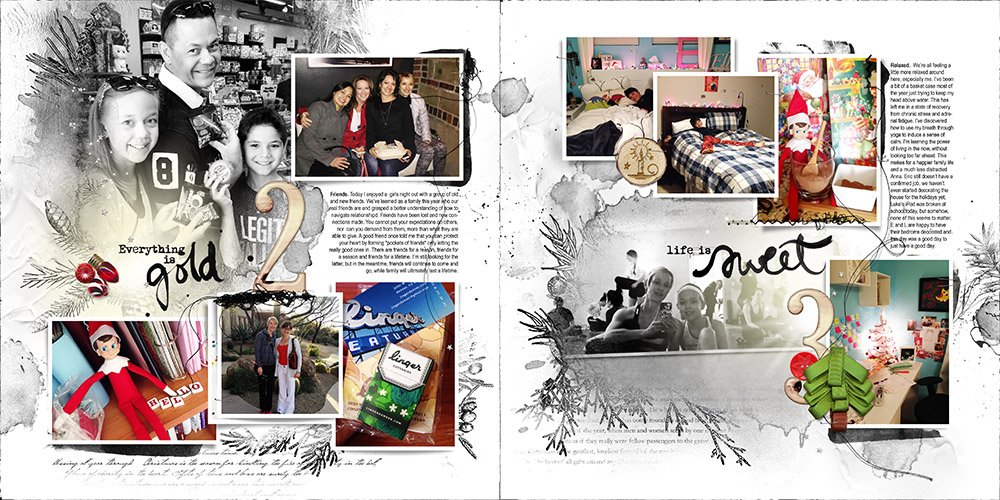 Year 2015
Experimenting and discovering my preferences.
One simple inspiration Sparks one story, supported by a myriad of photos.
It's about reflection and reminiscing on the Past Year in my digital scrapbook pages.
The project has almost taken on an art journalistic approach, in which I am the Narrator and purveyor of all stories.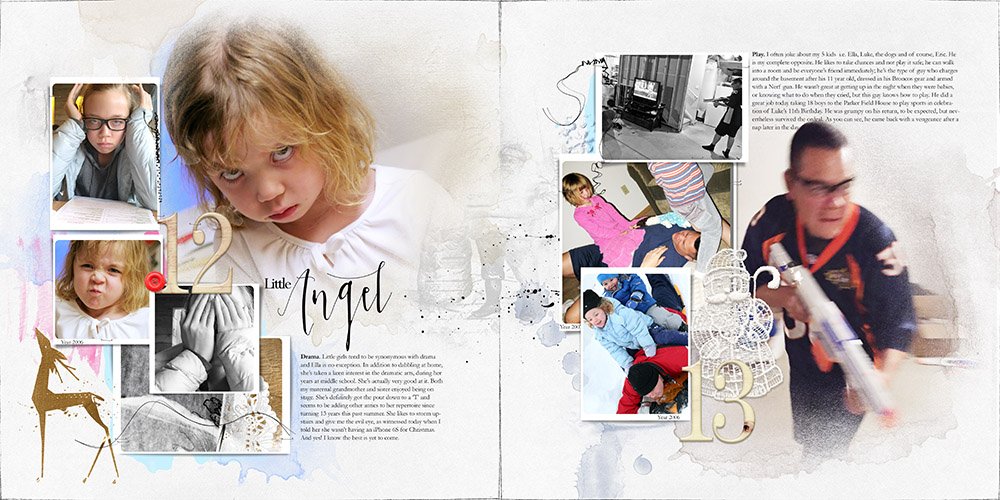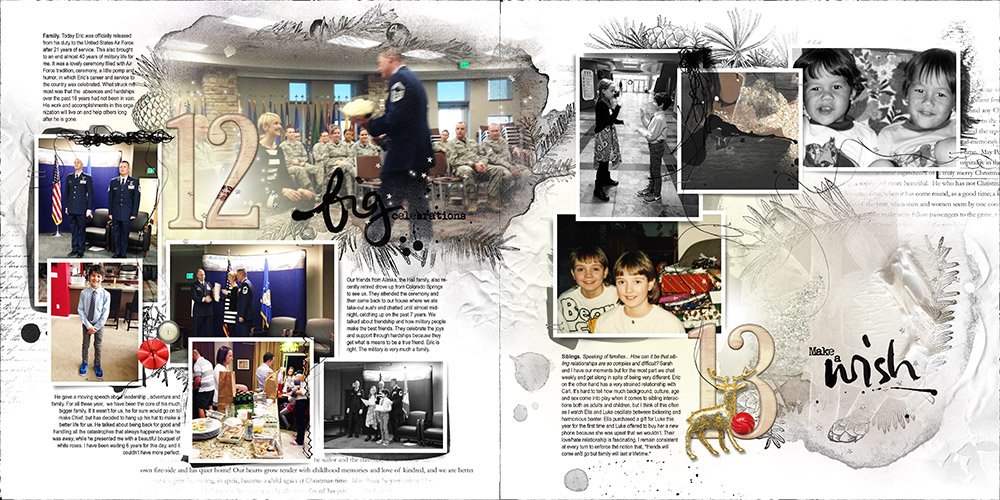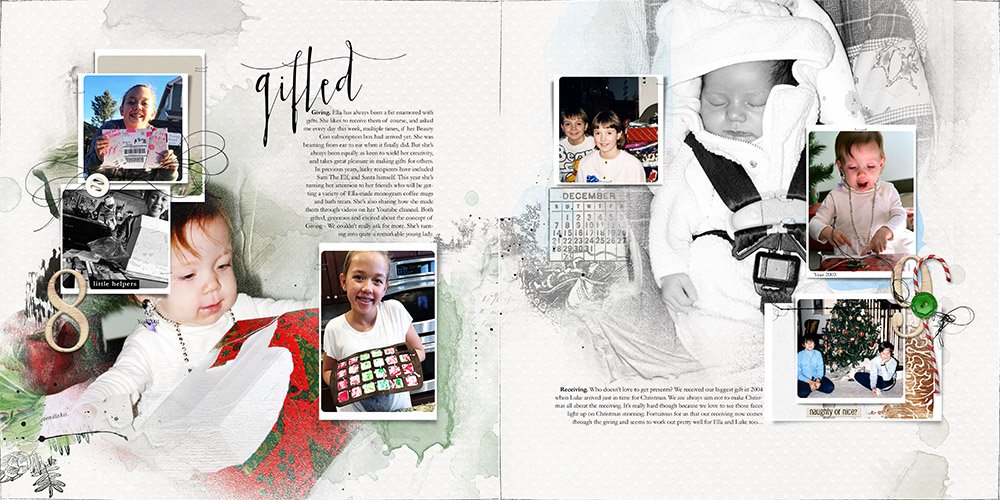 Year 2016
Seek more joy in the season and look to carve out more time for techniques.
It's still about a daily story or inspiration, but I'm Playing more with the art and techniques.
I engage more in a little daily ArtPlay, which is fun and does not contribute to the chaos of the season.
The project is a vehicle for finding a few Moments of Calm and appreciating otherwise lost moments.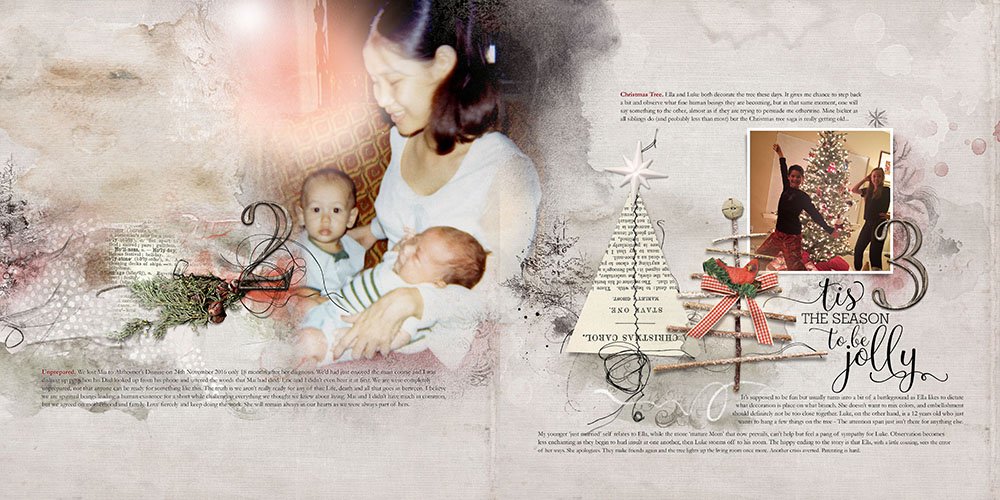 Year 2017
Found my groove with this digital scrapbooking project.
Use the daily prompts to spark a story from the year and find Connections in previous years.
Bringing photos together with Commonality is one of my favorites in memory keeping.

Year 2018
Having fun with the stories and developing my voice.
Now adding Date to photos from different periods.
Staying consistent and gaining Confidence in my digital scrapbooking approach.
Which also makes you fall in love with this Project even more.

2019
Simple focus on words and photos.
With a Tried and Tested process in place, I'm just enjoying the process.
Planning is key…
It's my Favorite digital scrapbooking project of the year.

Year 2020
Intentional tweaking.
Ditched the Titles to focus on the Story for each prompt.
Including other fun 'bits and pieces' to Enhance my digital scrapbook pages.

Year 2021
The story-telling just gets better.
And Better!
Practice makes Perfect.

Year 2022
Enter the opportunity to learn something new.
A month to focus and Master a new technique.
This was the year of Simple out-of-bounds-extractions.


The Project has been flexible over the years to work with my creative mood and the different phases of my life.
It has grown with me, Evolved, and transformed – And I LOVE the growing collection of albums on my shelves.
Especially when viewed as a body or Library of our photos, stories, and memories.
From here I just keep adding books, growing my skills, and getting BETTER with each year.
This annual project has become a December tradition over the last 2 decades
It's how I enjoy the season, looking back on the year, Reflecting on photos, and telling stories.
It's a Simple way to document a year of memories and enhance my digital scrapbooking.
I am here for Every single moment of it 🙂
It's only stressful if you choose to make it that way.
Regardless of whether you want to create a project like mine, or document an event or travel.
I will show you how to do it.
It's NEVER too late to start building your Library of Memories.