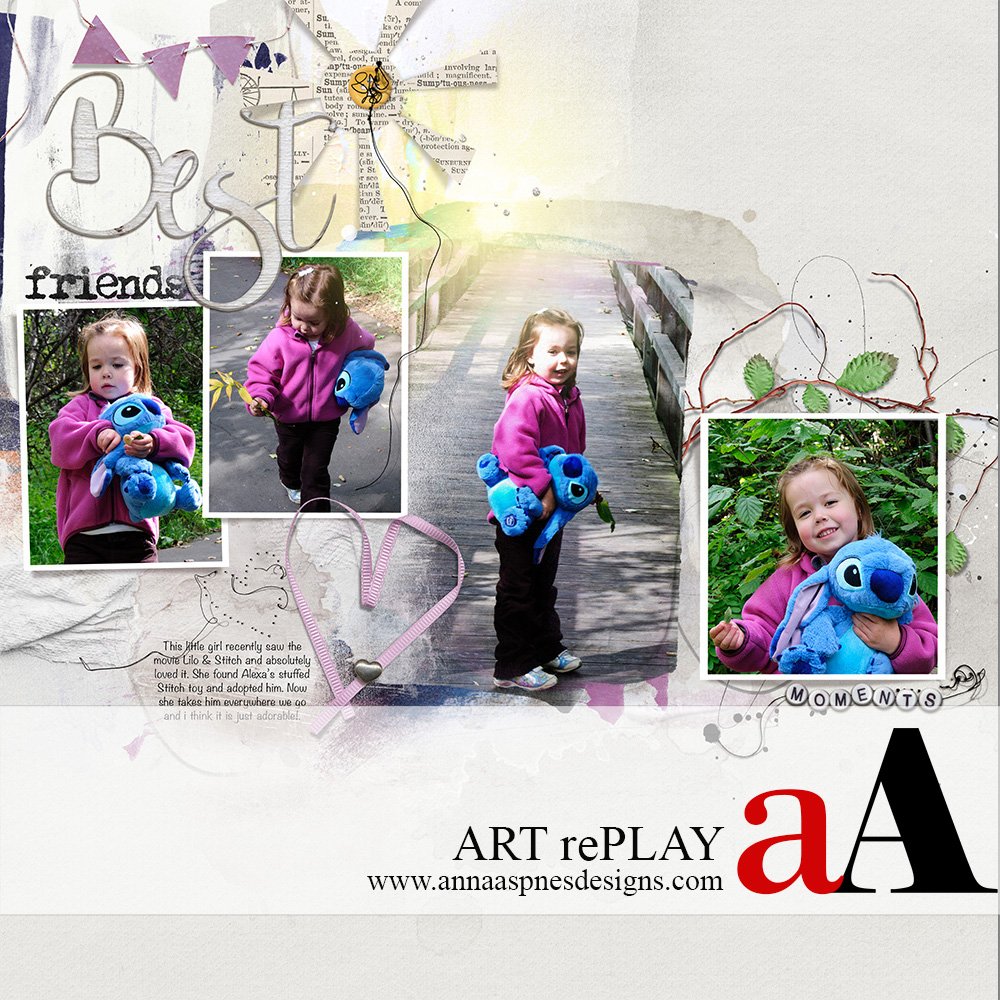 In this series of tutorials, the aA Creative Team will be showing an older layouts and reworking them to show you how they made improvements.
Today, Creative Team Member, Heather is sharing her ART rePLAY No. 2.
ART rePLAY No. 2

ART rePLAY No. 2
Background. I was looking back through some older layouts that I had created and realized there were a bunch from 2010 that I wanted to rework. My style is quite different now than it was back then. I selected this one of my daughter, Chloe and her favorite stuffed toy at the time.
BEFORE.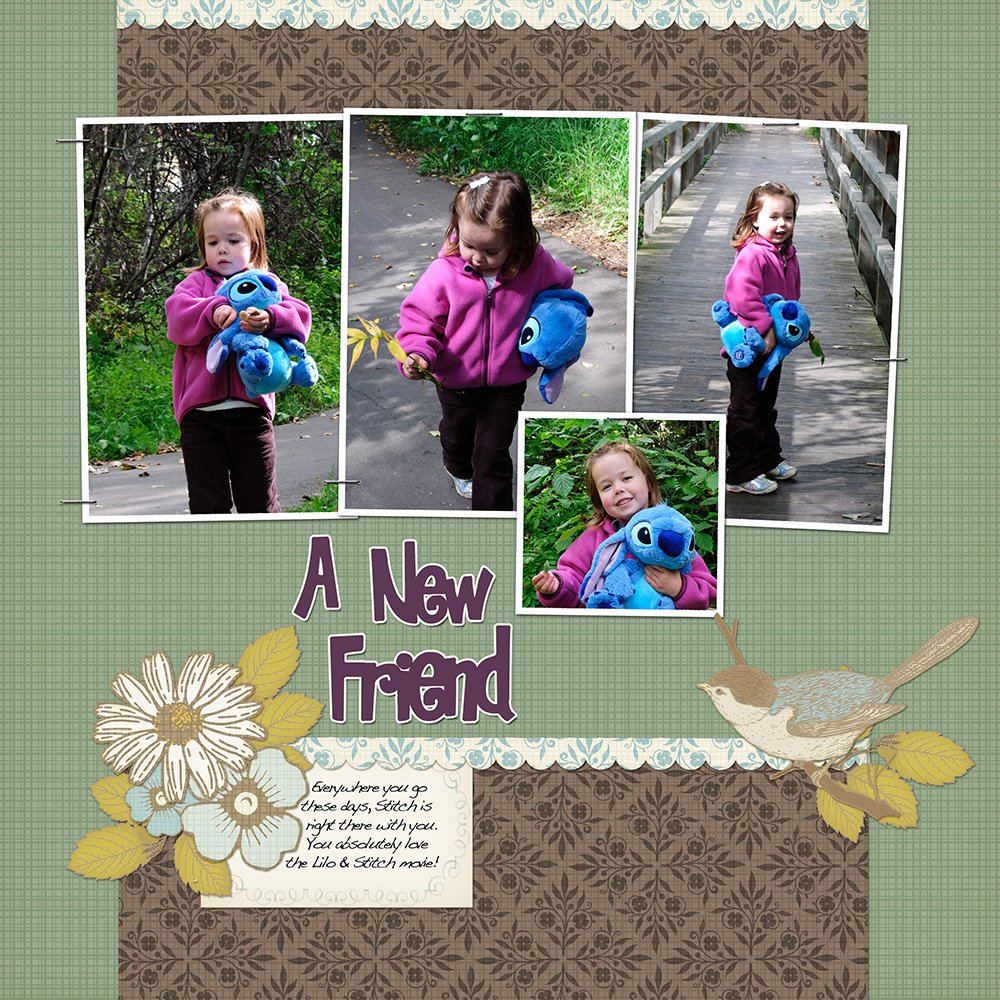 Heather makes the following observations about her layout:
The DigitalART supplies used in this page do not fit my style. The green is the wrong for my photos and all the colors are far too muted. The elements don't relate to the photos in terms of style, color or subject.
Heather reworked the layout to create the following page.
AFTER.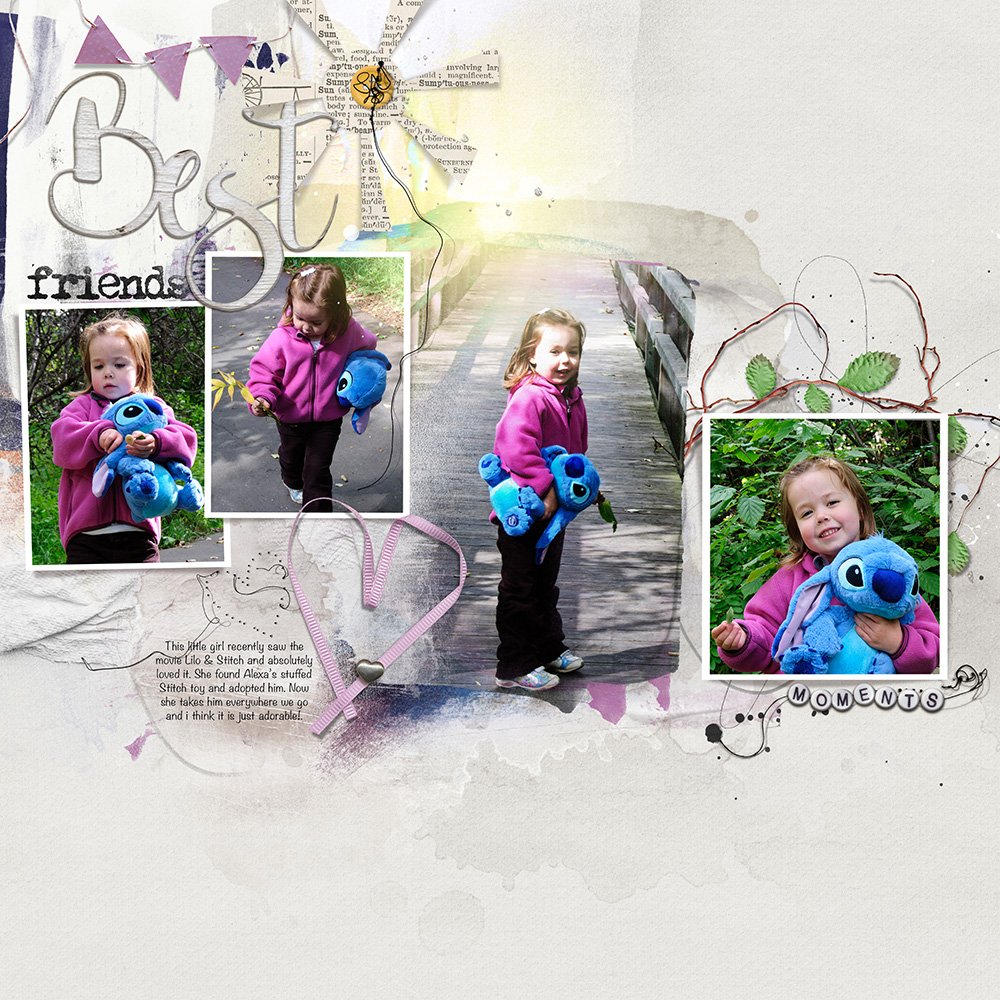 Improve Your Digital Scrapbooking and Artistry Layouts
1. Use an Artsy Template. Artsy Layered Templates are a series of layered .psd files by aA designs intended to help you create artsy digital scrapbooking and artistry pages. Each of the templates includes multiple layers of paint, masks, art 'strokes' designed to be recolored, manipulated or used with the clipping mask function in Adobe Photoshop or Elements.  
You can use an Artsy Layered Template as a starting point for a design making adjustments as preferred along the way, or use the template in it's entirety, like a sketch, but much better – The template will guide your placement of digital elements at every step during your creative process.
Artsy Layered Templates are blue prints for your pages designed be used multiple times through making adjustments to suit you photo needs.
Heather is a huge fan of templates and began her layout using an Artsy Layered Templates by clipping her photos to layers in the template.
2. The Focal Point. All of the Artsy Layered Templates are designed to have an obvious focal point. This might be a paint layer or FotoBlendz mask designed to be used with the clipping mask function in Adobe Photoshop or Elements. The difference between the two is that the edges of the FotoBlendz mask will typically be more blended than the painted mask.
The focal point of a template may also be 'framed' and emphasized by a framed mask. This may simply be the frame layer, with a drop shadow applied, through which the mask layer is visible. It may also be comprised of multiple layers designed to yield a framed photo. You can choose to use any of these layers, or not, by clicking on the 'eye' icon next to the layer in the Layers panel to turn the visibility on/off.
Clip photo to the mask layer using the clipping mask function in Adobe Photoshop or Elements.
3. Create Unity. Unity is a basic design principles that forms relationships and connections in your layouts via properties such as similar colors, shapes and motifs, for example.
Notice how Heather's choice of DigitalART supplies share similar colors to those in her photos. The background paper is more muted and helps blend her focal photo while the elements provide contrast to yield visual interest. She has essentially allowed the colors in her images to guide her DigitalART choices.
This approach is further supported by recoloring the stain and paint layers in the template. There are multiple ways to recolor layers in Adobe Photoshop and Elements. You can use the Edit> Fill option ensuring the 'Preserve Transparency' option is checked or use the Hue/Saturation tool.
4. Embellish. Add visual interest through the use of dimensional embellishments and words, paying attention to size, shape and color. Remember that embellishments should support and enhance your photos, rather than overwhelm them.
Stay tuned for more Creative Team insights to be shared in the new ART rePLAY series.
Watch the video on Creating FotoART using Templates.