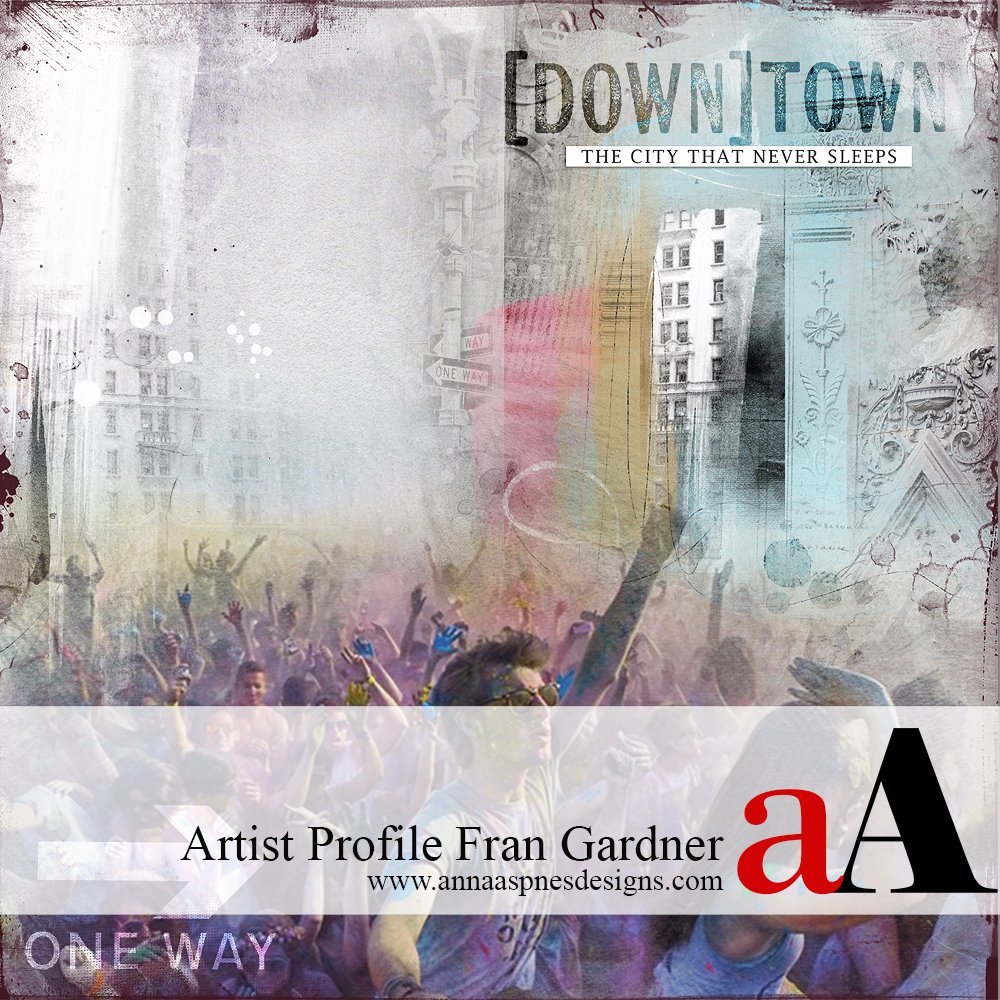 Today we are sharing a Q & A Artist Profile Fran Gardner.
Fran Gardner a digital memory keeper and digital artist who loves creating unique art using Anna Aspnes Designs.
Big thanks to Fran for allowing us to share her artistry in this Artist Profile Fran Gardner.
Artist Profile Fran Gardner
1. Tell us about yourself and how you discovered digital scrapbooking.
My stepdaughter Jaimie was into paper scrapbooking back around 2005, I wasn't really interested in delving into it at the time, but my stepson Scott decided to be in a play his freshman year in high school and I wanted to document it for him.
So in 2006, I gave paper scrapbooking a try. I completed quite a few pages and was running out of ideas, so I did a search for scrapbooking layouts and came across a digital scrapbooking site.
OMGosh! You mean I can create a page on my computer and not have to deal with the mess? No mess, no fuss and if I make a mistake or want to change something no big deal.
I stopped the paper scrapping and changed to digital scrapping and I've never looked back.
2. You seem very comfortable using templates and creating template-free designs. How do you choose which way to go when you start a page?
I tend to lean towards using a template if I have multiple pictures I want to scrap, such as a birthday, an event, or a vacation.  I do more of the template-free scrapping when showcasing a special picture or when I want to play with my layout.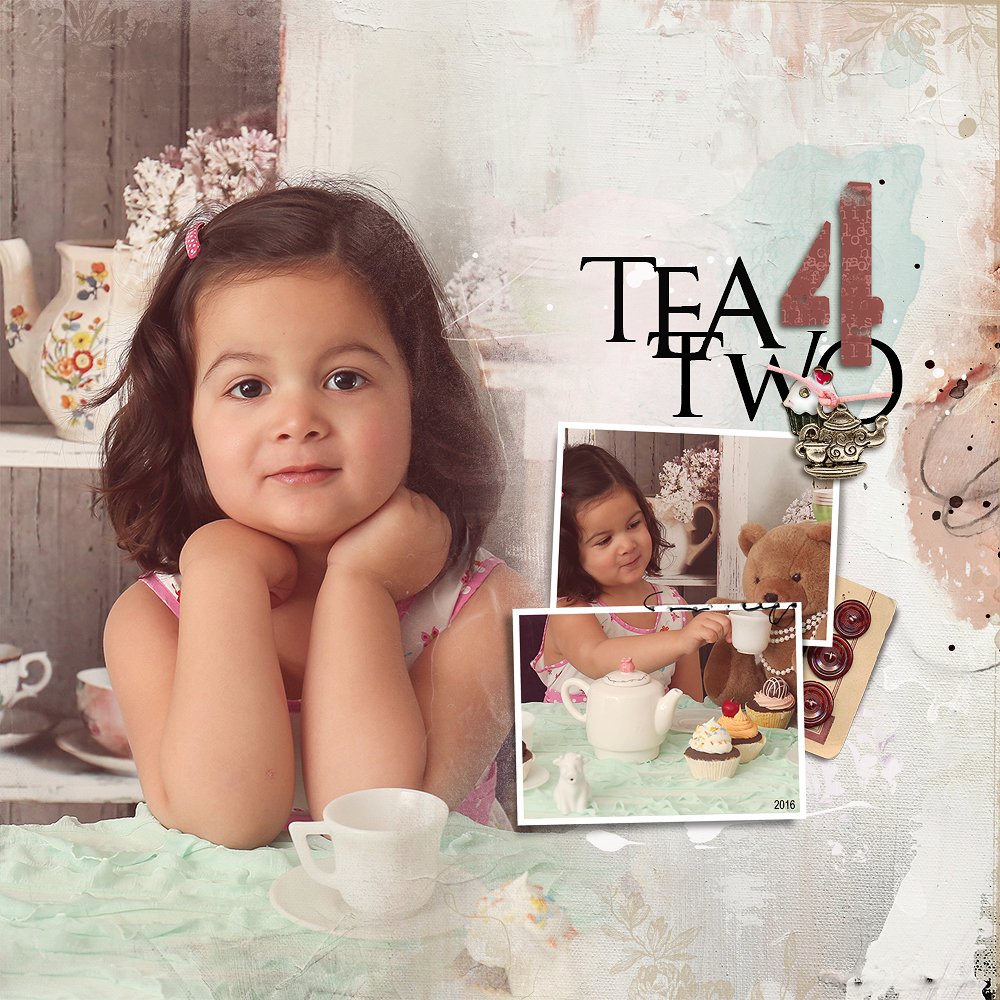 3. How long to you typically spend on a page from start to finish? Do you ever struggle with knowing when a page is "done"?
I don't really keep track of how long it takes to do a layout. My guess is at the least a couple of hours—this includes trying to find the right products through to the finished page.  At most, a page takes me a couple of days—this includes leaving it for a time and getting back to it with a fresh take on it.
I struggle with every layout. They never turn out the way I originally intended.
I believe my layouts evolve through the building process. They take on a life of their own.  They tell a story or evoke emotions through color or story telling and, yes, it's hard to know at times if a page is really done or overdone.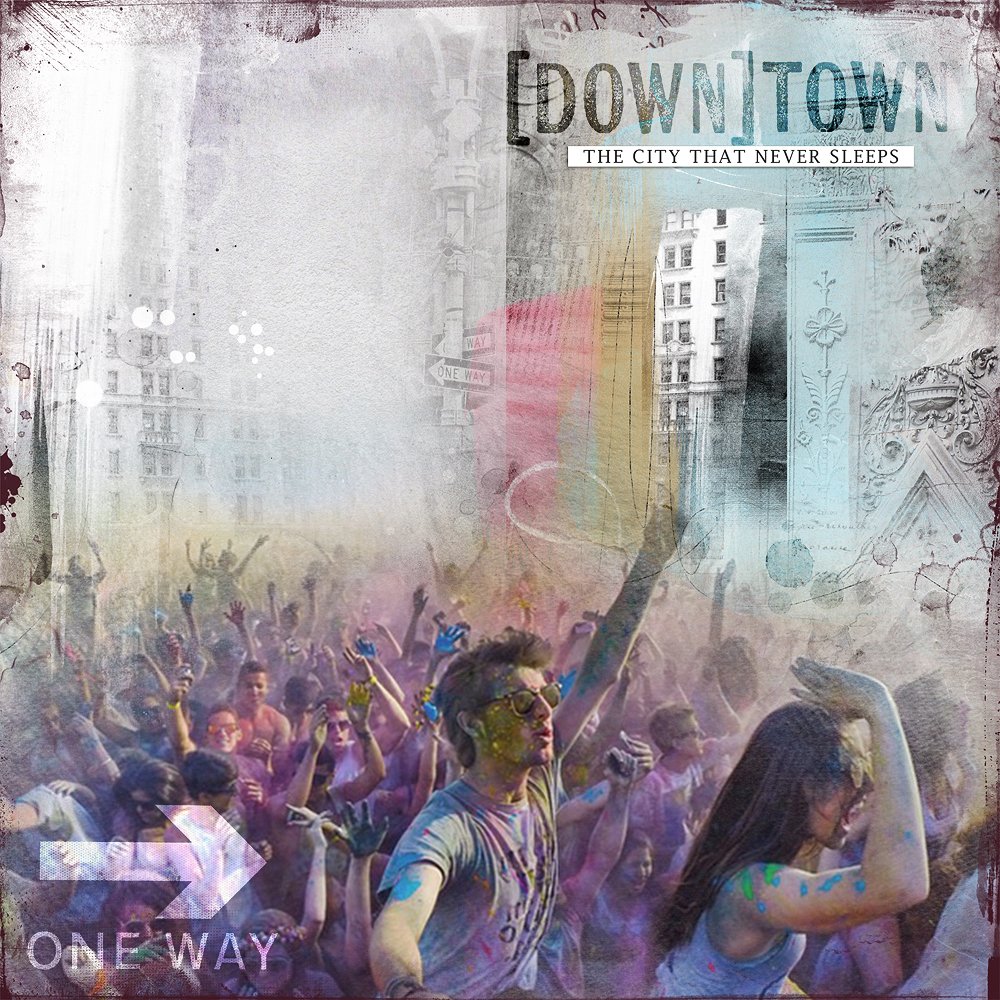 4. You've created a wonderfully edgy page with Downtown. How did you put this page together?
When creating the layout Downtown, I started with the kit.  I wondered how to convey the theme and mood of the kit that Anna had created.  Once I had a picture I thought was perfect, I was ready to start.
I used 3 of the papers in Artplay Palette Downtown to start my base background. The top paper layer was Artsy Paper No. 1, I used a masking technique that incorporates the gradient tool to softly blend out the paper so the layer below showed only the parts I wanted to see.
I then added some texture and stains on top of this layer, placing the photo I wanted to use on top of that. I again used a mask and the gradient tool to blend out the bright blues that were on the top portion of the photo.  I added a new adjustment layer and used the Hue and Saturation tool to adjust the color of the photo a bit. I clipped the adjustment layer to my photo.
The final step was adding the various brushes, textures, elements and WordArt to finish up the layout.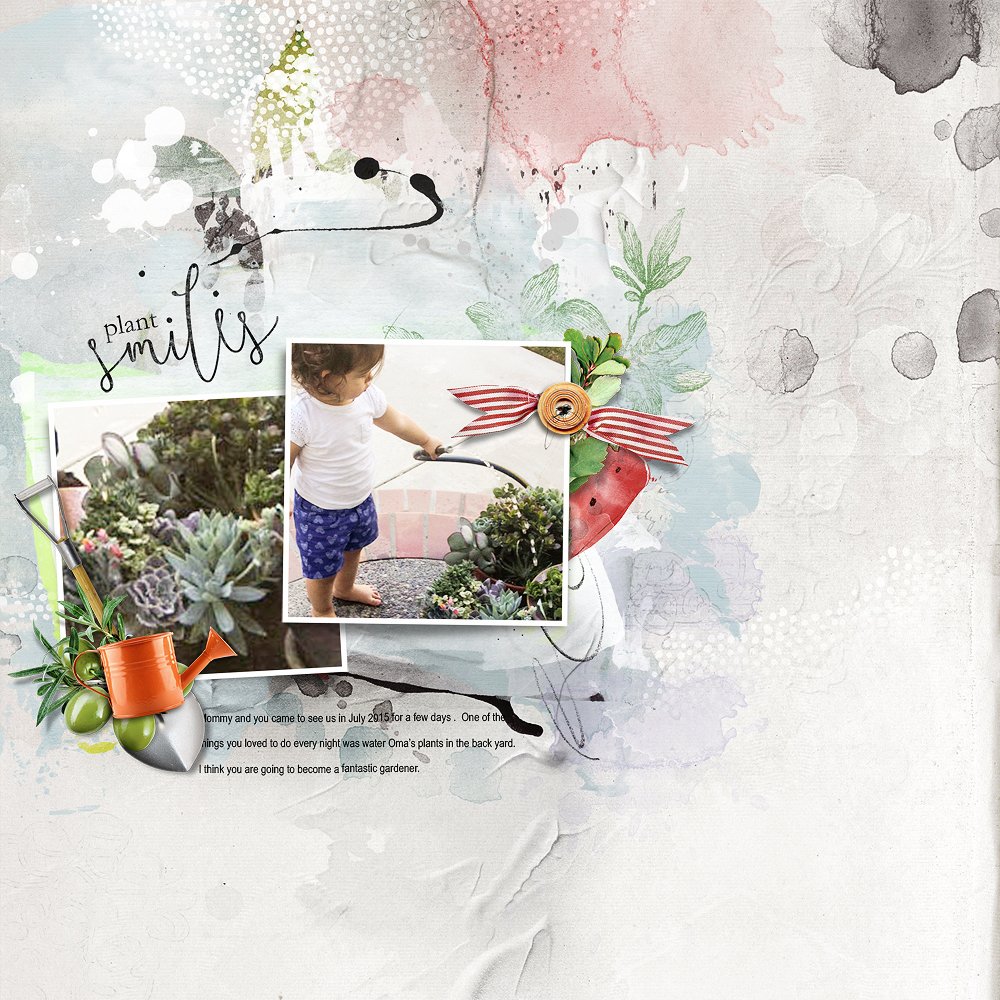 5. Is there any particular technique that you use over and over again when you are creating? What do you like about this technique?
Blending Modes – I can't say enough about them. I use them on every layout I do, whether it's to improve my picture quality or change the color of my background.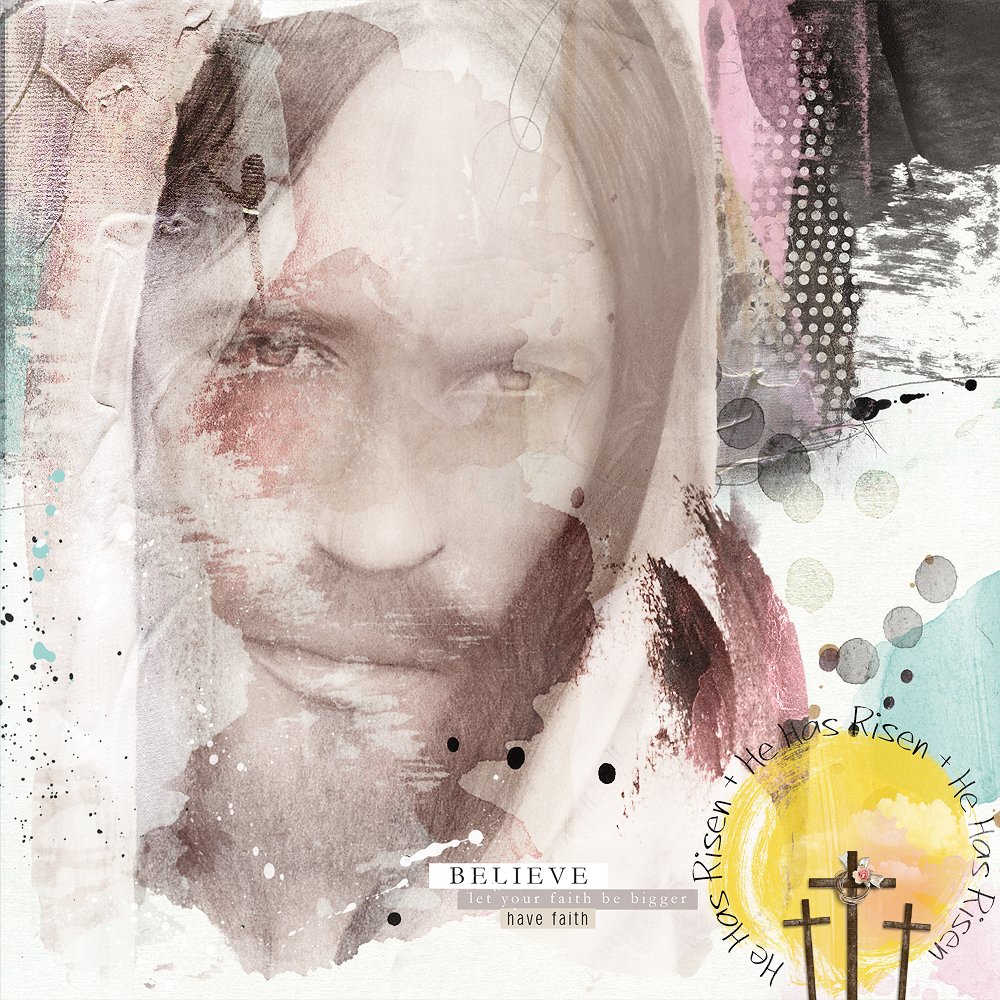 6. How do you challenge yourself creatively?
Lately, I've been involved in the challenges on the O'Scraps site. They really helped me get back into scrapping after not scrapping for a while due to work commitments.  It's great to be doing what I love doing once again.
7. When you are not creating digital art, what do you like to do?
I love to read and catch up on my TV shows.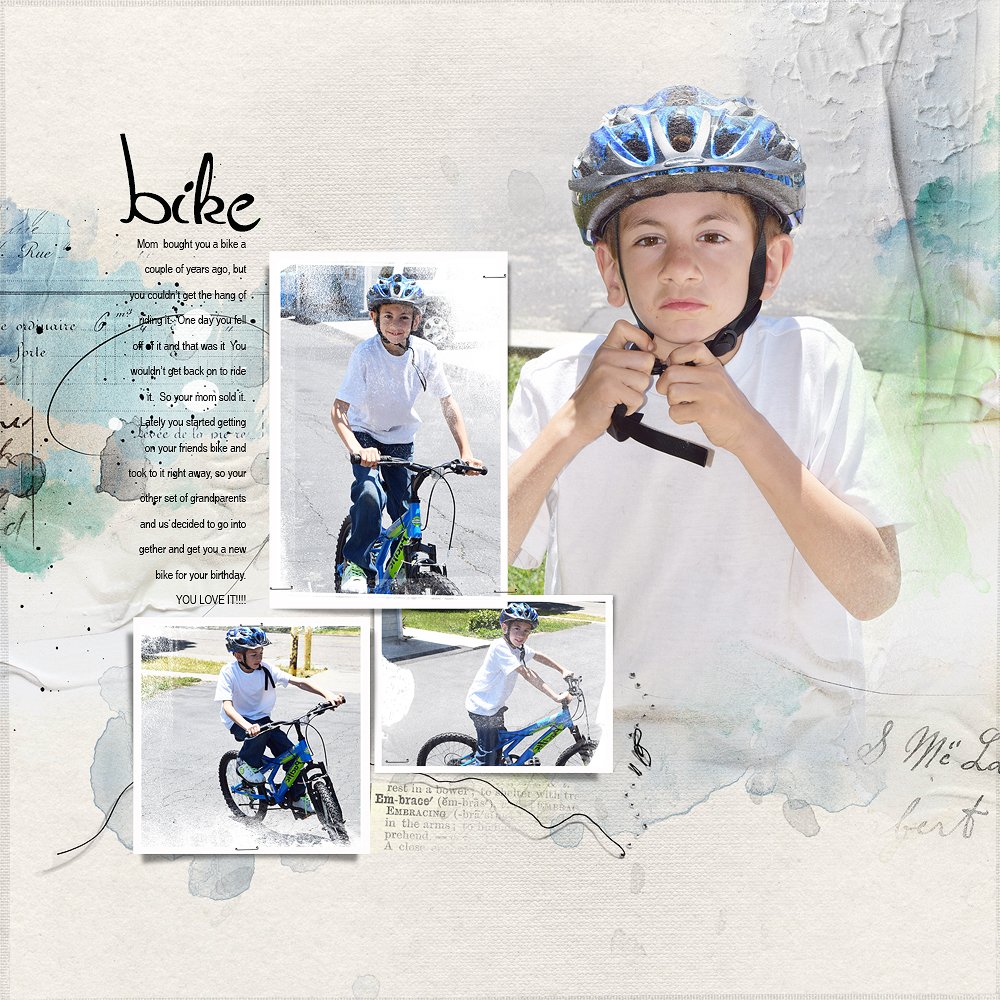 We hope you have enjoyed this Artist Profile Fran Gardner.
The Artist Profiles is a category of posts in which we aim to inspire you with the work of other artists, photographers, memory keepers, makers and curators. I believe we can learn much from others and inspiration can come from a variety of creative sources.
Please email me if you are interested in having your work featured in this space.