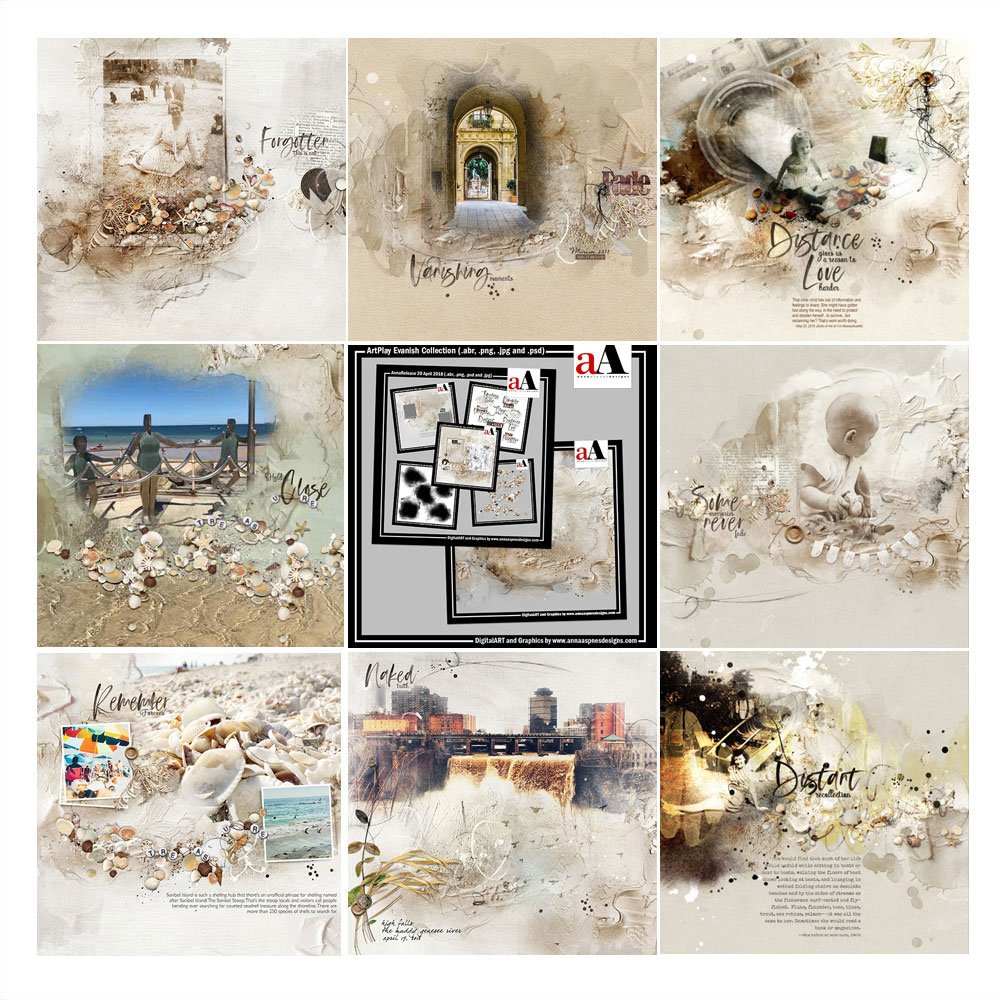 Happy Tuesday! Today we're sharing ArtPlay Evanish Inspiration.
This post is intended to give you guidance on using ArtPlay Palette Evanish, ArtsyTransfers and co-ordinating digital assets
Click on the image below to view more digital designs inspiration 'Narcissus' or visit the AnnaTeam Layouts board on Pinterest.
ArtPlay Evanish Inspiration
1. Repetition on Repeat
Duplicate Elements to create your own clusters to up-level your artsy digital scrapbooking.
Repetition creates Rhythm in your photo artistry and artsy digital scrapbooking pages.
Notice how Adryane has rotated and changed the placement of the SeaSprinklez elements to create variation in her repetition.
See also this layout, this one, and this one for more shell inspiration.
See Also:
2. Size Matters
Resize your elements as need to mirror the impact you want them to make in your art.
Larger elements create Focal Points while smaller embellishments enhance the photo artistry
Size of elements will indicate their Importance in the digital scrapbooking page.
Notice the addition of the small shells and a delicate element cluster in this layout design.
You may also be interested in:
3. Custom Colorizing
Change the color of your DigitalART supplies to suit your preference and photos.
There are many ways to adjust Color in your digital scrapbooking pages using Adobe Photoshop and Elements.
Use the Hue and Saturation tool to shift colors quickly and easily in your photo artistry.
We love how Donna added a brighter hue to ArtPlay Evanish Collection to suit the tone of her digital art journaling page.
See also:
Useful Techniques Video on the Resources page.
4. Blend with FotoBlendz
Clip a photo to the various layers in the FotoBlendz masks to blend the image in your artsy digital scrapbooking page.
Clip the photo to the first layer in one of the WaterColor FotoBlendz .psd files.
Duplicate the photo multiple times keeping the copy layers in the Same Position and clip to the other mask layers.
Apply Blending Modes to the mask layers to allow the underlying artistry to show through the photo artistry.
See also:
5. Title Cluster
Create a title focal point through placement of an embellishment cluster in your digital scrapbooking page.
Create a 'string' of dimensional elements Underlining your title.
Proximity of the elements to the words creates a single Focal Point in the photo artistry.
Notice how the element cluster also Connects the 2 supporting framed photos.
See also:
6. Frame a Focal Point
Place a frame over an area of your photo that you would like the viewer to notice.
Find frames in ArtPlay Palettes and Artsy Layered Templates.
Position these elements over areas of your digital scrapbooking layout to create Emphasis.
Notice how the dimensional and angular Lines draw the eye and create the focal point.
See also:
7. Contain Your Blending
Position transfers around the edges of your blended photos to foster better transitions.
Transfers and overlays from ArtPlay Palettes and ArtsyTransfers can create defined edges to your blended photos.
Notice the placement of the gold paint transfers to create Repetition.
This also helps to Lead the Eye through the artsy digital scrapbooking page design.
See also:
8. Create a Visual Triangle
Position elements in a triangle formation to frame your photo.
Triangle create Diagonals which create Tension with horizontal and vertical Lines.
They also serve to lead the eye Around your artsy digital scrapbooking layout design.
Notice the 3 different element focal points creating a Visual Triangle.
See also:
ArtPlay Evanish Collection
INDIVIDUAL PRODUCTS IN THIS SERIES:
Note that the 'Bundled' collection is available at Limited Times throughout the year.
Want More Digital Scrapbooking and Photo Artistry Inspiration?
EMAIL ME AT ANNA AT ANNAASPNESDESIGNS.COM OR POST IN THE COMMENTS BELOW.