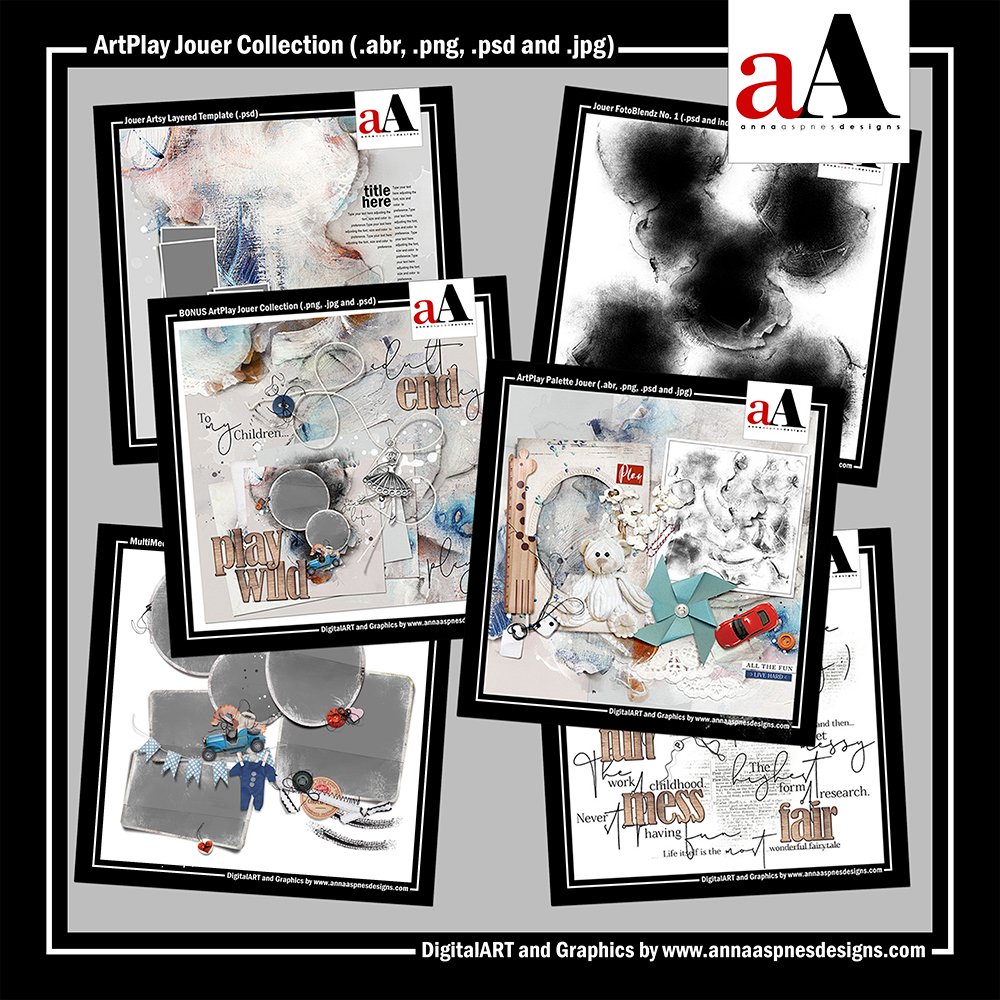 The NEW!! ArtPlay Jouer Collection has arrived in the Anna Aspnes Designs store at Oscraps.
ArtPlay Jouer Collection
The ArtPlay Jouer Collection includes 5 coordinating DigitalART products plus BONUS.
'Jouer' (noun) inspiration:
The French verb 'to play'
Two Options:
Note: ' The Complete Collection' offer is typically available for ONE WEEK ONLY following release. View the Extended License for ALL aA DigitalART products. Click on the images below to view the digital scrapbooking and photo artistry products in the Anna Aspnes Designs store at Oscraps.




And Something a Little EXTRA…
YOU GET 2 LITTLE ADD-ON BONUSES AS A BIG THANK YOU.
INCLUDES:
1 X Artsy Paper (.jpg)
3 X WoodWords (.png)
3 X WordART Titles (.png)
1 X MultiMedia Element (5) (.psd and individual .png)
5 X Layout Ideas using the ArtPlay Wildlfower Collection
PLUS LIVE ACCESS TO ARTPLAY JOUER INSPIRATION + REPLAY:
INCLUDES:
Take a tour of the collection
See

a

A

Creative Team Inspiration.
Watch Anna create 3 on-the-fly layout designs.

WHAT YOU WILL LEARN:
Create an interesting layout Matte.
Different Ways to combine Frames with FotoBlendz.
Customize a Title.
Create a WordART Element Cluster.
Embellish frames.
Use WordART Brushes
Blend Multiple Layers using ArtPlay Palette Brushes.
Embellish a Frames with PaperTextures.
Create a Layout Foundation around a framed photo.
Blend a Photo with ArtsyKardz.
Establish Alignment through placement of elements.
Mask a photo into a Solid Paper.
Create a Frame from a Frame.
Recoloring elements and photos.
My thought Process as I make Design decisions.
And a whole LOT more!
ACCESS THE REPLAY:
Locate the .pdf file to access the REPLAY in the BONUS.zip. 
Click on the Private Link to watch online.
Companion Sets