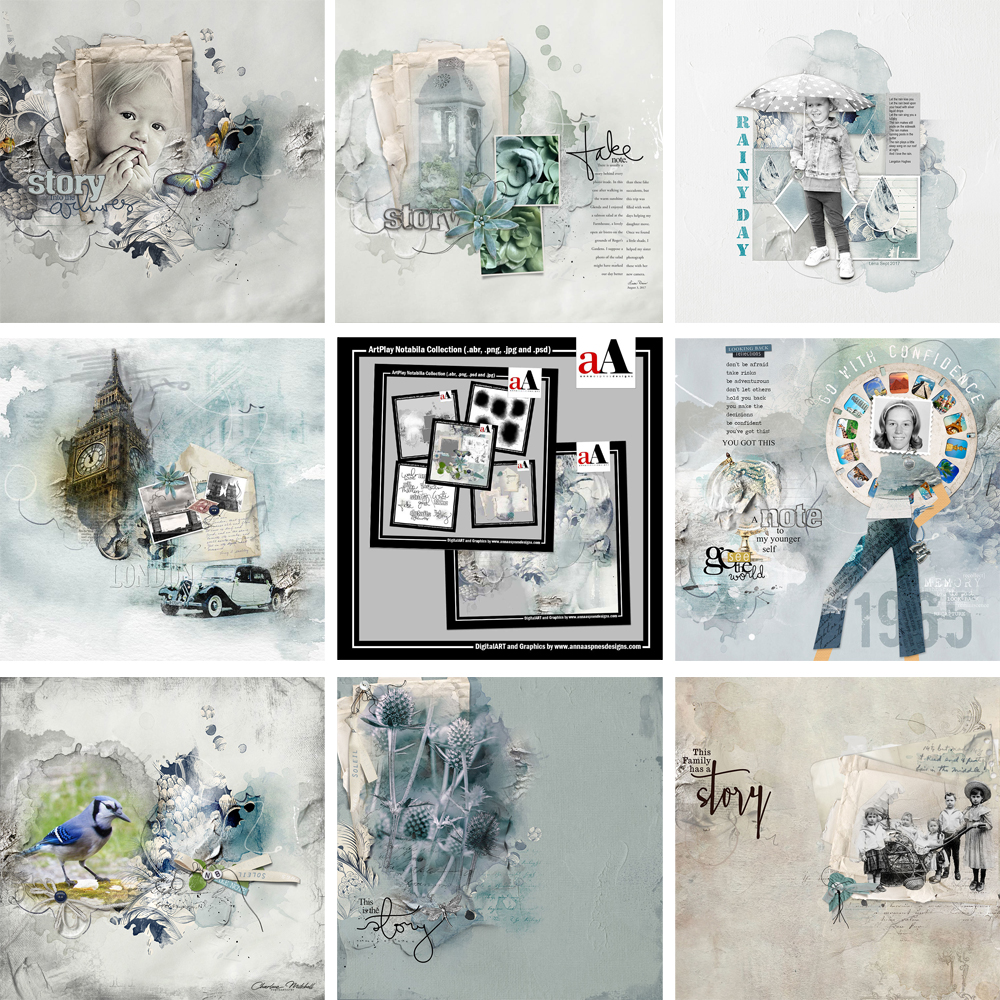 ArtPlay Notabila Inspiration post for digital scrapbooking and photo artistry in Adobe Photoshop and Elements.
The purpose of this post is to provide inspiration for using the ArtPlay Palette Notabilia and coordinating digital assets.
ArtPlay Notabilia Inspiration
1. Flexibility with MultiMedia
Use the layers individually or as delivered to embellish your digital artistry and artsy digital scrapbooking layouts.
You can also mix and match layers from Multiple MultiMedia elements to create your own Custom designs.
Watch this video for guidance on understanding and Using the MultiMedia product range by Anna Aspnes Designs.
We love how Viv used elements from MultiMedia Documents No. 2 to Draw The Eye to her title.
See also:
2. Keep It Simple
Create an artsy digital scrapbooking layout using a simple drag and drop approach.
See also:

Watch this video for further guidance on creating this 10-minute digital scrapbooking page.
3. Visual Triangle Focus
Create 3 Focal Points to establish a visual triangle-led digital scrapbooking layout design.
Use digital elements to create 3 areas of Interest in your photo artistry page.
Notice the Focal Points on the left and upper edges of the digital scrapbooking layout as well as the photo.
This visual triangle is Enhanced through the use of green embellishments from the ArtPlay Notabilia Collection.
See also:
More Inspiration
Click on the images below to access complete digital design supply lists and process notes.
ArtPlay Notabilia Collection
A STORY-THEMED DIGITAL SCRAPBOOKING AND PHOTO ARTISTRY COLLECTION IN SHADES OF BLUE WITH A FLORAL MOTIF PERFECT FOR DOCUMENTING THE DETAILS IN YOUR MEMORY KEEPING AND DIGITAL SCRAPBOOKING PAGES.
Includes:
Want More Digital Scrapbooking and Photo Artistry Inspiration?