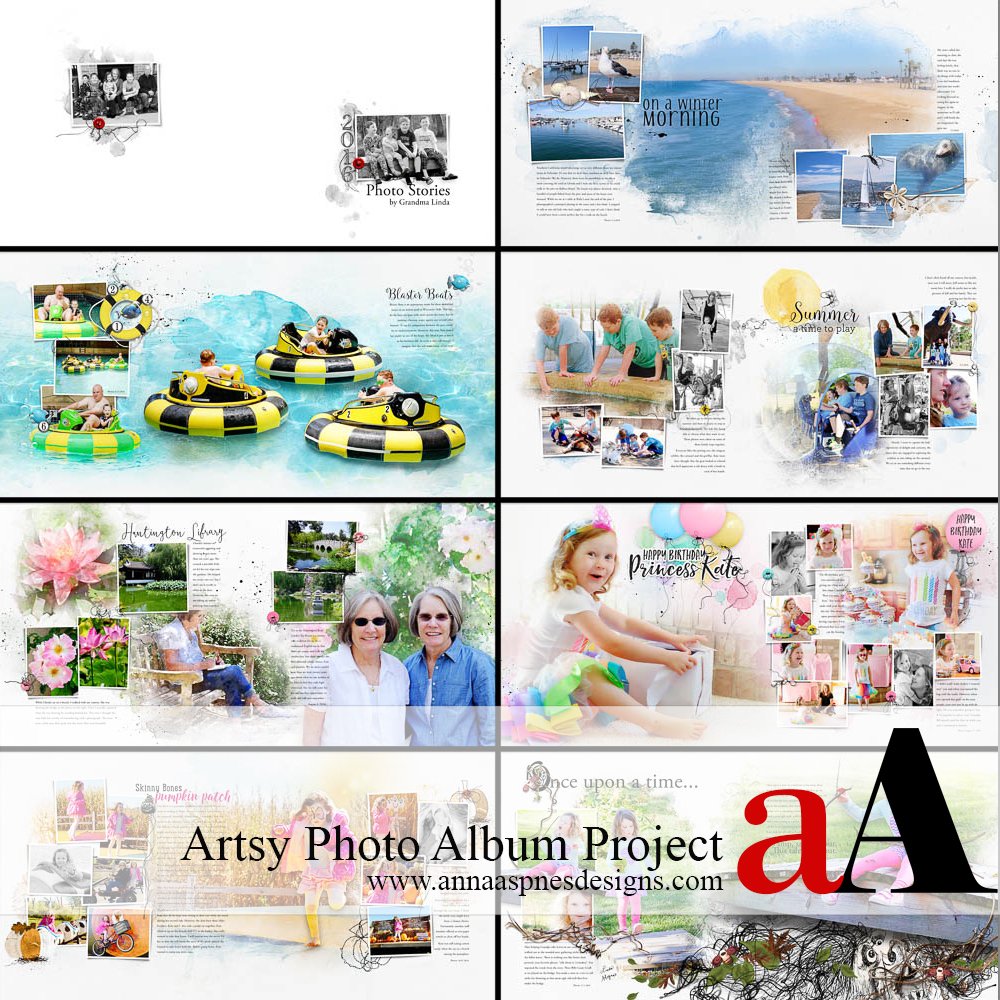 Creative Team Member, Linda Davis, shares her thoughts on her Artsy Photo Album Project, 2016 Photo Stories, as she prepares for 2017, in an excerpt from her blog post, Art Collection.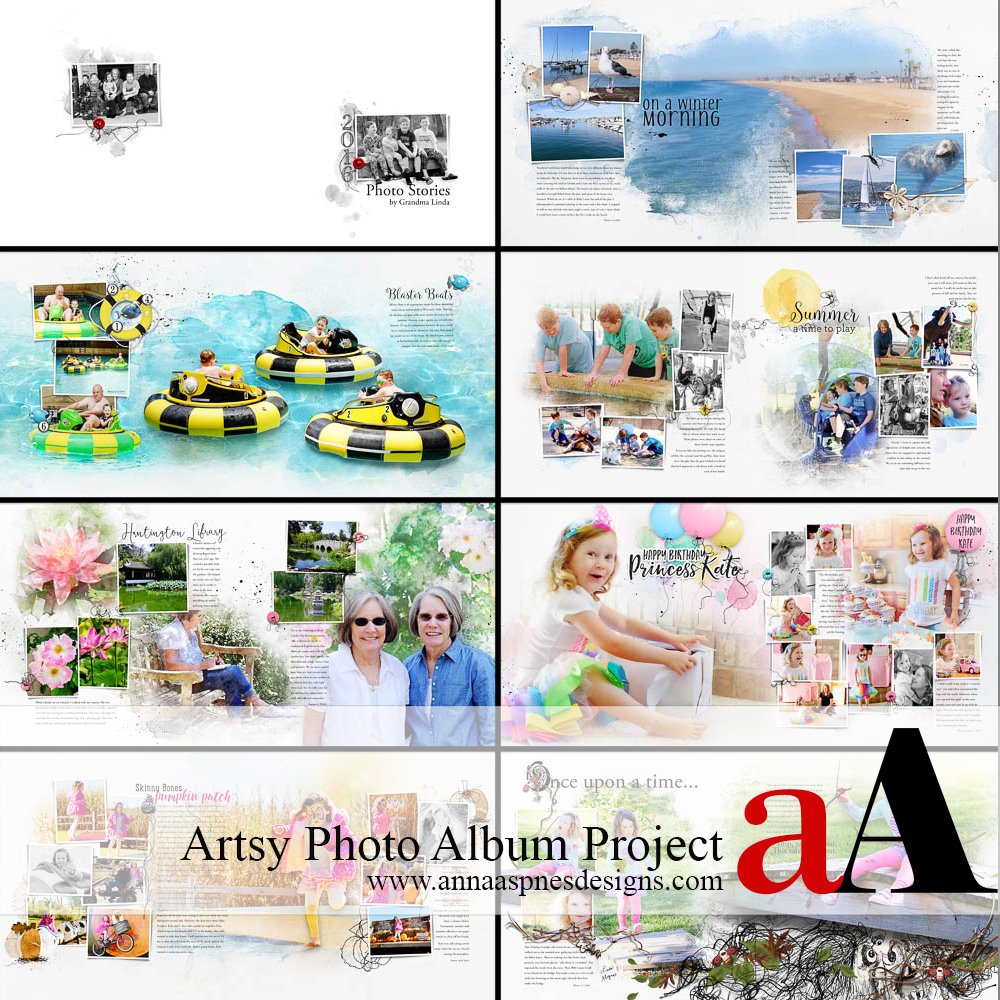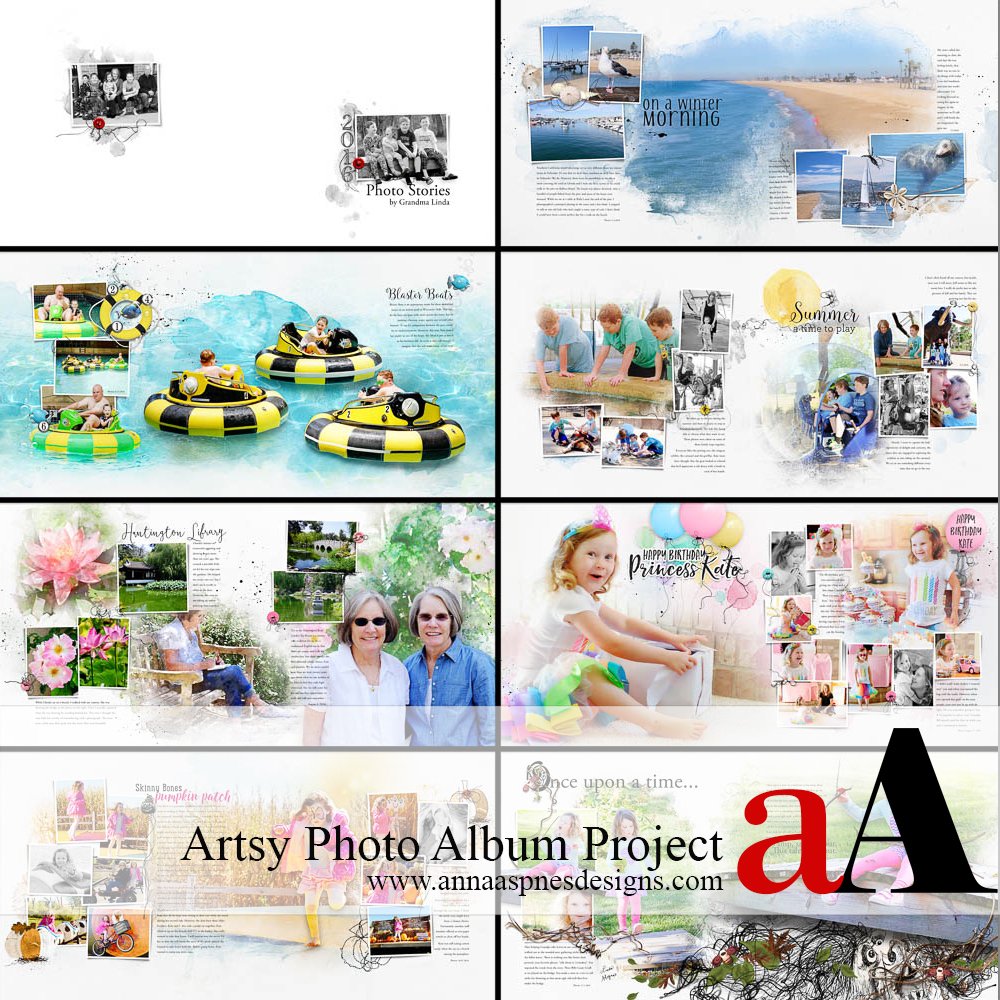 On the Facebook's Project 2016 page, Anna wrote, "Looking at a collection of pages together is a game changer. This is why it's so important to print your work. Art as a collection is astounding and provides motivation for future projects. You can literally see your progress." Well the finished book is finally here and I can see exactly what Anna means in terms of the power of a collection of pages. I am already thinking about where to go with a book project this year, especially what I want to focus on in terms of both my photography and another scrapbooking project.
Artsy Photo Album Project
Photography
I am convinced that as my photography improves so does my scrapbooking, that the two are intertwined artistically for me. So I enrolled in another photography course this year as well as Anna's A Year of ArtPlay 2017. I am hoping to include more full page photos with smaller photos in another template on the opposing page as I did in my book, 2016 Photo Stories. Of course whether I can do that depends on the quality of my photos. This is why it is so important that I continue to grow as a photographer.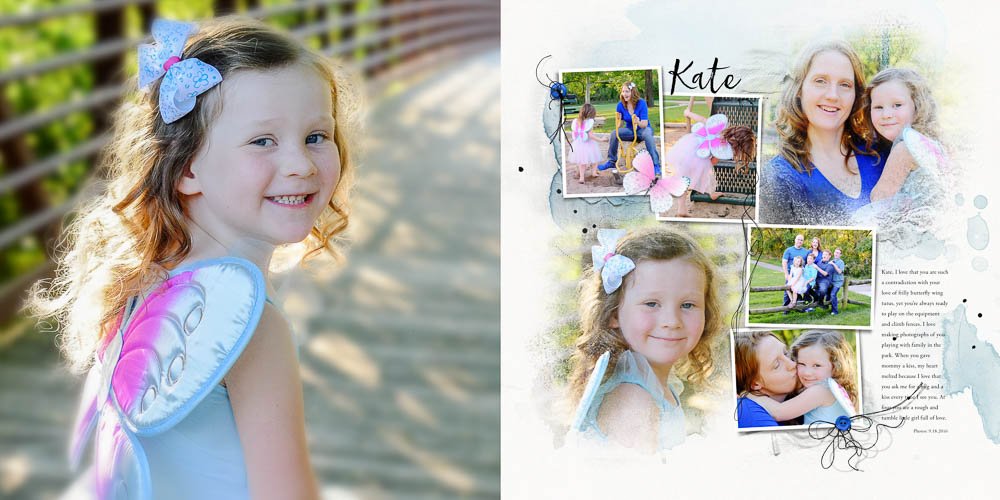 Organization
One key factor for a successful book project is organization. This is one of my favorite pages from 2016 Photo Stories, in part because I've had that Whirligig for nearly 40 years. The earliest photos on this page are from 1979. Even the photos of my grandchildren playing with the Whirligig span several years. I would like to include more photos from the past that show life's continuity in my 2017 book project. This is where organization and my Lightroom catalog come into play.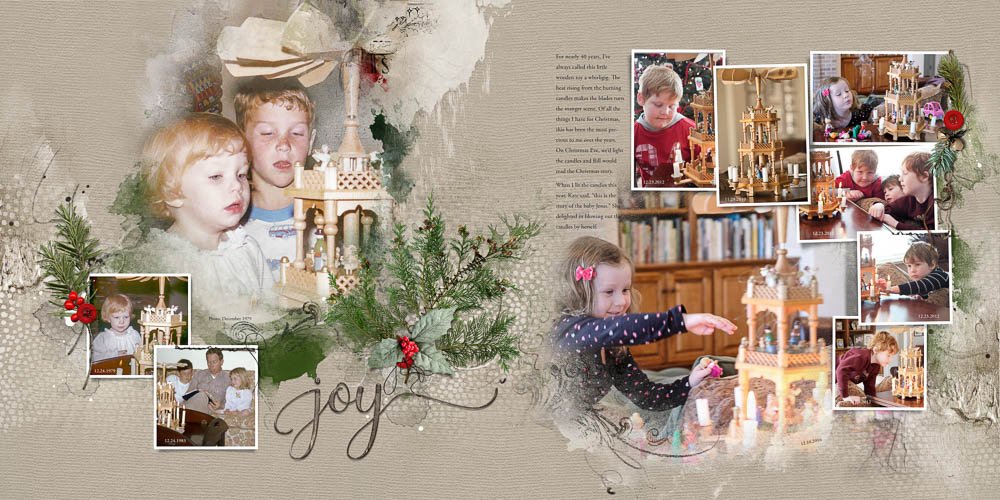 As part of the process for deciding which of my favorite photos on a particular event/subject to use for a page, I have learned the value of adding photos to a collection. On the left side panel below the folders containing the originals of all my photos, there is a section titled Collections. Notice that I have a Collection Set entitled 2017 Book Project. Beneath that set I have begun adding subfolders for the photos that I am considering including in my 2017 book. I created those folders by clicking the + to the right of the Collection tab.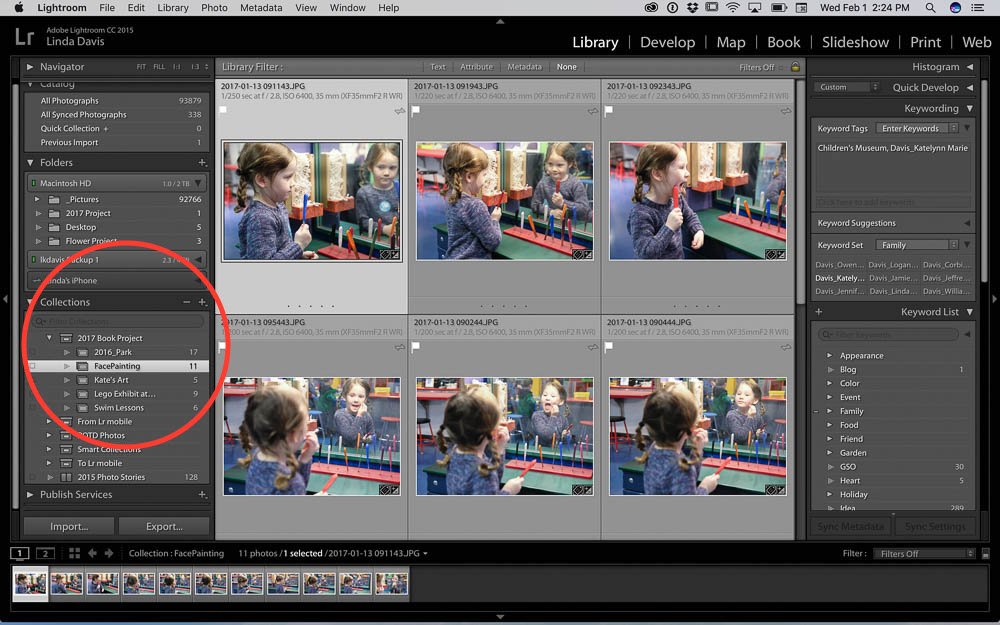 After importing photos into Lightroom, I tag them with keywords and flag my favorites. Then I drag the flagged photos that I think I might use for a scrapbook page into a folder, i.e. Face Painting. Once I begin a page, I can easily control click one of the photos to go back to the folder containing the originals within Lightroom if I think I need a different photo. These collections aren't duplicate photos but smart previews of the original.
Page Design
While I know that new learning will impact my book during the year, I am also doing some preliminary planning for my book as I begin creating pages. First, I am going to use Anna's Templates again, like the two templates from Travel Template Album No. 2 that I used to create a draft of my first page for 2017. I really like the simple white frames, the FotoBlendz masks and the journaling boxes. After participating in Anna's Project 2016 class, I am finding it much easier to make adjustments on the templates to fit my photos. I love placing photos and elements across the gutter.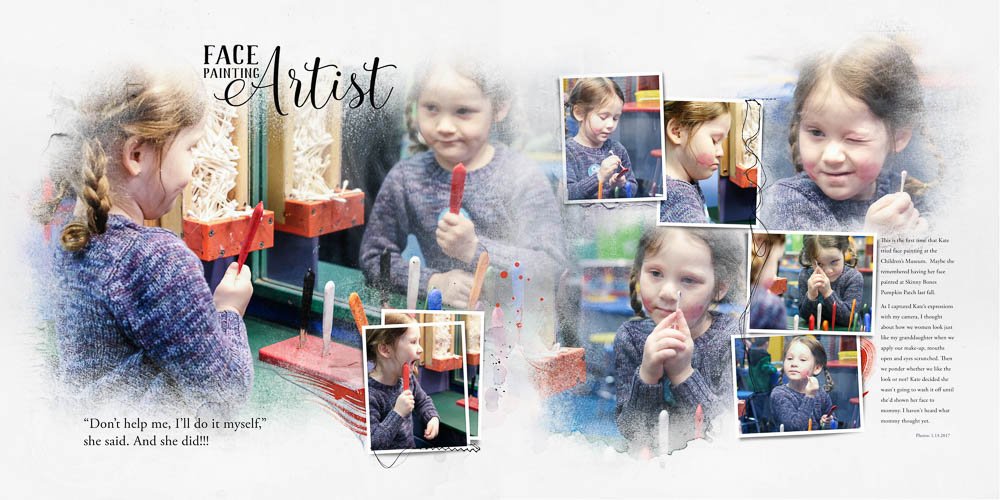 To further unify the pages, I will also add one simple title on each two page spread combining some of my favorite fonts, i.e. Molly Script, Amberlight, Boho Script, Hello Sunshine, Pillowbook, Sunkissed, VeryBerry Pro with a few serif and sans serif fonts, i.e. Archer and Mighty Type. I will continue to use 10 point Adobe Garamond Pro for journaling through the book.
Publisher
I previously published two books through Blurb, 2015 Photo Stories and Summer 2014. Neither book was a lay flat design. I have learned that it is much more difficult to create two 12×12 pages that match across the gutter. You lose part of an image spanning two pages in a traditionally bound book. With Blurb, I sent the pages for publishing directly from Lightroom.
This year I created the 2016 pages as 24×12 two page spreads, anticipating that I would publish through Picaboo. I lost the ease of sending pages directly to Blurb through Lightroom, but Picaboo's online software wasn't difficult to use. It's just a matter of dragging and dropping the two page spreads into position. I unfortunately had to deal with what they have determined is a glitch affecting some books in their lay flat design production. The printed copies of pages 22-23 were really off on the right margin. It looked like the framed photos had shifted an inch on the background. To solve that problem I had to upload a new file with a different file name and Picaboo reprinted the two copies I had ordered. One copy of the book was damaged in shipment but I received an email indicating that copy will be reprinted. Unfortunately, instead of a copy 2016 Photo Stories, a blank book arrived this afternoon. After calling the company immediately, the man indicated that are shipping another copy of 2016 Photo Stories. I just received an email confirmation indicating that a new copy is being shipped.
Conclusion
Am I motivated by seeing my work published? Definitely! In fact, I am considering creating another book of photographs of flowers, another subject that I enjoy capturing, in addition to my year long family book project.
You can find more inspiration from Linda's Artsy Photo Album Project in her gallery.