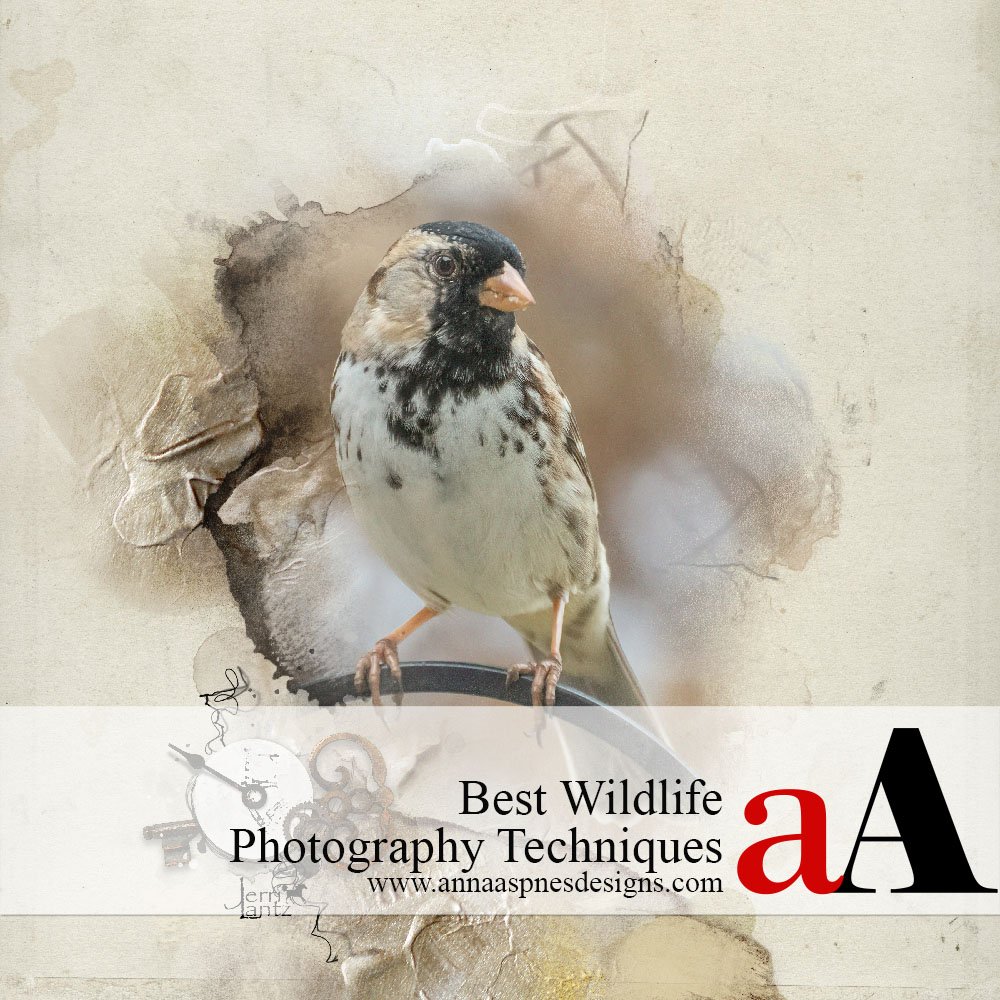 Today Jerri Lantz is sharing insight into her Best Wildlife Photography Techniques.
Best Wildlife Photography Techniques
Introduction
Consider the following when getting started with Best Animal Photography Techniques:
1. Know your '4Ps'
Good photography is:
Patience
Perseverance
Practice
Passion
Note. And a little luck doesn't hurt either 🙂
2. Understand Your Subject
Learn about the bird/animal and it's activities
You will need to know when and where you will find them.
For example, the best time for birds is early morning or late afternoon when they are looking for food.
The more you observe the more familiar you will be with their actions.
You can then begin to anticipate what they will do next.
The Equipment

1. DSLR PLUS Zoom Lens
A DSLR is Digital Single-Lens Reflex camera.
Includes Larger Sensors, more Megapixels, better Controls and Interchangeable Lenses for improved photo-taking.
A Zoom lens enables you to 'zoom in' from afar so you can keep your distance but still capture birds and animals interacting with their environment.
2. A Tripod with a Gimbal
A Tripod is a three legged device which is designed to securely and steadily Hold a Camera.
Most tripods have a Central Pole and Height Adjustable Legs and are used in conjunction with a Mount to which a Head is fixed.
A Head for the tripod that balances the long lens and allows you to move it quickly for action
The main purpose of a tripod is to allow photographers to capture images using Slow Shutter Speeds, often in Low Light conditions.
Tripods keep a camera steady and ensure the Sharpest of Images.
A Gimbal Stabilizer is a tool that uses motors and intelligent sensors to support and stabilize a camera.
They do so by electronically adjusting the Pitch, Yaw and Row to ensure that the camera rotate around an axis, hence allowing the camera to be very Stable.
Learn more about:
3. U-Shaped Bean Bag
Note. Remember, the best camera for the shot is the one you have with you.
Tips and Techniques
1. Hide in Yourself
Use your surroundings to Hide Yourself from your subject
For example, use your car as a Blind.
I have been known to sit in it in my driveway to get photos of the hummingbirds.
Sometimes I also shoot through the Window of my Home to capture images of the birds at my feeders.
2. Intentional Focus
Be mindful of your primary camera focus.
Always Focus on the Eye closest to you.
A blurry wing or leg can be forgiven but the Eye of the Subject must be Sharp.
3. The Background
Pay attention to the background of a Photo Composition.
If possible, choose a background with Visual Interest.
Avoid any Competing Focal Points.
4. Be Patient
The best photos come to those who wait…
Capturing the best wildlife photos is NOT always a quick and easy task.
There is a certain amount of Sitting and Waiting involved to ensure the best shot.
The bird or animal may to need bird to relax if it has been disturbed.
Time is required to Observe the Subject in interacting naturally in it's environment.
5. Multiple Shots
Take lots of photos.
Take More than One Shot.
The more images you take, the Better Chance you have of getting a good one.
6. The Sun
Ensure you have your back to the sun where possible.
This will ensure your subject is in Focus.
And prevent Glare from the sun in your wildlife photos.
7. Mind Your Step
Be aware of your surroundings.
Don't fall or step on something.
It's easy to do when you are Looking Through the Lens of a camera.
I once stepped in an ant pile getting shots of a butterfly – A painful lesson learned.
Camera Settings
The settings will determine the quality of your wildlife photos.
Select your Shutter Speed and let the camera take care of the F/stop and ISO.
If there is enough light, use a shutter speed of At Least 1/1000.
If there is no action/movement or not a lot of light, Lower the shutter speed to 1/800.
Personally, I don't like to go much lower that this.
If there is action or movement , I like to go up to At Least 1/1600.
See also:
Summary
Wildlife photography is a rewarding way to capture photos for your photo artistry and scrapbooking.
Know your 4Ps.
Have the right Equipment to capture wildlife photos.
Have Patience and enjoy the process.
See also:
AND IF YOU LIKED THIS Best Wildlife Photography Techniques post, share your own wildlife photos BY POSTING YOUR photo artistry and DIGITAL SCRAPBOOKING PAGES TO THE ANNAGALLERY.