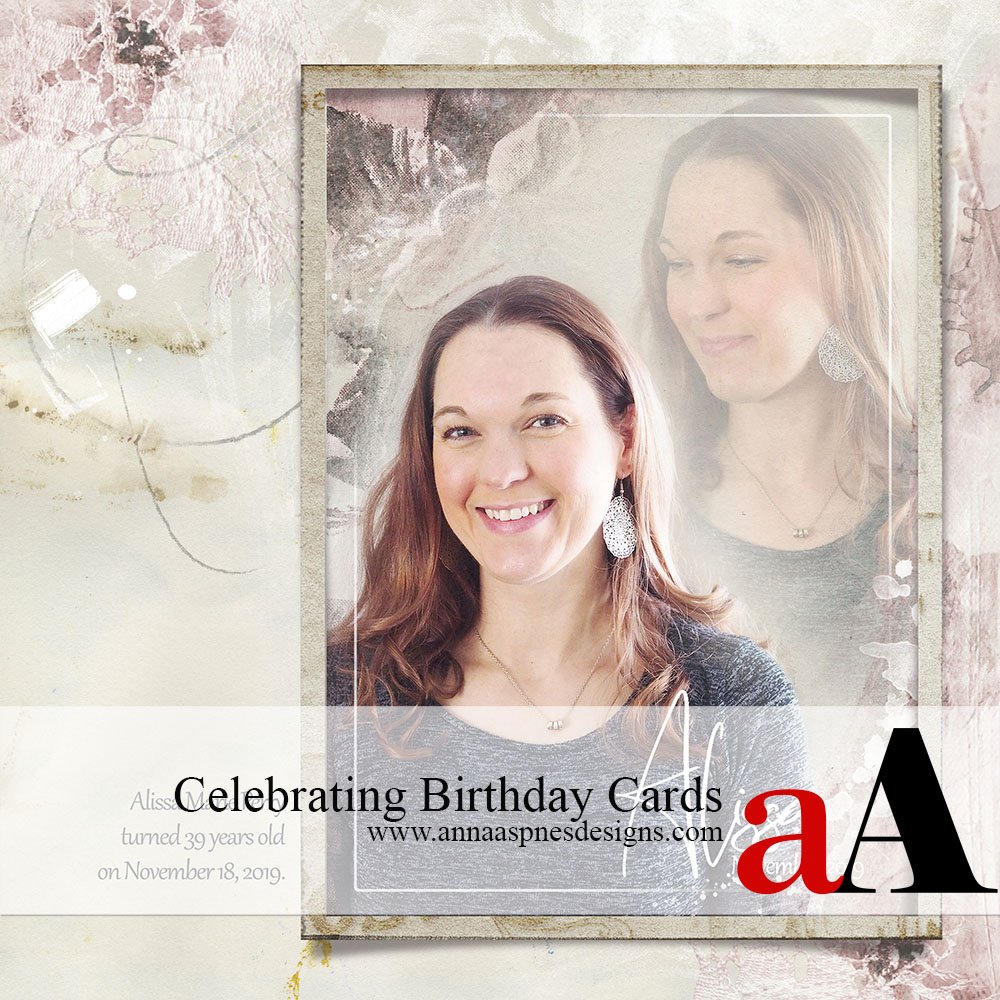 Today I'm sharing Celebrating Birthday Cards inspiration via aA Community Member, Cheryl Ausdahl.
Celebrating Birthday Cards
Introduction
March has arrived
Notoriously this is a time to celebrate around here.
Both myself and Oscraps share Birthdays this month and so why not share some inspiration for documenting the cards created for these milestone events.
Cheryl emailed me after reading 5 Ways to Use an ArtPlay Palette.
Digital Card Personalization
Use your

a

A

DigitalART to create Birthday greetings.
Cheryl makes birthday cards using her DigitalART supplies for her family.
Typically she creates a 5 x 7 inch New Layout.
She then creates her card using a photo and

a

A

DigitalART supplies in Adobe Photoshop or Elements.
The project is saved as a .jpg file.

Hybrid Card Transformation
Print, mount and embellish with paper crafting supplies.
The completed project is printed
 Card stock is trimmed and folded to size.
The print is then adhered to the card.
And embellished using paper scrapbooking supplies.
Favorites include mats and sparkly 3-D embellishments.
A personal greeting is written on the inside of the card.

Milestone Event Preservation
Include copies of the digital part of the greeting in your memory keeping pages.
Cheryl uses the digital card file as a foundation for an 8 X 8 digital scrapbooking layout.
The imagery is supported with simple descriptions such as Name, Place, Age and Date.
More recently she has expanded the caption to include mores details about the individual at that particularly time.
Cheryl refer to this extended journaling as a 'Mini Bio' of the family member.
These pages are then printed and included in her family's 'Life Moments' albums (17 Volumes)
Tip. You can also take a photo of the inside of the card to preserve the handwritten message inside the card and blend it with other photos and aA DigitalART supplies to complete your layout design.
Summary
Include duplicate copies of your cards in your memory keeping and scrapbooking pages for a simple approach to documenting your family members.
Cheryl concludes, 'It's about creating something personal that I'm leaving behind. . .my personal words. . .that may encourage her sometime in the future after I am gone from this world. Thanks for all the beautiful artwork that I am putting to good use in my family scrapbooks!"