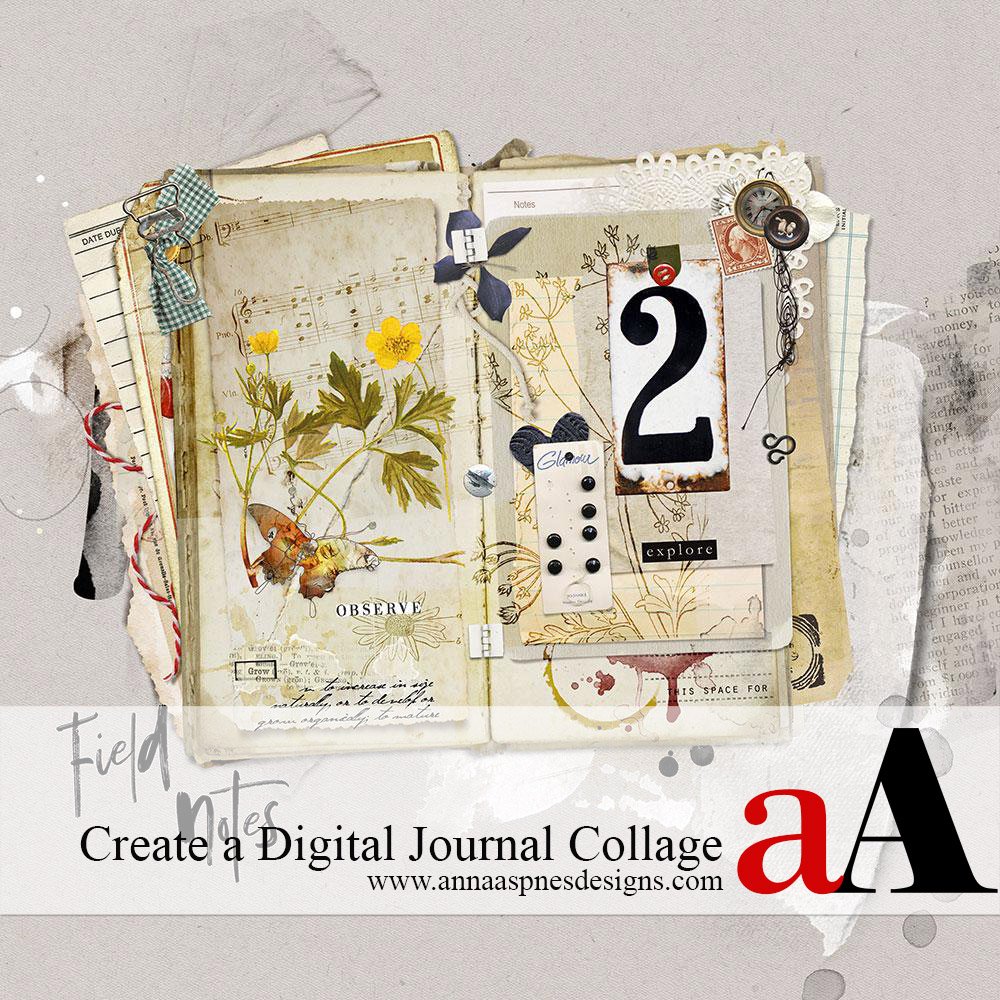 Today, Viv is sharing her best guidance for how to Create a Digital Journal Collage.
Create a Digital Journal Collage.
'Travel Journals' are currently popular in Scrapbooking.
The idea is to take a journal as your foundation then fill it with photos, ephemera and mementos, to create a keepsake on a smaller scale that a traditional scrapbook.
You can find lots of examples on Pinterest on this style of memory keeping.
And this approach can be duplicated in your digital scrapbooking and photo artistry pages using the techniques outlined by Creative Team Member, Viv Halliwell.
1. Gather Your Mementos

( gerokreativ )
Organize your DigitalART supplies
Gather your DigitalART supplies all in one place.
Create a folder system on your computer to 'house' all the items you want to use in your digital journal collage.
Establish a master folder such as 'Anna Go To Supplies Collage' with sub-folder to organize items such as Elements, Paper Pieces, Clips, Tags, Stains, Drips, Textures.
Add to this folder on a regular basis to create a fountain of inspiration and material to work with.
Favorite DigitalART supplies for creating a Digital Journal Collage:
Digitize Your Memorabilia

Take photos of signs, maps and other items of interest and scan ticket stubs, programs and brochures.
Blend these digital images into your pages using FotoBlendz Clipping Masks.
Create brushes from your mementos.
Extract elements from photos/scans to personalize your pages.
See the self-paced ArtsyMemoriabilia workshop for further guidance on these techniques.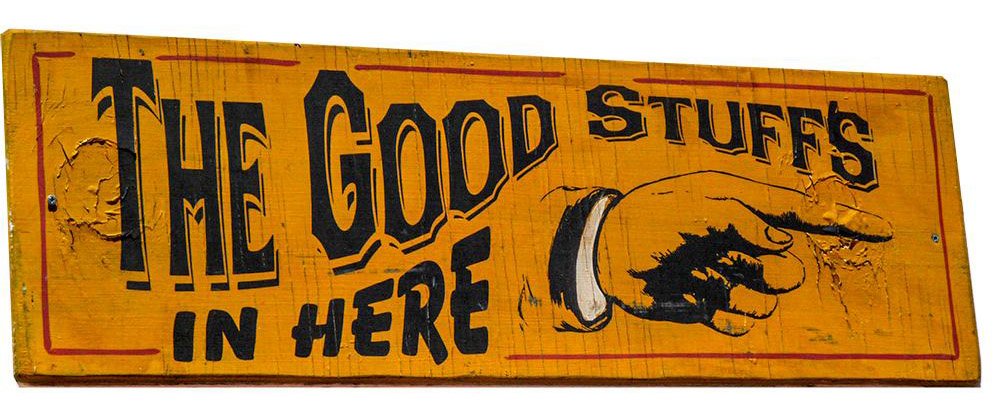 2. Enjoy The Process
Choose a Theme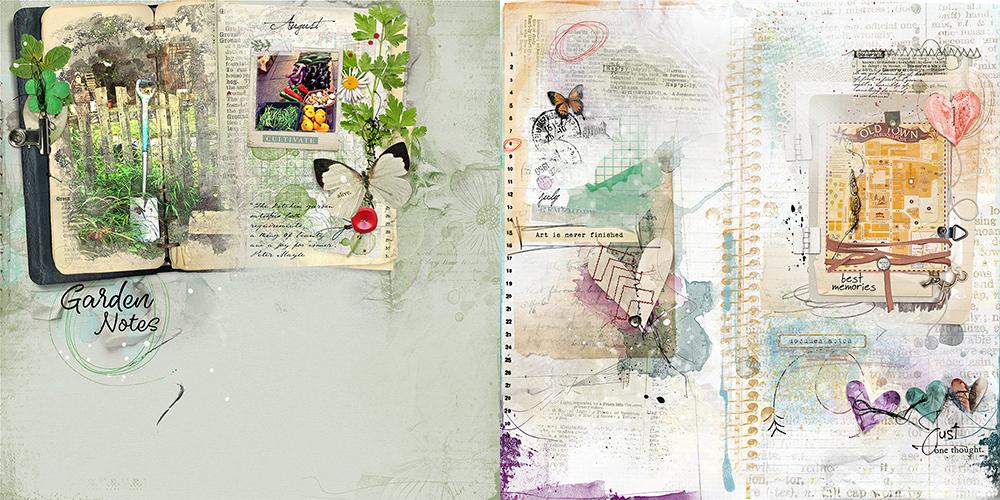 Decide on a topic/theme for your digital journal collage.
There are many areas of interest to choose from, such as:
Travel
Nature Study
Artsy
Create a Foundation
Establish a new layout and choose a foundation element.
Create a New Layout at 12 x 12 with a white background.
This ensures all layers can be seen as you arrange them on your page.
Note that this background layer serve to facilitate the creating process and will not be visible in the final composition.
Choose a 'focal point' element for your design, preferably with defined edges, such as a notebook piece from ArtPlay MiniPalette Biblio, ArtPlay Palette Fernweh ore Studious.
This style of element creates a base for all other elements of your design.
Layer additional elements, such as paper pieces or Transfers/Overlays to build visual interest in your design.
You can also Group layers in the Layers Panel to organize.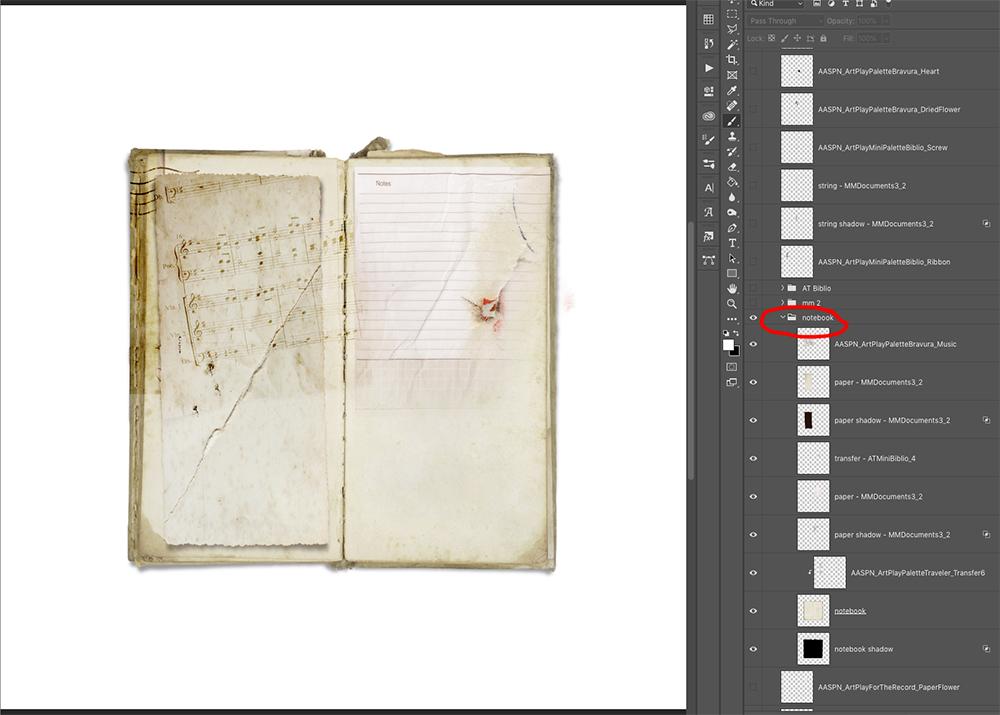 Place the DigitalART

Experiment with the arrangement of the elements on your chosen foundation.
The fun aspect of journaling is experimentation and playing around with positioning of DigitalART supplies, as well as the techniques applied to them.
Place or cluster groups of elements to organize and create unity in your designs.
Angle and layer the elements for a stacked dimensional approach that will add visual interest to your pages.
Vary the size and proportions of elements to insert variety into your compositions.
Apply Drop Shadow Layer Styles to the elements with differing degrees of intensity.
Blend elements with Layer Masks and BrushSets.
Add Your Embellishments
Accentuate and emphasize your photos and memorabila with embellishments.
Merge Your Layers

Create a composite of the Journal Collage layers.
Turn off the visibility of the white background layer in the Layers Panel.
Create a composite layer by pressing  CMD+ OPT+ SHIFT+E (Mac) or  CTRL+ALT+SHIFT+E (Windows) on your keyboard.
Note that this approach to 'merging' layers creates a composite layer on top of your Layers Stack by keeping the integrity of each of the individual layers.
This is important should you choose at any time to make edits to your digital journal collage.
Create a Layout
Incorporate the journal collage composite layout into a digital scrapbooking or photo artistry layout.
Create a new 12 X 12 300 DPI layout.

Select and place a background paper of your choice to support your subject.

Add your composite and add your background paper.
SAVE 33% on ArtsyMemorabilia class
Get the ArtsyMemorabilia class for JUST $20 through Thurday, 18 July 2019 at Midnight EDT.