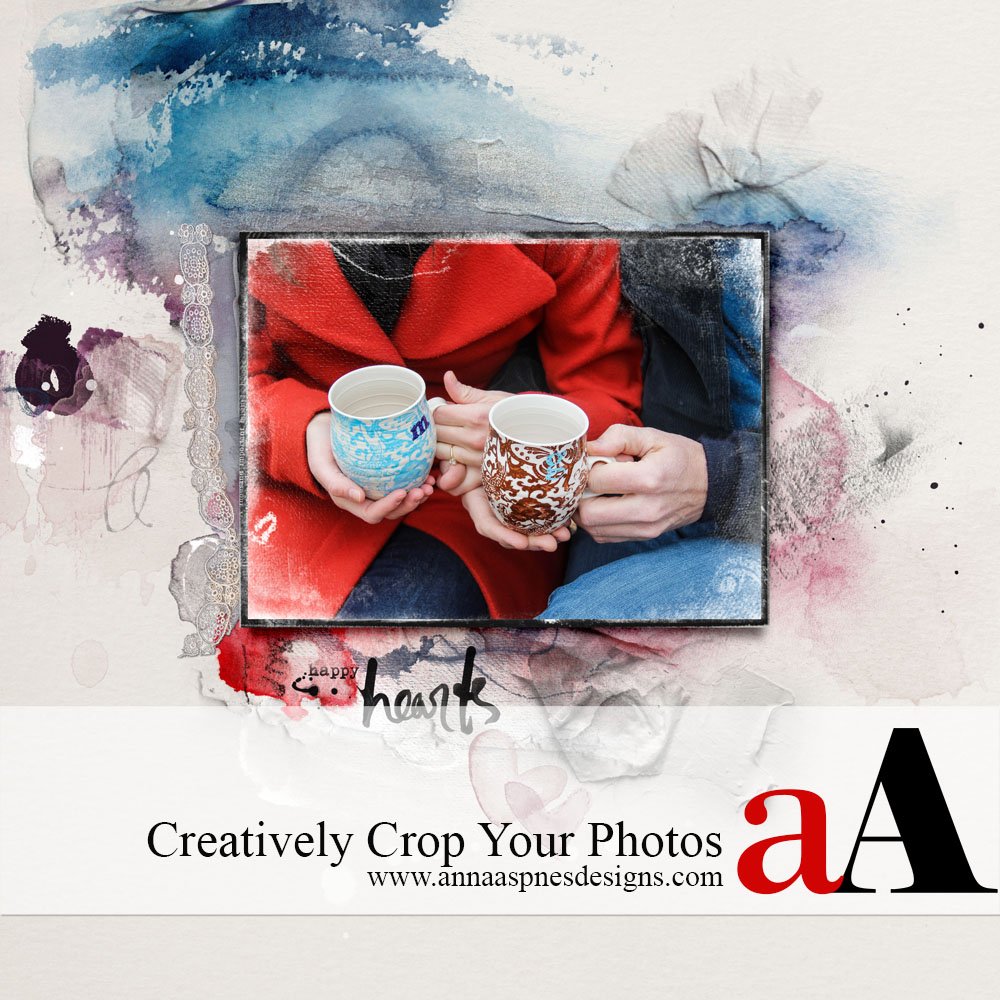 Today, Creative Team Member, Marnie Morgan, is sharing guidance for Creatively Cropping Your Photos.
Creatively Cropping Your Photos
Introduction
You will be inspired to expand your use of creative photo cropping to uplevel the visual interest of your photo artistry and digital scrapbooking pages.
Make 'photo cropping' an intentional component of your layout design.
A thoughtful photo crop can evoke emotion or lead the eye to a focal point
Note. In this layout, the intention was to emphasize the couple's loving connection by tightly cropping the photo to support the sense of intimacy.
Why Crop a Photo?
Cropping resize a photo and make or break our ability to capture the viewers eye.
Establishes a focal point.
Injects visual interest into the photo.
Improves the overall composition.
Adjusts the orientation of an image.
Fosters better story telling.
Removes unwanted areas or irrelevant details.
Changes aspect ratio of the capture.
Creates a sense of time or place
Aligns with social media or specific print formats.
Better Storytelling
The following example shows how to better support your storytelling with an cropped image.
Eliminates a cluttered, distracting background.
Creates an obvious focal point.
Yields imagery that better tells a story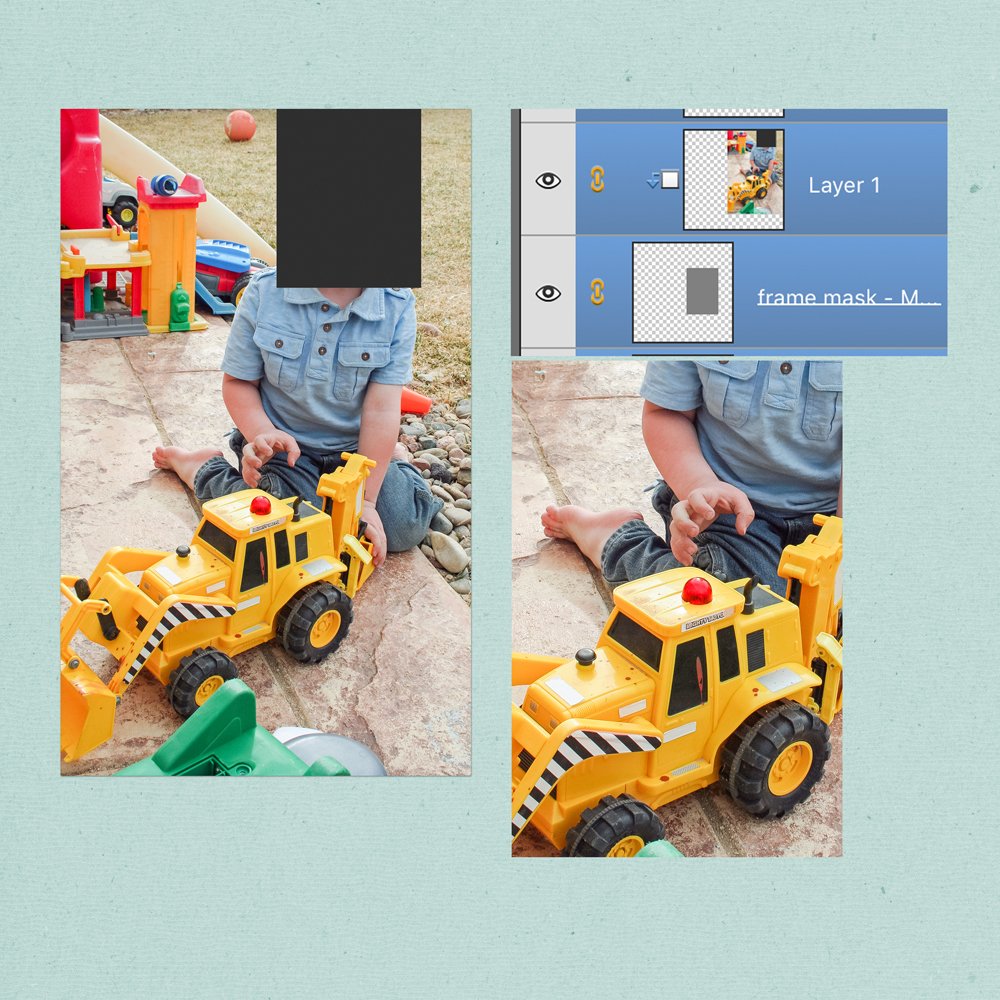 Crop a photo via a clipping mask.
Note. You can also custom blend your photo or use the Crop Tool from the Tools Panel.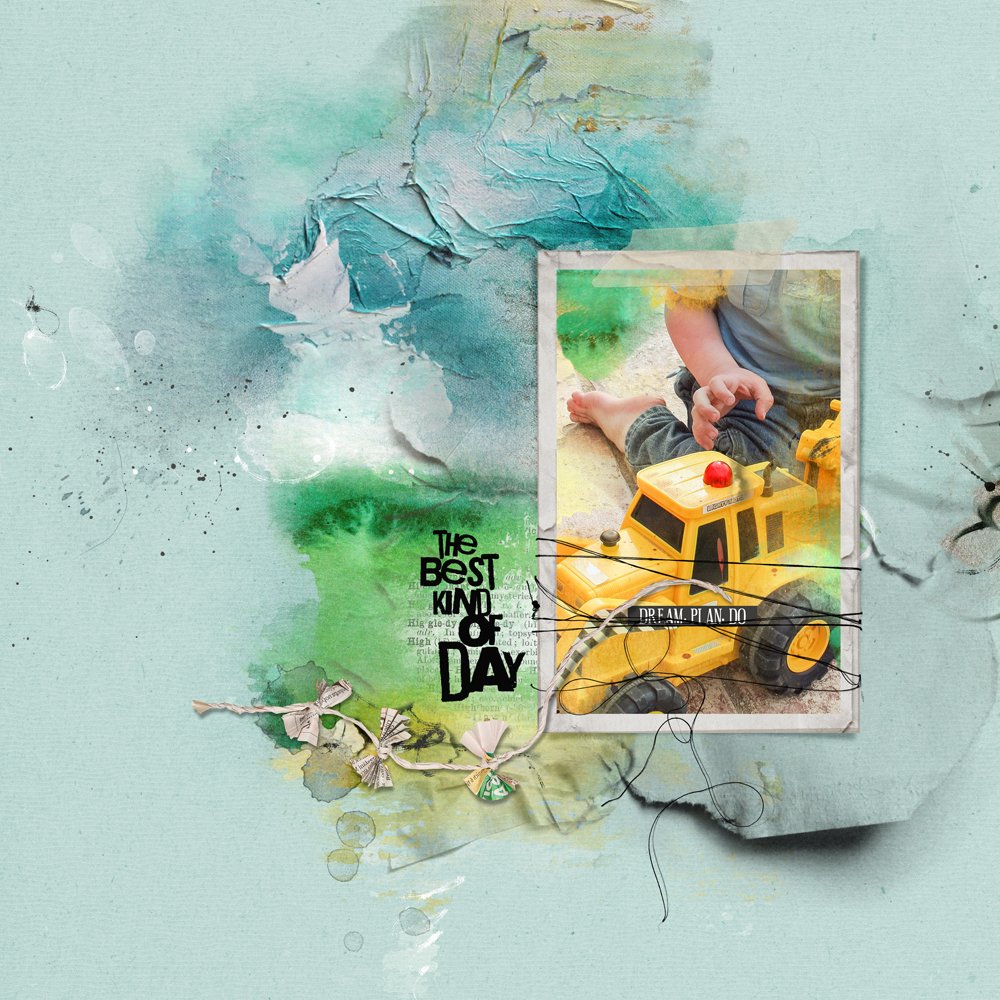 Notice. How the eye is shifted away from other distracting subject matter in your photo specifically to the toy truck.
When to Avoid Cropping Your Photos
Just as a successful photo crop can engage your audience, an awkward crop can disrupt your presentation.
Cutting off subject limbs at the joint.
Removing the horizon in a landscape photo.
Zooming in too much on facial features.
Also keep in mind:
Experiment with copies of your photo to avoid overwriting your original image.
Consider the RESOLUTION of your photo and avoid aggressive cropping when your original image won't support a crisp enlargement.

Play Your Options
Experiment with the cropping of the same photo to find the best approach.
This image was originally captured in landscape format.
A square cropping approach supports posting to Instagram and creates a clearly defined focal point.
A portrait orientation gives focus to the sharpest bloom and emphasizes the depth of field.
Using the Crop Tool
Select the Crop Tool from the Tools Panel.
Notice the controls surrounding the edges of your photo file.
Adjust the crop box by dragging the handles or sides.
Double-click inside the crop box to complete the transformation.
Summary
Experiment with photo cropping to create better photo compositions.
Crop using a Clipping Mask or the Crop Tool from the Tools Panel.
Redirect the eye and create stronger focal point.
Elevate visual interest via more compelling photo compositions.
Better support your stories using this simple Photoshop technique.
We invite you to:
And if you liked Creatively Cropping Your Photos, please consider sharing it using the social media buttons below.