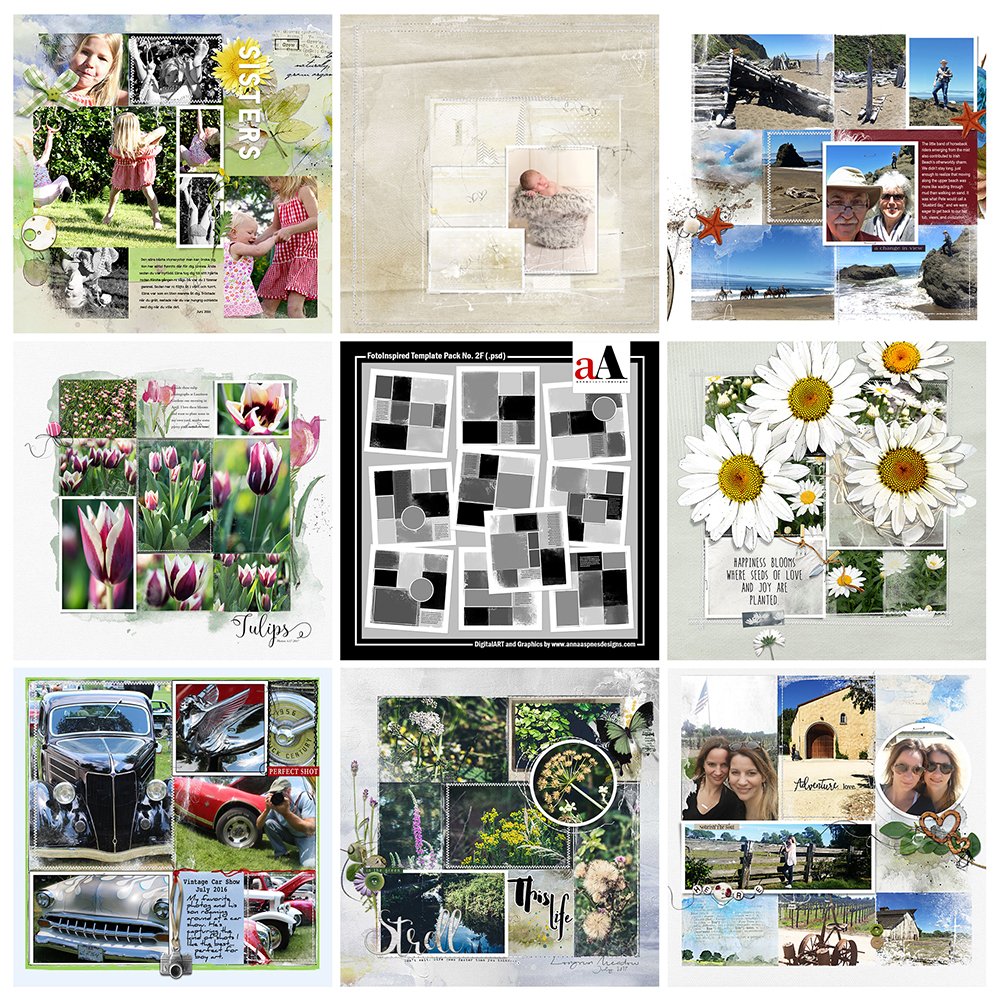 Happy Monday! Today we're sharing digital designs FotoInspired Template Pack No. 2F.
FotoInspired Template Pack No. 2F is the latest collection of digital designs for scrapbookers, photographers, artists and crafters to arrive in the Anna Aspnes Designs store.
FotoInspired Template Pack No. 2F
The aA Creative Team have been getting artsy with their everyday digital scrapbooking and artistry pages using FotoInspired Template Pack No. 2F.
More digital art inspiration for FotoInspired Template Pack No. 2F, of course, can be located in the AnnaGallery.
Save 20% on FotoInspired Template Pack No. 2F FOR A LIMITED TIME.
Click on the image below to view more digital designs inspiration FotoInspired Template Pack No. 2F or visit the AnnaTeam Layouts board on Pinterest.
Digital Designs FotoInspired Template Pack No. 2F
See our Gallery HighLights by clicking on the images to access complete digital design supply lists.
You will also find process notes and digital scrapbooking tutorials from each team member to provide new digital inspiration for using aA DigitalART designs.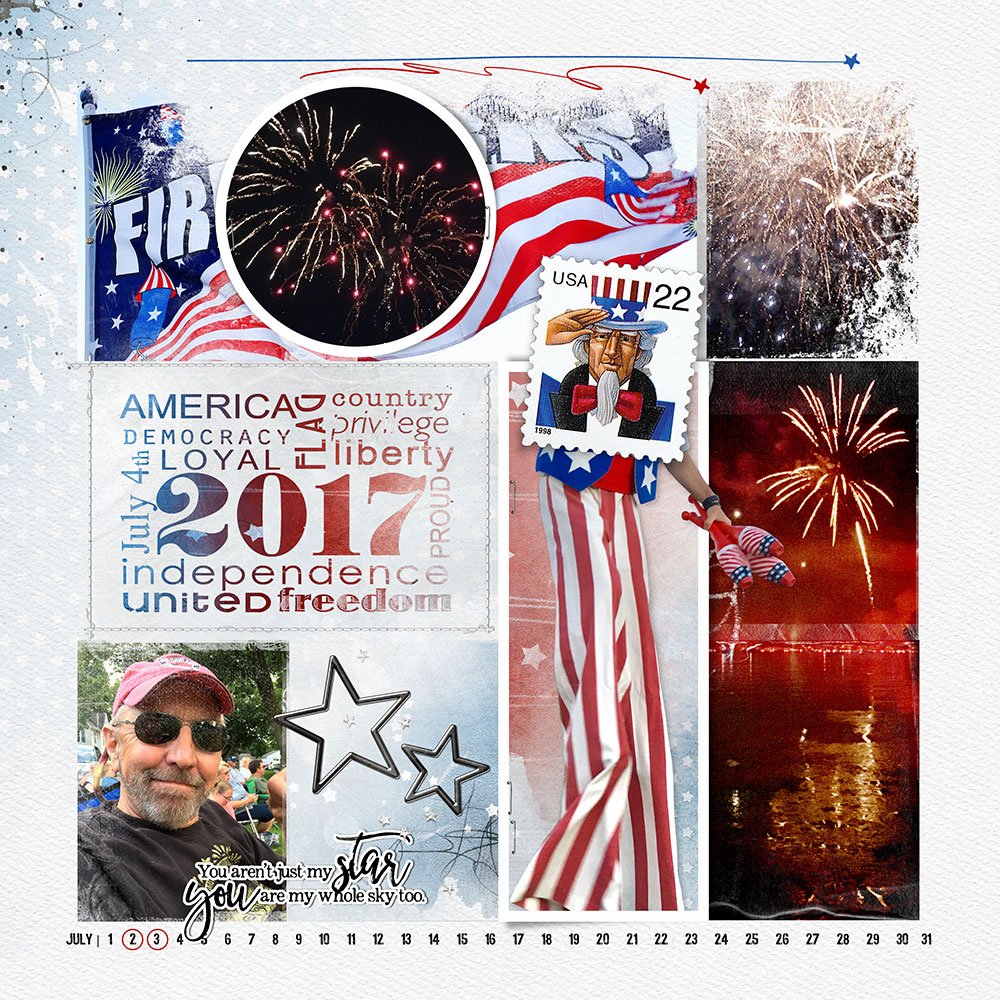 The 4th of July Celebration | Miki
Document A Single Event
Gather photos and memorabilia from a single event.
This could be the recent Independence Day celebrations in the United States for example.
Images may be digital or tangible, and in the case of the latter, you can scan the memorabilia to create digital files.
Clip the imagery to the masks in the templates to capture the event and add your journaling by replacing the words in the text boxes provided.
Place the image layer directly above the mask layer in the layers panel and press CTRl/CMD + ALT/OPT + G (Photoshop / Elements 15+) or CTRL/CMD + G (Elements).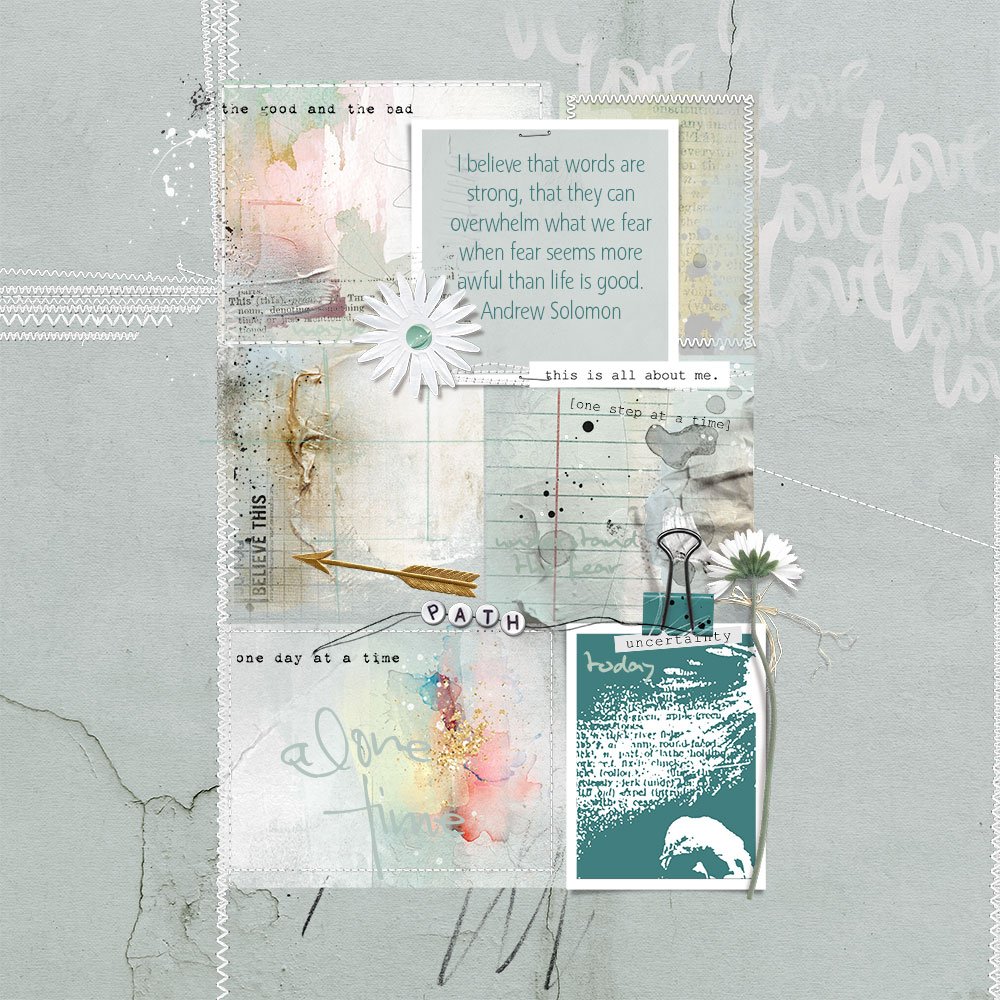 About Me | Viv
Art Journal With Templates
Go digital with your art journaling by combining art and words to express and process, emotions and feelings.
Templates facilitate this process by providing a design framework into which you can easily organize your thoughts.
The division of the template into multiple sections enables you slot in the imagery and text as choose.
The design is provided to that you can focus on the art journaling process.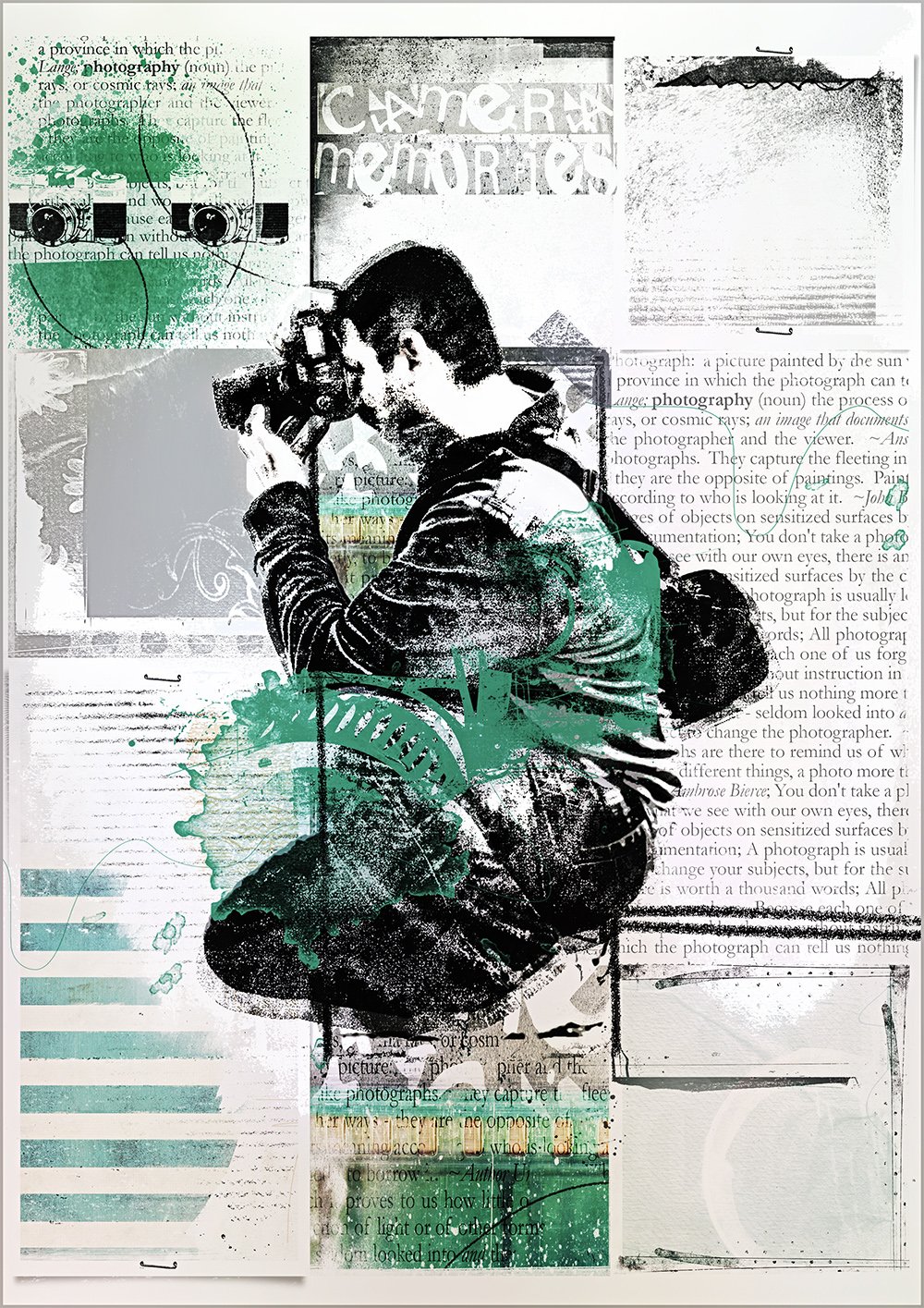 Camera Memories | Marianne
Create an Artsy Background
The artsy grid-style masks provide the opportunity to create a mosaic style background for any photo.
Clip a variety of artsy digital scrapbooking papers, transfers and images to the various masks to create a collage which will serve as the foundation to your focal point.
You could use a FotoBlendz clipping mask to quickly blend your photo or create an extraction to showcase your focal photo.
Want to learn more about Design?
Join the aA Year of ArtPlay 2017 which is now underway and being enjoyed by artists just like you.
And there is a new video coming this week.
WHAT  STUDENTS ARE SAYING:
"You can count me in the 99.95% approval category! Once I get through the Year of ArtPlay 2017, I plan to enroll in more classes, and…my Oscraps wish list is growing daily :)" ~ Nancy.
"I am just loving your classes ."  ~ Sandy.
'Thank you for all you're doing to help me advance graphically!  I look forward to each class, video, and great new supplies that I receive.  It's given me a new way to use my artistic skills, since my full-time day job never uses any of those skills." ~ Candace
You can learn more and register aA Year of ArtPlay 2017, after which you'll have immediate access to 6 months of artistry making content.
And Don't Forget: Share and connect with other artsy digital scrapbookers by posting your own Digital Designs FotoInspired Template Pack in the AnnaGallery.