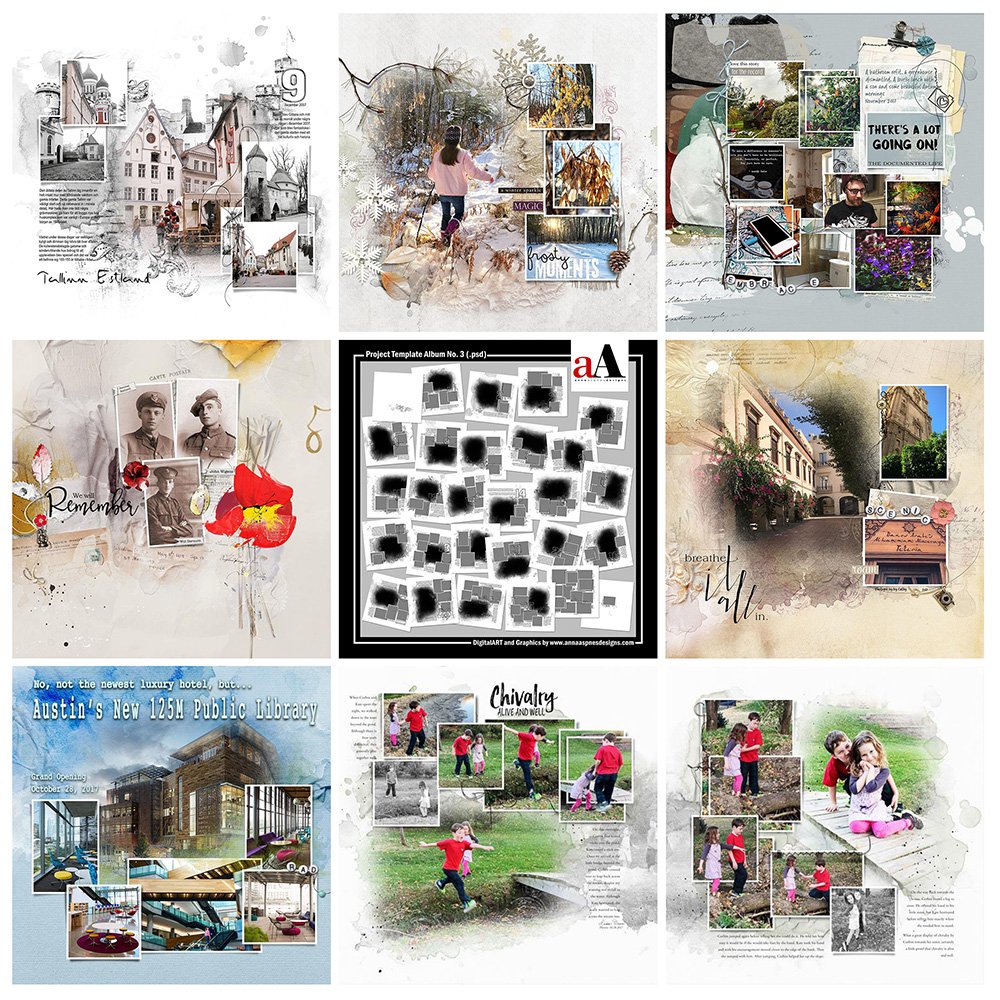 Happy Monday! Today we're sharing digital designs inspiration Project Template Album No. 3.
Project Template Album No. 3 is the latest collection of digital designs for scrapbookers, photographers, artists and crafters to arrive in the Anna Aspnes Designs store.
This collection is designed to co-ordinate with the aA Project 2017.
Learn more about this upcoming class and register here.
You can also use these templates individually in your artsy digital scrapbooking and digital artistry too.
Project Template Album No. 3
The aA Creative Team have making fast work of their digital scrapbooking and artistry pages using Project Template Album No. 3.
The purpose of these templates is do the the artsy fast and easy.
More digital art inspiration can be located in the AnnaGallery.
SAVE ALMOST 40% on Project Template Album No. 3 OR register for the aA Project 2017 to receive a Coupon Code that enables you to save SAVE AN ADDITIONAL 50% on the complete collection.
You essentially get both the Templates + Class for JUST $10 MORE.
Click on the image below to view more digital designs inspiration Project Template Album No. 3 or visit the AnnaTeam Layouts board on Pinterest.
Digital Designs Inspiration Project Template Album No. 3
See our Gallery HighLights by clicking on the images to access complete digital design supply lists.
You will also find process notes and digital scrapbooking tutorials from each team member to provide new digital inspiration for using aA DigitalART designs.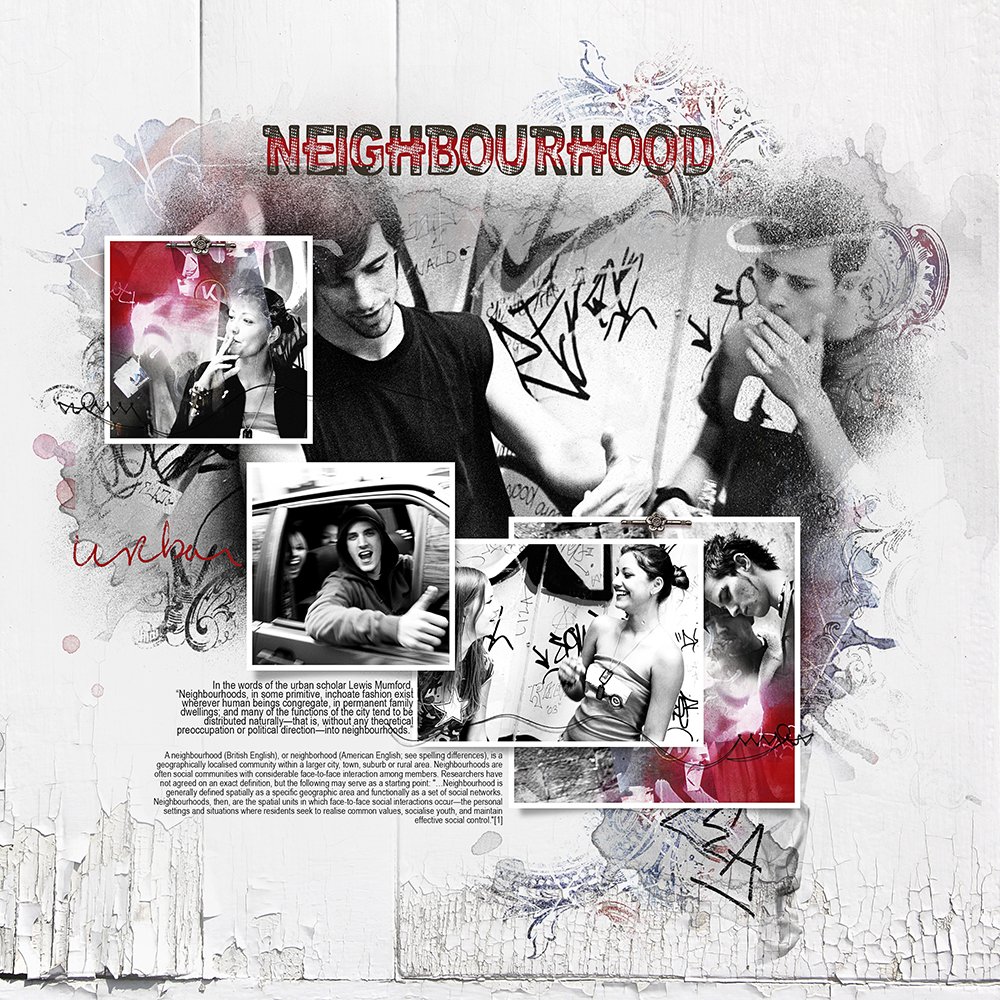 Neighbourhood | Marianne
Go Monochrome.
Create a layout in black and white and add visual interest with a single color.
Removing the color from photos is a great way to focus on the what's happening in the images.
It's also a great way to tone down having too many colors in a photo.
I love how Marianne has placed black and white images on a neutral background, sprinkled with red, to bring the whole piece alive.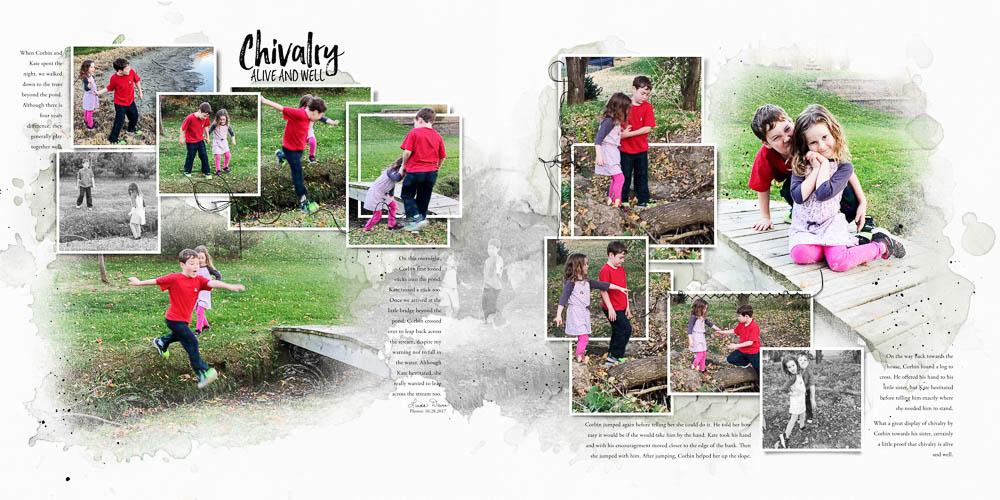 Chivalry | Linda
Incorporate Extractions
Extract your subject(s) from their backgrounds to span multiple frames or appear as though they are stepping out of the frames.
This is a fun technique that can add design to the standard template design.
I plan to create a new extractions class in year 2018, but in the meantime, check out this tutorial.
Again, I love Linda's placement of photos so the red leads the eye through this double-page spread.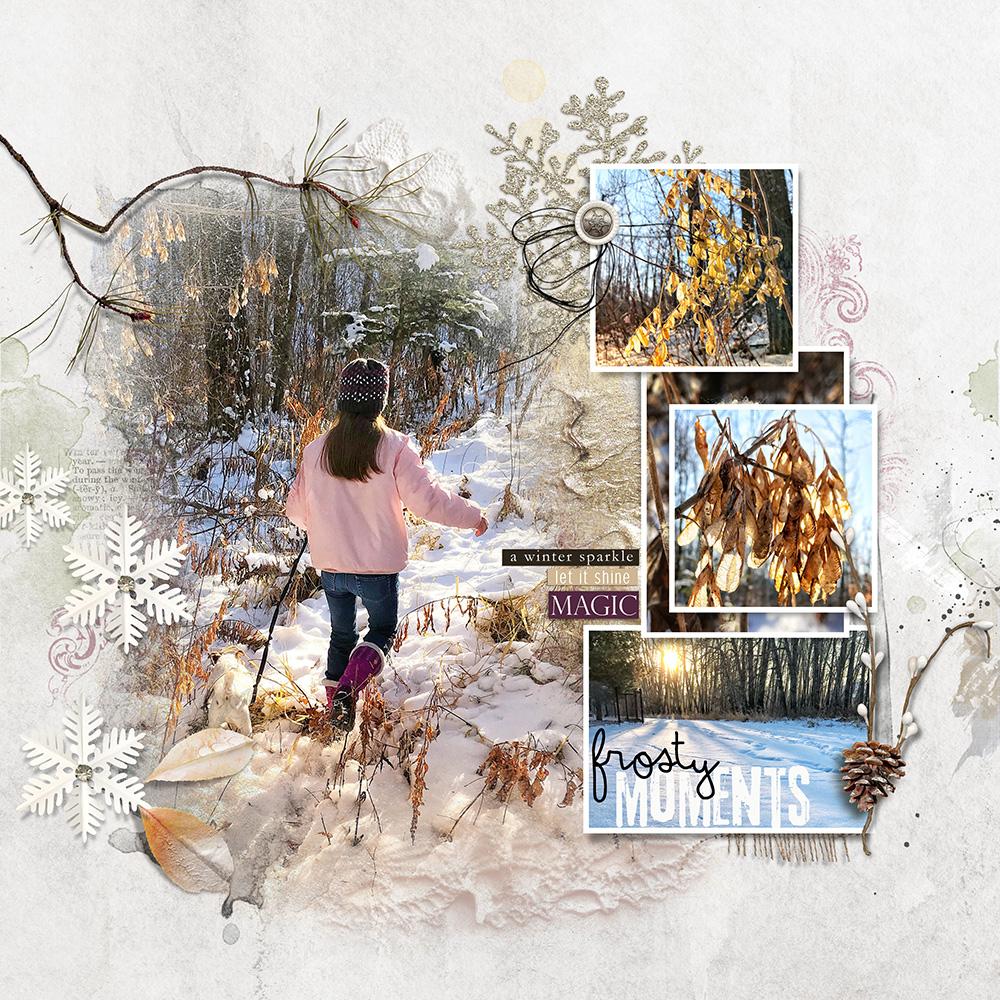 Winter's Light | Heather
Align Elements.
Place embellishments so they follow the lines/curves in your design.
Embellishments can draw the eye and add visual interest via dimension, but they can also become integrated into the design through ALIGNMENT.
Notice how the curve of the branch (top left) follows the edge of the paint and the other twig element is perpendicular to the edge of the frame.
And Don't Forget: Share and connect with other artsy digital scrapbookers by posting your own Digital Designs Inspiration Project Template Album the AnnaGallery.