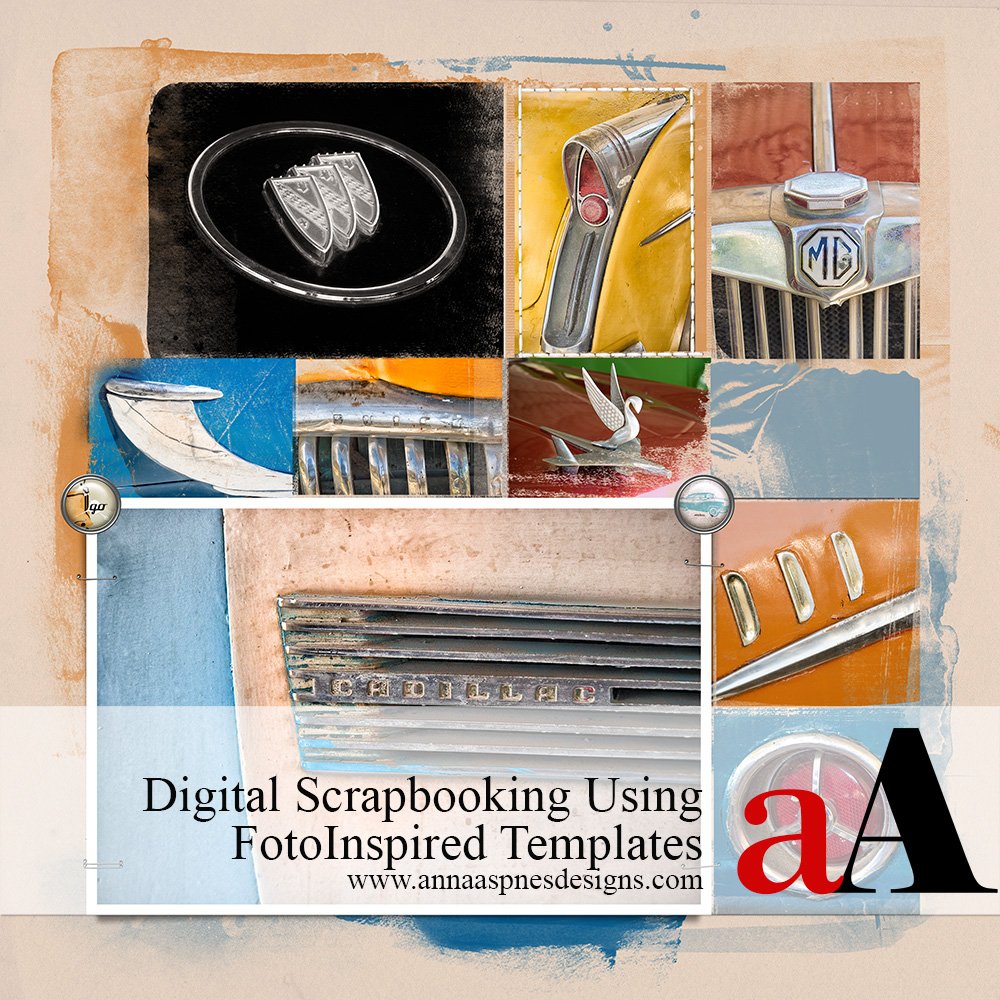 Today, I'm sharing more ways you can switch up your artsy digital scrapbooking using FotoInspired Templates.
Digital Scrapbooking Using FotoInspired Templates
A brand new set of FotoInspired Templates arrived in the store last week, and I will be re-releasing a few more tomorrow, in .page format for Artisan software users.
The FotoInspired series began in Year 2013 designed to provide an artsy approach to digital pocket scrapbooking.
Personally I'm a fan because they enable me to showcase and organize all the random photos I take on my photo, pairing them with a few stories and my passion for art.
I completed projects for a few years but 'fell off the wagon' for about 18 months. I'm currently in catch up mode with just 6 months to go.
This year I began the FotoInspired Facebook Group, in which artists are sharing their photos and stories in so many ways.
I thought it might fun to continue yesterday's inspiration post with more ways you can switch up your artsy digital scrapbooking using FotoInspired Templates.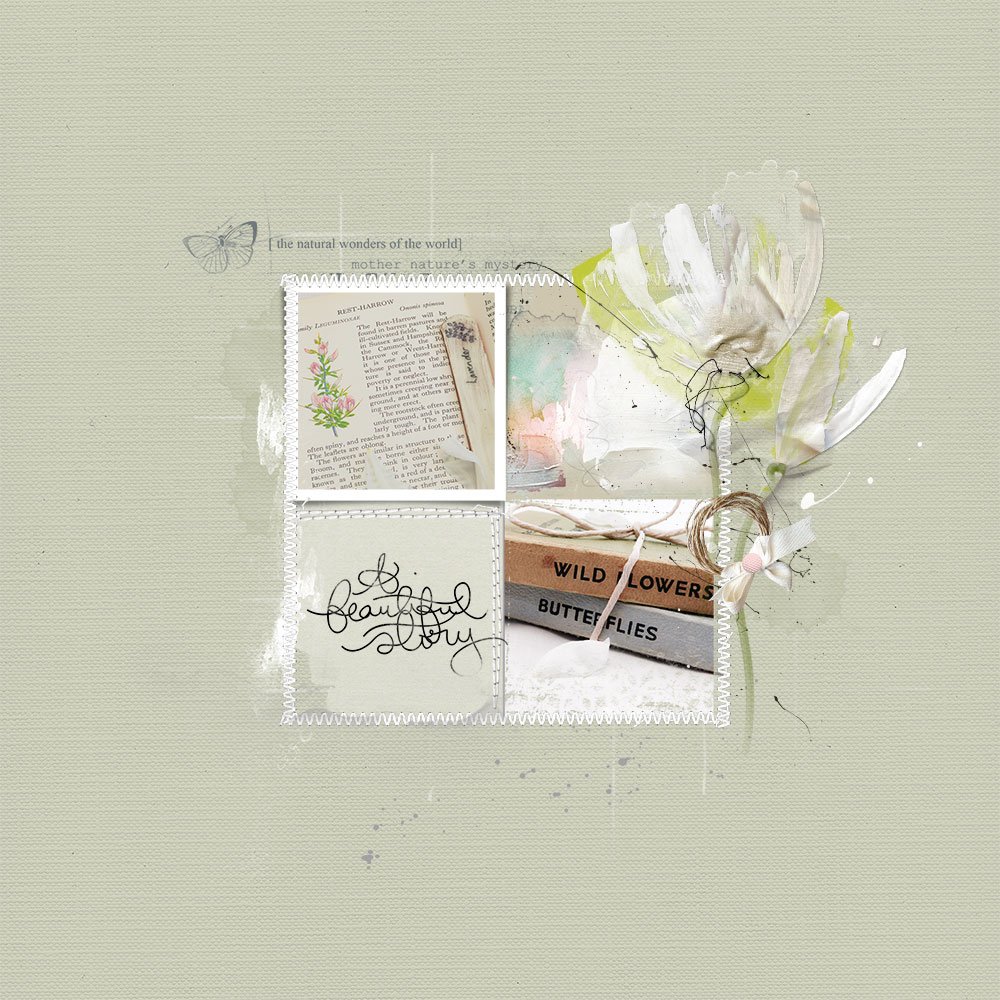 A Beautiful Story | Viv Halliwell
Modify Template Layers
Use the FotoInspired Templates in part, or as a whole.
The visibility of the layers may be turned on/off by clicking on the 'eye icon' next to each layer in the Layers Panel.
You can also permanently remove any layer(s) by dragging themto the 'trash can' icon.
Layers may also be moved, rotated, flipped, resized, duplicated or modified with brushes as preferred.
Viv created a classic design foundation by placing 4 square masks in the center of her canvas, discarding the other masks in her template, while retaining a few of the embellishments.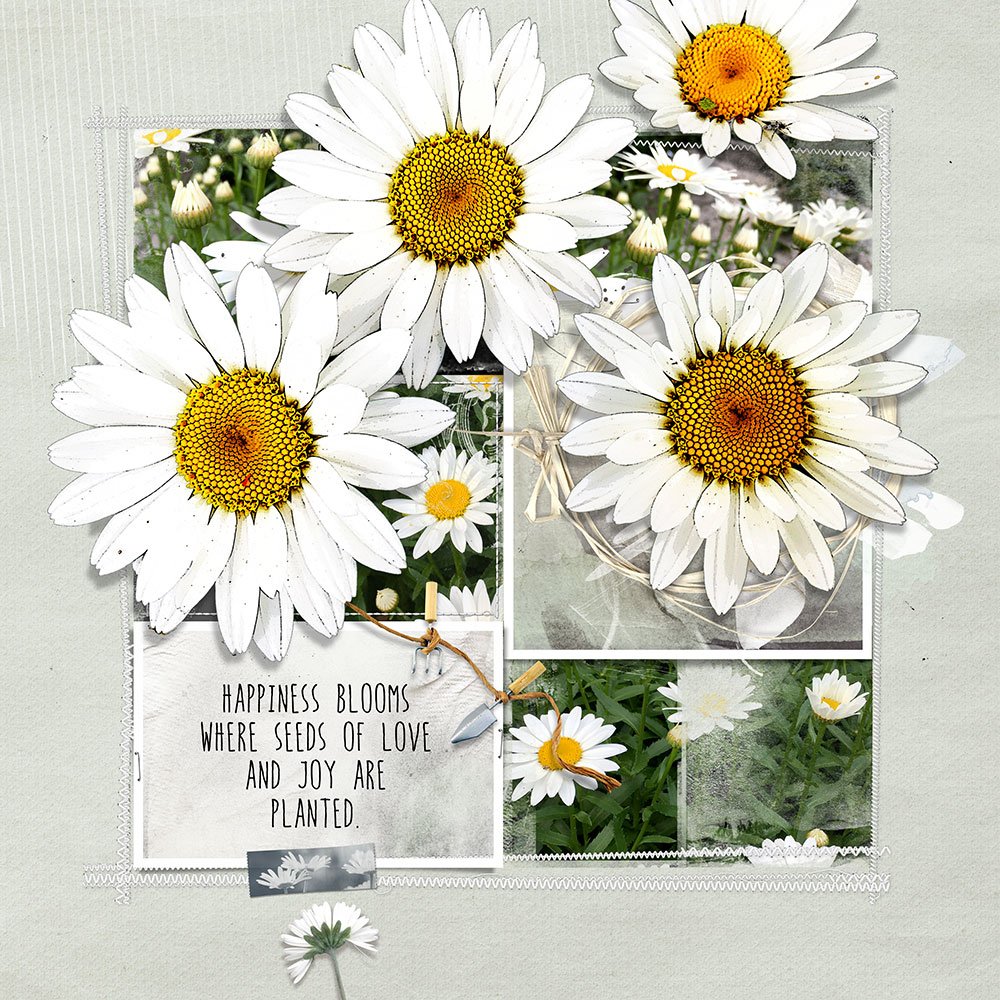 Happiness Blooms | Miki Krueger
Celebrate Collections or Favorites
Gather a series of similar photos or collection centered around a favorite topic, and create a collage that showcases some of your favorite Photoshop techniques.
The photos yield a distressed appearance when clipped to the FotoMasks in each template, thanks to the artsy brushwork applied to the clipping mask.
Use a combination of photos, DigitalART supplies and dimensional embellishments to maximize visual interest in your layouts.
Miki celebrates daisies in this particular template and her love for creating extractions.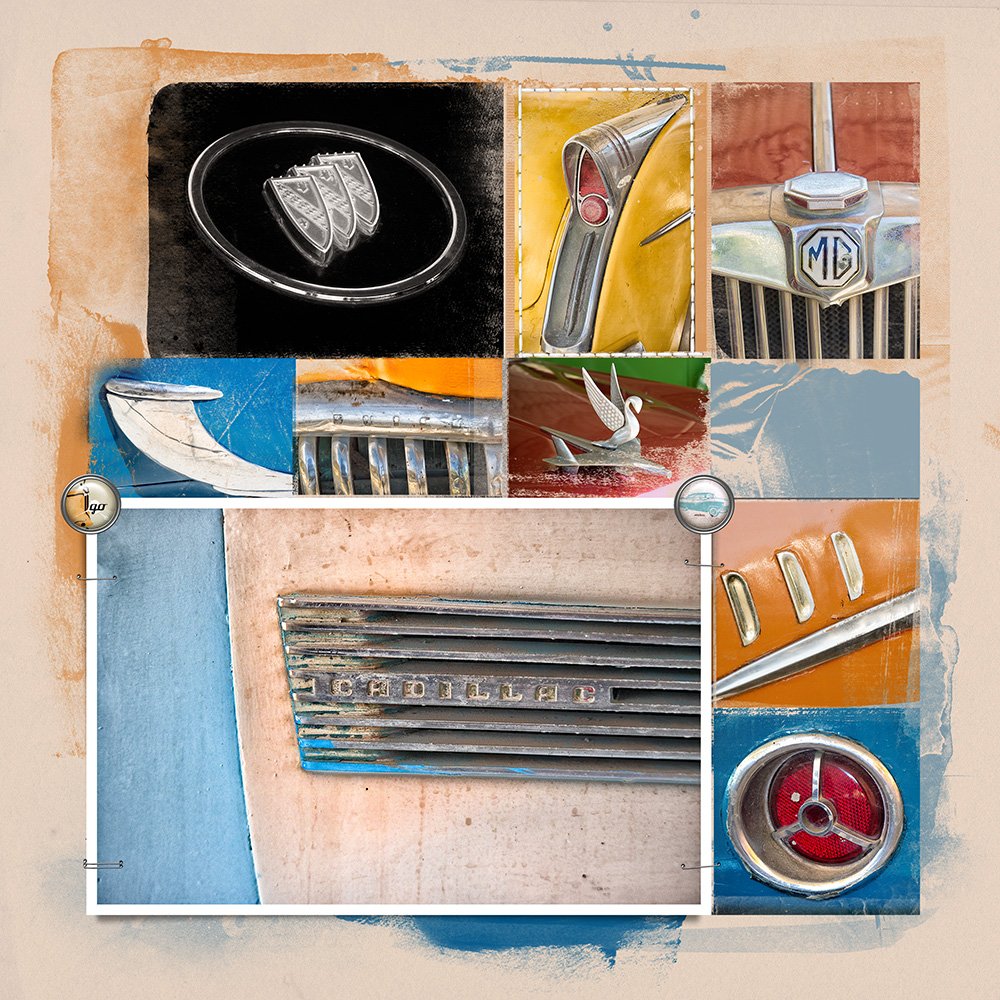 Cadillac | Jeanne Hoadley
Focus On The Details
Capturing the details can provide clarity in seeing the bigger picture of your passions.
I find this particularly true in scrapbooking, and taking photos as a general rule. Each photo captured, or story told, reveals more about the overall event.
Diane Lane's character in the Paris Can Wait carries a portable digital camera throughout the movie capturing such details of her travels.
Such snapshots require you to pay more attention to your surroundings while revealing much about the photographer.
Jeanne pays homage to the humble Cadillac by bringing together a collection of all it's characteristics.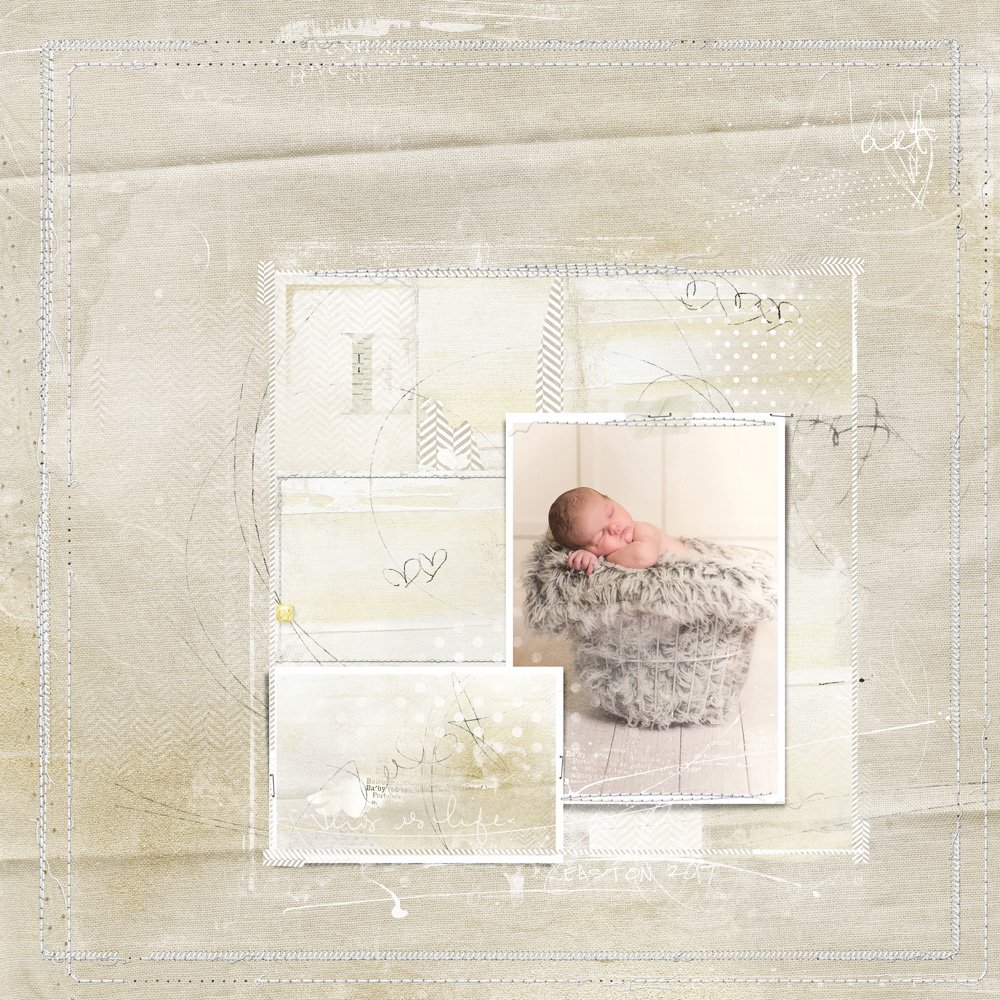 Baby | Donna Goar
Grid or Blocked Foundation
Create an artsy foundation using classic scrapbooking design principles.
The FotoMasks placed in grid format offer a traditional design component to your pages with an artsy twist.
Clip artsy papers, ArtsyKardz or other digital embellishments to the masks to customize your foundation.
Donna's signature style is to create a mosaic of masks to which she clips muted artsy papers.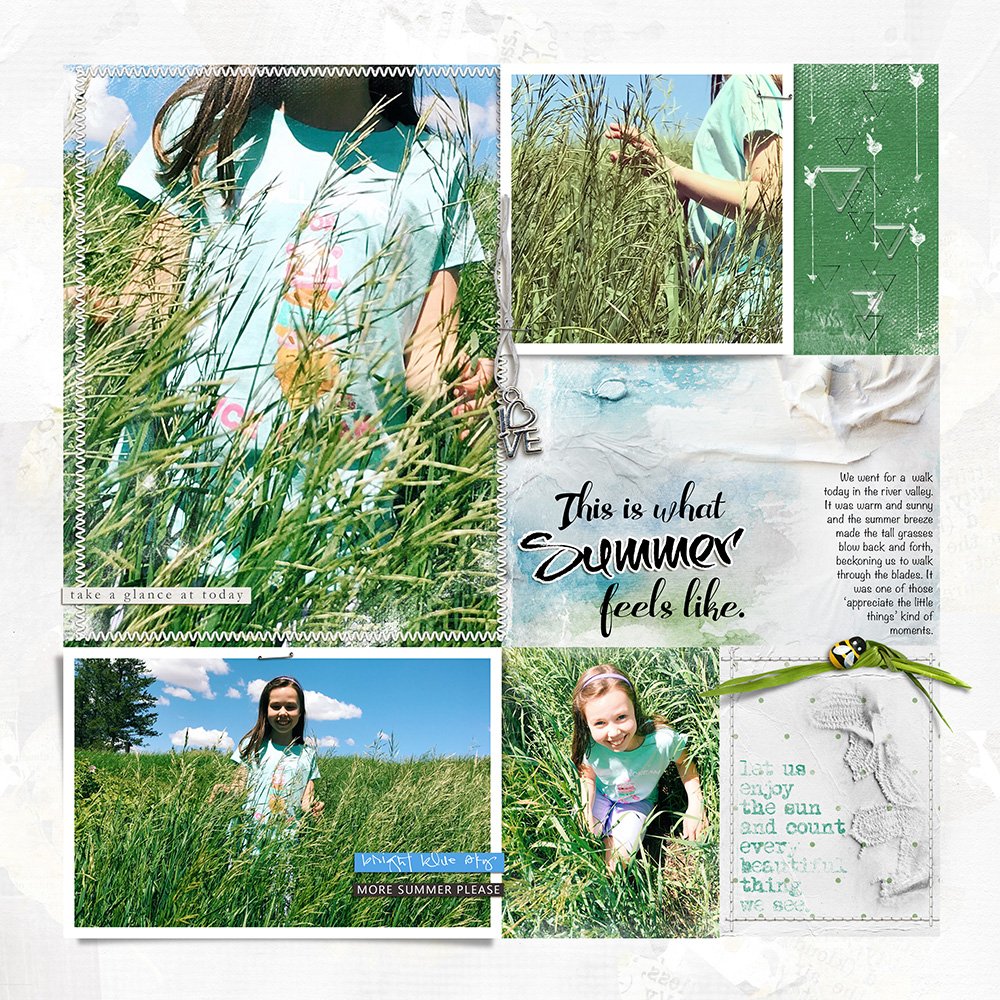 Summer | Heather Prins
Capture An Event
The multi-photo nature of the FotoInspired template makes them a great solution for documenting events.
Events vary in length and breadth in terms of amount of time and number of photos.
FotoInspired Templates are delivered in single-page format designed to be used individually or in pairs.
Heather took advantage of the this flexibility by showcasing a series of snapshots of her daughter on a short summer walk.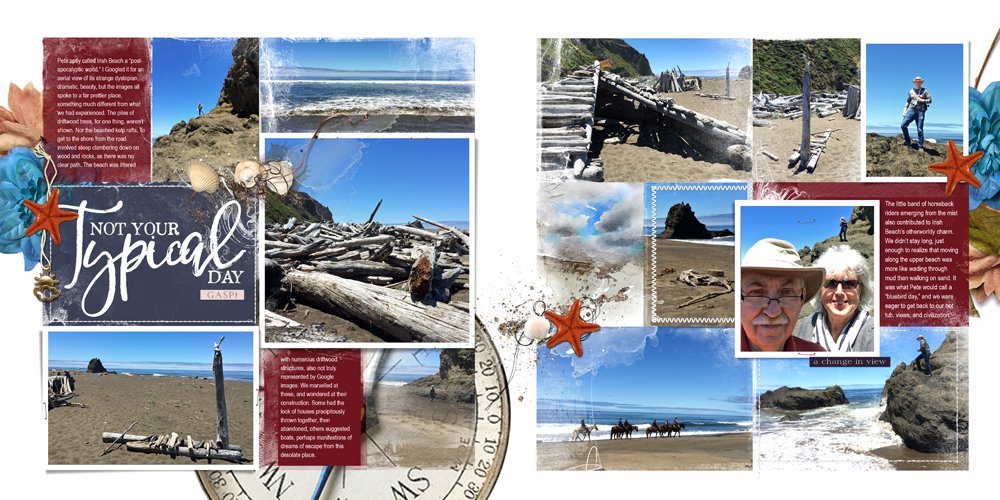 Focus On Photos
FotoInspired Templates enable you to keep the focus on the photos.
You can use as much or as little DigitalART in your layouts as you like. They can be super artsy or photo-focused with not much embellishment at all.
Laura has taken a photo-focused approach by combining 2 single templates to showcase all her photos.
Notice how she keeps the design simple by using the default Photoshop white background as the foundation for her spread.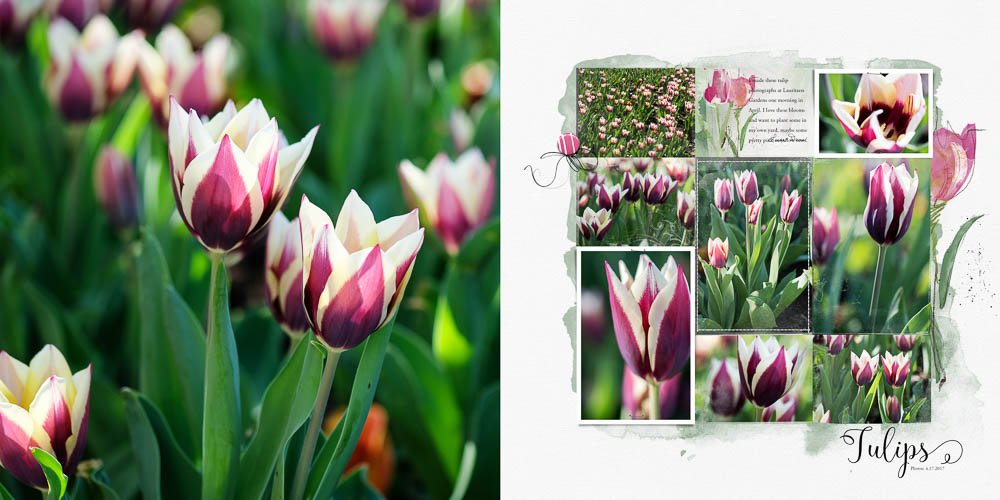 Tulips | Linda Davis
Attention to Balance
Balance a multi-photo page with a single photo.
The larger size of the single image visually balances multiple smaller photos with a subtle textured white background.
Linda uses this approach frequently in building double-pages for her photo book projects.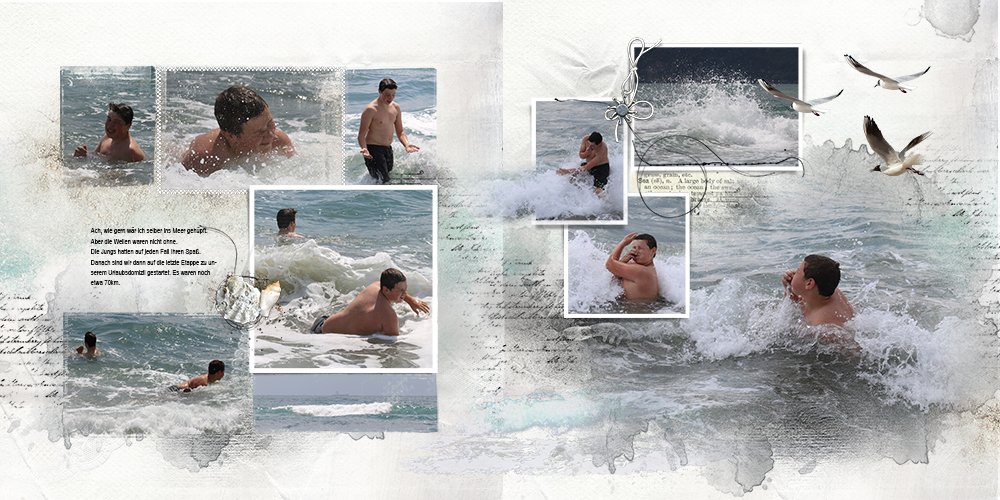 Sea | Konstanze Brendlin
Mix and Match
Pair Templates from different collections.
Consider combining a FotoInspired template with one from a different collection.
Konstanze makes this work by allowing the Transfers and blended photos to overlap the center line where the 2 different templates meet.
How to Get Started
Nows a GREAT time to start Digital Scrapbooking Using FotoInspired Templates:
Note that FotoInspired Template Pack No. 2F and the Hipster Plume Template Album No. 1 are ON SALE through the end of the week.
Enjoy the artistic journey and not just the destination.
One tends to lead to another.
With every layout made you a creating a much bigger picture or story of who you are.