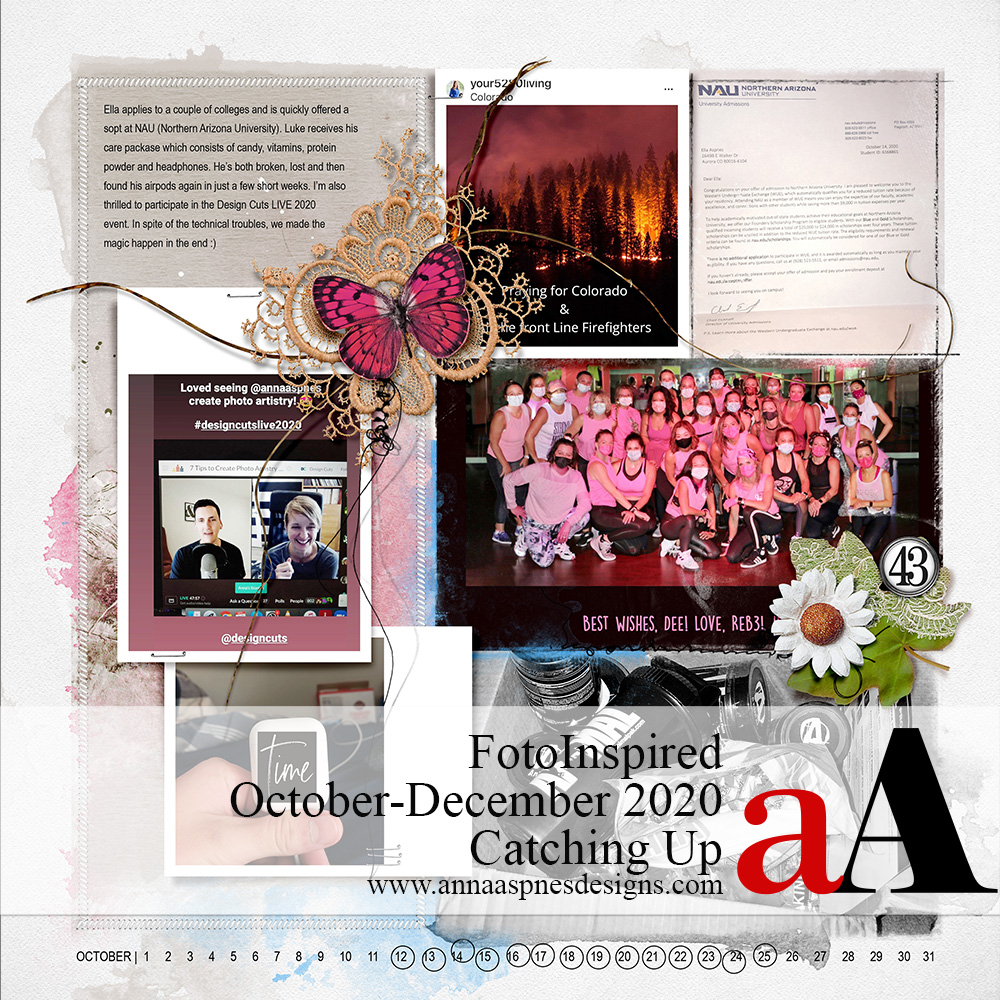 Today, I'm finally able to wrap up my project and share FotoInspired October-December 2020.
FotoInspired October-December 2020
New to FotoInspired?
Join the dedicated FotoInspired community on Facebook.
The FotoInspired Stats
A total of 10 double-page spreads for the final quarter of year 2020.
 5 in October, 2 in November and 3 in December.
Every day life around here.
A short getaway for me.
A hunting trip for Eric.
Luke's homecoming and Birthday
Thanksgiving and Christmas
Here are my layouts plus some thoughts on catching up on your FotoInspired layouts.
October-December 2020

October | Weeks 40 and 41

October | Weeks 42 and 43

October | Week 43

October | Weeks 43 and 44

October | Weeks 44 and 45

November | Weeks 46 and 47

November | Week 48

December | Weeks 49 and 50

December | Week 51

December | Week 52
Catching Up
Life happens and you fall behind.
I have been here SO many times.
In fact, I fall behind in my visual storytelling and memory keeping from October to December EVERY year.
It's NOT ideal but it is just the way it goes.
LIVE your life first and DOCUMENT later.
And in all the years of experience in doing this project, I can tell you it is WORTH it.
How do you make the task less daunting?
Let's face it…It's not an easy PROCESS.
So many pages to CREATE can be a bit tedious not mention overwhelming.
Though I love being able to RELIVE the memories as I document them.
It's a great way to FULLY appreciate a time in the year that is always a bit of a blur.
The best advice is to keep it as SIMPLE as you can.
Ideas for simplification of the process.
Establish the most meaningful STORIES of the month.
Include ONLY the photos you really love.
LIMIT your

a

A

DigitalART to one ArtPlay Palette or Collection.
Focus more on the photos and words and LESS on the artistry.
Notice how I….
Did NOT use every photo I took, but selected the ones that best REPRESENT our family life.
Add stories and anecdotes in note format to CONVEY the details without writing a novel.
Chose one ArtPlay Palette that best coordinates with the COLOR in my images and make it work.
Used the tools in Photoshop to RECOLOR the digital assets as needed.
Added FEWER ArtsyPaint elements and embellishments to my digital scrapbooking layout design.
What trick and tips do you incorporate into your process in catching up with your pages? Learn a LOT more about creating a Year in Review project.