Description
ArtPLAY LIVE NSD 2019 (REPLAY)
WE'RE CELEBRATED NATIONAL SCRAPBOOKING DAY (NSD) 2019 WITH A LIVE ARTPLAY EVENT.
ArtPlay LIVE is interactive on-line event to help you elevate your artistry.
Master a variety of simple techniques to uplift your digital layouts and witness inspiring ways to use the

a

A

DigitalART product range.
Complex does NOT always equate to difficult.
Simple technique stacking leads to more intricacy in your designs.
Step-by-step instruction guides you through the process of enhancing the visual interest in your pages.
Unmasking The Mask
The theme of this event was Masking and Blending.
Learn a variety of ways you can use different types of 'masks' to blend your photos and create artistry that you LOVE.
INCLUDES CLASSES BASED ON LAYOUT DECONSTRUCTIONS BY ANNA ASPNES, 2 OF YOUR FAVORITE CREATIVE TEAM MEMBERS, PLUS A BONUS CLASS RECORDED IN THE aA STUDIO:

Multi-Masked Artistry by Adryane
Adryane shares and provides guidance on how to create a digital artistry layout without photos using a variety of masking techniques.
Learn how to:
Create custom masks using element shapes.
Use the clipping mask function with multiple elements.
Increase complexity in your design with a variety of

a

A

DigitalART supplies.
Create Cast Shadows.
Duration: 30 mins including Q&A

Simple to Complex by Linda Davis
Linda demonstrated simple technique stacking to elevate artistry complexity through a series of 3 versions of the same layout from her incredible heritage project.
Learn how to:
Modify templates to support your photos and design.
Design pages using ArtsyTransfers that support your photos.
Blend a photo into your layout background.
Behind the scenes view of her 50 Year Anniversary Album.
Duration: 30 mins including Q&A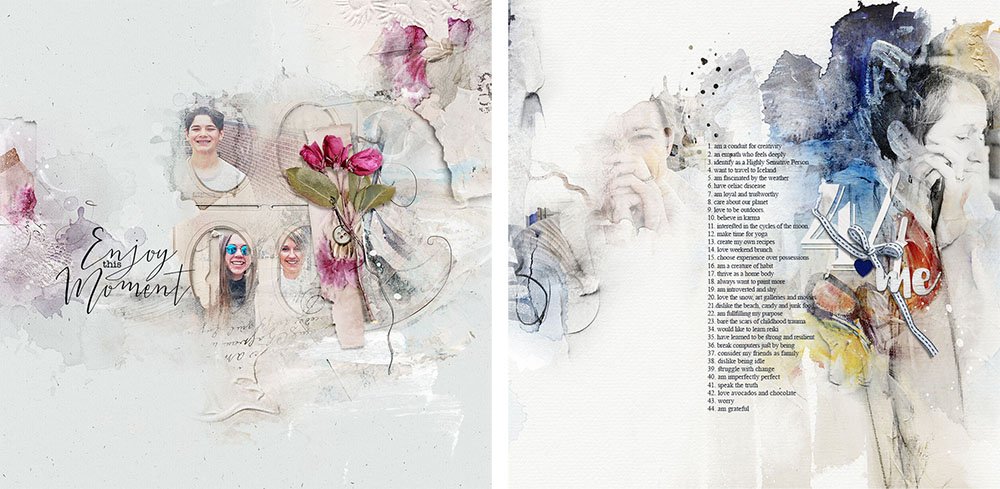 Dual Blending Techniques by Anna Aspnes
Anna will share a multitude of key masking techniques via a double layout deconstruction to introduce the ease of blending and demystify artsy digital layout design.
Learn how to:
Create Brushes from Clipping Masks.
Masks your photos with Masks.
Edit your photos with Blending Modes.
Identify unusual mask alternatives.
Customize ArtsyTransfers with Layer Masks.
Perfect your masked photos with Brushes.
Includes DigitalART supplies to complete both projects.
Duration: 60 mins including Q&A

a

A

Studio BONUS
We had a little sound distortion during Linda's and Anna's 1st Class.
This left me with the dilemma whether to rerecord a few parts of the classes.
The students decided that the sound was NOT as bad as I remembered.
And I agree having edited the replays.
But thank them and you I added a BONUS 24 minute video.
The BONUS deconstructs deconstructs a layout then assimilates techniques introduced from all 3 classes to elevate the artistry.
Enjoy 🙂
What to Expect 
This workshop was recorded Go To Meeting platform.
WE DID HAVE SOME SOUND QUALITY ISSUES SO THERE IS A BONUS STUDIO RECORDED VIDEO TO ADD VALUE TO THIS COLLECTION OF CLASSES.
There are 6 videos: Welcome, Adryane's Class, Lind'a Class, Anna's Class divided into 2 videos, PLUS the

a

A

Studio BONUS.
MP4 format files may be uploaded to iTunes for viewing on your smart phone or iPad devices.
FREE DigitalART Downloads
Supporting detailed .pdf handouts for each class, EXCEPT the

a

A

Studio BONUS.
ADDITIONAL DigitalART Downloads for Dual Blending Techniques by Anna Aspnes.
The Limited Edition MegaPack (below) includes a variety of supplies you can use to recreate the projects in Adryane and Linda's classes.
Please note that some of these supplies will differ slightly from the exact DigitalART supplies used in class.
Software Requirements
Demonstrations are conducted in Adobe Photoshop CC, but guidance is provided for Adobe Photoshop Elements users in Anna's classes.
Got a question?
EMAIL ME OR POST IN THE COMMENTS SECTION BELOW.