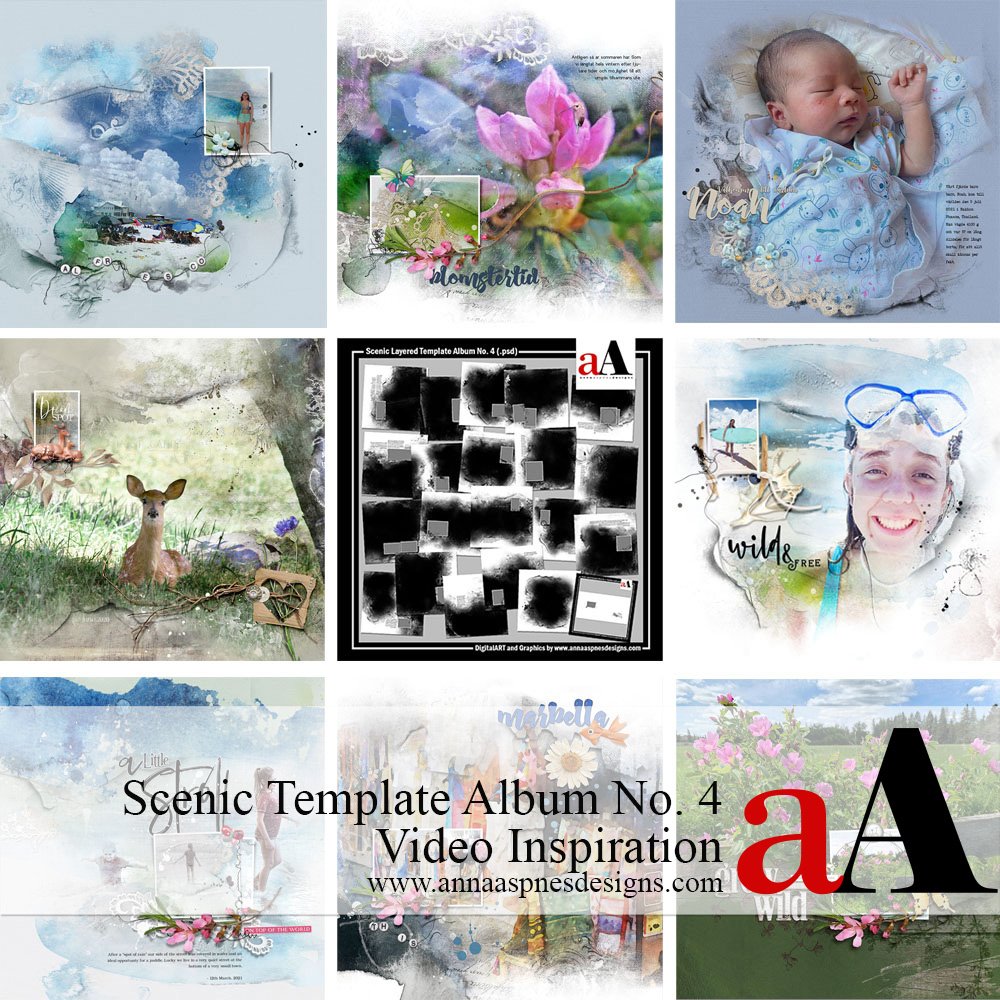 Happy Sunday! Today we're sharing Scenic Template Album No. 4 Video Inspiration.
This post and video is intended to provide guidance on using Scenic Template Album No. 4.
Scenic Template Album No. 4 Video Inspiration

Description
Designed for use with the clipping mask function and for recoloring in Photoshop, Elements and Paint Shop Pro to include:
A collection of 20 – 12 X 12 artsy and blended layered templates
A BONUS Cover Set for photo book printing.
All layer styles, masks, frames, brushwork, stitching, titles and text boxes as shown.
Use for blending large photos in photo book format such as scenic, landscape or panoramic images:
For artsy digital scrapbooking and photo artistry in photo book creation.
Templates are delivered in single-page format but also designed to work together as double-page spreads.
Clip your images to the FotoBlendz masks and add your own personalization through DigitalART supplies and words.
See also this Template Doubler Action for PHOTOSHOP ONLY from my friend Wendyzine which will create a double page from 2 of my templates.
THIS PRODUCT IS FOR PERSONAL AND LIMITED COMMERCIAL USE. View the complete Terms of Use for details.

Video Inspiration
AN INSPIRATION VIDEO POST AVAILABLE ON THE

a

A

YOUTUBE CHANNEL AND TWITCH PLATFORMS.
Provides guidance and inspiration for using Scenic Template Album No. 4 in your photo artistry, digital scrapbooking and photo book making projects.
Learn how to:
Create a double page spread.
Span a photo across 2 pages
Enlarging and resolution of photos
Multiple ways to blend 2 images.
Recoloring template layers.
Containing your blended photo with transfers.
And a whole LOT more!
DigitalART Supplies
a

A

Creative Team Inspiration
SEE ALSO:
AND IF YOU LIKED THIS Scenic Template Album No. 4 Inspiration post, TRY THESE TECHNIQUES IN YOUR OWN PHOTO ARTISTRY OR DIGITAL SCRAPBOOKING AND POST YOUR Layouts TO THE ANNAGALLERY.