Today I'm sharing some thoughts and guidance for using the NEW Special One Template Album to create a Special One Photo Project.
Special One Template Album
The Details
A collection of 20 – 12 X 12 artsy and blended layered templates delivered in .psd format for Photoshop and Elements.
Delivered in single-page format designed for individual or double-page format usage.
Includes wrap-around BONUS cover set for photo book printing.
Use the templates to document a favorite person in your lifetime or remove the optional titles to support your preferred theme and photos.
Note. The fonts for the titles are included the template layer labels in the Layers Panel.

Page 11 | Special One Template Album No. 1

Tell Your Story | Miki
Guidance for Use
The templates are intended for use with the clipping mask function or for recoloring in Photoshop, Elements and Paint Shop Pro.
All layer styles, masks, frames, brushwork, stitching, titles and text boxes shown are included.
Simply clip your images to the FotoBlendz masks and add your own personalization through DigitalART supplies and words.
Further information on using templates in Photoshop and Elements can be found at Anna Aspnes Designs and a free video tutorial can be viewed here.
Tip. See this Using Template Collections Video for further information.
Create Double Pages
Use an Action in Adobe Photoshop CC for easy double page creation.
Purchase the Action from Wendyzine using COUPON CODE.
Load the action into your Actions Panel.
Watch the video here.
Note. See also this Double-Page Cutter Action set for Photoshop AND Elements.
Plan Your Project
Plan your project before you start creating the pages.
This equates to 9 double-page spreads plus single introductory and conclusion pages.
Consider which stories and photos will go on EACH page ahead of the artistry and creation process.
Note. Learn MORE about this in aA Project 2019 self-paced workshop.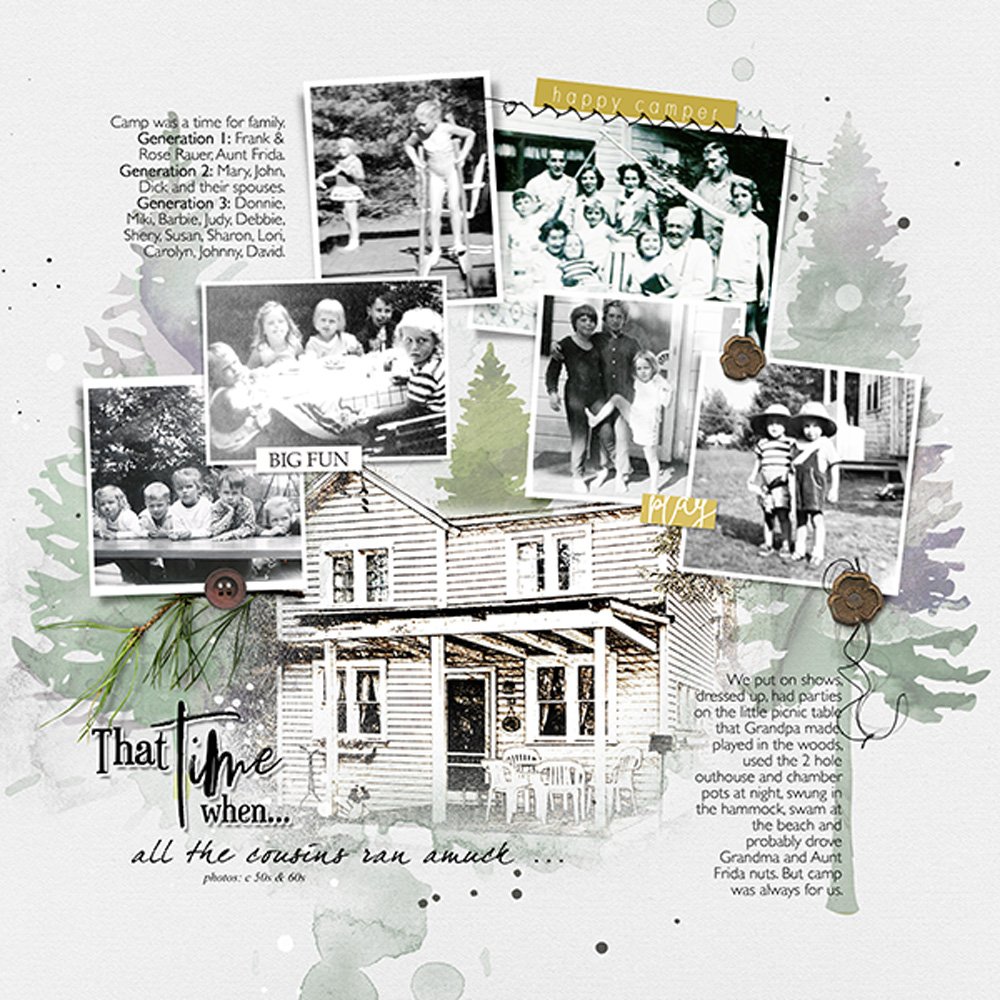 That Time When | Miki
Assigning Page Titles
Your titles provide context to the photos and stories included on each page.
The Special One Template Album includes titles for each double-page plus the first and last templates.
Use the titles provided to inspire your choice of photos and stories or modify for your special person.
Feel free to add titles if your double-pages accommodate 2 different stories and collection of photos.
Fonts for the current titles are labeled in the Layers Panel.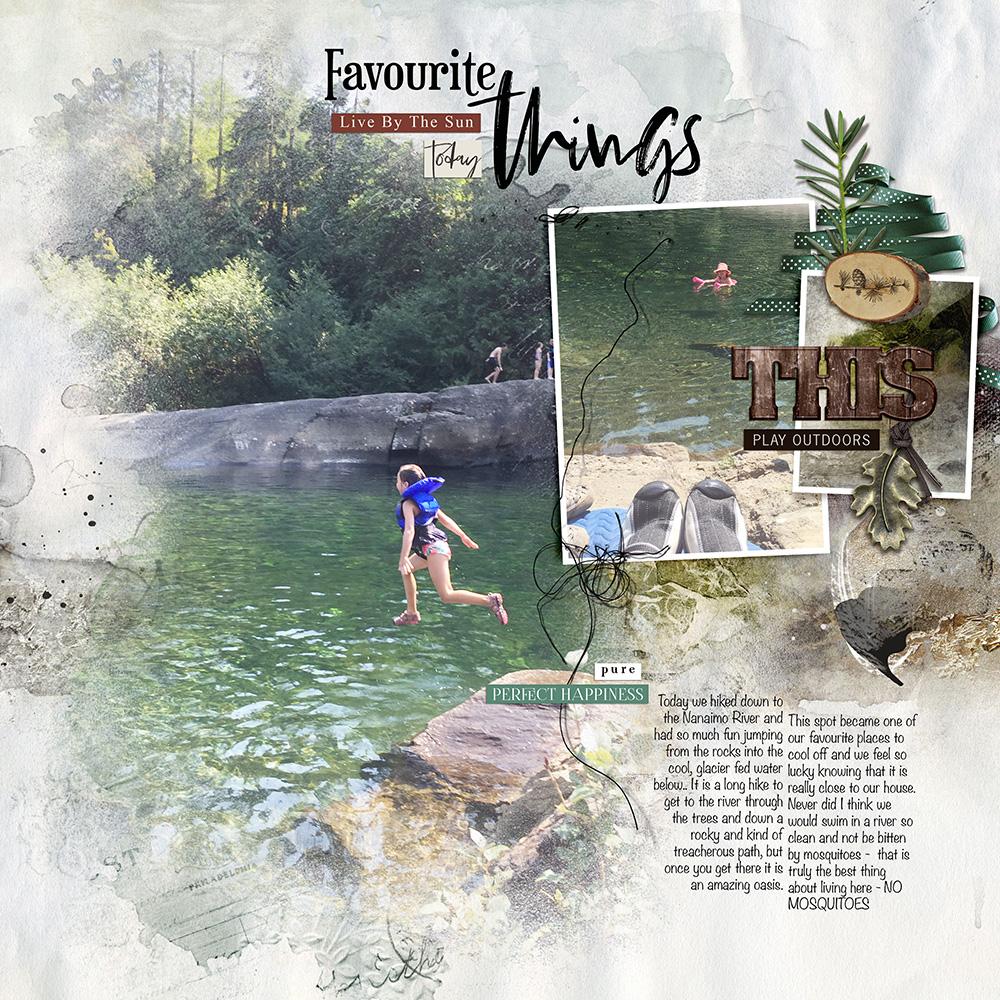 Favorite Things | Heather
'Special One' Title Ideas
A persons's life is divided into 3 eras.
Childhood/Teens
Adult
Retirement.
Stories about your special one can be inspired by the following:
1. Childhood/Teens
Baby Years
Family
Friends
School
Home
Hobbies/Sports
Personality Traits/Interests
Vacations
Milestones
Special Memories
2. Adult Life
Through the Decades
College/University Years
Adulting/Starting Out
Career/Jobs
Marriage/Divorce
Children
Life Lessons
Changes/Transitions/Turning Points
Memorable Moments
Noteworthy Stories
3. Retirement
Legacies
Defining Moments
Mistakes
Reflections
Travels
Perspectives
Past and Present
Through the Years

Roslyn Cafe | Barbara
Elevate Your Journaling
Go beyond the simple facts.
Start with the WHO, WHERE and WHAT.
Embellish with the HOW and WHY.
Add meaning and feeling to your words with the addition of personal THOUGHT and PERSPECTIVE.
Note. EMOTION makes your stories poignant, engaging and relatable.
Additional Template Inspiration
Modify the Special One Templates to make them work for your photos whether you choose to create single pages or an entire photo book project.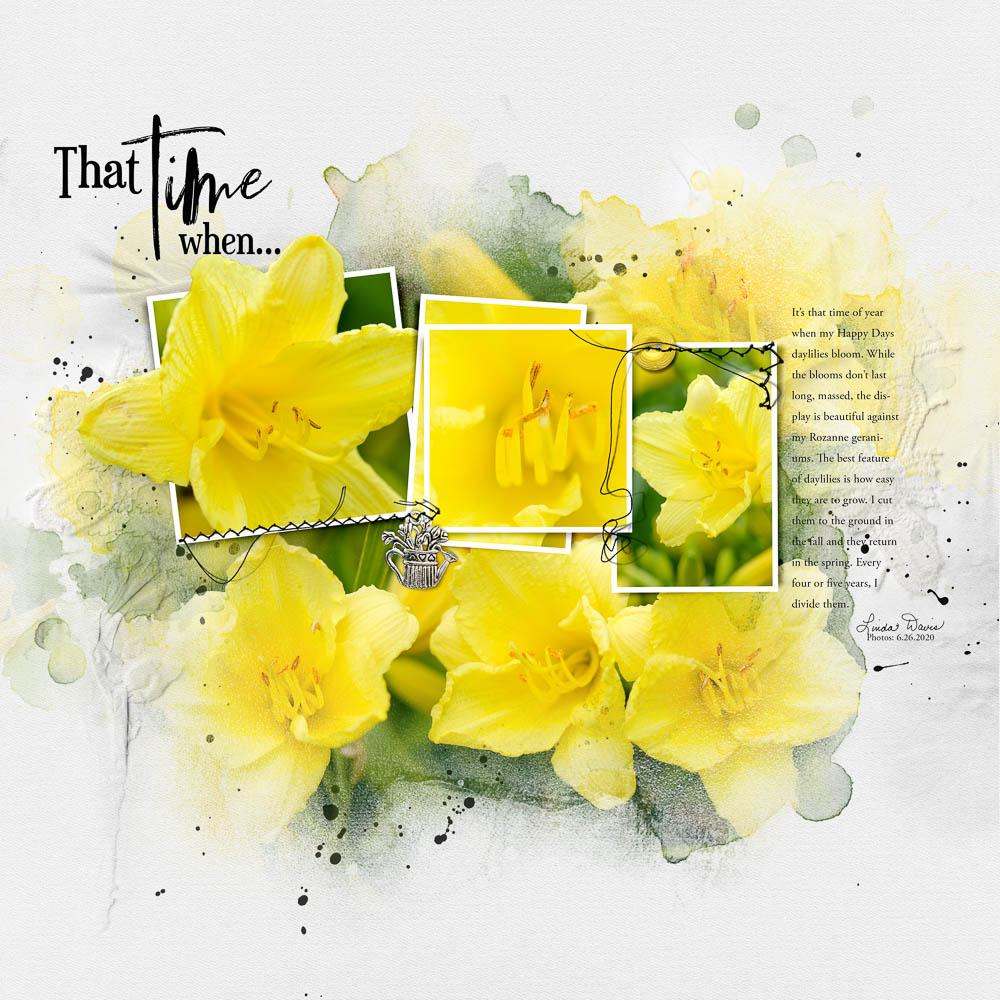 That Time When | Linda
Combine Multiple Templates
Use 2 or more templates to create a custom layout design.
Add or subtract layers in the template files.
Reposition or rotate elements as preferred.
See also: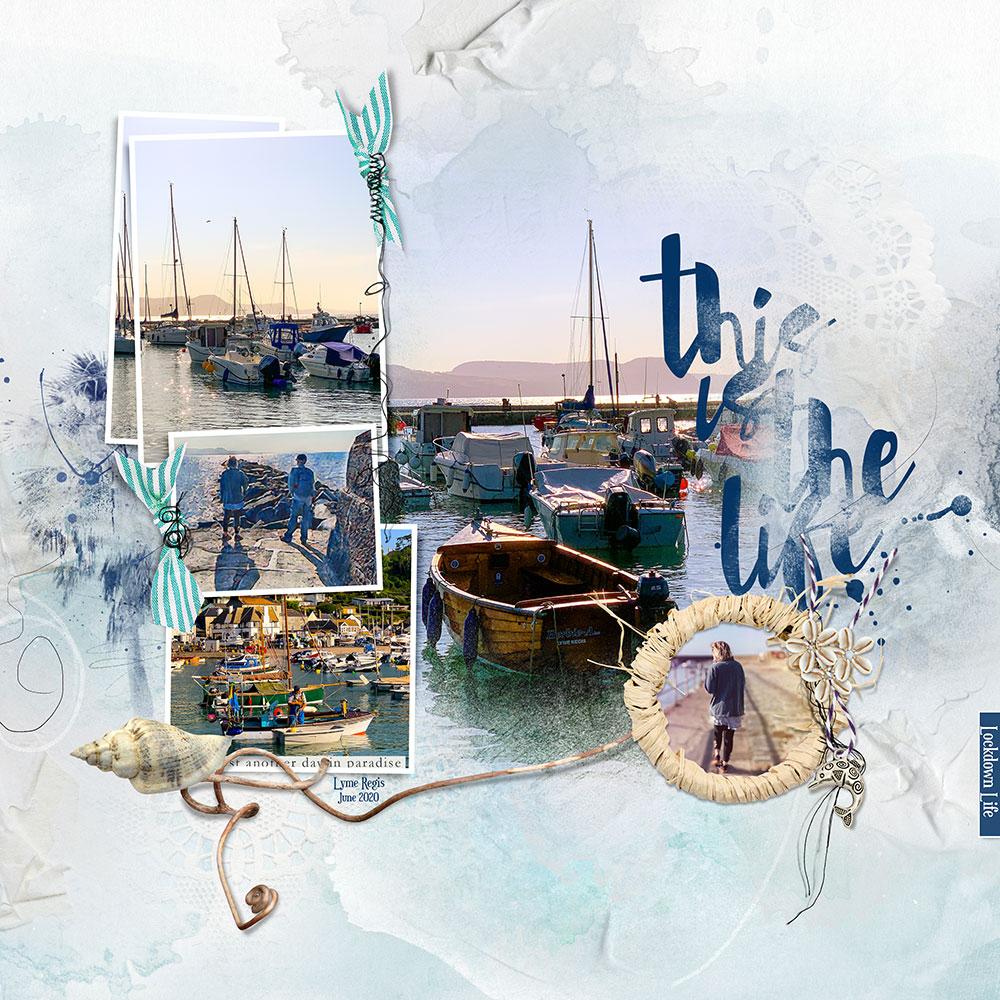 Paradise | Viv
Easy Titles
Use WordART to add context to your photos.
Drag and drop the WordART .png format files onto your layout using the Move Tools from the Tools Panel.
Create Visual Interest by including a variety of WordART types on your layout designs.
Modify WordART as preferred in terms of SIZE, COLOR, ROTATION and Blending Modes.
See also:
Road Trip | Laura
Extend a Photo
Clip the same photo to multiple frames.
Assists in filling empty template frames.
May better accommodate the ORIENTATION of a photo.
Creates Visual Interest in your design.
See also:
Summary
There are MANY ways you can use the Special One Template album collections.
Use the templates to create single or double pages.
Plan a photo book project about a 'special one' and modify the titles of the pages to suit your photos and stories.
Modify the templates to support your stories, photos and THEME preference.

Completed ABC Album by aA Community Member, Luann MeElduff, using Template Collections by Anna Aspnes Designs.
You may also be interested in:
AND IF YOU LIKED THIS MASTER DESIGN USING TEMPLATES, PLEASE CONSIDER SHARING IT USING THE SOCIAL MEDIA BUTTONS BELOW.