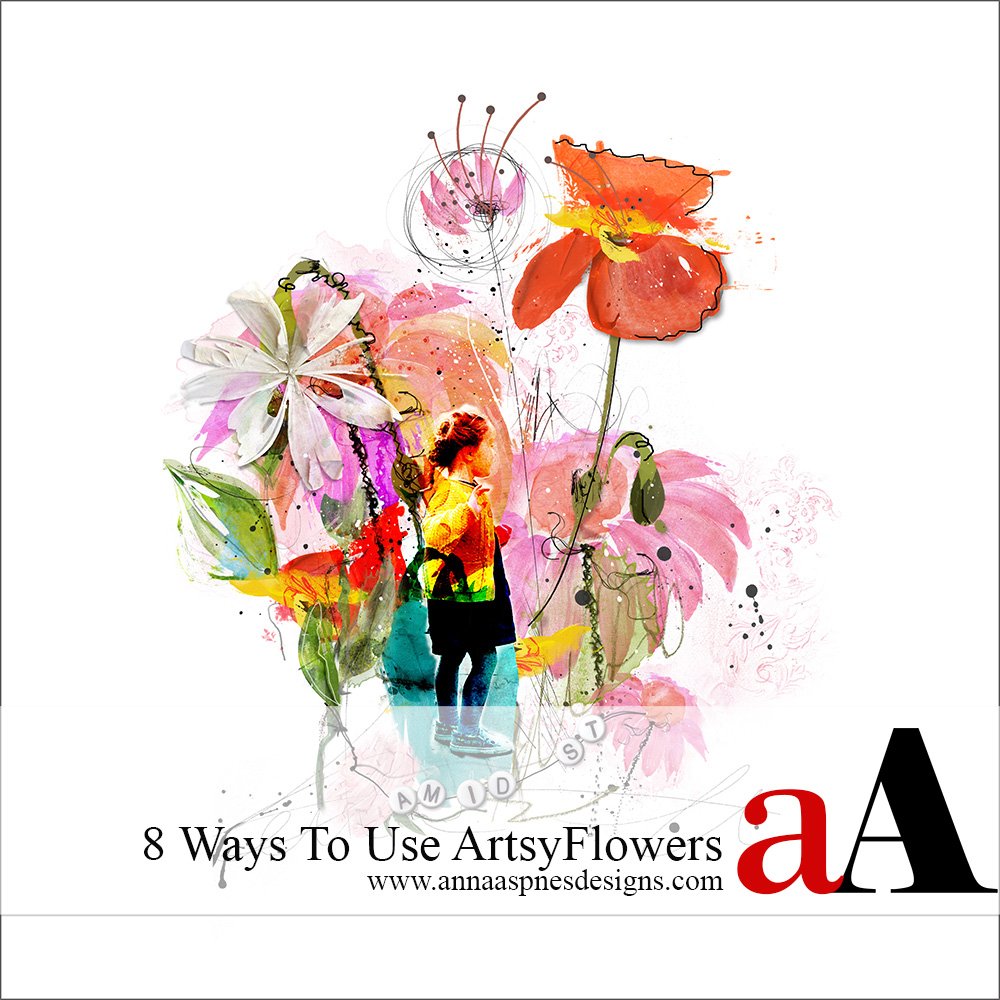 Today, I'm sharing 8 Ways to Use ArtsyFlowers in your artsy digital scrapbooking and artistry pages.
8 Ways to Use ArtsyFlowers
What are ArtsyFlowers?
A few weeks ago I received an intriguing request from an ArtsyFlowers admirer who asked if it could be made possible to purchase the flowers created during the self-paced workshop.
The response was GOOD and we decided it would be a wonderful opportunity to donate 100% of the proceeds to charity.
The first collection is now available in ArtsyFlowers category the Anna Aspnes Designs store at Oscraps.
The charity chosen is closely connected to what we do as memory keepers.
Recently, Ella and I attended a Let's Talk Non-Profit Charity Group meeting with the intention of volunteering.
The is a local upcoming theater production 'The Snow Queen' in which I will be donating my skills in the art department, and Ella hopes to assist and act alongside these severely challenged young adults, who are only able to communicate through special devices.
The Let's Talk group avocates 'Communication for All' and are passionate about helping other non-verbal people communicate with the world.
Their first project is to help those caught in 'State of Emergency' situations, of which there have been TOO many in this world of late, between earthquakes, hurricanes and devastation caused by fire.
Elizabeth is a year younger than Ella and has Mitochondrial Disease, which means her cells cannot convert food into energy in order to fuel her body. Watch her share a passion of heres via her cooking show, with friend and speech pathologist, Lori.
We take for granted the simple act of being able to communicate and tell our stories.
Imagine what it would be like if you or I couldn't?
We have the profound ability to tell our stories through art, photos and words. These amazing young people are able to tells theirs via technology.
It's perfect and timely.
Learn more about this amazing group and I thank you in advance for supporting this worthy cause.
8 Ways to Use ArtsyFlowers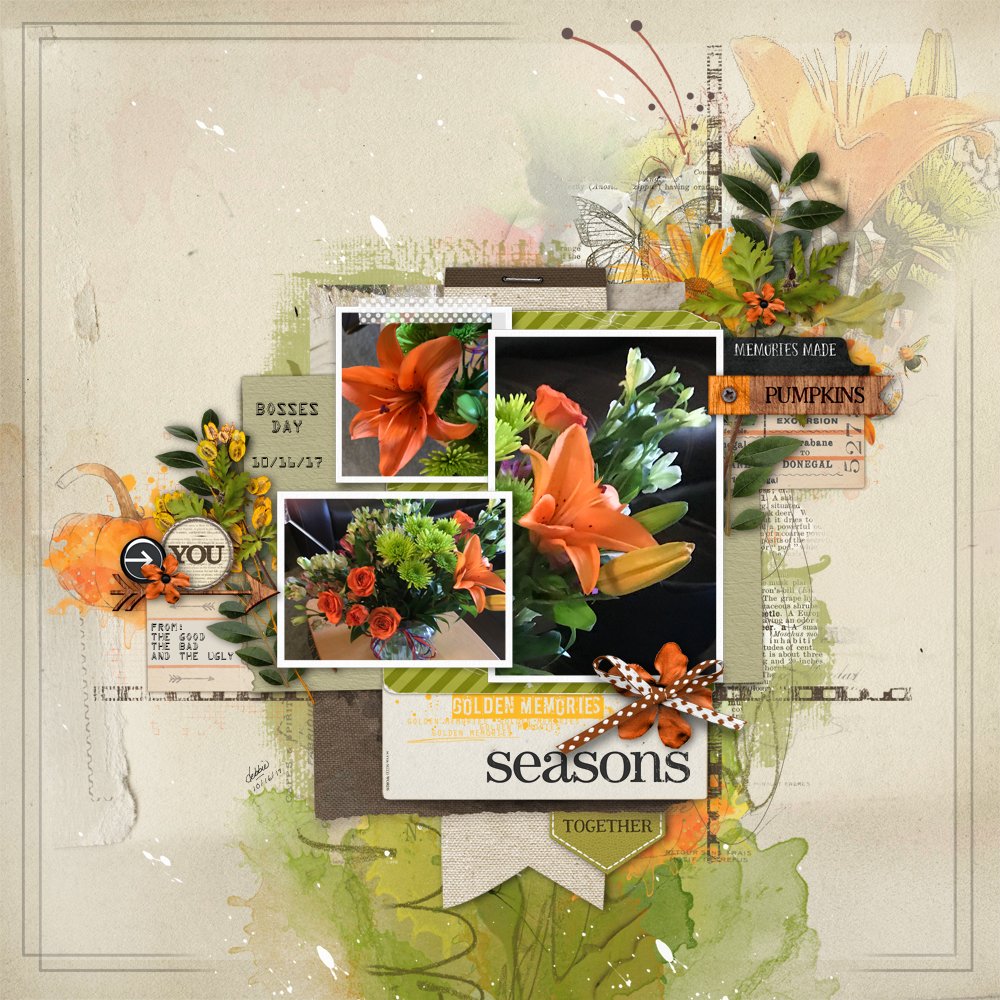 Seasons | Debbie Douglas
1. Create an artsy background for your photos and words.
Add an ArtsyFlower element over a solid background paper to create a focal point to guide the placement of your photos.
I love how Debbie has positioned the flower so that it creates a matte and frames her design, pulling the eye into the images and story.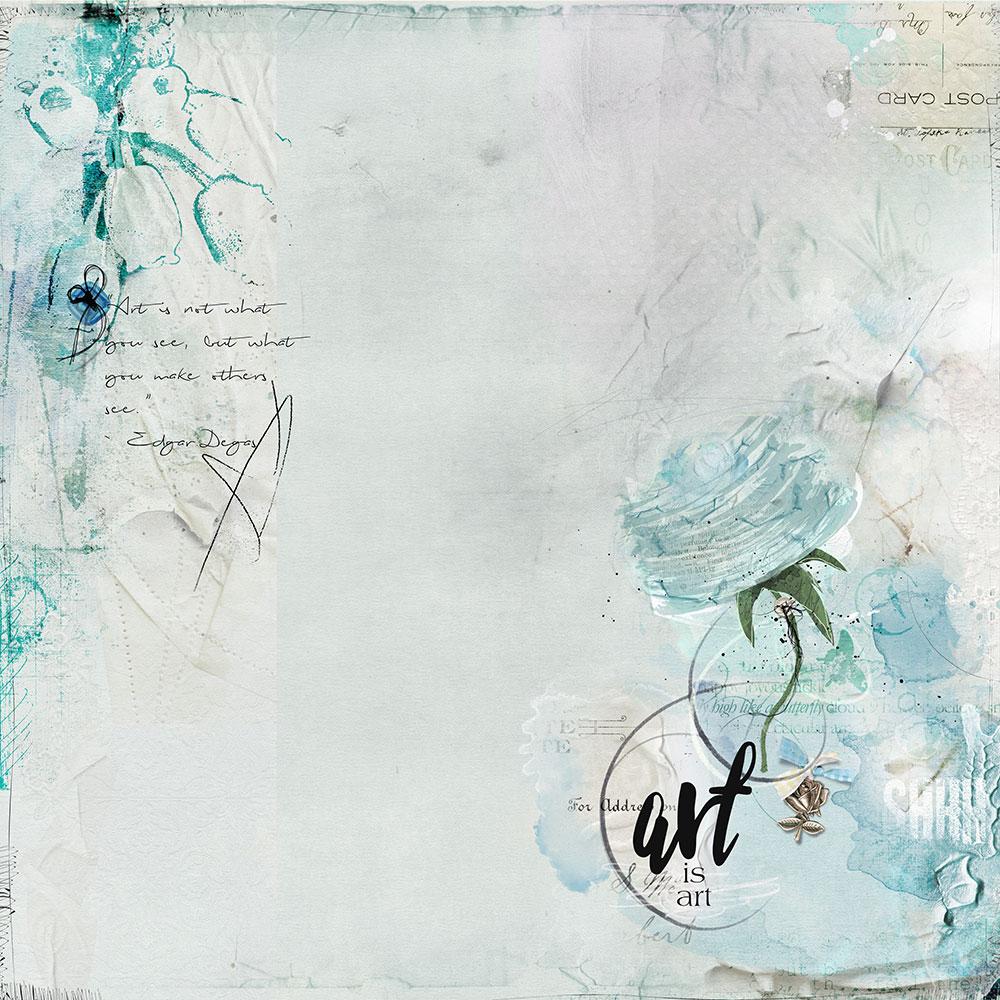 Art Is Art | Viv Haliwell
2. Change the Color of the ArtsyFlower Element Layers.
ArtsyFlowers are delivered in .png or layered .psd format.
The latter enables you to adjust and modify ANY of the layers individually.
Apply a new color color, by accessing Edit> Fill (and ensure the Preserve Transparency option is CHECKED).
You can also use the Hue/Saturation sliders to modify the Hue/Saturation or Lightness of an existing color.
Go to Image> Adjustments > Hue/Saturation (Photoshop) or Enhance> Adjust Color> Hue/Saturation (Elements).
I love how Viv has created an non-photo art-journalistic layout changing the color of the rose ArtsyFlower to coordinate with her other DigitalART supplies and contribute to the MOOD of the composition.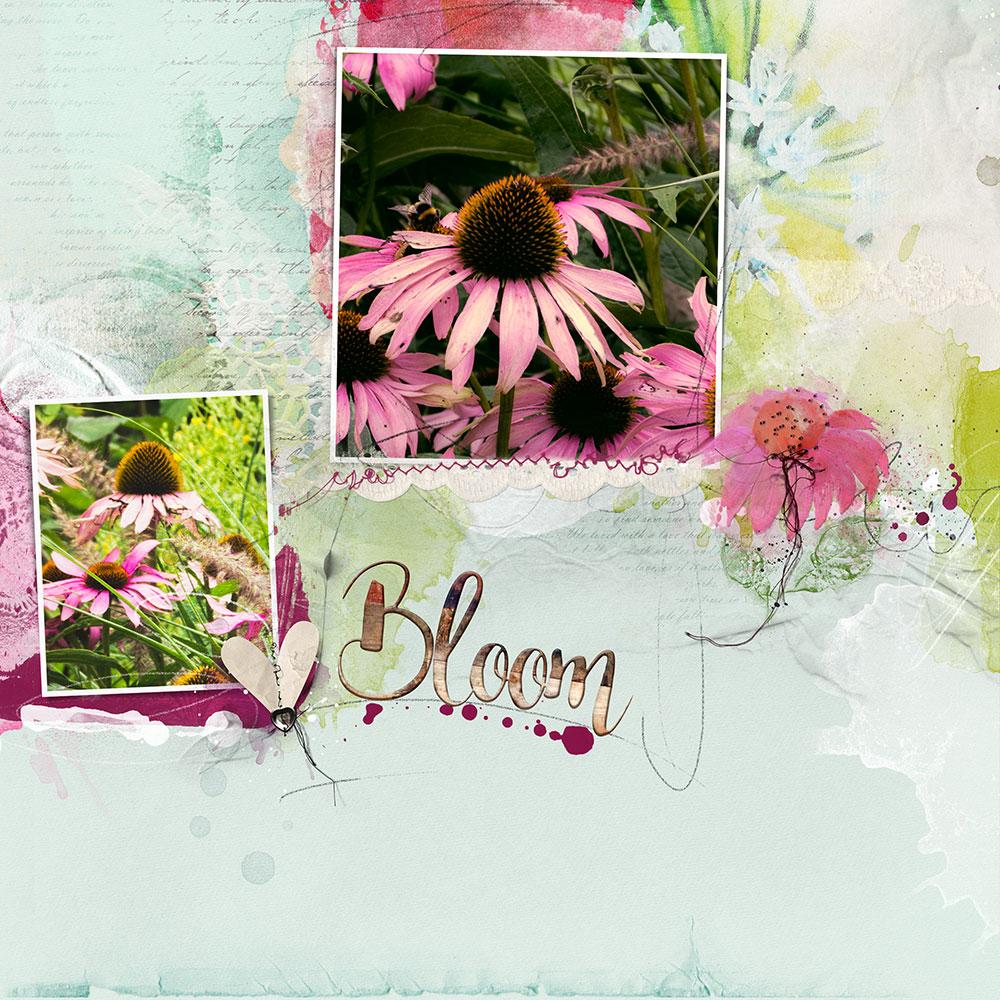 Bloom | Viv Halliwell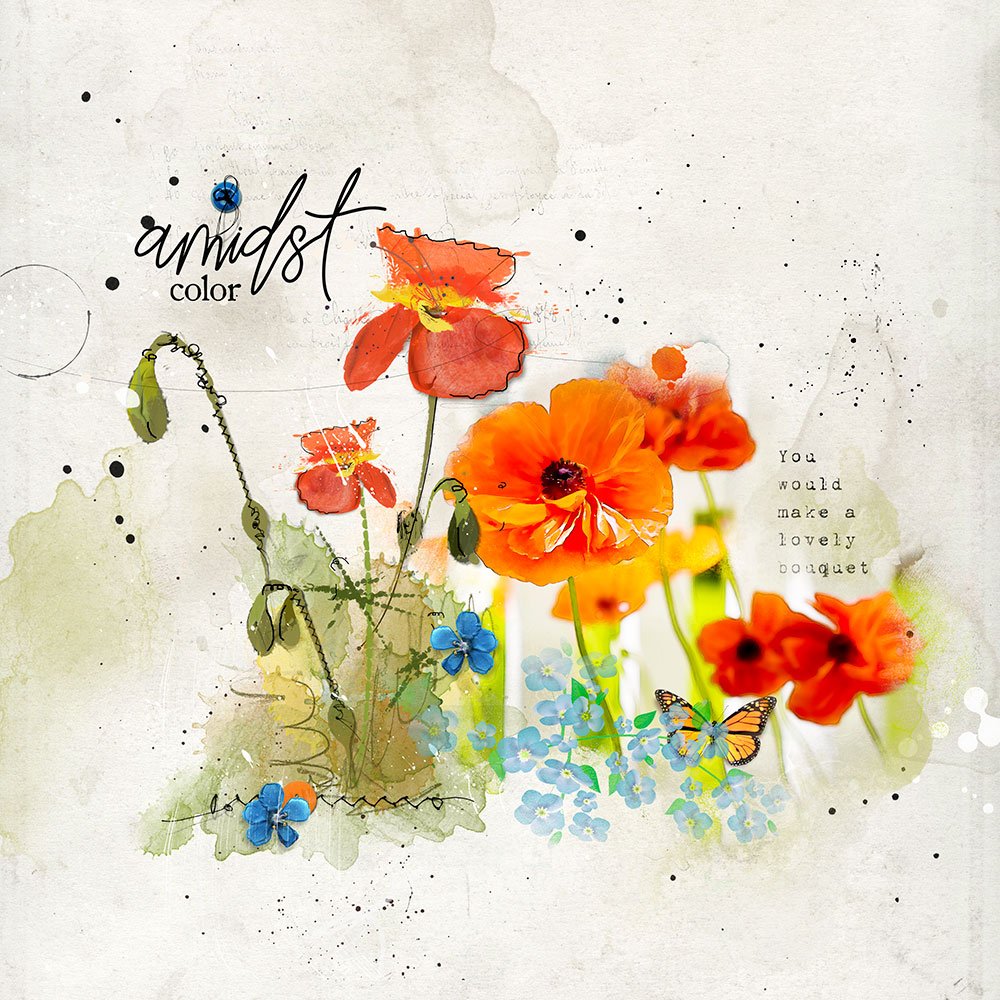 Amidst Color | Miki Krueger
3. Repetition of a design motif enhances the thematic component of a page.
Use the the ArtsyFlowers as a simple embellishment to make a quick and easy layout.
Notice both Viv and Mikki have mirrored the flowers in their respective pages supporting each theme.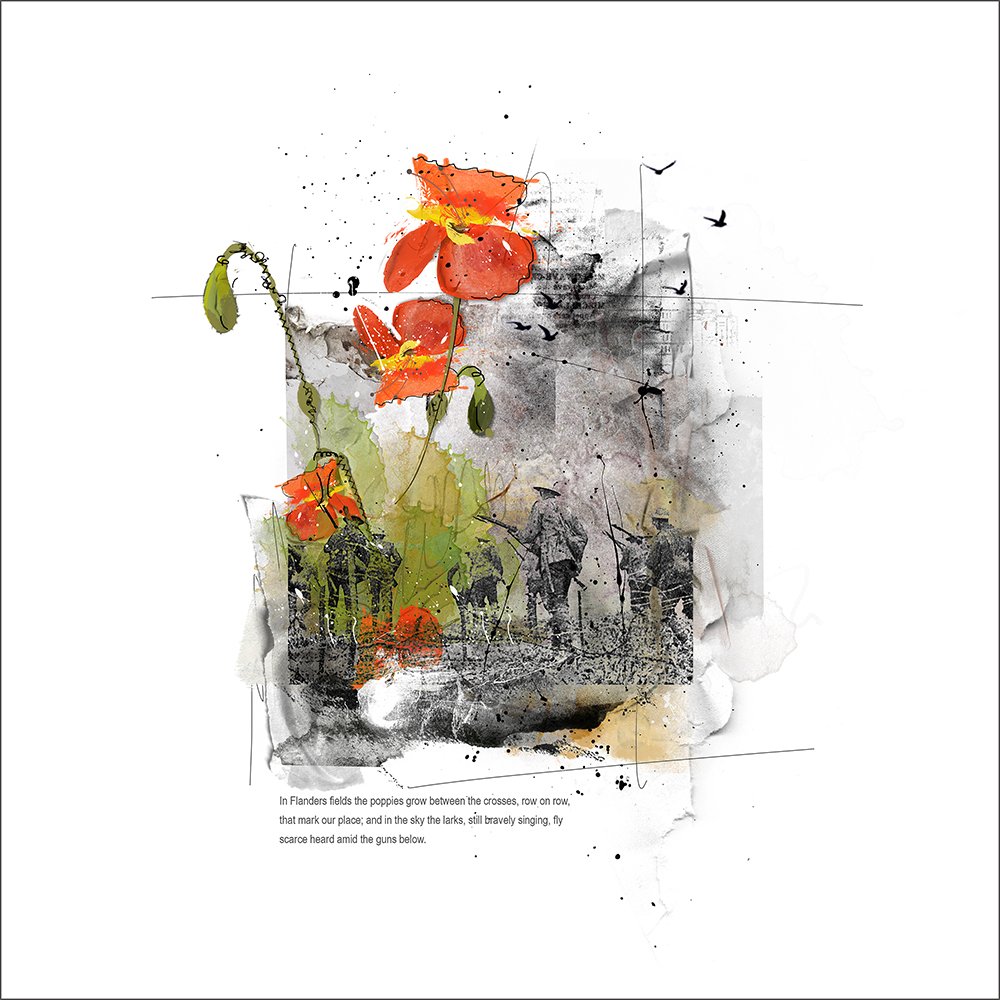 Flanders | Fiona Kinnear
4. Use an ArtsyFlower to add context to the story of a layout.
The addition of poppies to this composite not only adds visual interest via color, but also transforms the artistry from war to remembrance.
I love how Fiona has made use of scale in adding the poppies to her landscape.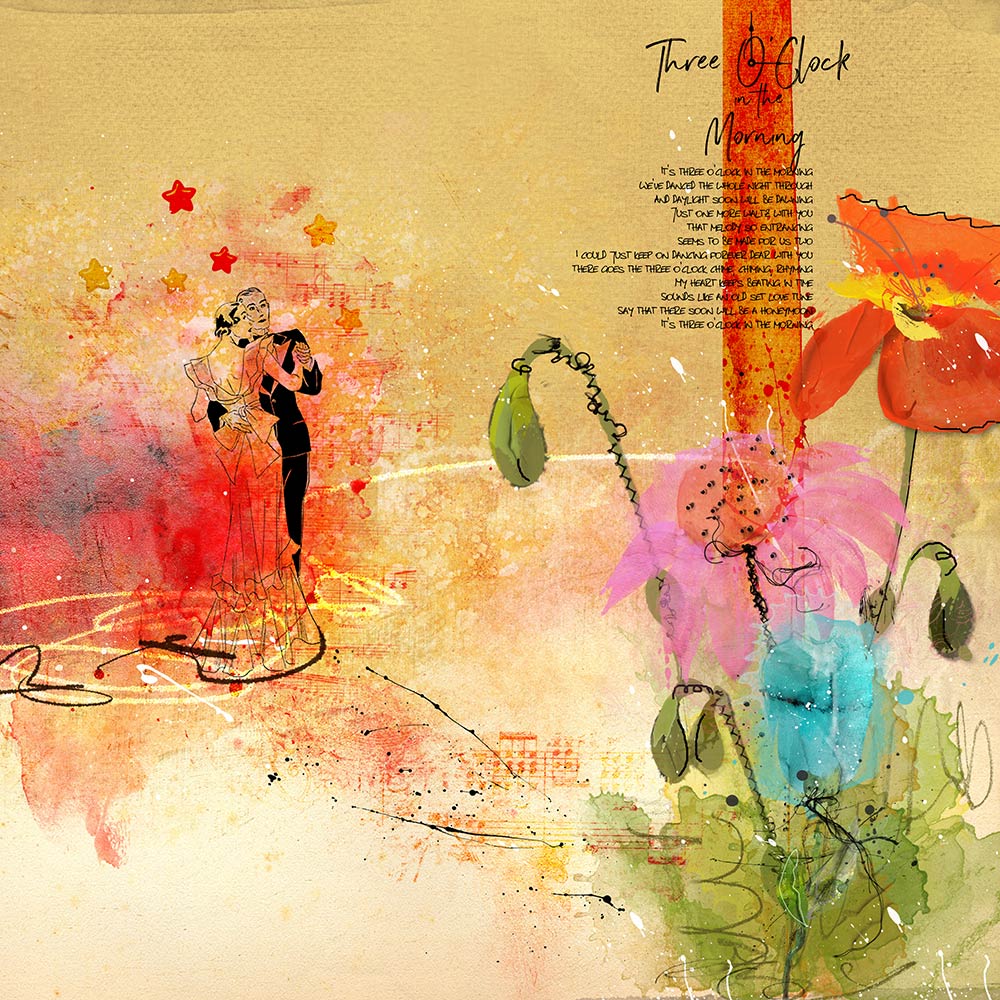 Three O Clock | Barb Houston
5. Use the Colors in an ArtsyFlower to create a Visual Triangle Design.
A VISUAL TRIANGLE is formed when you have 3 distinct similarities in your design, in terms of SHAPE, MOTIF or COLOR.
If you were to draw invisible lines between the 3 similar elements, a triangle shape would result.
I love how Barb has created a VISUAL TRIANGLE through the use of orange: The dancers, flower 'head' and poppy, which moves the eye around the layout.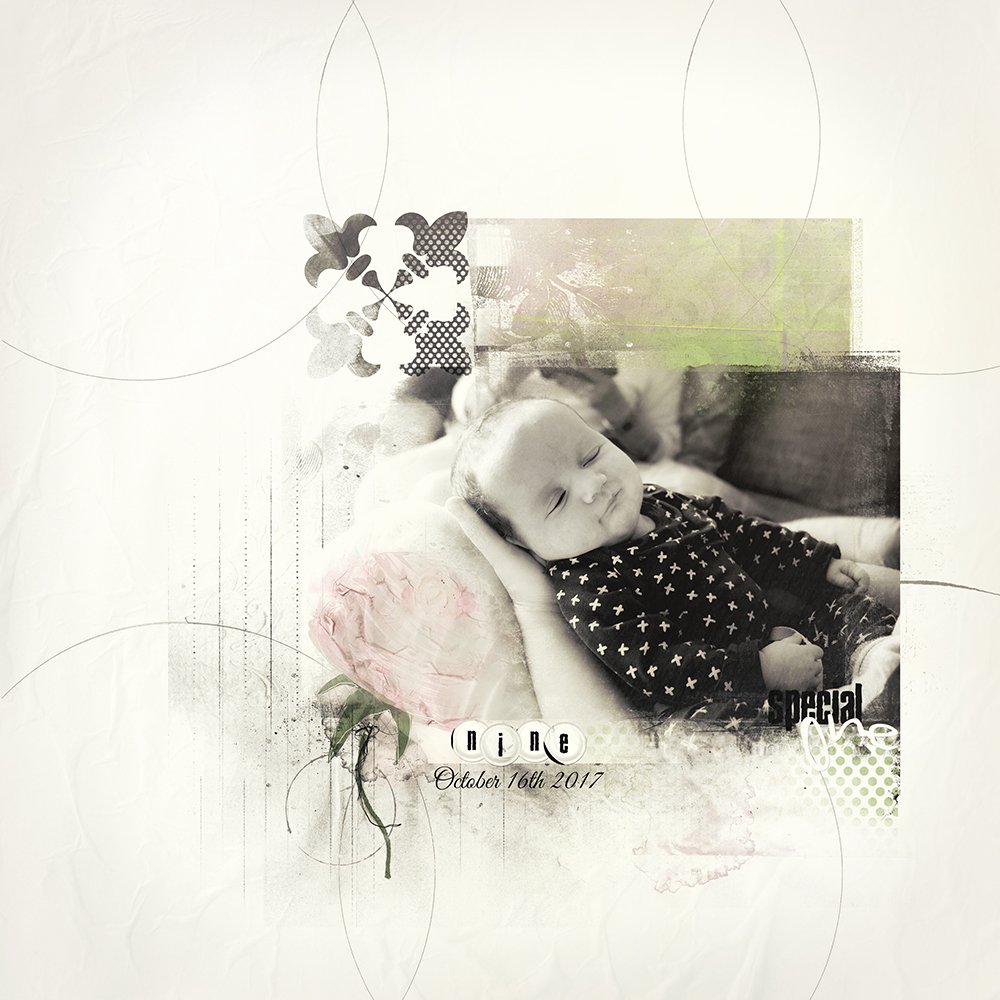 6. Contribute to the MOOD of a layout.
The pink rose ArtsyFlower supports the soft and delicate approach to this artsy digital scrapbooking design.
I love how the soft pink flower balances the much heavier blacks in the composition.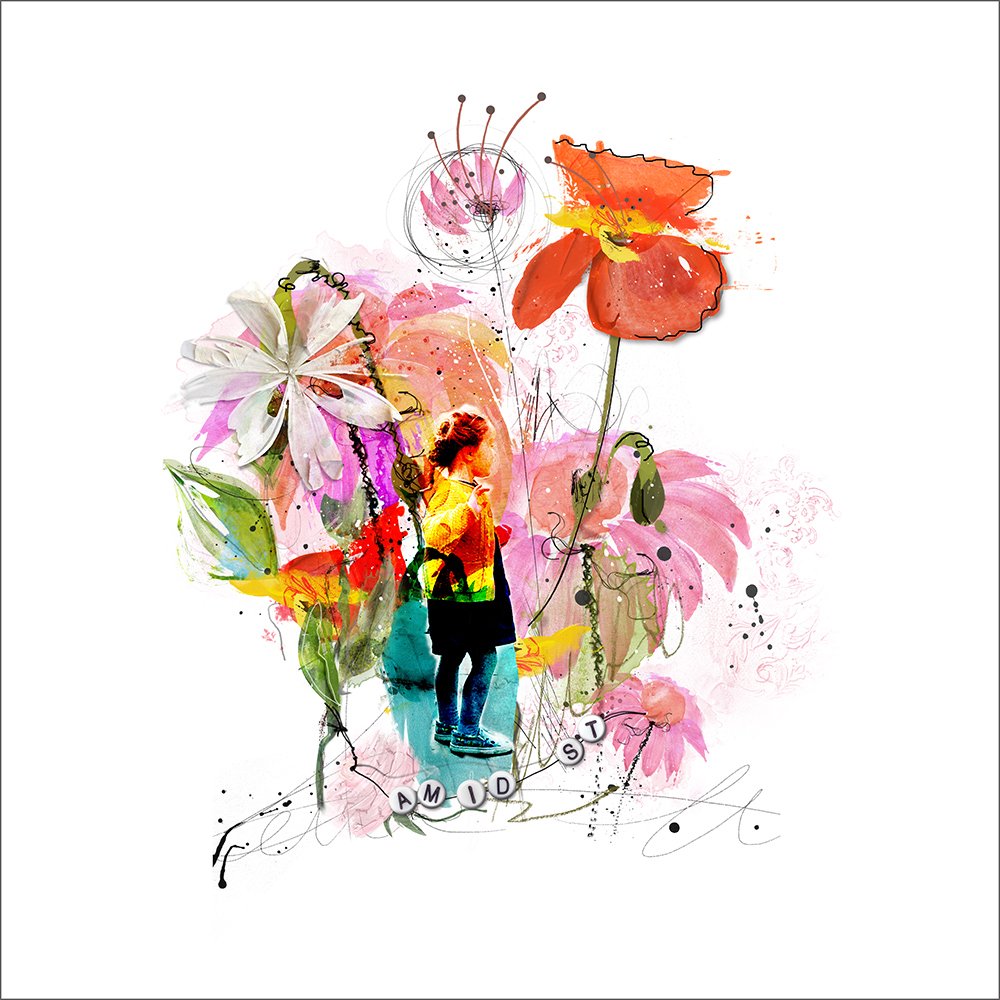 Amidst | Fiona Kinnear
7. Create foundation or background for a blended photo.
Use a collection of ArtsyFlowers to create a magical jungle of flowers to create a foundation for her focal point.
I just adore all the color her and the sentiment in the story being told.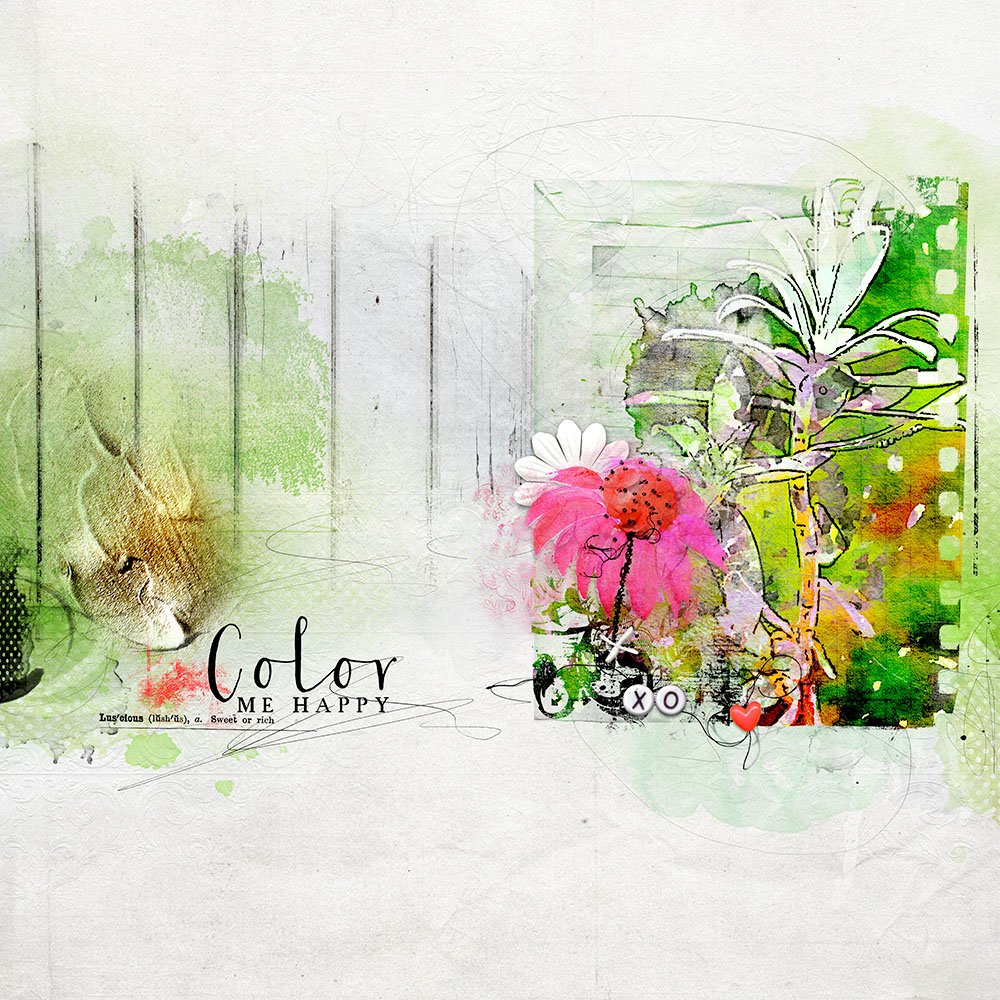 Color Me Happy | Ulla-May Berndtsson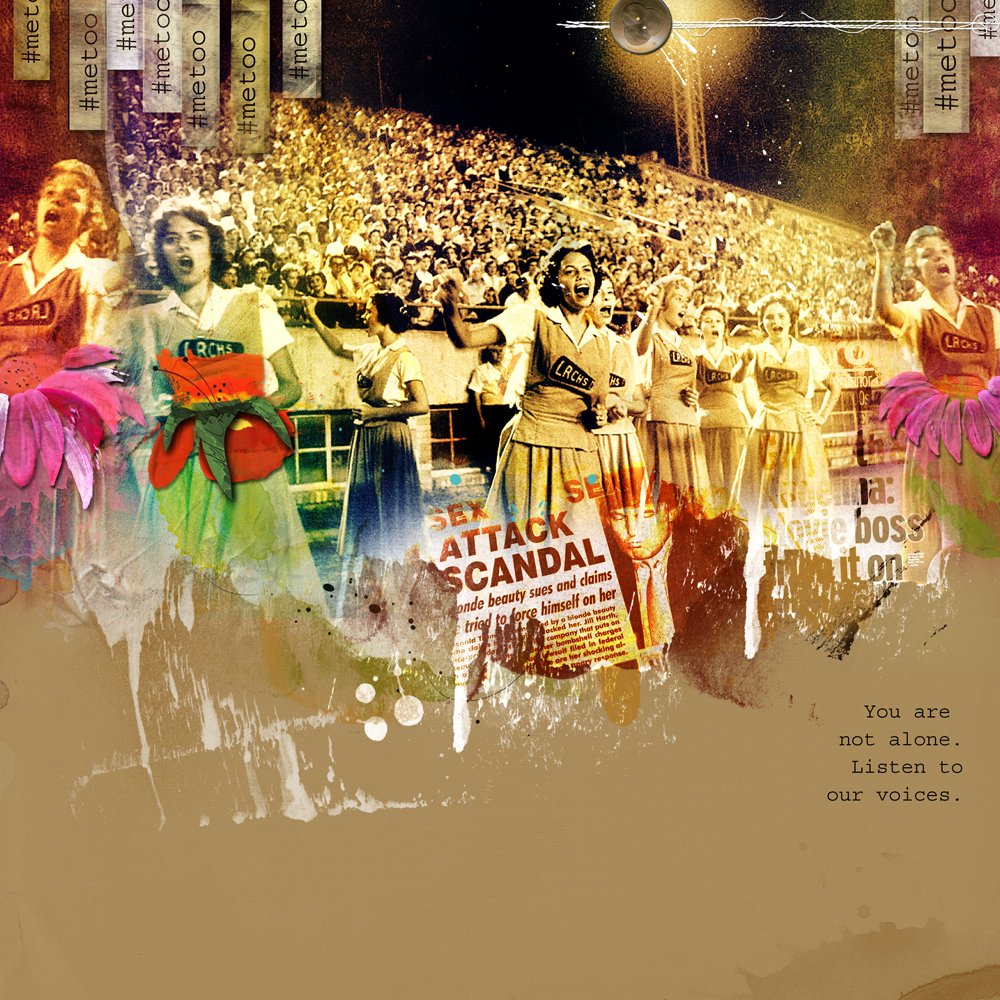 Not Alone | Laura Tringali Holmes
8. Add the ArtsyFlowers to the focal point of your digital artistry.
Make them become an integral part of your images.
I love how the ArtsyFlower contributes color to the Ulla-Mays tropical filtered image, and the women are holding, or appear as they are rising from flowers in her composite.
In Summary
8 Ways to Use ArtsyFlowers is just the beginning…
There are SO many ways you can use these flexible elements in your artsy digital scrapbooking and digital artistry designs.
Consider also:
Make WallART for you home, perhaps as part of a Gallery Wall.
Create a 2018 Calendar or some notes to say 'Thank you'.
Re-purpose the layers of the ArtsyFlowers.
Use them individual as separate elements.
Create new renditions of these ArtsyFlowers.
Build a new Embellishment Cluster.
We would love to see what you create – Please post in the AnnaGallery so we can share in the PURE JOY of what you are creating 🙂