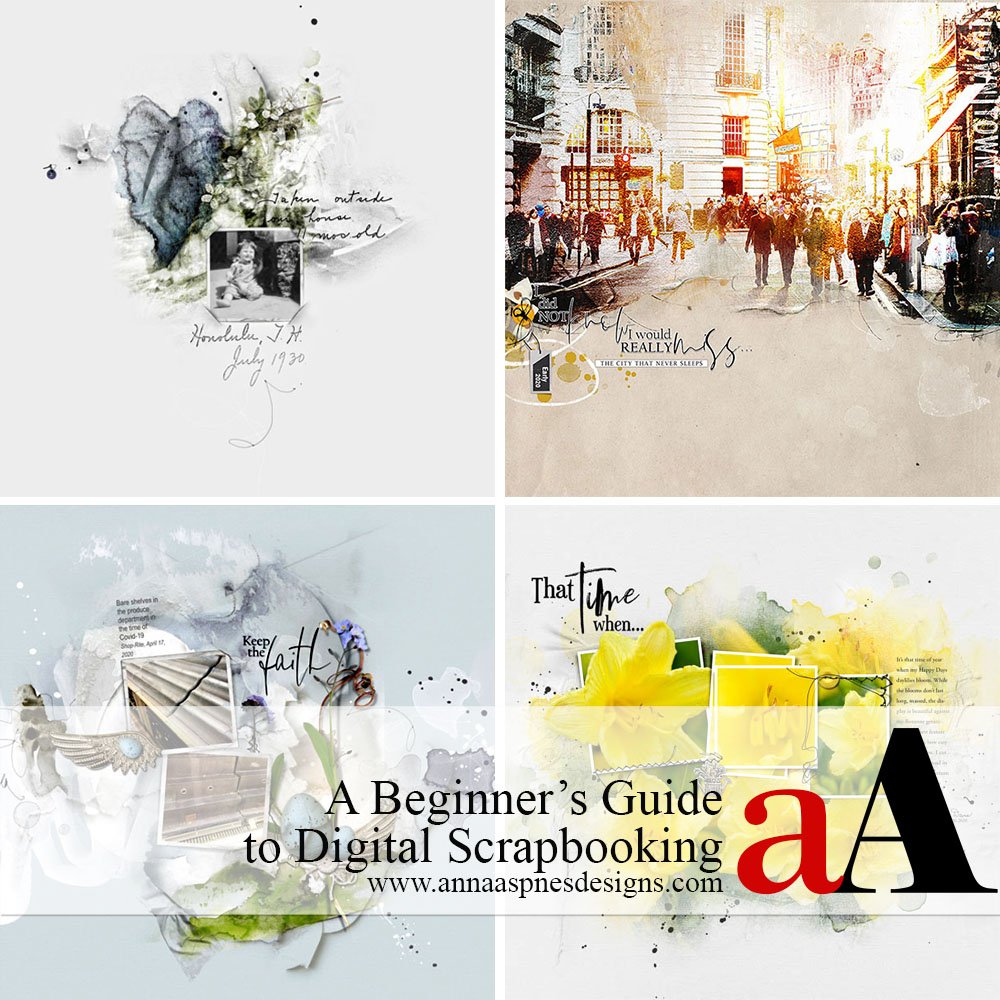 Today I'm sharing a Beginner's Guide to Digital Scrapbooking.
A Beginner's Guide to Digital Scrapbooking
What is Digital Scrapbooking?
The creative combination of images and words with digital graphics to yield memory keeping pages using photo-editing software programs.
Images may include Photos, Scanned Images, Art Pieces and Documents and Vintage Ephemera.
Words are provided in the form of WordART, Quotes, Poems, song Lyrics, your Memories and personal Stories.
Digital Graphics can also be referred as Digital Designs, Digital Elements/Supplies or DigitalART.
Photo-Editing Software is the computer program or platform you use to creatively bring these components together.

Digital Scrapbooking Layouts via Viv Halliwell and Adryane
Why Start Digital Scrapbooking?
1. Space Efficient
Keep your home or craft room 'Neat and Tidy' without bulky and shelf-consuming craft supply storage.
Neatly organize and save your Digital Designs on your computer, compact Hard-Drive or upload to iCloud for easy-access anywhere.
Digital Scrapbooking eradicates ALL need to clean up and put your supplies away after creating your memory keeping pages.
Your pages when printed will show beautiful Texture and Dimension but lack chunky embellishment enabling you to store MORE pages in an album or binder.
Printing services also make it possible for you to print your pages into stunning hard-bound photo books in various shapes and sizes.
2. Reuse and Recycle
Photo-Editing software enables you to Change or Modify digital designs to personalize to your photos.
You can adjust the Color or Size of a digital paper or button embellishment, for example, to coordinate with a specific photo in a few easy steps.
This means your DigitalART supplies have Unlimited usage possibilities with endless options for Experimentation.
Simply 'Undo' any mistakes at the click of a button without wasting any of your valuable tangible supplies.
3. Simple Reproductions

Digital Scrapbooking Layouts via Laura Tringali Holmes, Joan Robillard and Linda Davis
What is Hybrid Scrapbooking?
Offers the fusion of digitally created elements with traditional paper crafting approaches to scrapbooking.
Perfect if you like a more 'hands on' approach to memory keeping and enables you to enjoy the best of both worlds.
You scrapbooking pages will be part tactile paper crafting with the addition of elements created and manipulated with Photo-Editing Software.
Many digital design elements can be printed and trimmed or cut-out for inclusion in your traditionally crafted pages.

CD Hybrid Project by Anna Aspnes
How to Begin Digital Scrapbooking
1. Choose Hardware
You will need a computer/laptop with its keyboard, monitor and a mouse or trackball.
Its not necessary to have worlds fanciest or most powerful computer but the more memory your computer has the faster it will run.
Use an Apple Mac or a Microsoft PC per your preference and budget.
Macs tend to be more expensive, are notoriously known for graphics and are said to be more intuitive.
PCs conversely are more affordable and may have more software options available.
Note. You can also create digital scrapbooking pages on an iPad Pro with Procreate or using Apps on your iPhone.

Digital Scrapbooking Layouts in Procreate via Anna Aspnes and Dale Botha
2. Select Software
There a variety of photo editing software programs available for use.

Your choice will depend on your budget, preference and the type of digital scrapbooking you want to pursue.

Adobe Photoshop CC and Adobe Photoshop Elements

 are most popular and recommended.
Adobe Photoshop CC (Creative Cloud)
This professional version of the software is intended for graphic designers and photographers who are using the application daily for work purposes.

Adobe offers 

various plans

 for individual users ranging from USD $9.99-$52.99 per month.
You can 

sign up

 for a free trial of the software.
Photoshop Elements (PSE)
Photoshop Elements includes many of 

the features in the professional version but with fewer simpler options, and is perfect for hobbyists and crafters.

It offers everything the artsy scrapbooker needs, at a fraction of the price, making it the most widely used and supported digital scrapbooking software package available.

Digital Scrapbooking Layouts via Barbara Houston, Nancy Adams and Ulla-May Berntsson
Alternative Options:
NOTE. Your chosen device will need to support the software program at optimum capacity.
Hardware Requirements:

Digital Scrapbooking Layouts via Heather Prins, Miki Krueger and Trish Hoskins
Find Your Style
There are lots of styles in digital scrapbooking.
Traditional
Graphic Modern
Minimalist
Grunge
Freestyle
Doodling/Illustrative
Artsy
Note. You will find a LOT of Artsy Digital Scrapbooking, or Photo Artistry, style DigitalART products, Tutorials, Videos and Resources at Anna Aspnes Designs.
Read also:

Digital Scrapbooking Layouts via Heather Prins, Laura Tringali Holmes, Margo Juhasz
Types of Digital Graphics
Digital designs are delivered in a variety of formats.
A .jpg is an image file and the format of Digital Paper designs.
A .png file has a transparent background perfect for Transfers and Overlays, Brushes, Embellishments and AlphaSets elements.
A .psd file is propriety to

Adobe Photoshop CC and Adobe Photoshop Elements

with a layered file format found in Templates and elements offering more than one customizable layer.
Digital Product Categories

1. Papers
Typically 12 × 12 inch patterned or solid color digital papers.
Included in Paper Packs or Page Sets/Kits.
Designed for use as your page foundation or background.
May be cropped to desired Shape and Size.
You will find a variety of paper designs in ArtPlay Palettes.

2. Elements
Often referred to as Dimensional Embellishments.
Includes items such as Ribbons, Strings, Fasteners, Frames, Stitching and Flowers.
May be offered individually and in clusters/element groups.
You will find embellishments in ArtPlay Palettes, Elements, Stitching and MultiMedia.

3. Stamps

4. Transparencies/Rub-Ons
Note.  Transfers and Overlays are delivered in single layer .png format, while the multi-layered ArtsyTransfers are .psd files.

5. Pocket Scrapbooking Cards
Popular for use in Project Life Style scrapbooking pages.
May be printed for use in crafts or used in their digital format.
Use as Journaling Cards, frame 'fillers' or Blend with your Photos.
ArtsyKardz are delivered in BOTH .psd and .jpg format and offer a variety of sizes.

6. Templates
Blueprints for your digital scrapbooking page designs.
Templates are comprised of multiple layers in .psd format.
Each layer is intended toguide placement of your digital supplies.
Layers may also be recolored or used with the Clipping Mask function.
Watch this Blending Your Photos Using Templates video.
Additional Resources

Learn more in the Resources section.
Summary
Digital Scrapbooking is a great way to celebrate your photos and document your memories.
Read through A Beginner's Guide to Digital Scrapbooking one more time.
Decide what Device you'll use for your digital scrapbooking.
Upgrade as needed to support your chosen Photo Editing Software platform.
Purchase and load software according to the instructions.
Register here for to download a FREE $160 Value DigitalART MegaPack.
Watch the included 90 minute class providing your beginners guide to digital scrapbooking.
Email me with questions – I am ALWAYS happy to help!
See also:
And if you liked A Beginner's Guide to Digital Scrapbooking post, please consider sharing with your friends using the social media buttons below.