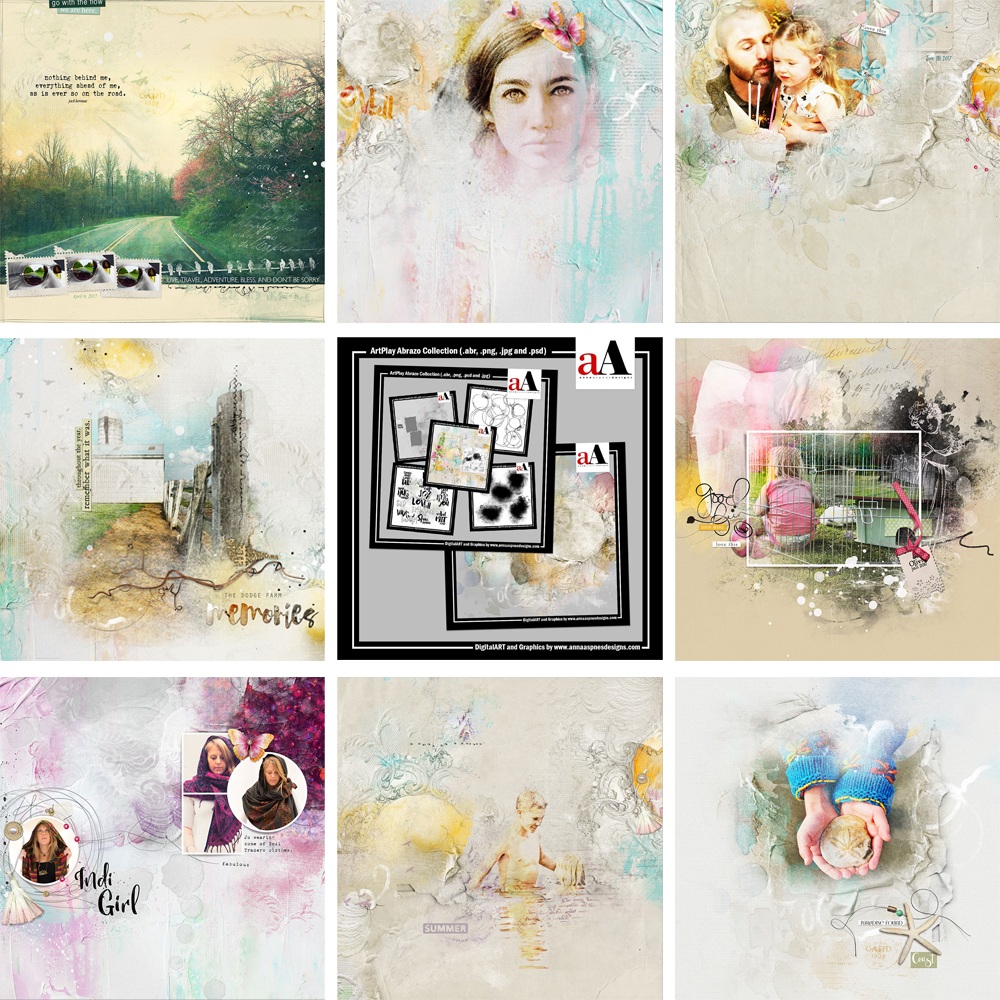 Happiness-themed ArtPlay Abrazo Inspiration for digital scrapbooking and photo artistry in Adobe Photoshop and Elements.
The purpose of this post is to provide inspiration for using the ArtPlay Palette Abrazo and coordinating digital assets.
ArtPlay Abrazo Inspiration
1. Mixed Media Effect
USE A VARIETY OF ELEMENT WITH LAYER STYLES TO CREATE A COLLAGE style digital scrapbooking page.
SEE ALSO:
2. Identify Accent Colors
Use these eye-catching colors sparingly to lead the eye in your artsy digital scrapbooking page.
Identify Bright Colors in your photos and support them with similar elements from the ArtPlay Abrazo Collection.
You can also introduce Accent Colors using a trio of similar colored Embellishments to create a Visusal Triangle in your photo artistry.
Notice how Heather has added a pink FotoGlow, sequins, and butterfly to Lead the Eye around her design.
SEE ALSO:
3. Apply Blending Modes
Change the Blending Mode of a clipping mask layer to directly affect the blended photo in your photo artistry.
Clip your photo to one of the Clipping Masks from Hipster Plume FotoBlendz No. 8.
Click on the 'Normal' tab in the Layers Panel and select a new Blending Mode from the drop-down menu.
The Blending Mode will directly affect the photo clipped to the mask layer 'blending' it with the underlying Layout Foundation.
SEE ALSO:
More Inspiration
Click on the images below to access complete digital design supply lists and process notes.
ArtPlay Abrazo Collection
A DIGITAL SCRAPBOOKING AND PHOTO ARTISTRY COLLECTION WITH A VINTAGE SUMMERY FEEL.
Includes:
Want More Digital Scrapbooking and Photo Artistry Inspiration?