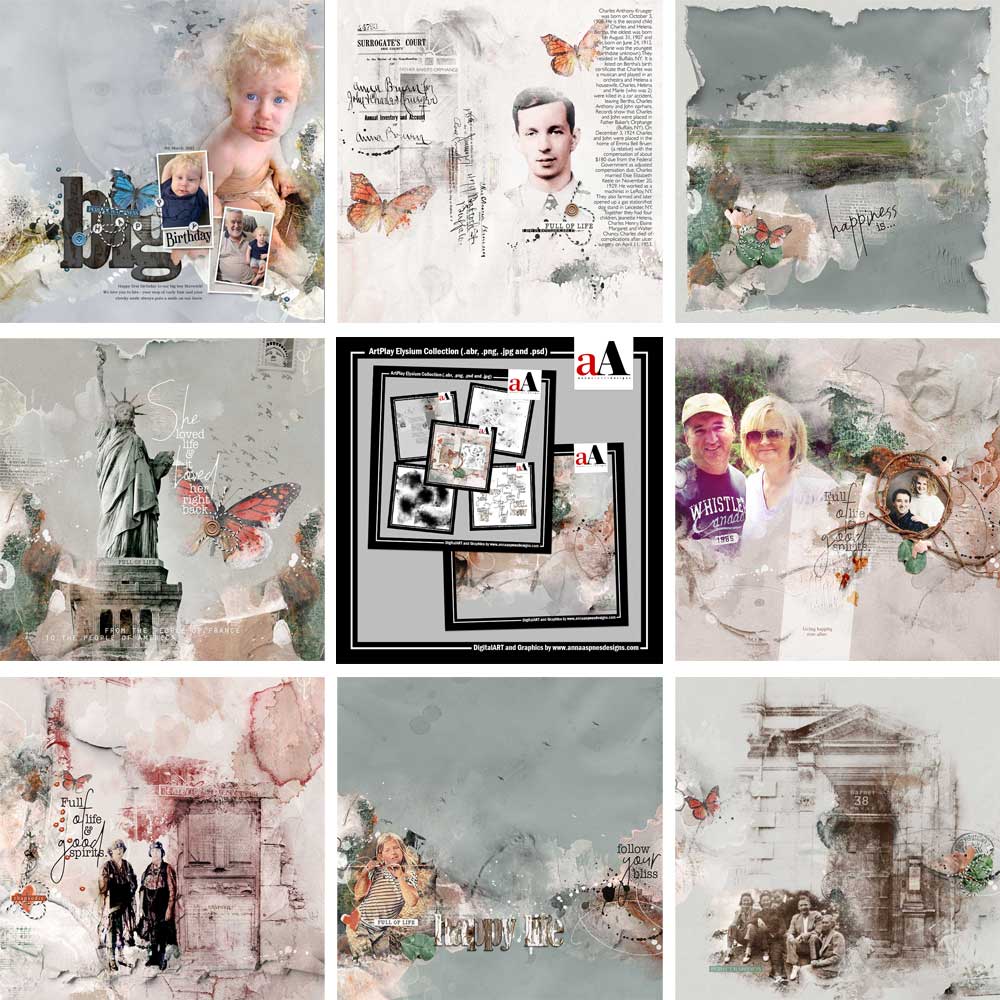 Happiness-themed ArtPlay Elysium Inspiration for digital scrapbooking and photo artistry in Adobe Photoshop and Elements.
The purpose of this post is to provide inspiration for using the ArtPlay Palette Elysium and coordinating digital assets.
ArtPlay Elysium Inspiration
1. Rotate Artsy Papers 
Change the orientation of the design on a paper through rotation.
Open an Artsy Paper in your workspace and go to Image> Image Rotation (Photoshop) or Image> Rotate (Elements) and chose Degree of rotation.
Notice that Fiona rotated her paper by 180 degrees to move the design to the top of her layout instead of the bottom.
You can also Flip your Artsy Paper on a Horizontal or Vertical axis as a foundation for your digital scrapbooking page.
SEE ALSO:
2. Recolor Digital Elements
Use Adjustment Layers to recolor your digital art supplies.
Apply Adjustment Layers to any element to Recolor in support of your layout design.
Use the layer mask feature to Target the modifications of your digital elements.
Notice how Viv has added a red Hue to her heritage artsy digital scrapbooking page.
SEE ALSO:
3. Matte Your Design
Use the torn paper element in the ArtPlay Palette to frame your digital scrapbooking design.
Create a photo artistry design using the ArtPlay Elysium Collection.
Press SHIFT + Ctrl/Cmd + ALT/OPT + E to create a Composite of all the layers on your page.
Clip the layer to the Torn Paper element.
See also:
More Inspiration
Click on the images below to access complete digital design supply lists and process notes.
ArtPlay Elysium Collection
A digital scrapbooking and photo artistry collection with jeweled green and blush pink palette perfect for creating a variety of themed layout designs.
Includes:
Want More Digital Scrapbooking and Photo Artistry Inspiration?