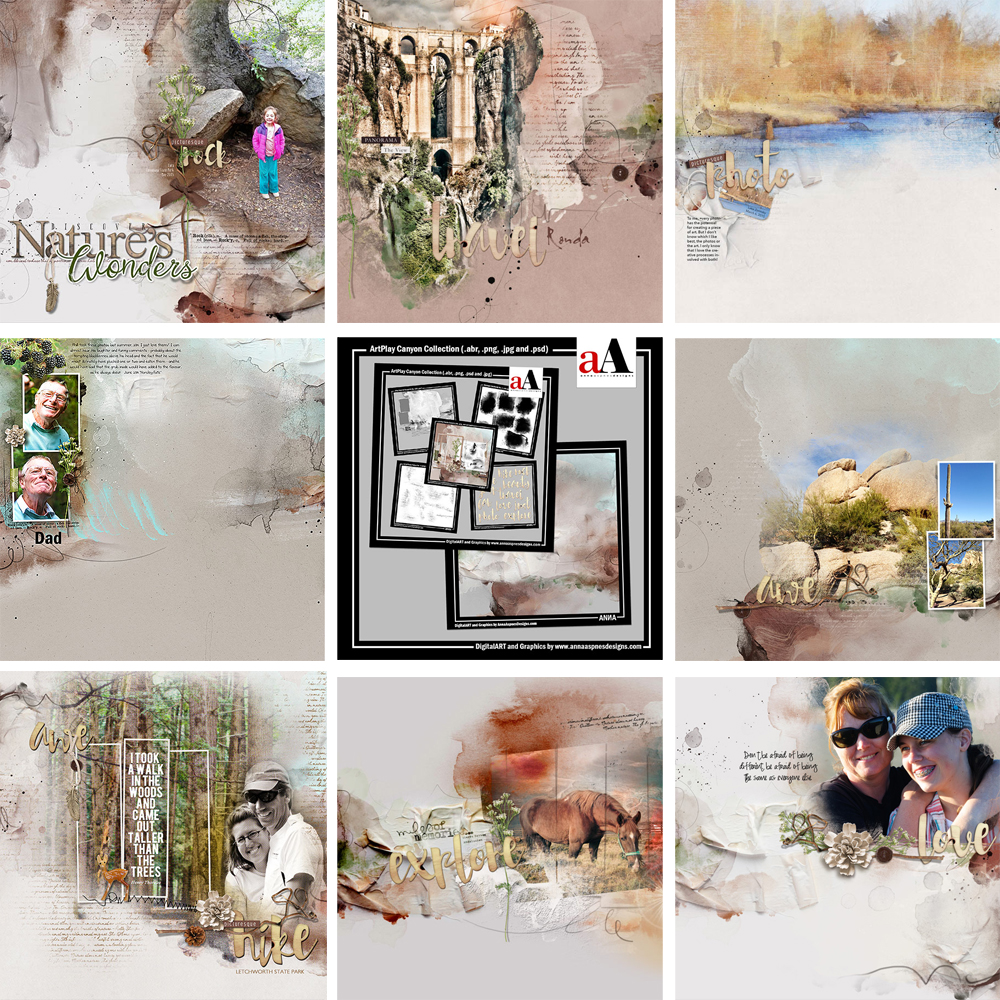 ArtPlay Canyon Inspiration for digital scrapbooking and photo artistry in Adobe Photoshop and Elements.
This post is intended to give you guidance on using ArtPlay Palette Canyon and co-ordinating digital assets.
ArtPlay Canyon Inspiration
1. Support Color Transitions
USE ELEMENTS TO HELP SUPPORT DIFFERENT COLOR TRANSITIONS.
It can be 'tricky' but NOT impossible to blend a photo into a background with stark Color Contrast.
Use BrushSets or Clipping Masks with Intentional lines to blend your images in your digital scrapbooking pages.
Then strategically place Embellishments over the color Shifts to ease the transitions.
SEE ALSO:
2. Use Blending Modes
APPLY BLENDING MODES TO YOUR PHOTOS AND DIGITALART SUPPLIES TO CREATE VISUAL INTEREST.
Select a layer and click on 'Normal' at the top of the Layers Panel to activate the drop-down menu options.
Notice how the Blending Modes enhance the Depth of color and contrast in her photo artistry.
We also love how Miki added a little map to Enhance her digital scrapbooking page.
SEE ALSO:
3. Title Cluster Creation
PLACE A VARIETY OF ELEMENTS NEXT TO A WORDART TO CREATE A TITLE CLUSTER.
Choose elements with differing Element Properties to embellish your digital scrapbooking page.
Place them together or overlapping in close Proximity to your WordART title.
Notice how Unity creates a cluster of elements with greater Visual Weight.
SEE ALSO:
More Inspiration
Click on the images below to access complete digital design supply lists and process notes.
ArtPlay Canyon Collection
A collection of digital scrapbook and art supplies for travel, hiking, camping and desert or Southwestern outdoor adventures and photography.
INCLUDES:
WoodWords No. 2 (No Longer Available)
Want More Digital Scrapbooking and Photo Artistry Inspiration?