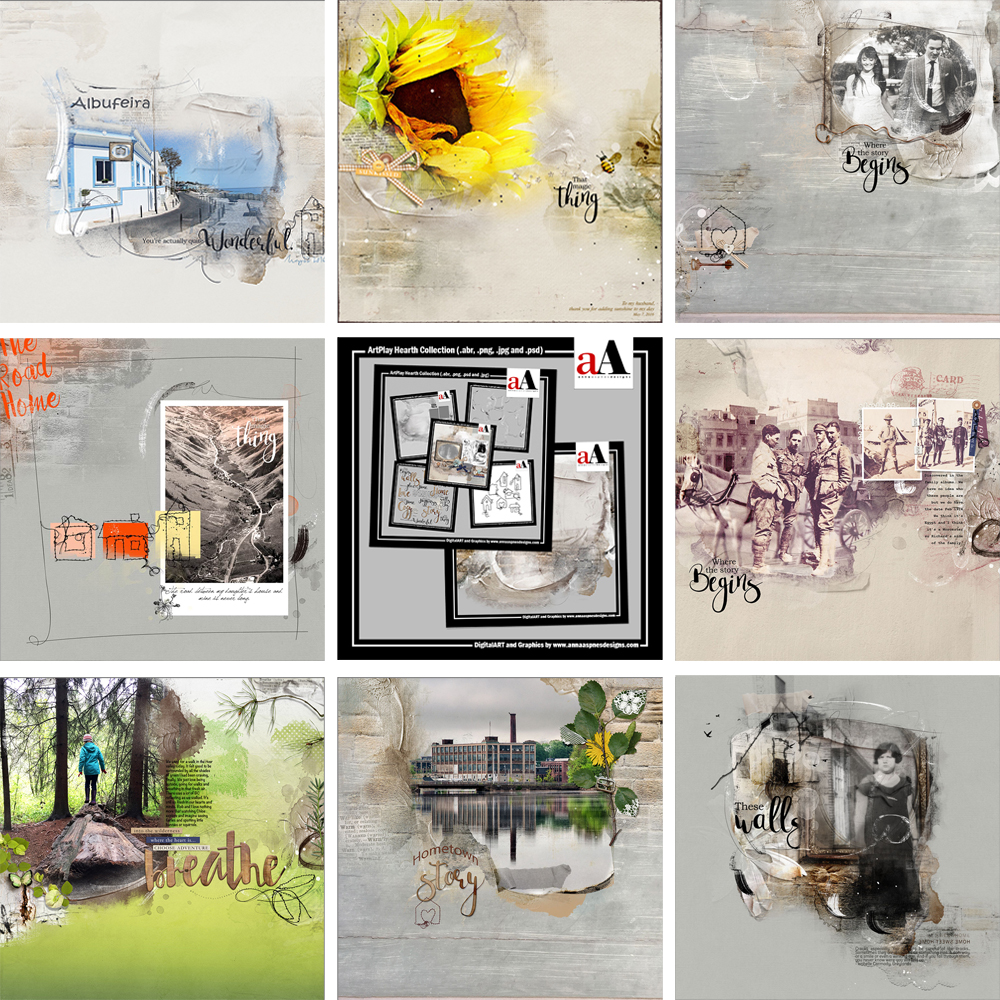 ArtPlay Hearth Inspiration for digital scrapbooking and photo artistry in Adobe Photoshop and Elements.
This post is intended to give you guidance on using ArtPlay Palette Hearth and co-ordinating digital assets.
ArtPlay Homemade Inspiration
1. Frame Your Photos
Use the ArtStroke Frames to create contained edges to your blended photos.
Mask an image using a FotoBlendz clipping mask, ArtsyTransfer or Custom Blending technique.
Place an ArtStroke Frame element over the blended image to strengthen the Focal Point in your photo artistry or digital scrapbooking page.
Notice how the frame Contains the image and creates Visual Interest via tension.
SEE ALSO:
2. Color Fill Elements
Add color to stitching elements to create striking embellishments.
SEE ALSO:
3. Blend Your Embellishments
Mask a frame to apply visual interest to a framed photo in your digital scrapbooking and photo artistry pages.
Notice how Marnie has created an Interesting Photo Effect by blending the frame but keeping the mask layer in tact.
The use of Alignment balances tension or using different Lines in her digital scrapbooking page.
We love how Marnie has used Diagonal Placement of a supporting element to mirror her Focal Point.
SEE ALSO:
More Inspiration
Click on the images below to access complete digital design supply lists and process notes.
ArtPlay Hearth Collection

DIGITAL ASSETS FOR CELEBRATING HEARTH AND HOME PLUS 'ALL THINGS' WITH BRICKS IN YOUR DIGITAL SCRAPBOOKING AND PHOTO ARTISTRY PAGES.
INCLUDES:
Want More Digital Scrapbooking and Photo Artistry Inspiration?