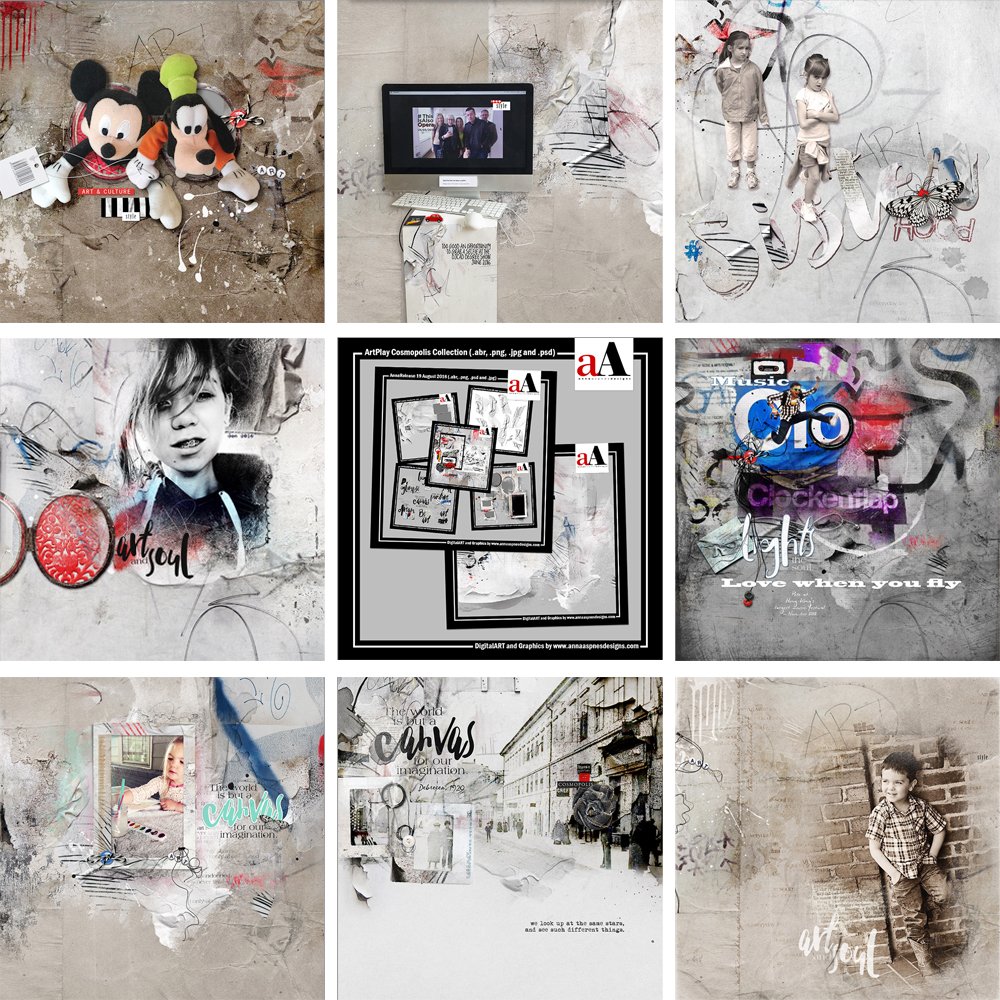 Inspiration for using the ArtPlay Cosmopolis Inspiration for digital scrapbooking and photo artistry in Adobe Photoshop and Elements.
This post is intended to give you guidance on using ArtPlay Palette Cosmopolis, ArtsyTransfers and co-ordinating digital assets.
ArtPlay Cosmopolis Inspiration
1. Lead with Color
Use bright accent colors to lead the eye around your digital scrapbooking or artistry page.
Accent colors in Bright hues pack a punch on the Visual Interest front.
Use them in small doses in the form of WordART or embellishments and transfers/overlays from the ArtPlay Palette Cosmopolis.
Notice how Miki has placed the red elements in a Visual Triangle to frame her Focal Image.
SEE ALSO:
2. Add Dimensional Elements
Add textural components to your photo artistry and digital scrapbooking to elevate visual interest.
Add dimension in the form of embellishments or transfers/overlays from the MultiMedia Frames No. 4 and ArtPlay Palette Cosmopolis.
You can also apply Drop Shadow Layer Styles to these digital art elements to enhance the 3D effect.
Texture can also be applied you your layouts by stamping TapedTexures No 6 using the Paint Brush Tool from the Tools Panel.
SEE ALSO:
3. Create Custom Title
Clip an artsy paper to the word elements of your choice.
Add Context to your digital scrapbooking page by adding a Title.
You can type a custom title using the Text Tool and Fonts that support your photo artistry or use a WordART element.
Clip an Artsy Paper from the ArtPlay Palette Cosmopolis to add Color to your title design.
SEE ALSO:
See Useful Techniques for Photoshop and Elements on the Resources page for video guidance in Using Clipping Masks.
More Inspiration
Click on the images below to access complete digital design supply lists and process notes.
ArtPlay Cosmopolis Collection

INCLUDES:
Want More Digital Scrapbooking and Photo Artistry Inspiration?