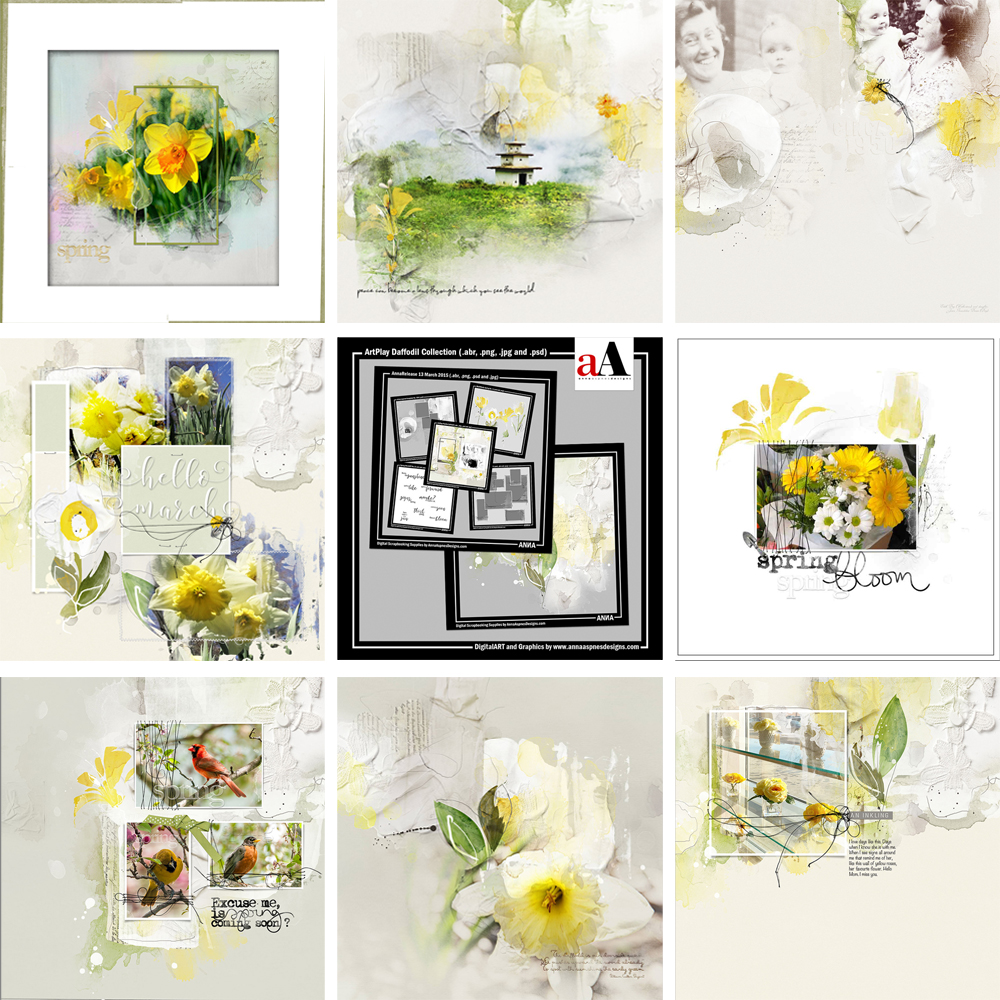 ArtPlay Daffodil Inspiration for digital scrapbooking and photo artistry in Adobe Photoshop and Elements.
This post is intended to give you guidance on using ArtPlay Palette Daffodil and co-ordinating digital assets.
ArtPlay Daffodil Inspiration
1. Framed Focal Point
Use a frame to create a simple photo focal point for your digital scrapbooking page.
Clip a photo to the mask layer of the UrbanThreadz Framed No. 1 element.
Place the frame slightly Off Center to create maximum Visual Interest.
Notice how the stitching in the frame Leads the Eye into the subject and Aligns with the other elements in her photo artistry.
SEE ALSO:
2. Cluster Elements Together
Place elements in close proximity to create focal points with greater Visual Weight
The magic number is 3 Elements to create the ultimate visual interest.
Place the elements close together in your digital scrapbooking design to build a much larger Focal Point.
Notice how Joan has done this with 3 frames matted with transfers/overlays from ArtPlay Palette Daffodil and the co-ordinating ArtsyTransfers.
SEE ALSO:
3. Support Your Theme
Use the digital art elements to support the subject of your digital scrapbooking pages.
SEE ALSO:
More Inspiration
Click on the images below to access complete digital design supply lists and process notes.
ArtPlay Daffodil Collection
A SPRING DAFFODIL FLOWER THEMED DIGITAL ART AND SCRAPBOOK SUPPLIES BY ANNA ASPNES DESIGNS IN YELLOW HUES FOR A VARIETY OF DIGITAL SCRAPBOOKING AND PHOTO ARTISTRY PROJECTS.
INCLUDES:
Want More Digital Scrapbooking and Photo Artistry Inspiration?