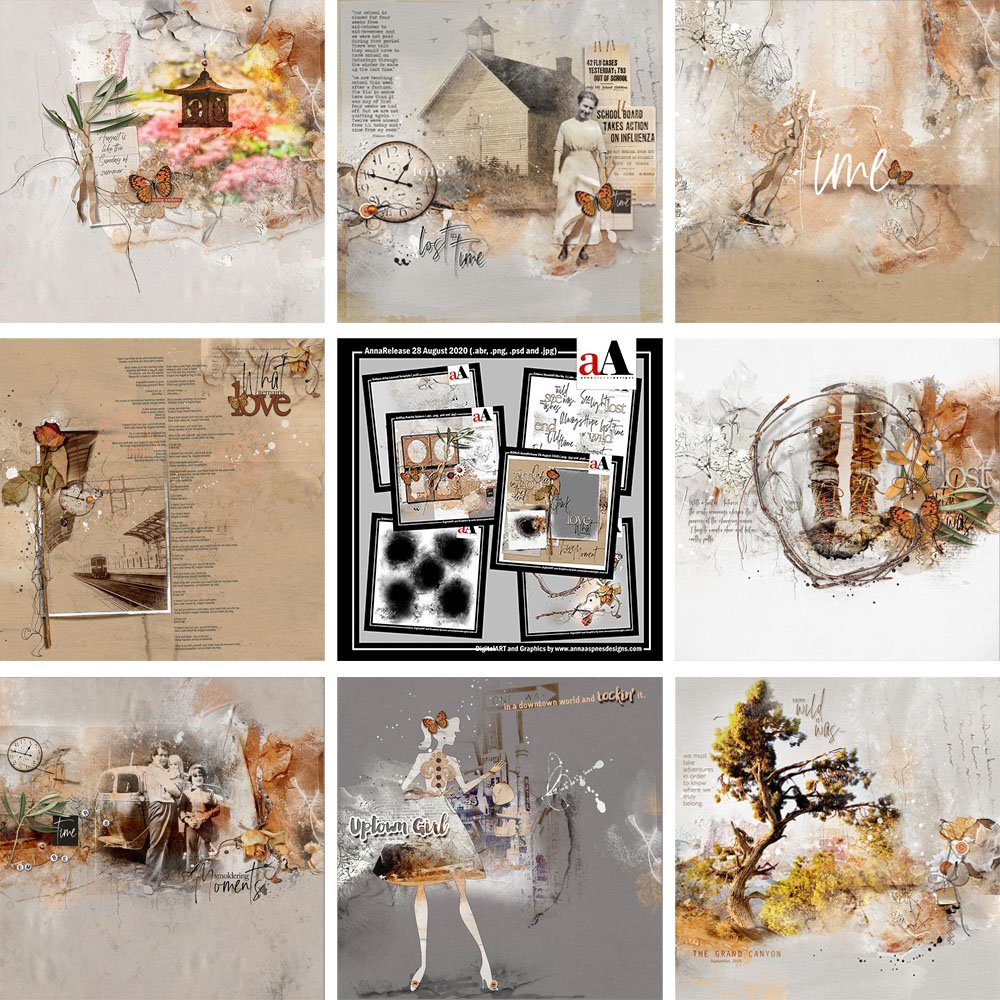 Happy Monday! Today I'm happy to be sharing ArtPlay Embers Inspiration.
This post is intended to give you guidance on using the latest ArtPlay Embers Collection to arrive in the Anna Aspnes Designs store at Oscraps.
ArtPlay Embers Inspiration
Click on the images below to access complete digital design supply lists and process notes.
1. Brush Extension
Extend your photo artistry or scrapbooking design using ArtPlay Palette Brushes.
Apply a sketch effect to your photo and blend using the FotoBlendz clipping masks.
Stamp ArtPlay Palette Brushes on New Layers above or below the image layer in the Layers Panel.
Notice how this technique extends the image and leads the eye from one side of the layout to the other.
SEE ALSO:
2. Modify Frames
Soften the effect of Frame elements via masking and/or Blending Modes.
Apply a Blending Mode such as Overlay, Soft Light or Color Burn from the top of the Layers Panel.
Adjust the Opacity and/or Hue/Saturation of the Frame layer as preferred.
Blend a Frame element by using a Layer Mask and Brushes to mask areas.
SEE ALSO:
3. Artsy Templates
Create a quick and easy layout using the Artsy Layered Template.
SEE ALSO:
4. Word Placement
Use interesting embellishments to 'house' your story and titles.
Use the LabeledWords and WordART to create titles for your photo artistry and digital scrapbooking designs.
Look for areas of White Space in your photos or

a

A

DigitalART supplies.
Notice how both Heather and Miki used the Paper Piece element to augment their words
SEE ALSO:
5. Add Color
Support your photos with a Visual Triangle of color.
Use Color to better incorporate images in your layout designs.
Select a bright or bold accent color in your focal photo such as the blue in this layout design.
Repeat that color in 2 other places using Brushes and DigitalART supplies to create a Visual Triangle.
SEE ALSO:
Want More Photo Artistry and Digital Scrapbooking Inspiration?
Find more ArtPlay Embers Inspiration in the AnnaGallery, the AnnaTeam Layouts board on Pinterest.
We invite you to post your pages and share your digital scrapbooking and artistry to uplift and inspire.