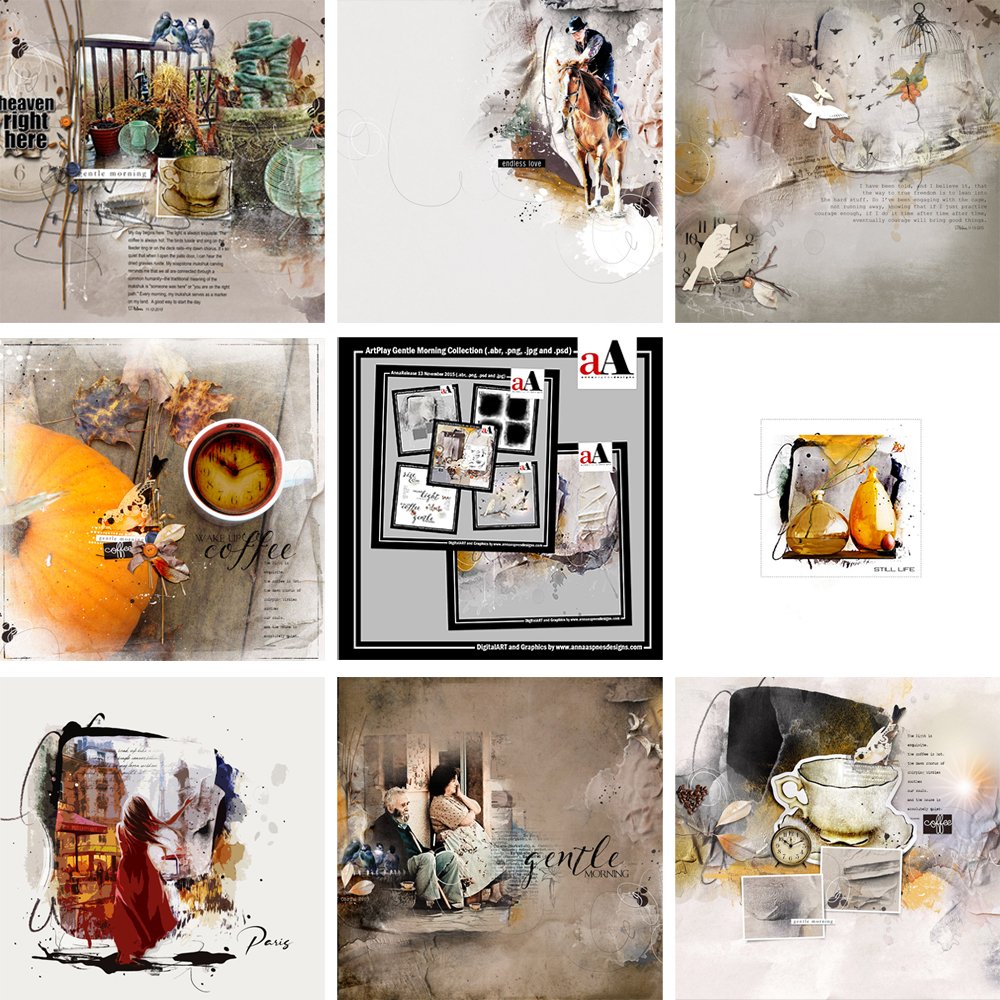 Inspiration for using the ArtPlay Gentle Morning Inspiration for digital scrapbooking and photo artistry in Adobe Photoshop and Elements.
This post is intended to give you guidance on using ArtPlay Palette Gentle Morning, ArtsyTransfers and co-ordinating digital assets.
ArtPlay Gentle Morning Inspiration
1. Layouts Without Photos
Use digital art elements to create alternative focal points in your photo artistry and digital scrapbooking pages.
Use a MultiMedia Bird No. 1 element in place of a photo to Lead the Eye.
Place the elements in the Pre-Designed areas of the Artsy Papers to build your digital scrapbooking designs.
Notice how Laura has create a custom Layout Foundation by layering digital papers with Blending Modes.
SEE ALSO:
2. Fill Those Frames
Use Artsy Papers to fill addition Artsy Layered Template frames in your digital scrapbooking pages.
SEE ALSO:
3. Focal Point Mattes
Use an ArtsyTransfer to create the foundation and frame your focal point in your photo artistry layouts.
Place an ArtsyTransfer Gentle Morning on a Solid Paper to create the foundation of your digital scrapbooking page.
Blend your photo into the ArstyTransfer Matte to create your photo artistry Focal Point.
A graphic frame outline and White Space add Tension to the photo artistry.
SEE ALSO:
More Inspiration
Click on the images below to access complete digital design supply lists and process notes.
ArtPlay Gentle Morning Collection
INCLUDES:
See also the following tutorial:
Want More Digital Scrapbooking and Photo Artistry Inspiration?