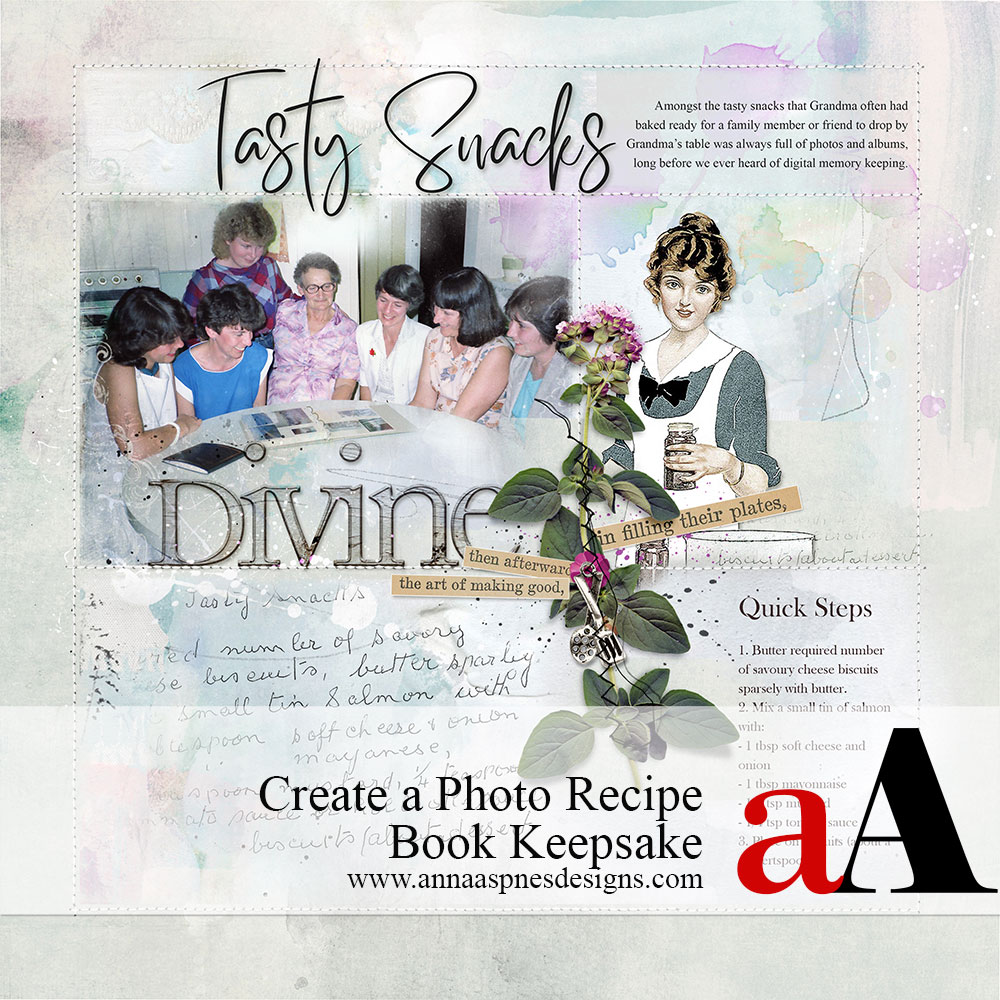 Guidance for creating your own Create a Recipe Photo Book Keepsake using photos and digital scrapbooking supplies in Adobe Photoshop or Elements.
Introduction
Use your photo artistry skills and digital art supplies to Create a Recipe Photo Book Keepsake that contributes to your memory keeping.
Organize your favorite Collection of Recipes passed down through the generations, those Clipped from magazines, and gathered from friends throughout the years.
Combine with your photos and Digital Art supplies in the Photo Editing Software program of your choice to create Cohesive Digital Scrapbooking and memory keeping pages.
Print your layouts in a hard bound recipe Photo Book format for that can be enjoyed by family and friends for years to come.
4-Step Process to Create a Recipe Photo Book Keepsake
1. Organize Recipes and Photos
Gather and collate all the recipes and photos your want to use in digital format.
You will need a selection of Recipes and photos of both Food and the People to go with each recipe.
Scan handwritten/typed recipes or clippings from magazines/news papers.*
Gather or take photos of the People that gave you the recipe or Images that support your Memories connected to the food.
These memories may come from your childhood or photos of How and By Whom this food has been enjoyed throughout the Generations.
You might also take photos of the recipe as Various Stages of completion.
Place and Sort the digital images in Folders on your computer so that you have at least 20 Recipes with Supporting Photos.
Tips and Notes:
See ArtsyMemorabilia for Comprehensive Guidance on how to scan images and what Settings to use.
You can also take Photos using the camera of your choice (either your smart phone or DSLR.)
If necessary, Type your recipes into a Word Processing Format so that they are easily Accessible when you create your pages
See this Project Class for Step-by-Step Instructions on creating a Folder System for your recipe photo book keepsake.
2. Select Digital Art Supplies

Choose digital scrapbooking and photo artistry assets to support your recipes and photos.
Food Themed Product Suggestions
Click on the images to access the products.



Notes/Tips:
Choose templates that have appropriate Space for the recipe, photos/images and some digital scrapbooking embellishment.
Select approx. 2-3 Digital Scrapbooking Products from each category and add more only as you need them.
You can also design your own page format to suit your Preference, photos and style.
3. Create Your Pages
Combine the photos, recipes with your digital art selections using your template pack as your foundation.
Open a Template .psd file into your Adobe Photoshop or Elements workspace.
Use the different areas of the Recipe Templates to 'house' your photos/images and recipes.
Clip the 2-3 images to the mask layers in the template using the Clipping Mask Function in Adobe Photoshop and Elements.
Place an image directly above the mask layer in the Layers Panel and go to Layer> Create Clipping Mask.
Choose a Solid or subtle Pattern Digital Paper in Colors that support your photos to serve as Background Foundation to your template design.
If not using a scanned recipe, Type (or Copy/Paste) your recipe into one of the template Compartments.
Notes/Tips:
4. Print Your Layouts
Share as 12 X 12 inch prints placed in an album or publish in hard-bound photo book format.
Save each of your template pages in .jpg Format.
Upload your layouts to preferred on-line printing service.
Use Persnickety Prints for single images and place in Page Protectors in a Binder/Album.
If you have At Least 20 Pages, you can create a hard bound Photo Book with Blurb.
Summary
There is nothing better than creating keepsake album using photos and memorabilia.
Collate recipes into an organized fashion.
Create Meaningful pages with inter-generational Photos and Memories.
Have fun making and printing a special Family Keepsake to last a lifetime.
Closing Thoughts
A few words from aA Creative Team Members who have created this type of photo project.
Michelle James:
"I really love my Recipe Book and the more I got into it, the better I liked it. I decided on a recipe book of Grandma's recipes, based around her kitchen table. Her table was where we all sat and chatted over the years from when we were small and until she went into care at 101 years old! It holds a very special place in our heart. My Aunty Jenny (who passed away this last year) helped me with recipes (she was a wonderful cook) and I enjoyed using Grandma's handwriting in the book as well as typing out the recipes. I paired this without photos of Grandma with various members of the family, in particular my Mum and myself. I love creating connections across the generations. I've gone back to look at the book and it makes me smile – I'm so glad I made it. Unfortunately, Grandma passed away in 2018 at the age of 103 – a wonderful woman!!"
Miki Krueger:
"I have a Better Homes and Garden Cookbook (my go to cookbook) given to me for a wedding present. The pages of our favorite recipes are tattered, curled or stained from use over the years. Recipes cut from magazines or written on 3×4 cards are stuffed inside the book. My daughter and I've talked about putting family favorite recipes together in one book for a Christmas project. This was the beginning. The templates made it easy and quick to create and to include pictures of the family. The Facebook Community was amazing, not only for the beautiful food artistry, but for the sharing of family keepsakes that carry wonderful memories along with the wonderful flavors."