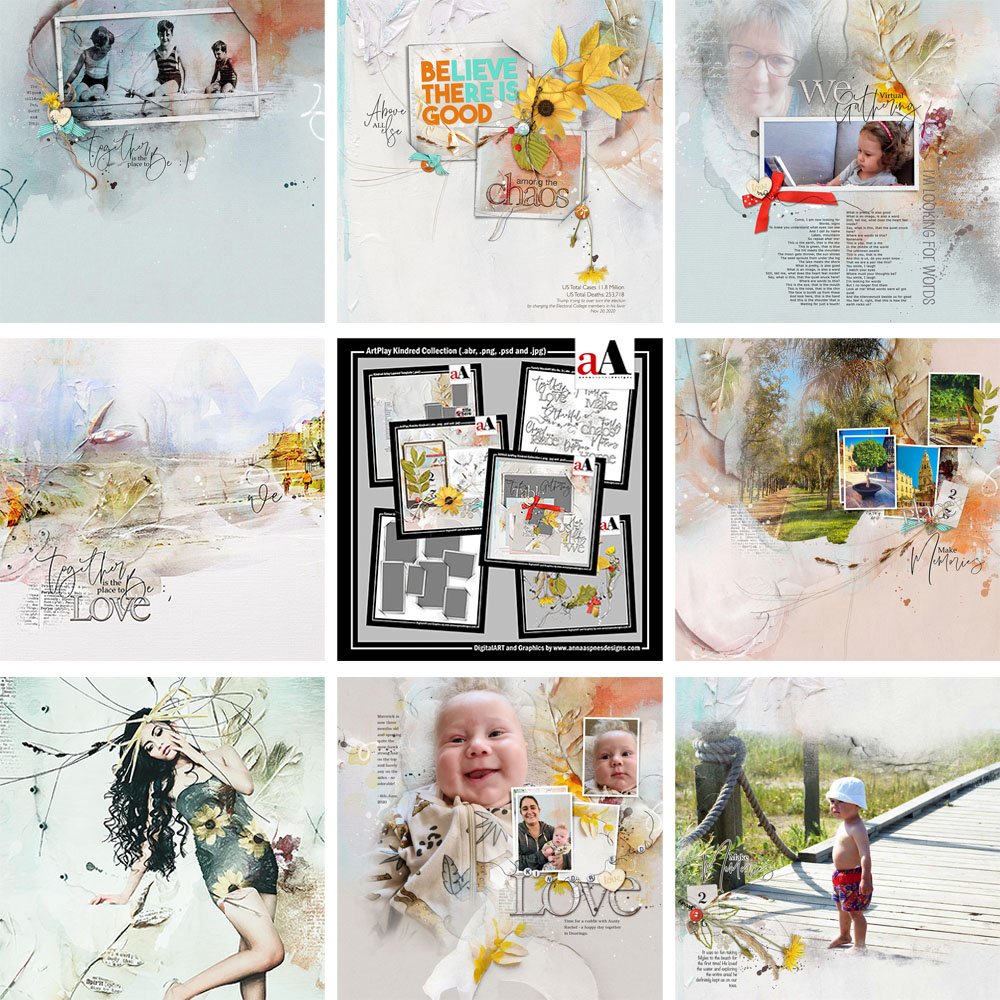 Inspiration for using the ArtPlay Kindred Collection for digital scrapbooking and photo artistry in Adobe Photoshop and Elements.
This post is intended to give you guidance on using ArtPlay Palette Kindred, ArtsyTransfers and co-ordinating digital assets.
ArtPlay Kindred Inspiration
Click on the images below to access complete digital design supply lists and process notes.
1. Frame Your Art
Use the Corner Slit Frames to showcase your tactile art work.
This is a great way to document your other creative endeavors.
Use Blending Modes to increase the depth of color in your artistry.
Add a cluster of elements to create a Focal Point.
See also:
2. Art Journal
Create a layout with artistry and words to creatively express a thought or feeling.
Trish has simply arranged digital elements with a WordART focal point.
Notice how the dimensional element draws the eye to the LabeledWord element.
The placement of the ArtStrokes in a Visual Triangle also leads the eye around the design.
See also:
3. Double Layout
Create a layout within a layout effect.
Margo has created a framed pieced of artistry with hard edges that ALIGN with the edges of her layout.
The wide frame effect yields WHITE SPACE which shifts the eye to the Focal Point.
The mix of blended and hard LINES create TENSION in her photo artistry design.
See also:
4. Frame Your Words
Miki clipped a paper to the frame mask.
She then populated the White Space with a combination of WordART and her own text.
Notice how the MultiMedia embellishments create a Focal Point and lead the eye the to the other text in the design.
See also:
5. Transparent Frames
Apply Blending Modes to your Frame mask.
Clip a photo to the mask layer of the frame and apply a Blending Mode such as Multiply or Color Burn to the mask layer
Select the photo layer and adjust the Levels to modify the CONTRAST of the image.
Notice how the underlying artistry shows through the image.
See also:
Evenfall into Layers of Blending Modes Video
Want More Photo Artistry and Digital Scrapbooking Inspiration?
Find more ArtPlay Kindred Inspiration in the AnnaGallery, the AnnaTeam Layouts board on Pinterest.
We invite you to post your pages and share your digital scrapbooking and artistry to uplift and inspire.