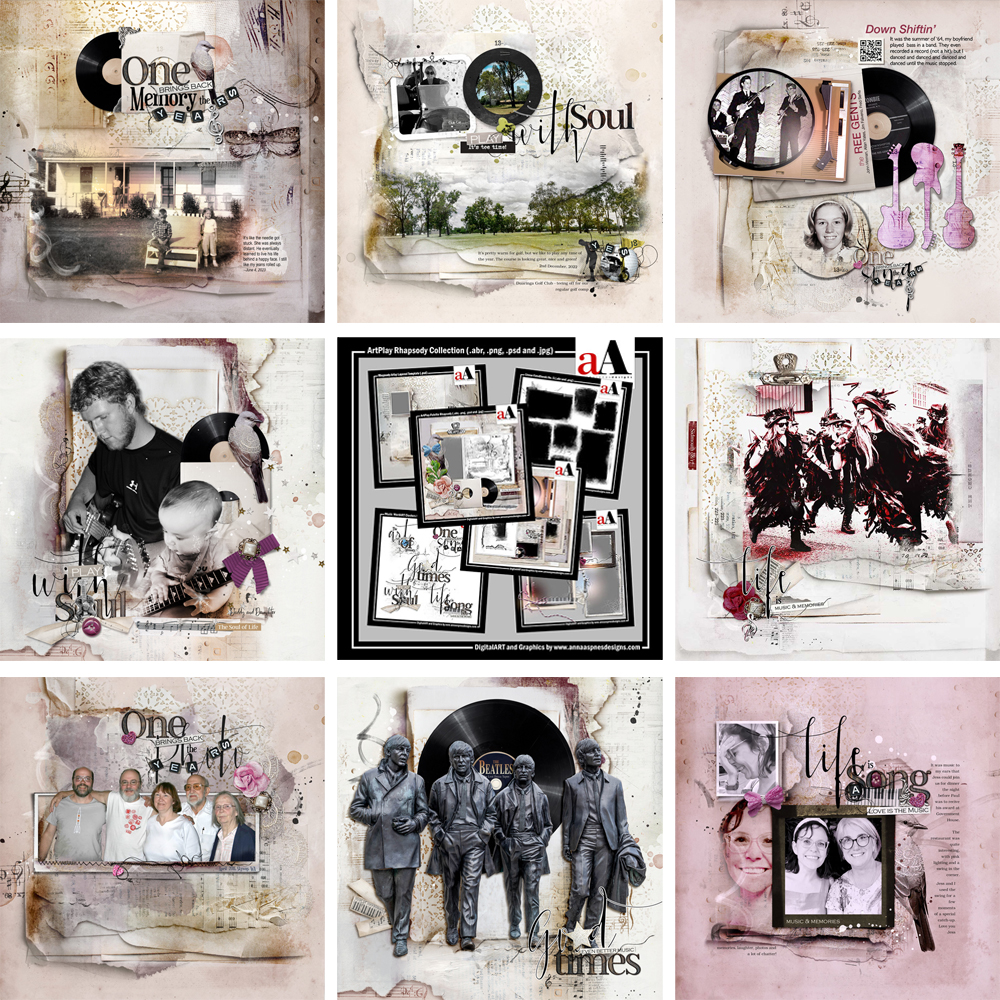 The music-themed ArtPlay Rhapsody Inspiration for digital scrapbooking and photo artistry in Adobe Photoshop and Elements.
The purpose of this post is to provide inspiration for using the ArtPlay Palette Rhapsody and coordinate digital assets.
ArtPlay Rhapsody Inspiration
1. Customize Digital Elements
ADD images and photo to digital art elements TO personalize YOUR DIGITAL SCRAPBOOKING PAGE.
Clip a Photo to the mask of the record play element from the ArtPlay Rhapsody BONUS.
Add text to the LP Record + Sleeve element from ArtPlay Palette element to customize.
We also love how Miki clipped digital art elements to guitar Shapes to create her own embellishments.
SEE ALSO:
2. Apply Blending Modes
Mask your photo and apply blending modes to intensify color and reveal texture.
Mask a photo using a Clipping Mask or Layer Mask + Brushes technique.
Apply Blending Modes from the top of the Layers Panel to preference.
Notice how this intensifies Color and allows the underlying Textures to show through the image.
SEE ALSO:
3. Magic with Color
Use color to lead the eye and support your photo.
Recolor digital art supplies to Coordinate with your photo.
Create a Visual Triangle to lead the eye and establish Visual Interest.
Notice how Viv Strategically places the red elements in here digital scrapbooking layout design.
SEE ALSO:
More Inspiration
Click on the images below to access complete digital design supply lists and process notes.
Want More Digital Scrapbooking and Photo Artistry Inspiration?