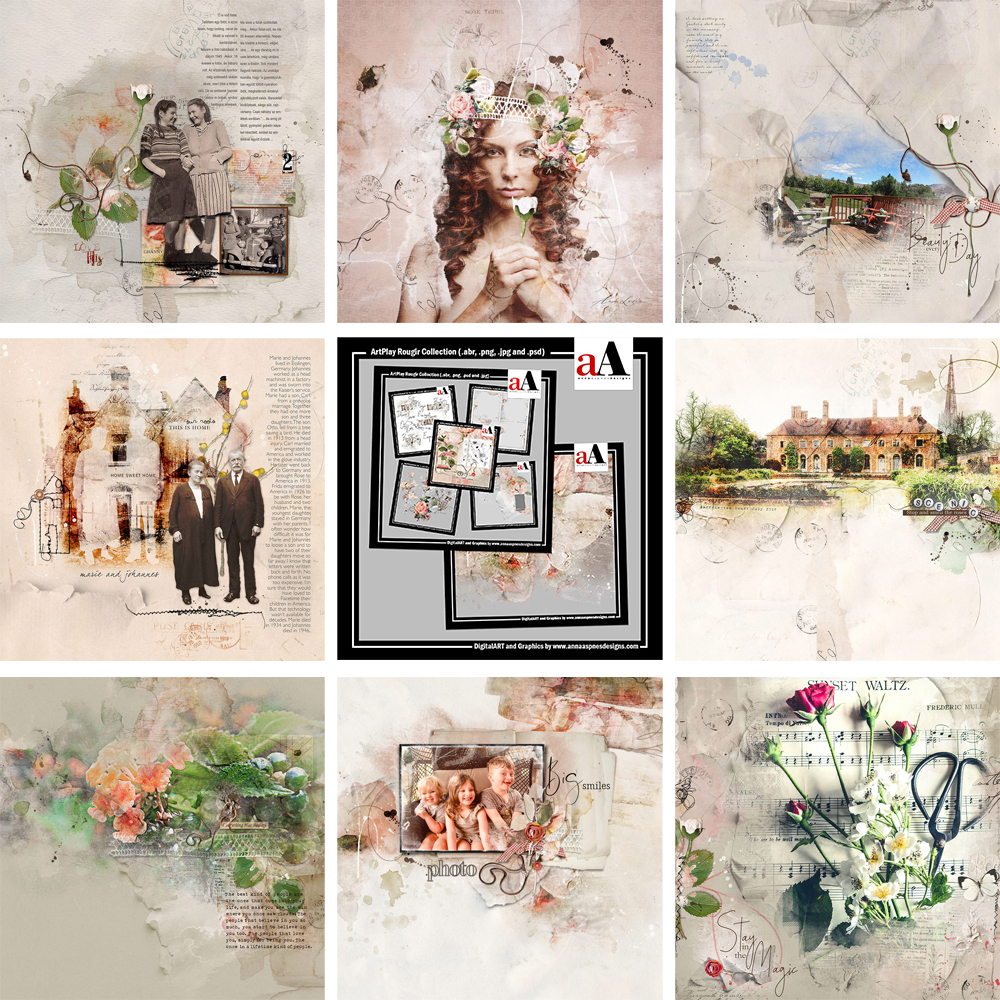 The vintage rose-themed ArtPlay Rougir Inspiration for digital scrapbooking and photo artistry in Adobe Photoshop and Elements.
The purpose of this post is to provide inspiration for using the ArtPlay Palette Rougir and coordinate digital assets.
ArtPlay Rougir Inspiration
1. Lines of Tension
Interesting ways to use
These multi-layer Assemblage Overlays No. 1 are designed to Frame your photo artistry and digital scrapbooking pages.
You can also use them with the Alignment principle to create either balance or contrast.
Notice Fiona juxtaposes the presence of linear and organic Lines to create tension in her design.
See also:
2. Frame with Journals
Use the book element in the ArtPlay Palette to frame your photos.
Extract the subject of your image using the Selection Tool of choice.
Use the Extraction and the background to create a Silhouette over the pages of the journal element.
Fill the silhouette Frame with artistry from the ArtPlay Rougir Collection.
See also:
2. Adapt and Modify
Adjust the color of the digital art supplies to better coordinate with your photos.
Use Adobe Photoshop to Recolor your digital art supples.
Go to Image> Adjustments> Hue and Saturation (Photoshop) or Enhance > Adjust Color Hue and Saturation (Elements).
Viv adjusted the Hue slider to change the color from pink to lilac.
See also:
More Inspiration
Click on the images below to access complete digital design supply lists and process notes.
ArtPlay Rougir Collection
A vintage-rose-themed collection OF DIGITAL ART SUPPLIES FOR CELEBRATING baby, heritage, wedding, and anniversary  DIGITAL SCRAPBOOKING AND PHOTO ARTISTRY PAGES.
INCLUDES:
SEE ALSO:
Want More Digital Scrapbooking and Photo Artistry Inspiration?