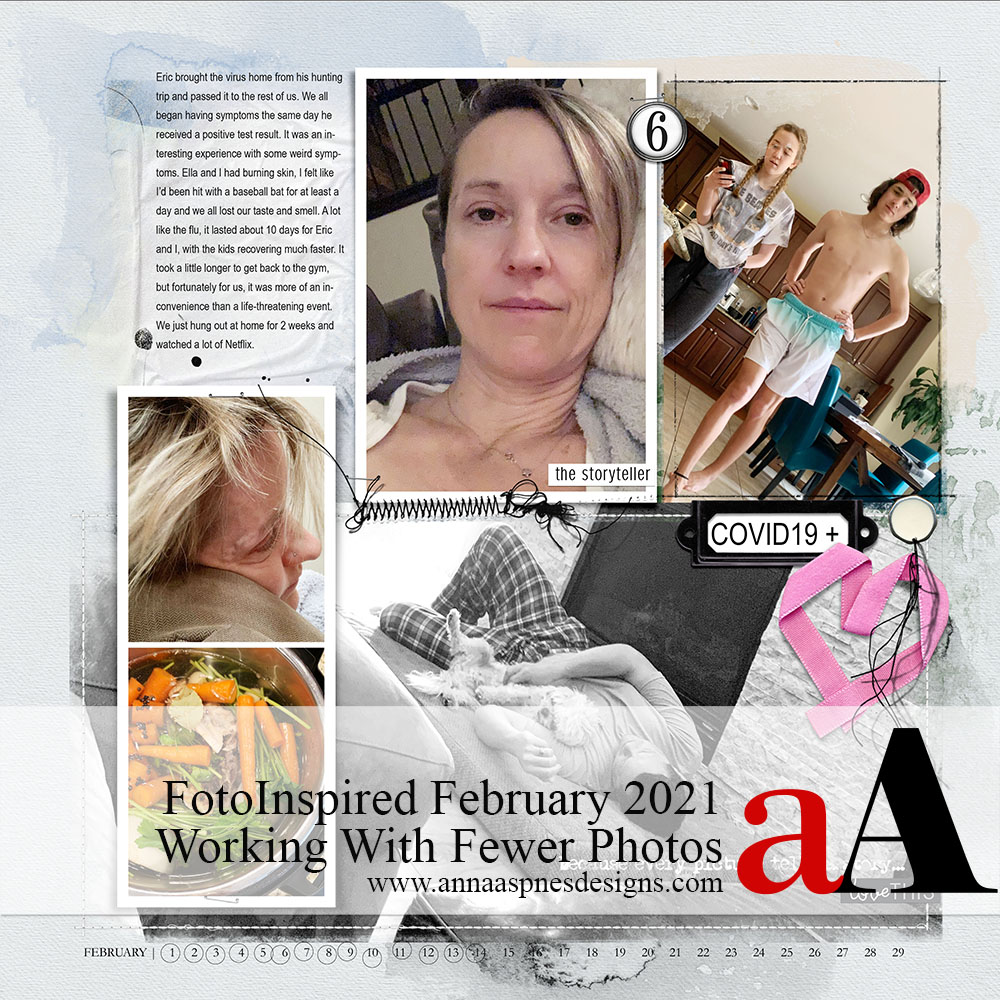 Today, I'm finally able to wrap up my project and share FotoInspired February 2021.
FotoInspired February 2021
New to FotoInspired?
Join the dedicated FotoInspired community on Facebook.
The FotoInspired Stats
A total of just 3 double-page spreads.
COVID definitely slowed me down this month but I definitely made a point of capturing a few photos on the tail end of our illness.
We celebrated our exit from quarantine and feeling well again with brunch.
Prior to that we celebrated Delaney and her nomination as this year's 'Wish Kid' at the High School.
And the snow has FINALLY arrived in Colorado – It has been quite the wait!
Here are my layouts plus some thoughts on 'Working with Fewer Photos.'
February 2021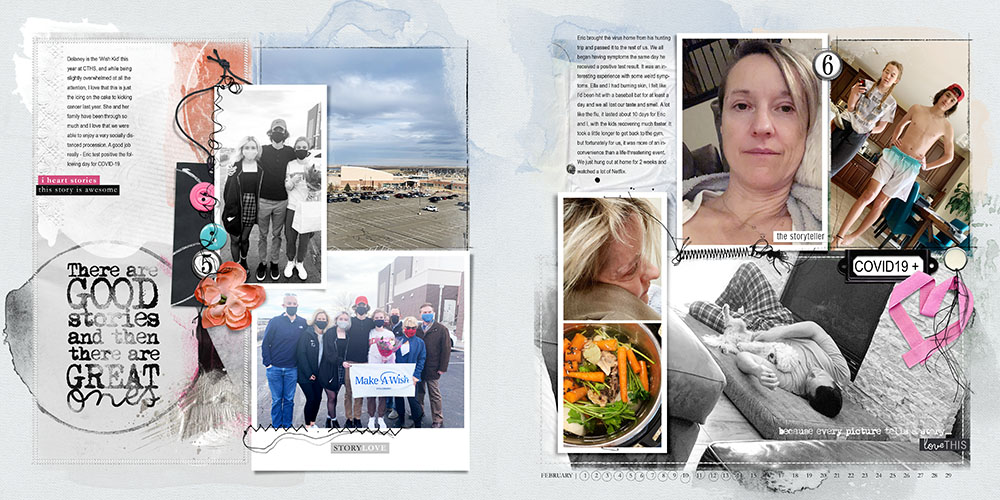 Weeks 5 and 6 | Delaney's 'Make a Wish' plus COVID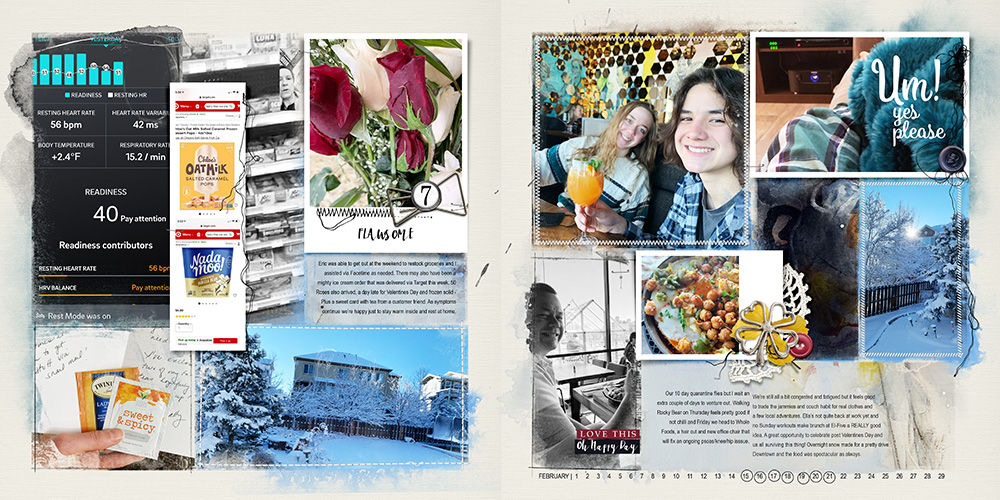 Weeks 7 | More COVID Details, Valentine's Day and Post Quarantine Brunch.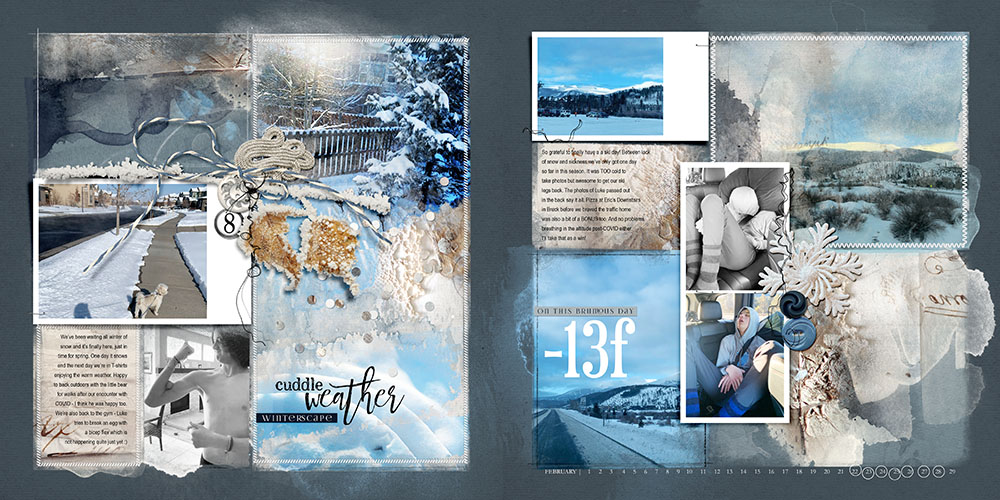 Week 8 | Snow + Skiing
Working With Fewer Photos
There are months where the photos are more 'sparse' than usual.
Just work with WHAT you have in any given month.
Photo-taking is often a REFLECTION of your life at any given time.
The are EBBS such as stress, illness or lacking desire.
Then there are times when the process FLOWS more easily and you feel more inspired.
Remember that it's ALL part of the process.
The Advantages of Fewer Photos:
There are fewer layouts to DESIGN.
You can FOCUS more on the journaling
Play with adding MORE

a

A

DigitalART to your digital scrapbooking pages.
The process takes a lot LESS time.
Guidance for working with Fewer Photos.
1. Choose the Right Template
2. Modify a FotoInspired Template
Replace multiple masks with a SINGLE mask from another template.
DUPLICATE text boxes, reposition and size to accommodate your journaling.
Remove (or add if needed) any frames that OVERLAP larger underlying masks.
3. Adding the Photos
Spread your images across BOTH pages.
SPACE out the photos with the SAME colors and subject matter to create BALANCE.
Leave PLENTY of empty masks between SIMILAR images.
4. Embellishing with DigitalART
5. Journaling
Tell more of the STORY by filling BOTH masks and frames with MORE words.
Duplicate EXISTING textboxes to create new ones.
Create a Title Focal Point by placing WordART over an Artsy Paper or ArtsyKardz clipped to a mask.
WATCH MY FOTOINSPIRED PROCESS IN THIS FREE 3-PART VIDEO SERIES:
Note. Don't sweat the small stuff!