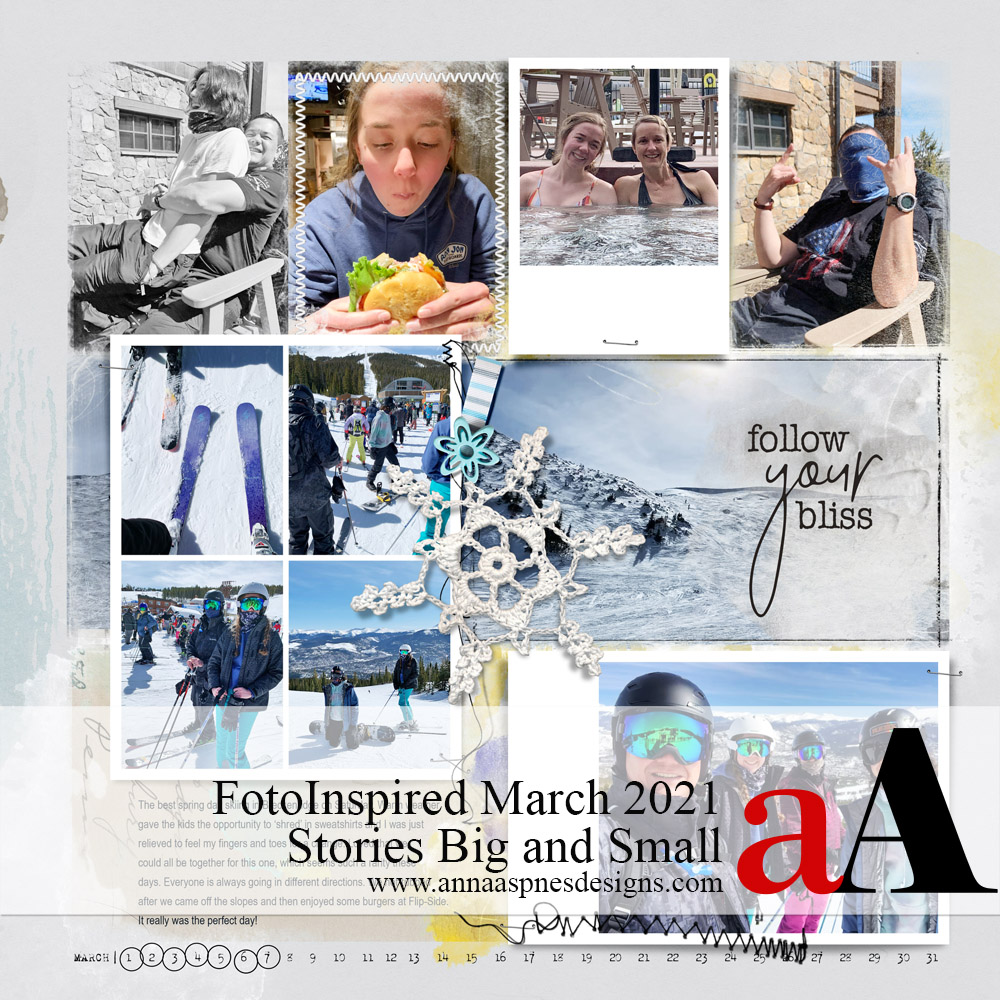 Today, I'm sharing my FotoInspired March 2021.
FotoInspired March 2021
New to FotoInspired?
Join the dedicated FotoInspired community on Facebook.
The FotoInspired Stats
A total of 5 double-page spreads.
Lots of skiing post COVID making the most of the little snow we've had this year.
My Father-In-Laws Birthday.
School at home prior to returning full-time.
Denver's 4th biggest snow storm in history.
My birthday.
Here are my layouts plus some thoughts on 'Stories Big and Small.'
March 2021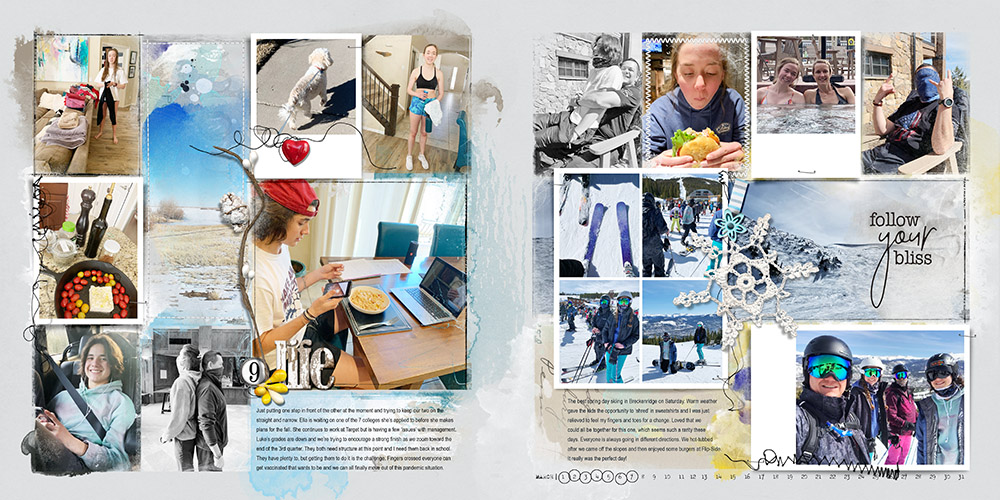 Week 9 | Skiing +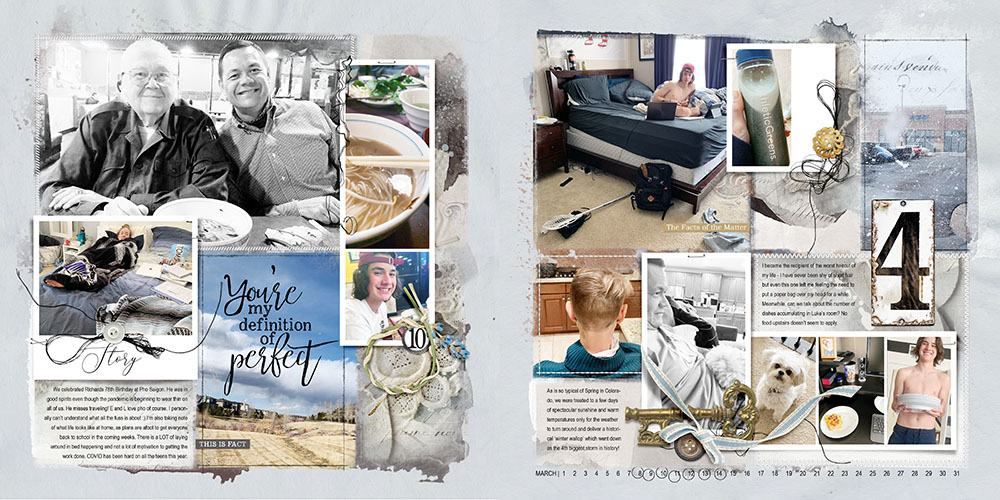 Week 10a | Richard's Birthday + School at Home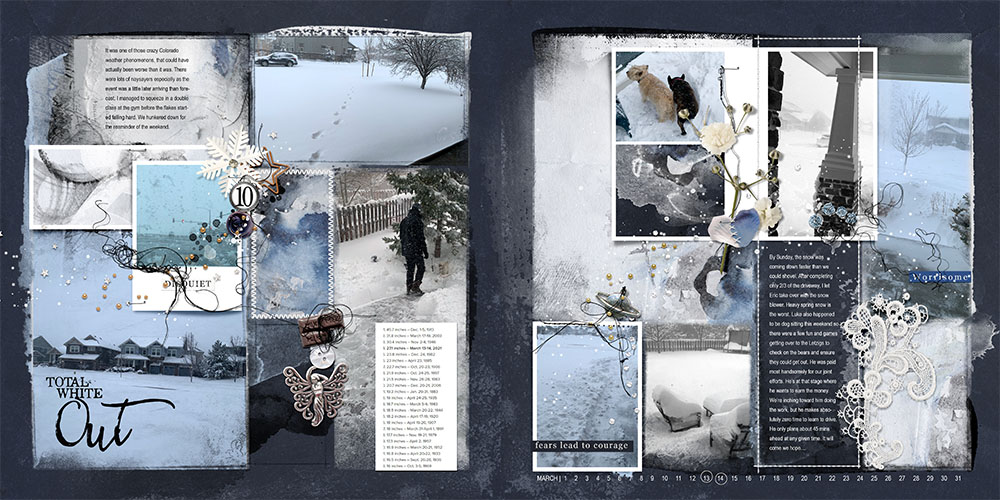 Week 10b | Richard's Birthday + School at Home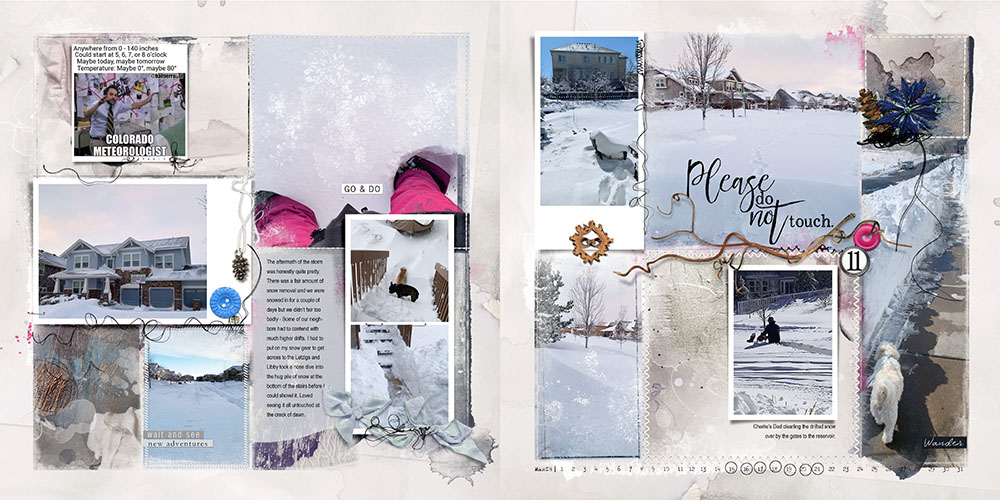 Week 11a | Big Snow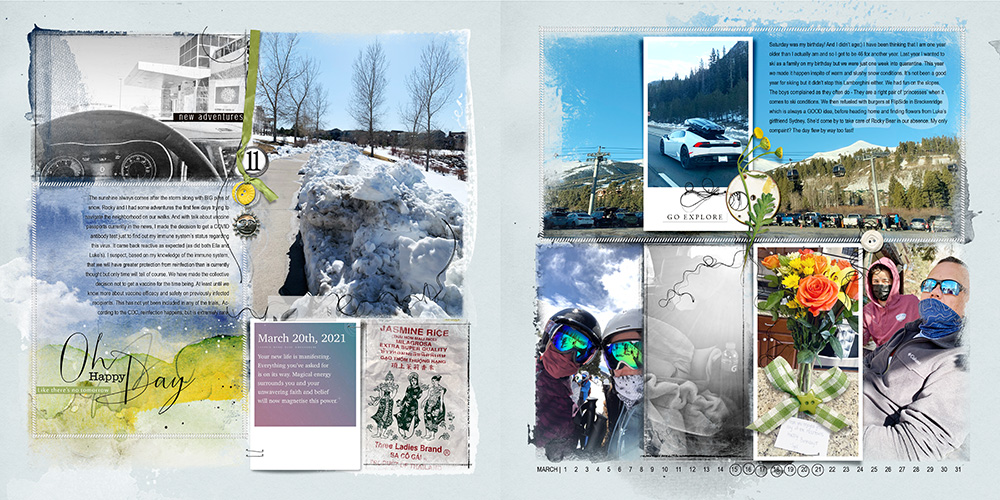 Week 11b | My Birthday
Stories Big and and Small
Make these templates work for your photos and I life.
What I LOVE about the FotoInspired template format is the FLEXIBITY.
They work for ANY number of PHOTOS or STORIES.
Create a SINGLE layout with multiple photos and smaller stories.
Stretch a BIGGER story over MULIPLE pages to showcase more images.
Let the stories and photos lead your layout design.
The NUMBER of photos per story will GUIDE you.
You might have a layout dedicated to a single STORY with lots of supporting photos.
The design might be made up of unrelated SNAPSHOTS offering a variety of TALES.
There really are NO RULES to the composition of your layout designs.
Guidance for Planning your FotoInspired Layout Designs
1. Assess Photos
Decide on WHICH photos you want to use in your layouts.
Ideally you will want to COPY these images into a SUB-FOLDER.
GROUP images together according to their STORIES.
Mentally gauge this or create a Folder System as outlined in the

a

A

Project.
You are essentially establishing NUMBER of stories and photos.
2. Choose Template(s)
Choose one or MORE templates to accommodate the NUMBER of photos.
Pay attention to the SIZE and ORIENTATION of masks in each FotoInspired template design.
Ensure enough masks in the template(s) to include ALL photos with some remaining for EMBELLISHMENT.
It is BETTER to create 2 layouts than try to SQUEEZE all the photos into one template.
Too many photos creates OVERCROWDING and hinders desired BALANCE.
3. Adding Photos
You can group a SEQUENCE of photos together to UNIFY.
There is, however, BENEFIT to spreading photos with SIMILAR photos across a layout design.
Intentional placement of such photos allows same COLORS and SHAPES to lead the viewers eye.
Leave 'empty' masks at intervals offering WHITE SPACE for the eye to rest.
4. Embellishing with DigitalART
5. Journaling
Be sure to leave space for your STORIES too!
WATCH MY FOTOINSPIRED PROCESS IN THIS FREE 3-PART VIDEO SERIES:
Note. Make you own rules when creating your layouts.