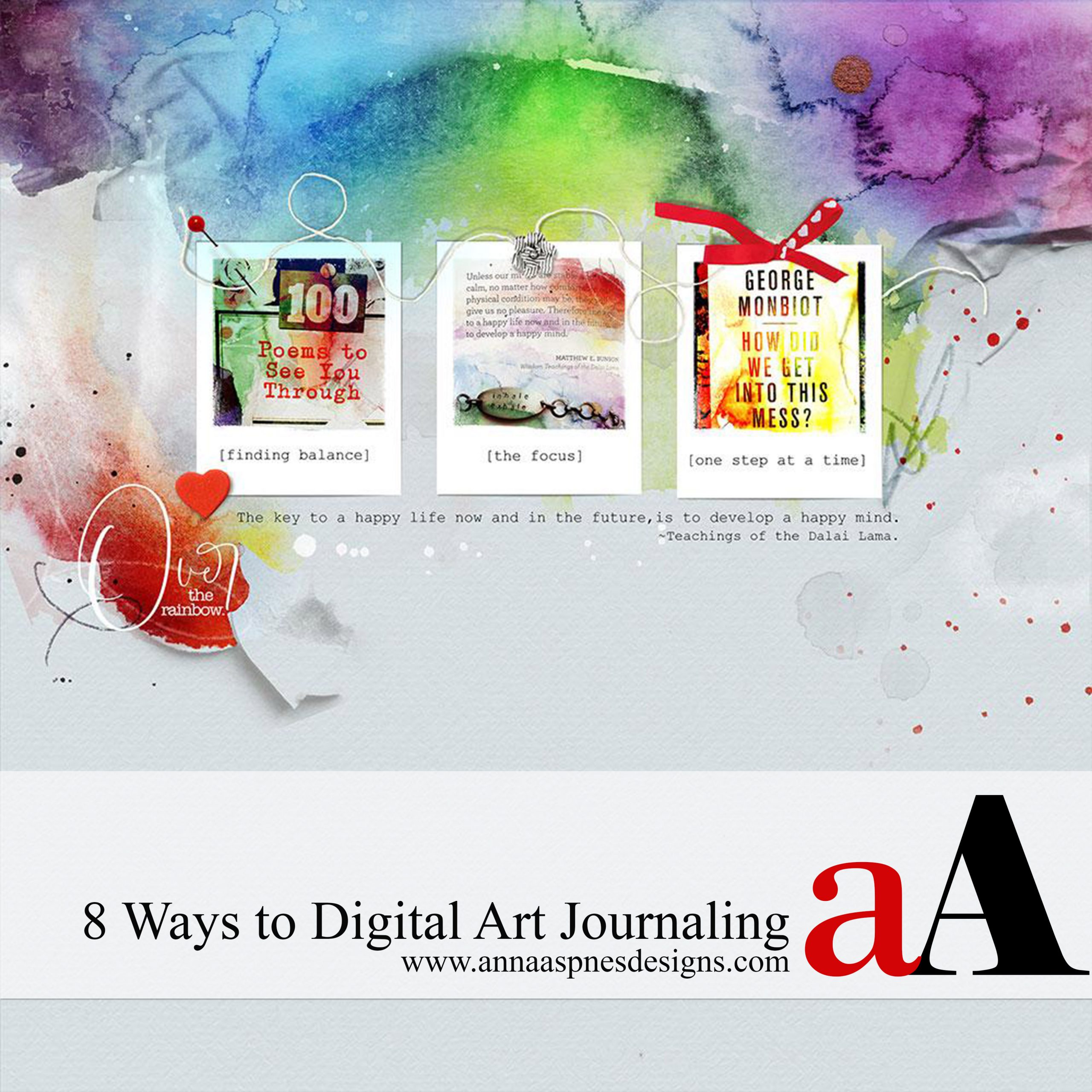 Today, aA Cerative Team Member, Viv Halliwell, is sharing 8 Ways to Digital Art Journaling.
8 Ways to Digital Art Journaling
Introduction
Digital Art journaling is the fusion of digital artistry and words to convey emotion.
A great way to create in the Absence of photos, 'make sense of the world' or work through Emotion.
Lead your layout design with Words or text-inspired images.
Create the artistry and Embellish with

a

A

DigitalART.
1. Text Focal Point
Create a point of entry with a single point of focus.
Choose an Artsy Paper or Create Your Own using ArtPlay Palettes.
Type your words or Quote in the center of the main area of visual interest.
Select 2 Different fonts with one being more Bold than the other to support Emphasis and create Contrast.
See also:
2. Get FotoInspired
But create with words and digital assets instead of photos!
See also:
3. Frame Approach
Arrange 1 or more frames in a row to showcase your artistry.
Photos taken in a local book shop became the Inspiration for this digital art journaling layout design.
Blend the photos with Artsy Papers or ArtsyKardz using Blending Modes.
Clip the artsy word-inspired artistry to the Clipping Masks in the frames.
See also:
4. ArtsyKardz Foundation
Place ArtsyKardz in a row or column to create the focal point for your digital art journaling layout design.
Consider Hiding or partially 'masking' words and phrases that hold personal Meaning.
A running theme throughout Viv's layouts is to Explore her creativity as art or photography.
See also:
5. Apply Filter Effects.
Use apps and Photoshop filters to enhance digital images and photos.
Use images that insight Joy.
Modify the images in Photoshop by applying Filters or process using Apps on your smart device.
Align embellishment and word elements with the edges of the images.
See also:
6. Negative Space
Create a minimalist design with white space to intentionally shift the focus to the words.
See also:
7. Blend Your Words
Apply Blending Modes to a variety of words to augment your digital art journaling.
Take a photo that includes words and clip to a FotoBlendz mask or blend with AnnaBlendz Artsy brushes.
Add the text in the Color of your choice or recolor as preferred.
Apply Blending Modes to each of these approaches and experiment to make the magic happen.
See also:
8. Blur The Boundaries
Add elements to break up harsh lines and create blended transitions.
See also:
Summary
Use words in place of photos to create the focal point of your layout design.
Start with the Quote, a word-inspired Photo, or even a favorite Color Palette.
Next choose

a

A

DigitalART supplies to tell the Story and support the Emotion behind your digital art journaling design.
Choose elements that lead the eye, Enhance the artistry and Fulfill the creative experience.
See also:
AND IF YOU LIKED THIS 8 Ways to Digital Art Journaling  POST, we invite you to create your own digital art journaling endeavors and post YOUR ARTISTRY AND TO THE ANNAGALLERY.