Description
Session 1 of Part 3 in the Masterly Brushes series.
Use and Modify Clipping Masks with ArtPlay Brushes

EVERYTHING YOU NEED TO KNOW ABOUT USING & MODIFYING FOTOBLENDZ CLIPPING MASKS WITH ARTPLAY BRUSHES.
Video 1: Introduction (26 mins)
What a Clipping mask is and how to use one to effectively blend your photos.
You will learn:
Video 2: Extend Masks (28 mins)
Change the size, the shape and density of a clipping mask to better enhance your photos.
You will learn:
Best practices for RESIZING Clipping Masks.
4 Ways to increase the SIZE or change the SHAPE of Clipping Masks.
Reveal more detail in your blended photos.
Mix and Match techniques to maximize the advantages of each method.
Video 3: Reduce Masks (16 mins)
Customize your masks in terms of size, shape, embellishment and texture.
You will learn:
3 Reasons you might need to reduce the SIZE of Clipping Masks.
Pros/Cons of the Eraser Tool verses Layer Mask and Brushes technique.
Modifications to Brushes to refine their effect on your Clipping Masks.
Limitations of using Layer Mask and Brushes technique with Clipping Masks.
Video 4: FotoBlendz Layer Mask (6 mins)
Transfer any clipping mask selection to a Layer Mask.
You will learn:
The most dynamic way to apply clipping masks to your images.
Customize the Clipping Masks with Brushes.
Why you should know ALL these techniques.
Video 5: Extend Photo (21 mins)
Apply a variety of solutions to resolve those hard photo edges in Clipping Set scenarios.
You will learn:
Video 6:

a

A

Creative Team Layouts (23 mins)
A variety of layout examples demonstrating the techniques in this course.
7 layouts + Commentary
Layout Deconstruct by Anna Aspnes
What to Expect
6 X Videos delivered in .MP4 format – View on your computer or load into iTunes for Smart Devices.
Comprehensive Written Course Content in .pdf format.
Demonstrations are in Photoshop CC but verbal and written guidance is provided for Photoshop Elements.
Complementary

a

A

DigitalART to recreate the class project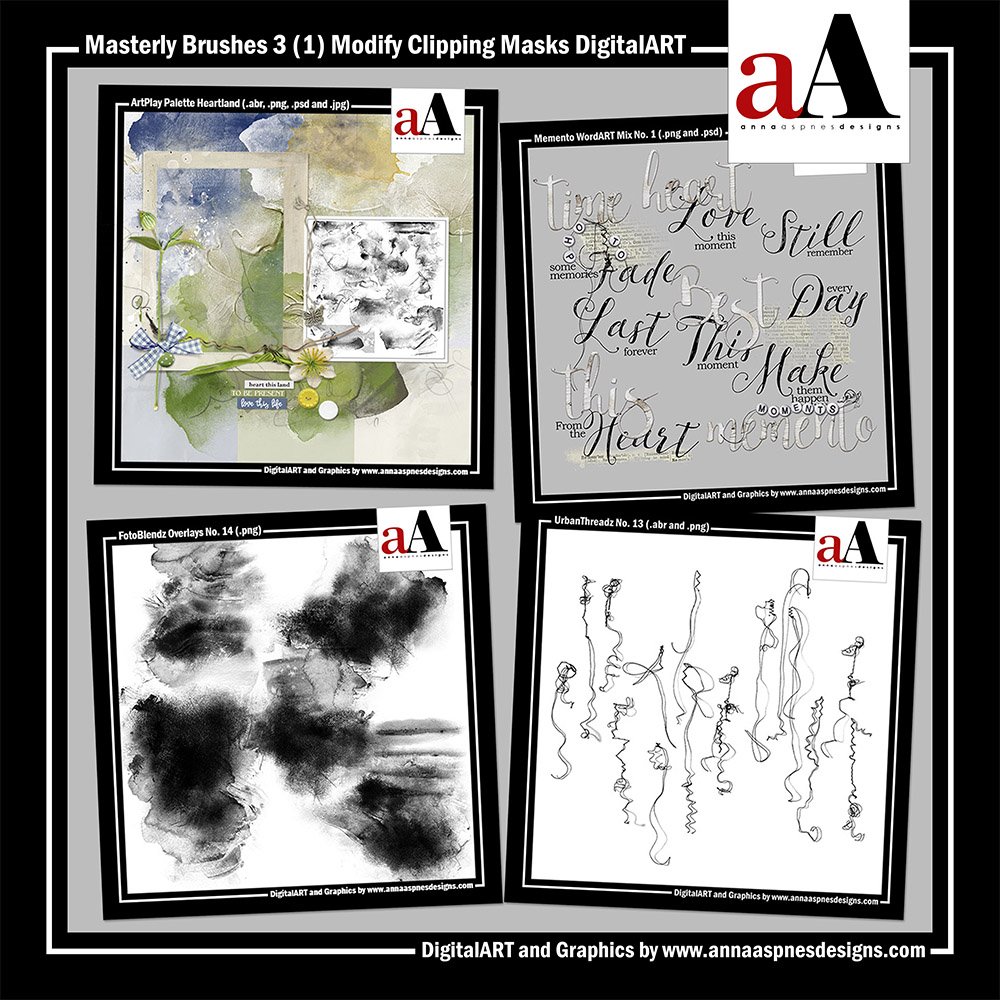 Frequently Asked Questions (FAQ)
1. What is Masterly Brushes #3? I'm really confused by all the names.
Masterly Brushes is MASSIVE series which I am slowly working my way through- You can find all classes in this series here.
Part 1 –  FREE Basic Brushes Guidance
Part 2 – Design Principles + Design with Brushes (2 sessions available as a Bundle and individually.)
Part 3 – All the different ways you can Apply ArtPlay Brushes.
There are 11 sessions in this part of the course.
I am breaking them up into separate classes as there is SO much information to share.
Session 1 is Modify Clipping Masks.
Session 2 Create Custom Masks is COMING NEXT.
When I have completed all 11 sessions, I will move to parts 4, 5 and 6.
2. Will Session #1 Modify Clipping Masks answer all the problems I have using FotoBlendz to blend my photos?
YES! I do hope so (and if not – I hope you will email me!) I want you to be super-happy with this class.
A variety of solutions are provided for:
Making a FotoBlendz larger or smaller.
Customizing a mask with ArtPlay Brushes.
Changing the shape of a FotoBlendz
Adjusting the orientation of a FotoBlendz.
Bringing back details in your images when blended.
Using Layer Mask and Brushes functionality.
Adding texture to your blended photos.
Converting a FotoBlendz to a Layer Mask.
Incoporating other DigitalART elements
Adjusting Blending Modes and Opacity.
Eliminating hard edges of photos that don't fully extend over the edges of a mask.
EVERYTHING I KNOW.
3. Is M

a

A

sterly Brushes a repeat of

a

A

dvanced Brushes?
MaAsterly Brushes is very different from aAdvanced Brushes for Photoshop and Element s.
a

A

dvanced Brushes is a program-based course, showing you how to use the Tools in Photoshop/Elements.
M

a

A

sterly Brushes has more of a product and design approach with a primary focus on the Types of brushes offered by Anna Aspnes, as well as How/When to best use them to and solve common photo artistry frustrations and design dilemmas.
4. Will I be able to follow this class if I have not taken the previous classes in the series?
YES! You will need to have a basic knowledge of Brushes which is covered in the Part 1 Free Brushes class.
Part 2 focus on Designing with Brushes, and while not required, will deepen your understanding and provide more information, on how to select a brush based on Element Properties and use them according to accepted Design Principles.
5. Does the class work in Elements?
The class is conducted in Photoshop but written and verbal guidance is provided for Elements users.
6. When does the class start?
This is a self-paced class and so all materials are available for download, immediately on registration.