Description
Session 2 of Part 3 in the Masterly Brushes series.
Design Custom Masks with Photoshop Brushes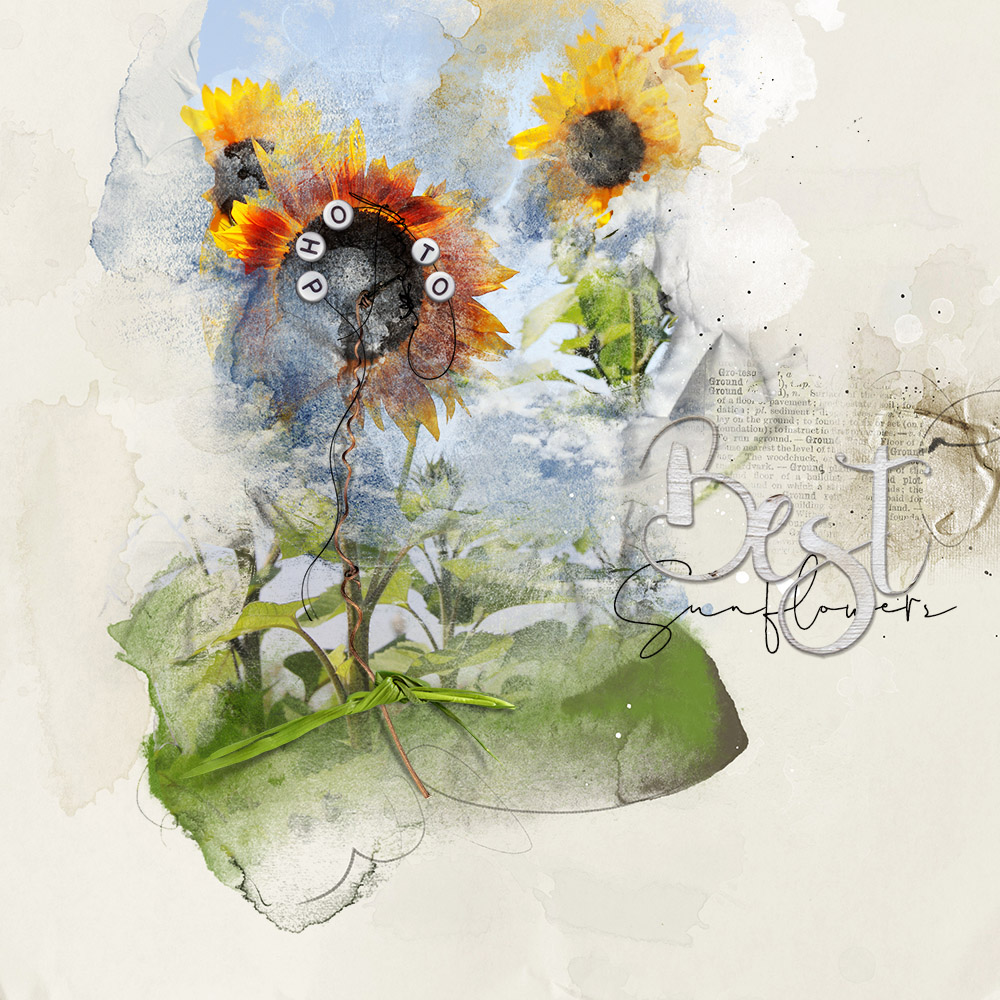 UNIQUE TECHNIQUES FOR DESIGNING YOUR OWN CUSTON 'FOTOBLENDZ' CLIPPING MASKS USING PHOTOSHOP BRUSHES.
Video 1: Introduction (6.50 mins)
Introduction to creating own custom FotoBlendz clipping masks.
You will learn to:
Personalize and create your own CUSTOM clipping masks using multi-layered format.
Use your selection of photos and DigitalART supplies as a GUIDE.
Inject MORE play, practice, and experimentation using Photoshop Brushes.
Video 2: Use a Guide (24.15 mins)
Establish a foundation as a roadmap for your custom mask design.
You will learn:
Why a 'roadmap' is CENTRAL to your success in this process.
Different TECHNIQUES for setting a foundation for your custom mask design.
How to use Design Principles with Photoshop Brushes to create your mask.
Considerations for USING and APPLYING brushwork to create a mask.
Video 3: Design Techniques – Part 1 Option 1A (21.47 mins)
Guidance for selection and placement of Photoshop Brushes in designing a blended-style custom mask.
Includes:
Overview of ArtPlay Palette BrushSets.
Different ways to VIEW and ACCESS your BrushSet files.
Guidance for using BOTH .abr and .png files.
ALL the advantages and disadvantages of EACH technique so you can choose the RIGHT one every time.
You will learn about the:
Pre-position approach to designing your custom masks.
Power of layer duplication in SUCCESSFUL mask creation.
Options to choose a process that SUPPORTS your preference and process.
Different TECHNIQUES for building a custom mask using Design Principles.
Guidance for MODIFYING Photoshop Brushes.
Introduction to layer GROUPS and how to use them to SIMPLIFY your process.
Uncover the SECRETS to ensure seamless workflow.
Video 4: Design Techniques – Part 2 Option 1B (15.53 mins)
Different ways to apply your photos to your abstract custom mask design.
You will learn:
The IMPORTANCE of grouping your layers.
A 'group' function ALTERNATIVE approach for Photoshop Elements.
Considerations for PLACING your photo.
About the CLIPPING MASK function.
Brush modifications to IMPROVE your custom mask.
OPTIONS to 'tailor' the process to BEST showcase your photos.
Video 5: Design Techniques – Part 3 Option 2 (22.03 mins)
An 'inverse' approach to designing your own custom artsy blended masks.
You will learn:
Extensive insight into a CLEVER 'empty' masking approach.
Wielding the POWER of clipping sets with confidence and ease.
Inspiration for BEST practices in supporting your creativity and QUICKENING your workflow.
Problem SOLVING in making an AWESOME custom mask design.
ENSURE your carefully designed custom mask is EDITABLE but 'stays in place.'
Add more CLARITY to you custom 'FotoBlendz' masks.
'Inverse' Approach with layer GROUPS.
Video 6: Optional Techniques (25.41 mins)
All the techniques to enhance your blended photo mask.
Simple EFFECTS to yield complex artistry.
Add VISUAL INTEREST with Layer Masks and Brushes.
Subtle adjustments to PERFECT your custom 'FotoBlendz' mask.
Targeted Blending Mode approaches to elevate your skills.
More FUN with layer groups.
Video 7:

a

A

Creative Team Layouts (35.36 mins)
A variety of layout examples demonstrating the techniques in this course.
7 layouts by the

a

A

Creative Team + Commentary by Anna Aspnes
3 X Comprehensive Layout Deconstructs
What You Get
7 X Videos delivered in .MP4 format.
Download and view on your computer or load into iTunes for Smart Devices.
Comprehensive Written Course Content in .pdf format.
Demonstrations are in Photoshop CC but verbal and written guidance is provided for Photoshop Elements.
Complementary

a

A

DigitalART included to recreate the class project.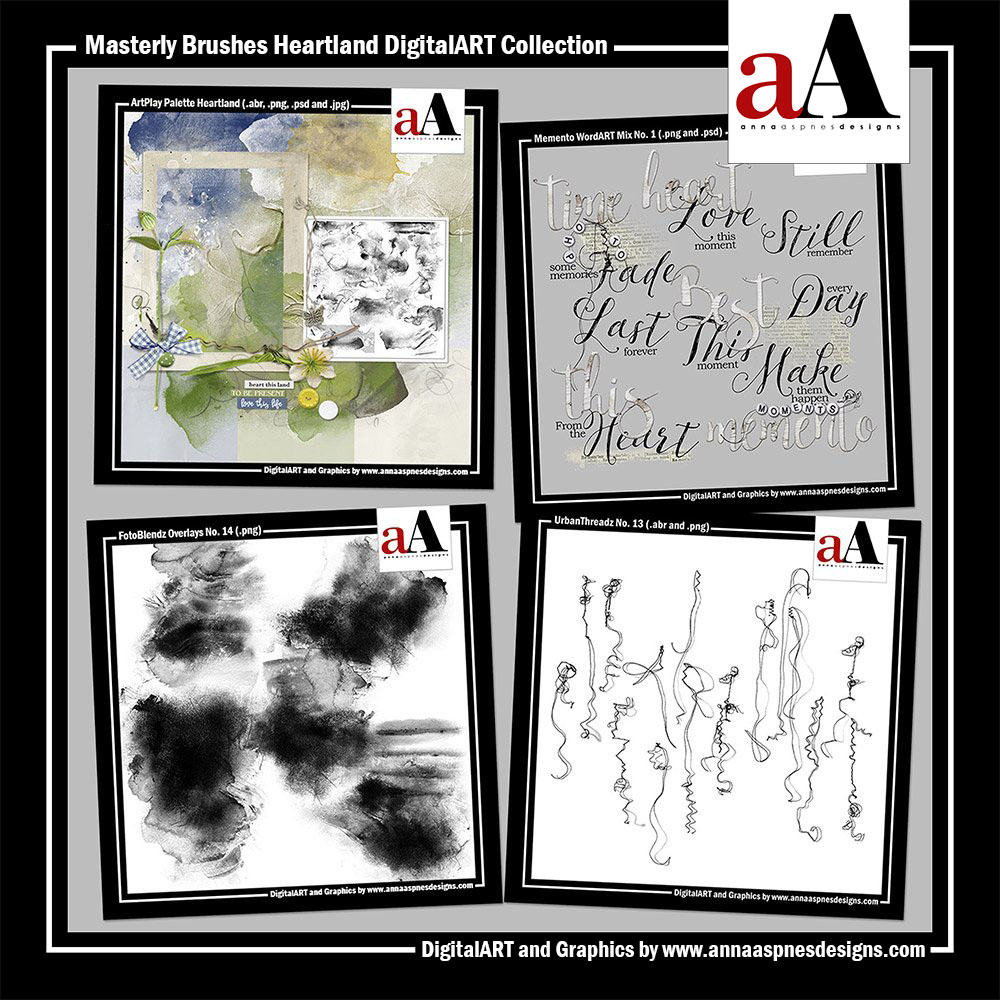 Frequently Asked Questions (FAQ)
1. What is Masterly Brushes #3? I'm really confused by all the names.
Masterly Brushes is MASSIVE series which I am slowly working my way through- You can find all classes in this series here.
Part 1 –  FREE Basic Brushes Guidance
Part 2 – Design Principles + Design with Brushes (2 sessions available as a Bundle and individually.)
Part 3 – All the different ways you can Apply ArtPlay Brushes.
There are 11 sessions in this part of the course.
I am breaking them up into separate classes as there is SO much information to share.
Session 1 is Modify Clipping Masks – This is Session 2
When I have completed all 11 sessions, I will move to parts 4, 5 and 6.
2. Is M

a

A

sterly Brushes a repeat of

a

A

dvanced Brushes?
MaAsterly Brushes is very different from aAdvanced Brushes for Photoshop and Element s.
a

A

dvanced Brushes is a program-based course, showing you how to use the Tools in Photoshop/Elements.
M

a

A

sterly Brushes has more of a product and design approach with a primary focus on the Types of brushes offered by Anna Aspnes, as well as How/When to best use them to and solve common photo artistry frustrations and design dilemmas.
3. Will I be able to follow this class if I have not taken the previous classes in the series?
YES! You will need to have a basic knowledge of Brushes which is covered in the Part 1 Free Brushes class.
Part 2 focus on Designing with Brushes, and while not required, will deepen your understanding and provide more information, on how to select a brush based on Element Properties and use them according to accepted Design Principles.
4. Does the class work in Elements?
The class is conducted in Photoshop but written and verbal guidance and workarounds are provided for Photoshop Elements.
5. When does the class start?
This is a self-paced class and so all materials are available for download, immediately on registration.
6. I'm a digital designer – Can I take this course?
Yes! But you must purchase and agree to the terms in this Limited Commercial Use License.
Early-Bird Special Offer
Register 'Design Custom Masks' NOW and get these SPECIAL 'perks:'
Save $10 on your early registration.
Get the Exclusive Design with Brushes MegaPack FREE.
This offer ends Monday 2nd November 2020 at 9am EST.
BONUS BrushSet MegaPack
A collection of 60

a

A

brushes delivered in .abr and .png format.
This MegaPack is EXCLUSIVE to the Design Custom Masks course.
Designed to assist in the creation of your own custom 'FotoBlendz' style masks.
Includes .abr for BOTH Adobe Photoshop and Elements.
Got a Question?
Email me – I am ALWAYS happy to help!