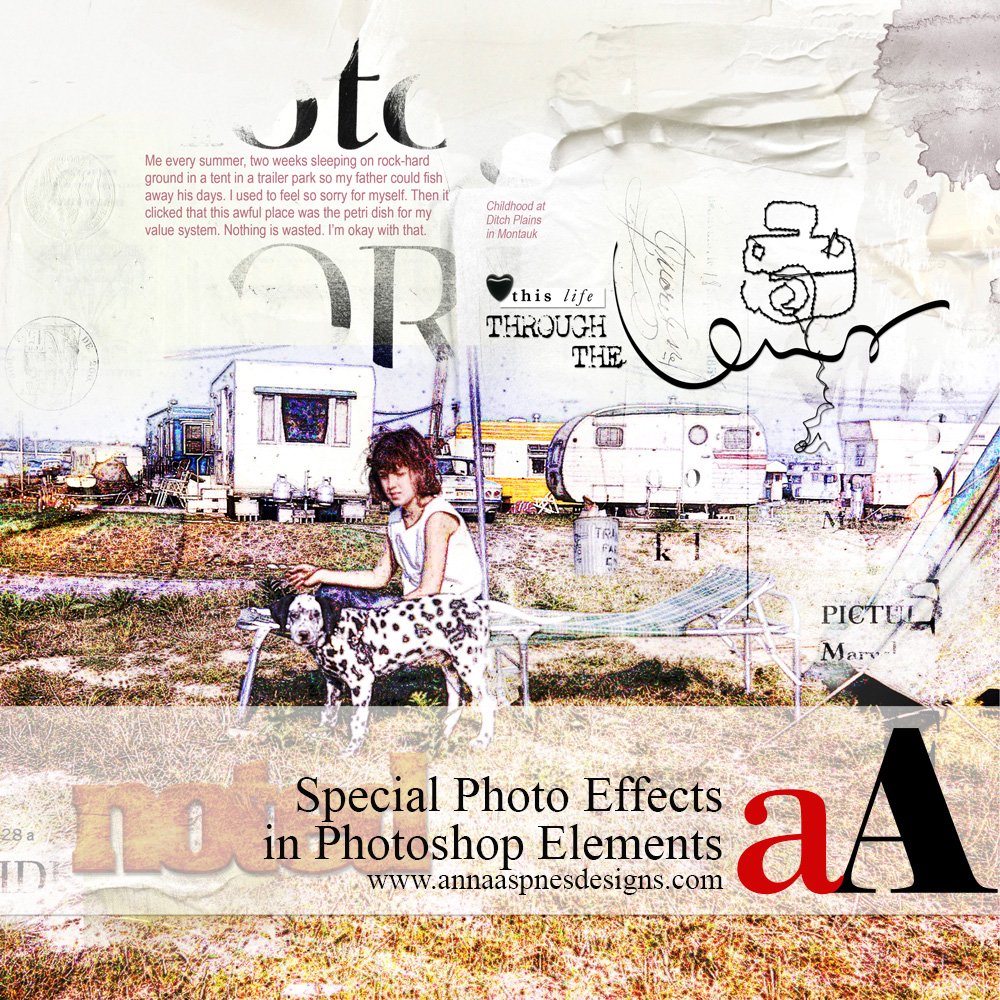 Today Laura is sharing a Special Photo Effects in Photoshop Elements tutorial.
Special Photo Effects in Photoshop Elements
Introduction
Add a little, or a lot of grunge, with this easy photo effect in Photoshop Elements.
It's a great way to salvage:
Old photos, such as this scan of a color slide snapped in the 1960s.
Technically imperfect photo images.
1. Select Photo
Choose and prepare your photo.
Go to File> Open, navigate to your image and double-click to open into your workspace.
Go t0 File> Duplicate (Elements) to create a copy of the image.
Close the original image and work with the photo duplicate.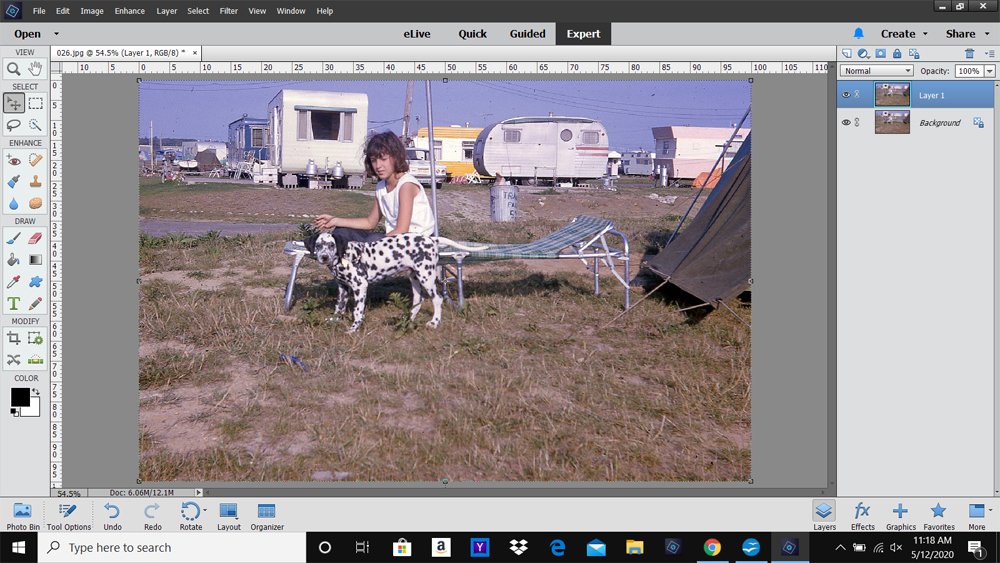 2. Apply Photo Effect
Select different effects from the Effects Panel.
Click on the FX icon at the bottom right of the screen to access the Effects Panel.
Activate the menu options by clicking on the downward facing arrow at the top of the panel.
Choose 'Show All' and hover your cursor over the thumbnails for more information about each effect.
Double-click on the preview thumbnail to apply the effect to your photo.
Optional:
You can add more than one effect.
Each effect creates a new photo layer in the Layers Panel.
View these layer(s) by clicking the Layers icon bottom right of your screen.
You can toggle between the 2 panels.
Note:
The Effects you have available to you may VARY according to the version of Photoshop Elements you are using.
Laura applied the Florescent Chalk effect in Photoshop Elements 14.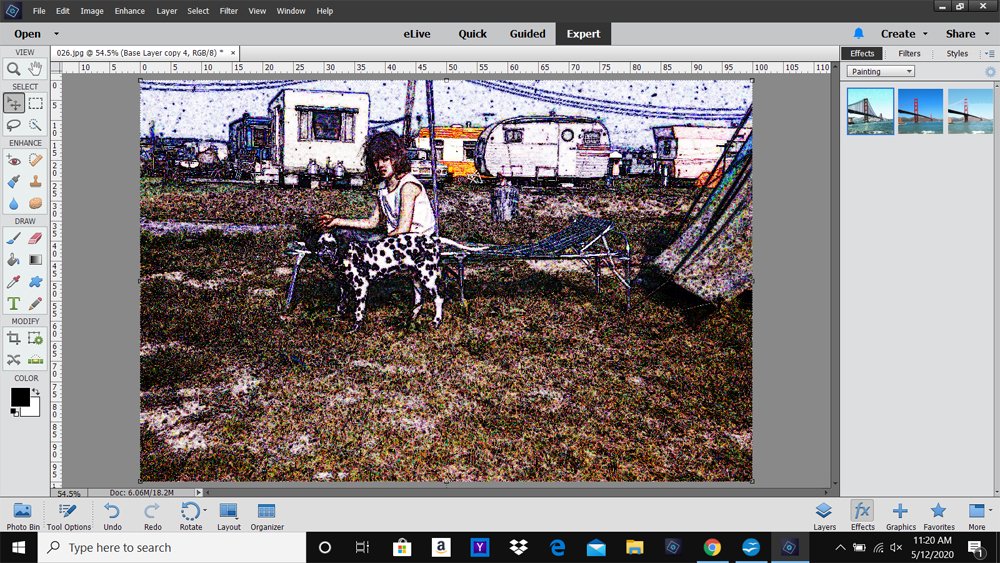 3. Make Adjustments
Improve the appearance of the chosen effect with your photo.
Change the Saturation via Enhance> Change Color> Hue/Saturation.
Go to Enhance> Adjust Lighting> Brightness/Contrast or Levels to change the Contrast.
Duplicate layers and modify the Blending Modes and Opacity.
Apply a Layer Mask to 'effects' layer bring back underlying details in the 'original' layer using BrushSets.
Go to Layer> Flatten Image to merge the layers into one.
Notice. Laura brought back the detail of the facial features.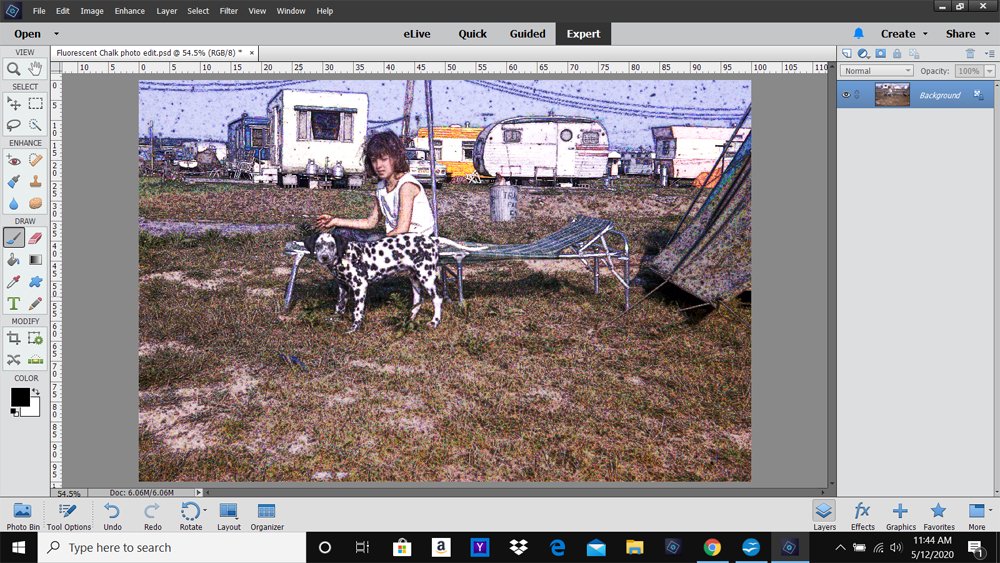 4. Create a Layout
Blend your 'special effect' photo with

a

A

DigitalART supplies.
Note.

DigitalART Supplies
See designer process notes and complete list of aA DigitalART supplies.
Summary
Add a special effects to your photo from the Effects Panel in Photoshop Elements.
WE INVITE YOU TO:
AND IF YOU LIKED THIS MASTER DESIGN USING TEMPLATES, PLEASE CONSIDER SHARING IT USING THE SOCIAL MEDIA BUTTONS BELOW.