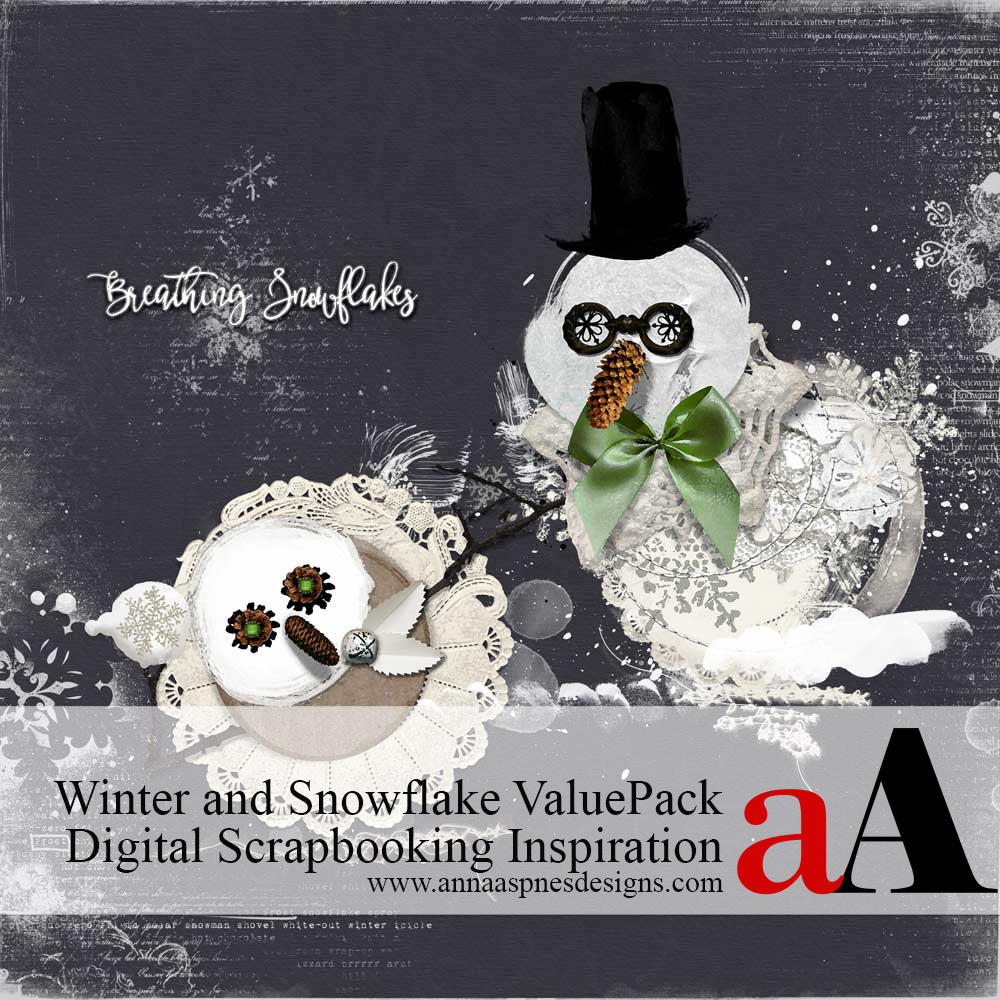 Today I'm sharing some Winter and Snowflake ValuePack Digital Scrapbooking Inspiration.
Using some of the NEW! ValuePacks of digital designs, for memory keeping and photo artistry, that recently hit the virtual shelves at Anna Aspnes Designs.
Winter and Snowflake ValuePack Digital Scrapbooking Inspiration
Introduction
Below are a number of layout with inspiration and ideas for using the DigitalART in both:
Click on the images for complete aA DigitalART supply lists and further process guidance.
1. Frame Your Blended Photo
Clip a photo to one to a Snow FotoBlendz clipping masks and support the edges with DigitalART supplies.
2. Combine with FotoInspired
Use the Winter ValuePack No. 2 to embellish both your Winter and Summer themed FotoInspired layouts.
Dorina combined elements from ALL 3 ArtPlay Palettes included in the collection with FotoInspired ValuePack No. 2V to document some winter memories.
Notice how she has threaded the buttons and recolored the CrochetedSnow No. 2 to embellish her digital scrapbooking layout.
Miki has used the snow motif to Represent the cooler weather during her Florida vacation.
3. Establish Focal Points
Use a frame to emphasize and draw the eye to your photo focal point.
4. Mix and Match 
Use elements from different ArtPlay collections to coordinate with your photos.
5. Groups of Three
Place elements in groups of 3 to yield optimum visual interest.
6. Elements with Context
Personalize elements with text to better support your photos.
7. No Photo Design
Create artistry or a greeting card design using MultiMedia Elements.
8. Contrasting Colors
Place overlays and brushes in backgrounds in contrasting colors.
Notice how Kathy has placed darker colors over lighter backgrounds to create Contrast.
She has also 'spot' colored here Winter WordMix No. 1 title by selecting one of the words and recoloring with  darker color.
9. Use Blending Modes
Apply blending modes to text and element layers to change color and contrast.
Laura blended 2 papers to create a custom digital scrapbooking layout foundation
She also applied a Blending Mode to Winter WordART No. 2
Notice how they add Depth to the photo artistry.
10. Embellish and Lead
Use the snowflake elements to embellish white space and lead the eye.
Ulla-May has used the snowflake elements to support her Theme.
She has also placed them in areas of White Space to add Visual Interest.
Notice how some of the SnowSprinklez No. 1 lead the eye from one Focal Point to another.
Summary
Today I have shared 1o ways to use the new ValuePacks with 11 layout examples.
Support a variety of photos with different Themes.
Draw the eye to focal areas of you digital scrapbooking layout design.
Add visual interest in terms of Embellishment.