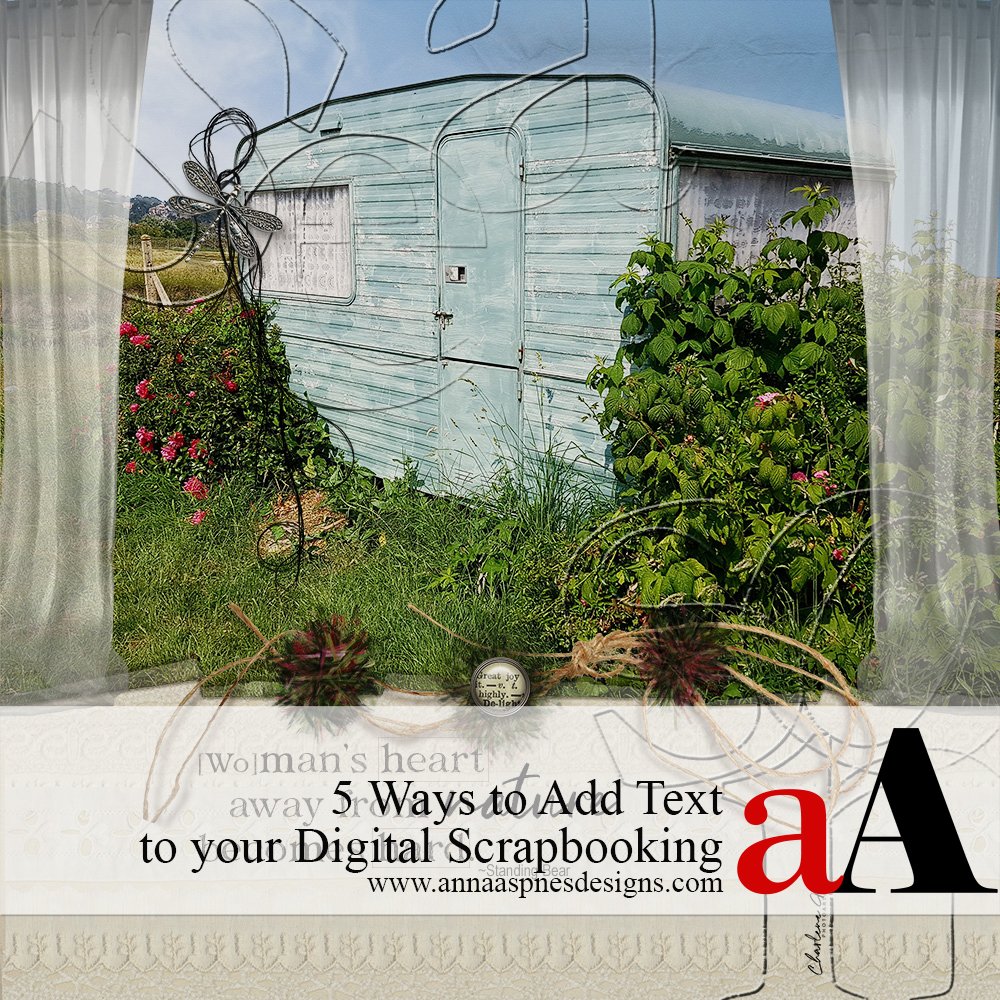 5 Ways to Interesting Text in your Digital Scrapbooking or photo artistry pages and layouts.
Follow this tutorial by Charlene Mitchell in Adobe Photoshop or Elements.
 5 Ways to Add Text to your Digital Scrapbooking
Ideas for applying visual interest to the text in your digital scrapbooking and photo artistry pages.
ANY element, including text, contributes to the Balance of Design in a layout.
Always consider Element Properties such as size, color, style, etc…
Simple Adjustments often yield more complex results.
1. Establish Layout Foundation
Choose a photo and background paper for your digital scrapbooking and photo artistry layout design.
Create new document CTRL + N (CMD + N)  12 X 12 inches at Resolution 300 Pixels/Inch.
Add your photo by clicking on the image and dragging to your new Layout Foundation using the Move Tool from the Tools Panel,
Select the Background layer in the Layers Panel.
Choose an artsy or solid paper and add to your Layout Foundation.
Reposition photo as needed, to create room for the words or text you want to include
Note.
Words or text may refer to: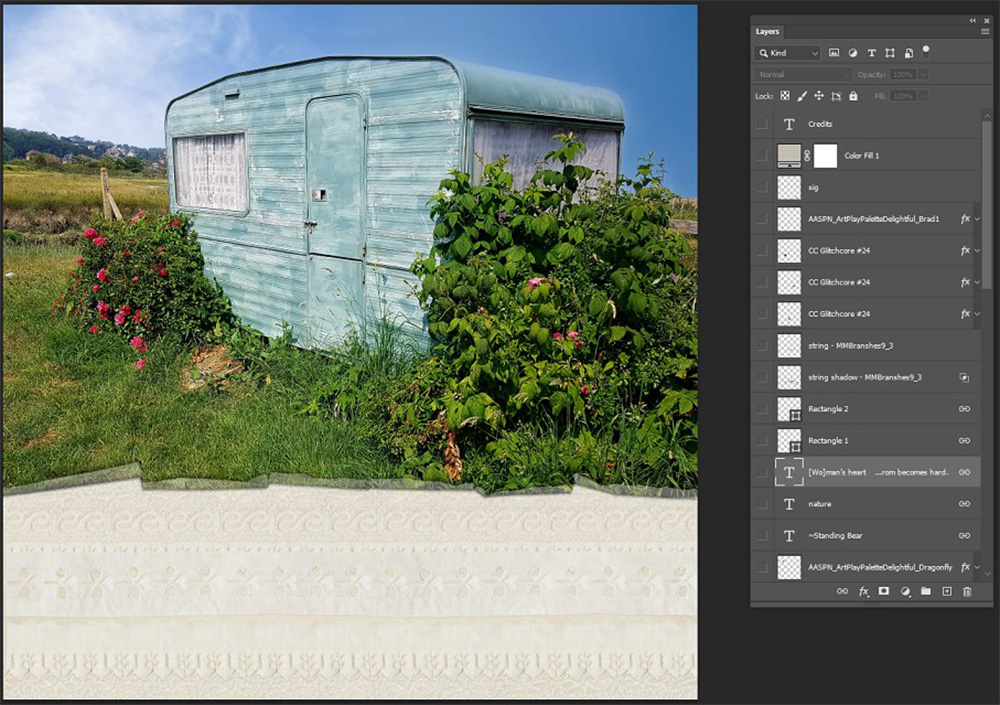 2. Choose Text Element 
Consider the Space you want to fill and the message your wish to convey.
Look through your supplies or in the Anna Aspnes Designs Store for WordART ideas or inspiration.
Experiment with Placement of text element on top of your Focal Image.
The BigWords Spring No. 1 offer large Characters with Opacity to embellish and convey meaning in the design.
Adjust the Opacity and/or apply a Blending Mode at the top of the Layers Panel to modify the effect.
Tip.
You can also apply Layer Style effects.
Go to Layer> Layer Style> Bevel & Emboss
Enter Fill=0 so that only the effect is visible.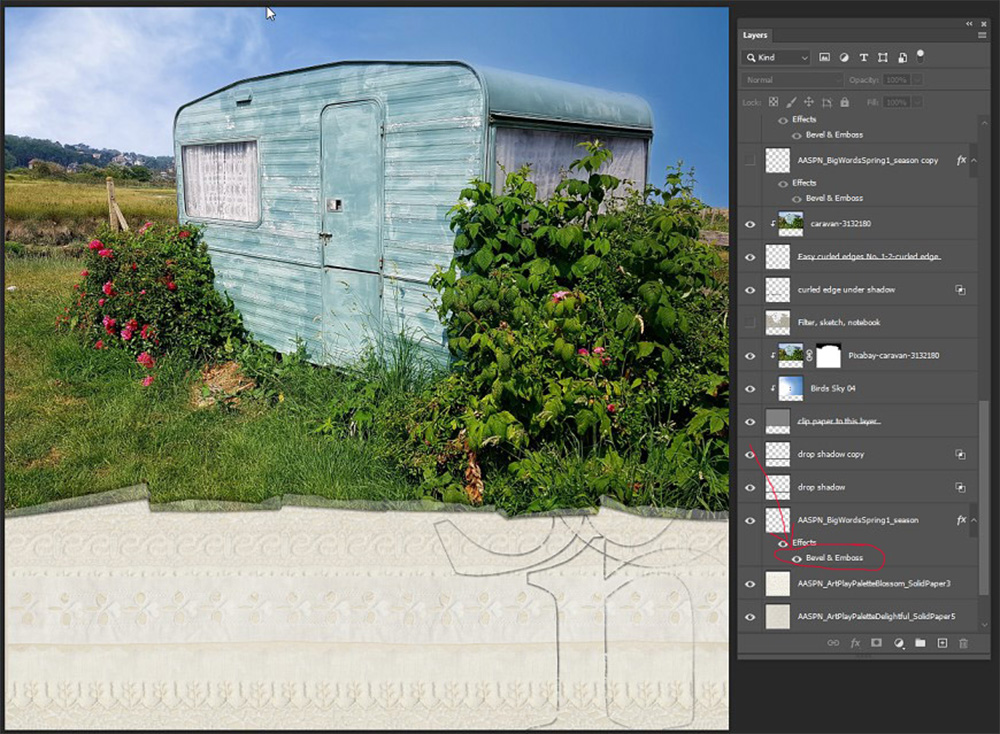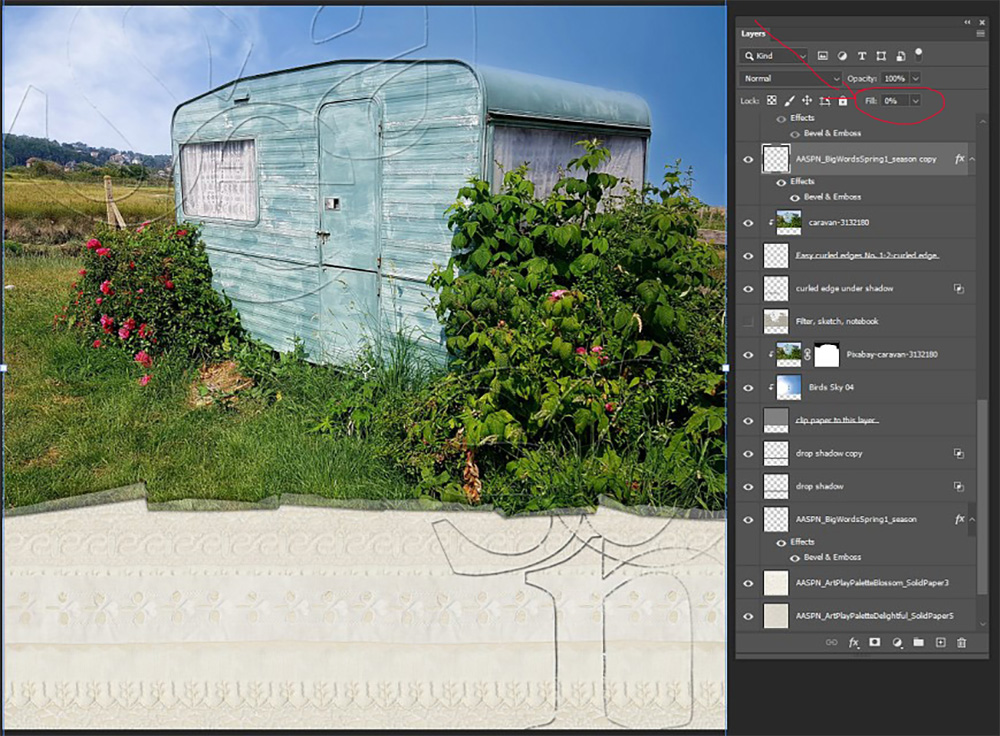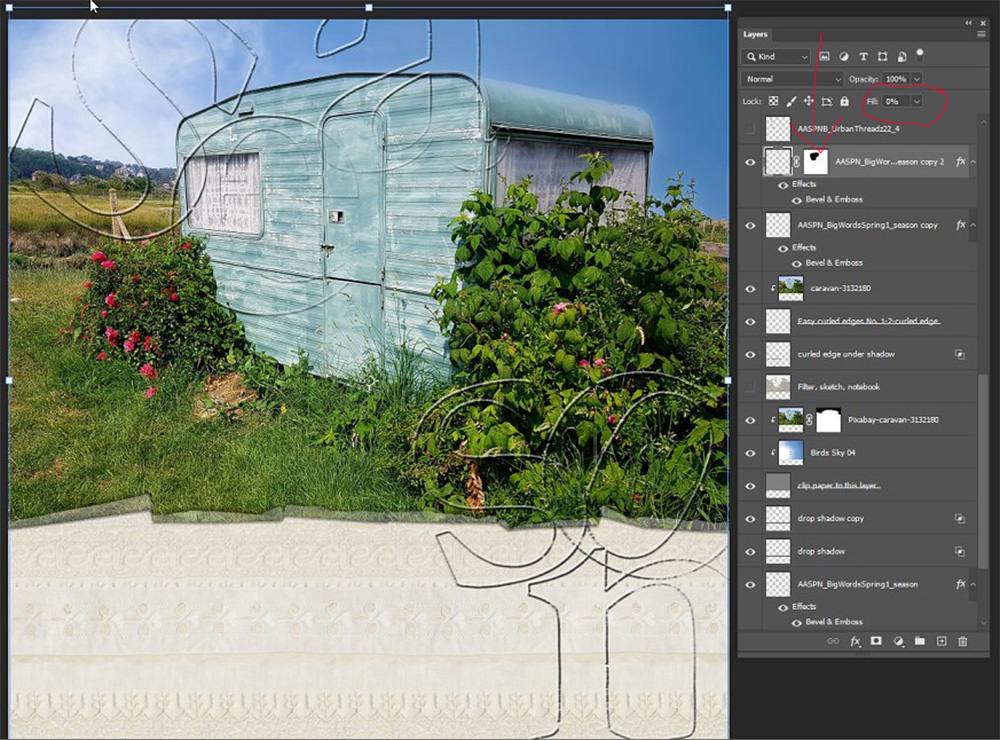 3. Create a Title
Choose 2 fonts that work well together.
Select a Key Word/Phrase which will be The Most Important word or words, such as 'nature.'
Use a decorative or striking Script font for this word or words, such as a Clarins Script font.
Increase the Visual Weight by making the text Larger or changing to a bold Color.  
Choose a Serif/Sans Serif font such as Clarins Serif for the remainder of your title.
Note.
In this example, Clarins Handdrawn Font Duo was used.
Arial Narrow was used for the author of the quote and in a much smaller font.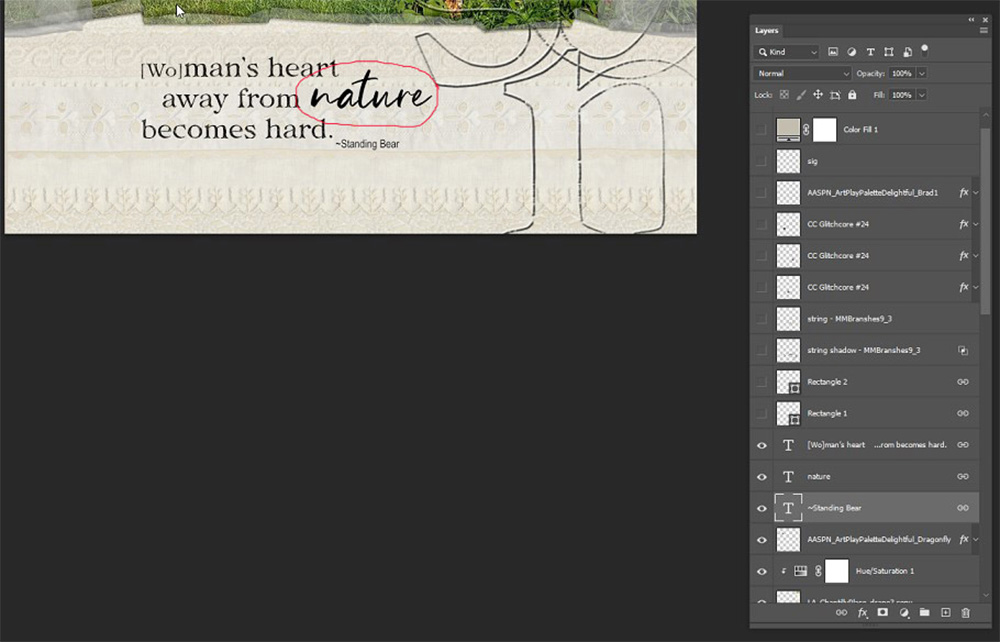 4. Emphasize Words
Use the Marquee Tools to circle or draw a box around words in your digital scrapbooking layout design.
Apply Subtle emphasis to words in your digital scrapbooking titles.
Select the Rectangular/Eliptical Marquee Tool from the Tools Panel and draw a rectangle/circle around each word you wish to draw attention.
Choose No Fill and and apply 1 pixel Line or to preference.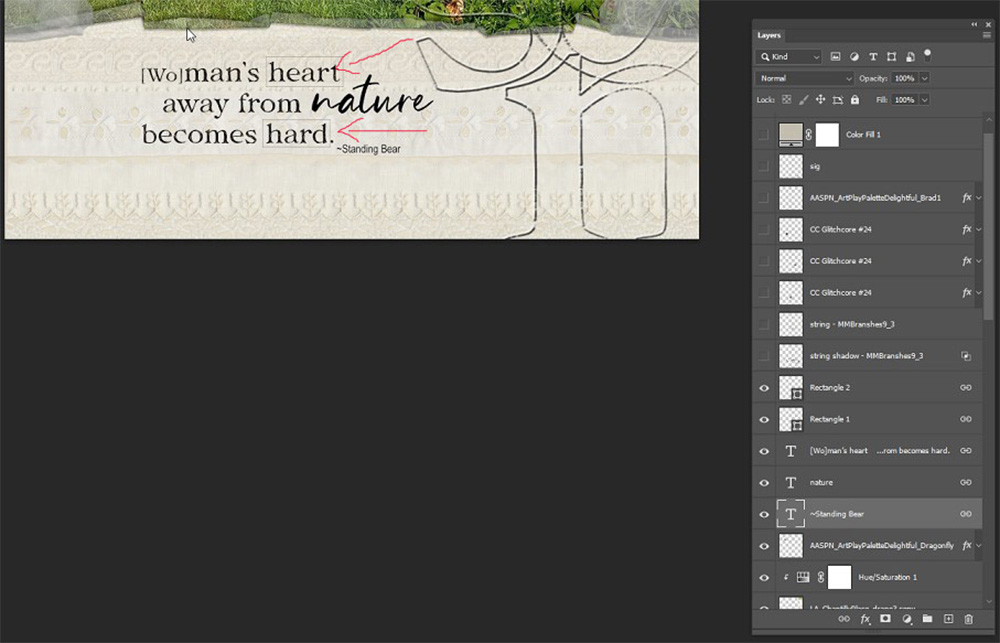 5. Recolor Text
Change the color of your font to preference and support your digital scrapbooking layout design and theme.
Select your text using the Text Tool in the Tools Panel.
Click on the Text Colour box at the top of your screen in Photoshop (the bottom of your screen in PhotoShop Elements.)
Sample a color from your digital scrapbooking page by moving your cursor over your page.
Notice that your cursor will transform into an Eye Dropper enabling you to select a color.
Click on this area (or ALT+CLICK) (OPTION + CLICK) to select.
Note.
If you are using WordART element:
Go to Edit> Fill> Color.
Click on the Contents drop-down menu and select Color to activate the Color Picker.
Sample or choose a Color by clicking in the dialogue box and click OK.
Ensure the 'Preserve Transparency' box is checked.
Black is my go-to WordART color, but you may also prefer a Dark Color Variation from your digital scrapbooking page.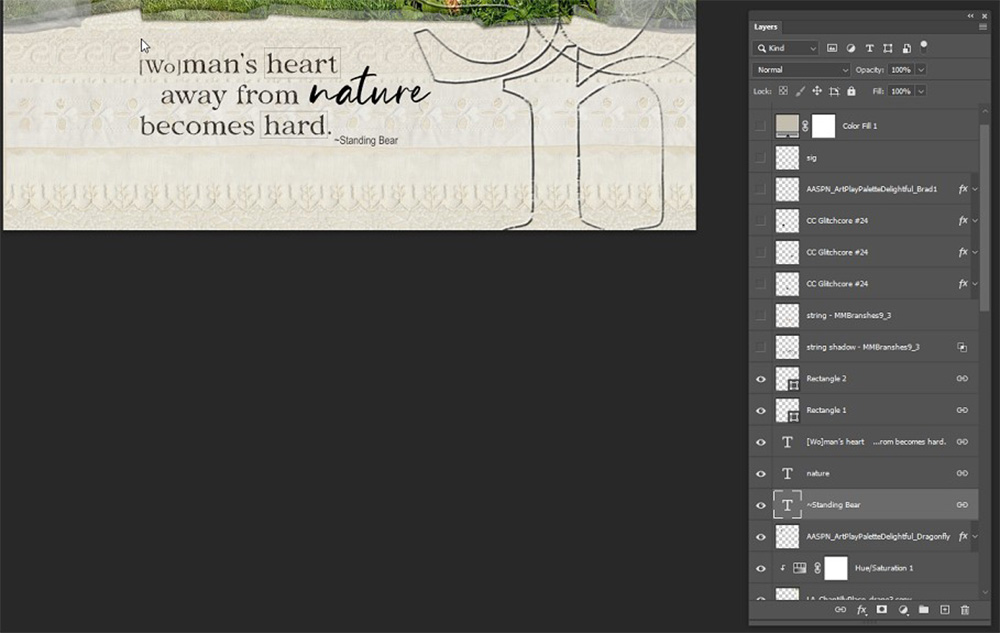 6. Modify a Quote
Adjust a quote to suit your theme and the message conveyed.
For example, the quote is "Man. . . "
I wanted to change the word to "Woman" with the intention of Honoring the original quote.
Choose the Text Tool from the Tools Panel and select the text you want to change.
Type any additional text and reduce the Font Size at the top of the screen in Photoshop or the bottom of the screen in Photoshop Elements.
Notice how I have placed the additional letters in Brackets to denote the addition to the original quote.
This necessitated a shift in Placement of the other words in the title ensure the words all fit well together.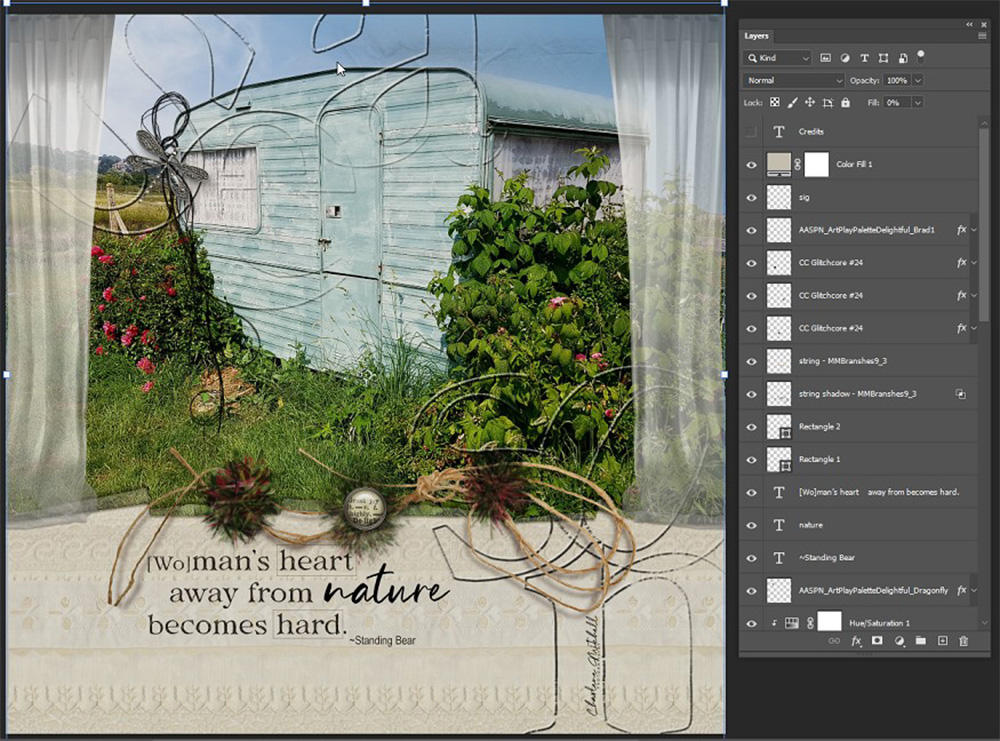 7. Additional Ideas
More ways to add text to your digital scrapbooking page.
Use LabeledWords from ArtPlay Palettes to provide additional context to titles.
Matte your titles with ScriptTease or WordStrip elements.
Emphasize your titles with WoodWords from WordART to create variation in your type designs.
Embellish your layouts with Monograms via Type or AlphaSets.
Create your own Focal Words using AlphaSets.
Note.
Sometimes just ONE small adjustment can have the biggest results.
See also:
See this Gallery Post for a detailed supply list for this layout
Further examples are:
Summary
Words impact the visual interest of your digital scrapbooking pages.
Select words or typography that is Interesting on its own.
Apply Special Effects such as Layer Styles or Blending Modes.
Choose fonts that work well together.
Create Emphasis through small adjustments.
Recolor your text to support your Color palette.
Customize words using Shapes or Brackets.
Vary the Type of elements used to foster Visual Interest.
SEE ALSO:
Got a question about 5 Ways to Add Text to your Digital Scrapbooking? Please post below.