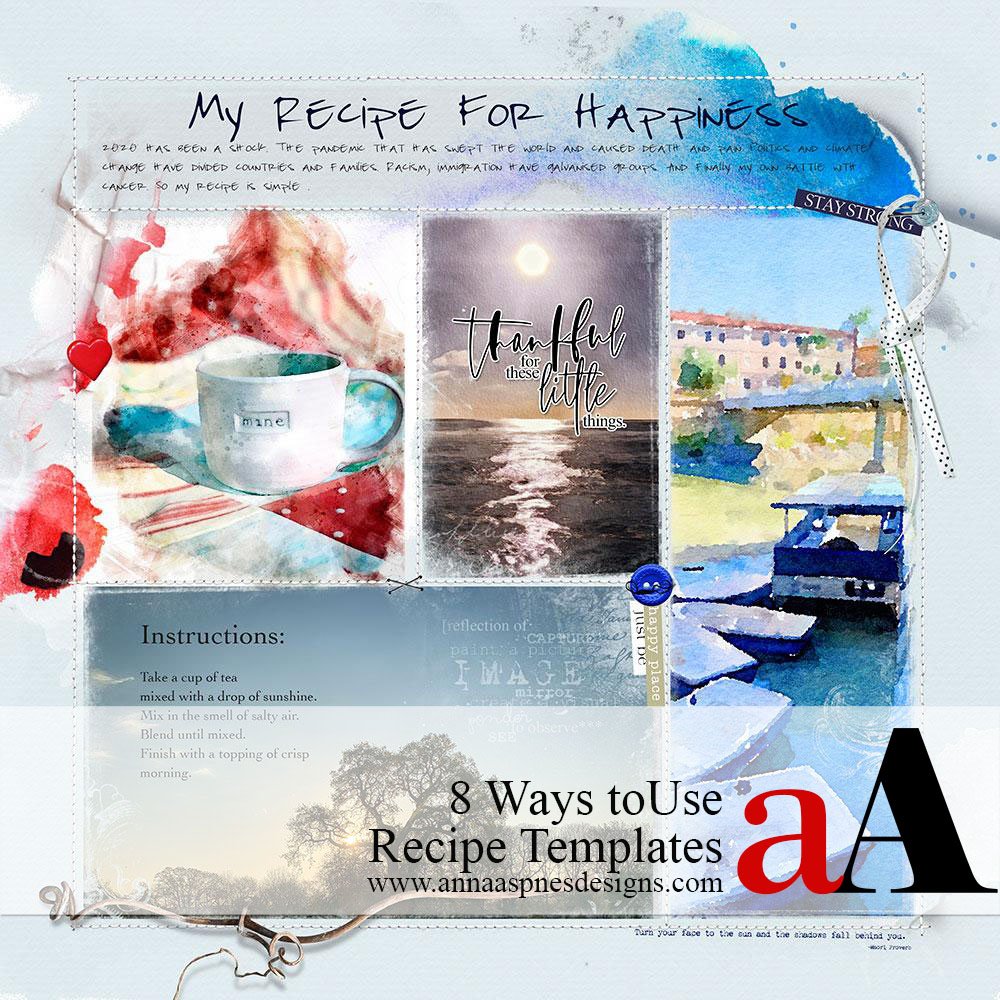 Happy Monday! Today we're sharing 8 Ways to Use Recipe Templates.
8 Ways to Use Recipe Templates
Introduction
Ideas and inspiration for using Recipe Template Pack No. 1.
Encourages you to:
Think 'outside-the-box' in HOW you can use theme specific templates.
EXTEND the usage of your templates beyond the suggested theme.
Have fun telling stories in UNIQUE and different ways.
1. Organize Your Recipes
Get those favorite recipes into a beautiful photo book or album and throw away those scrappy bits of paper.
Print a book for yourself and duplicate COPIES to make multiple personalized Holiday Gifts.
Use the templates individually to accommodate 6 recipe OR span your recipes across 2 pages and include more photos.
REPEAT the use of the templates to ORGANIZE and accommodate your recipe collection.
Try This:
Create a small digital artistry COMPOSITE to support your recipe text and photo.
Combine an Artsy Paper background with embellishments to support the theme.
Switch up the PLACEMENT of  ingredients/instructions text with your photos as needed.
2. Add Personal Anecdotes
Personalize your recipes with your own notes and observations.
Copy and paste or type YOUR recipes using the text boxes provided.
Number the STEPS or use bullets if preferred
Modify the SHAPE and SIZE of the text boxes to support your recipe text.
Try This:
3. Artsify The Experience
Use DigitalART to inject visual interest into your artsy digital scrapbooking designs.
Include your MEMORIES wherever possible to personalize and entertain your family and friends.
Support your recipes with FREE images from the internet with Finding and Using Photo Resources.
Use embellishments to add TENSION into your layout design.
Try This:
4. Be Your Own Chef
Create your own recipe for a special day or event.
This is a FABULOUS way to document special traditions in your family to create a unique artsy digital scrapbooking layout.
Don't just include the HOW, but the also the WHY, to pass on Life Lessons and your 'moral code of conduct' to future generations.
Include photos of your people to further PERSONALIZE your recipe for magic and happiness.
Try This:
Place your elements along the Stitched Grid Overlays to accentuate ALIGNMENT.
Notice how the embellishment cluster also Draws The Eye into the artsy digital scrapbooking layout design.
SUPPORT bright colors such as red with similar colored design elements in a Visual Triangle design.
5. All About You
Create a your own recipe about you using a visual story-telling approach.
Try This:
Extend your photo artistry beyond the stitched grid overlay.
Notice how the DigitalART and photos 'spilling out' from behind the stitching softens the sharp lines.
Clip your photos to FotoBlendz masks or add elements such as Transfers and Overlays.
6. Celebrate The Seasons
Document how your culinary tastes change with the Seasons.
Combine seasonal photos with the foods you are enjoying RIGHT NOW.
Capture the DETAILS in documenting a part of your day at particular time of year.
Take photos of all the little things that you LOVE.
Try This:
Capture the normal mundane every day photos of your surrounds.
Notice how Diane has included images of both inside and out to share her morning routine.
Choose warm or cool color palettes to mirror MOOD and support your THEME.
7. Document Travel
Collect and include recipes from adventures far and wide as well as closer to home.
Try This:
Use the same MOTIF to lead the eye through your artsy digital scrapbooking layout.
Add slight variation in the REPETITION to yield visual interest.
Notice how Margo has used lace multiple times but in DIFFERENT ways throughout her design.
8. Embellish Your Instructions
Create recipes that extend beyond the scope of food and document them in your artsy digital scrapbook.
Focus on how-to's and instructions that encompass your skills, passions and hobbies.
What unique skills do you have that future generations might want to know?
Create a single page or an entire photo book collection.
Try This:
Summary
There are SO many ways to use these templates some of which also extend beyond food.
Organize and 'artsify' your unruly collection of recipes into a book or album.
Incorporate these templates into your memory keeping to provide a unique approach to telling your stories.
Extend the scope of what 'recipe' means, to how-tos, rules to live by and beyond…
See also:
See more artsy digital scrapbooking and photo artistry inspiration in the Gallery.