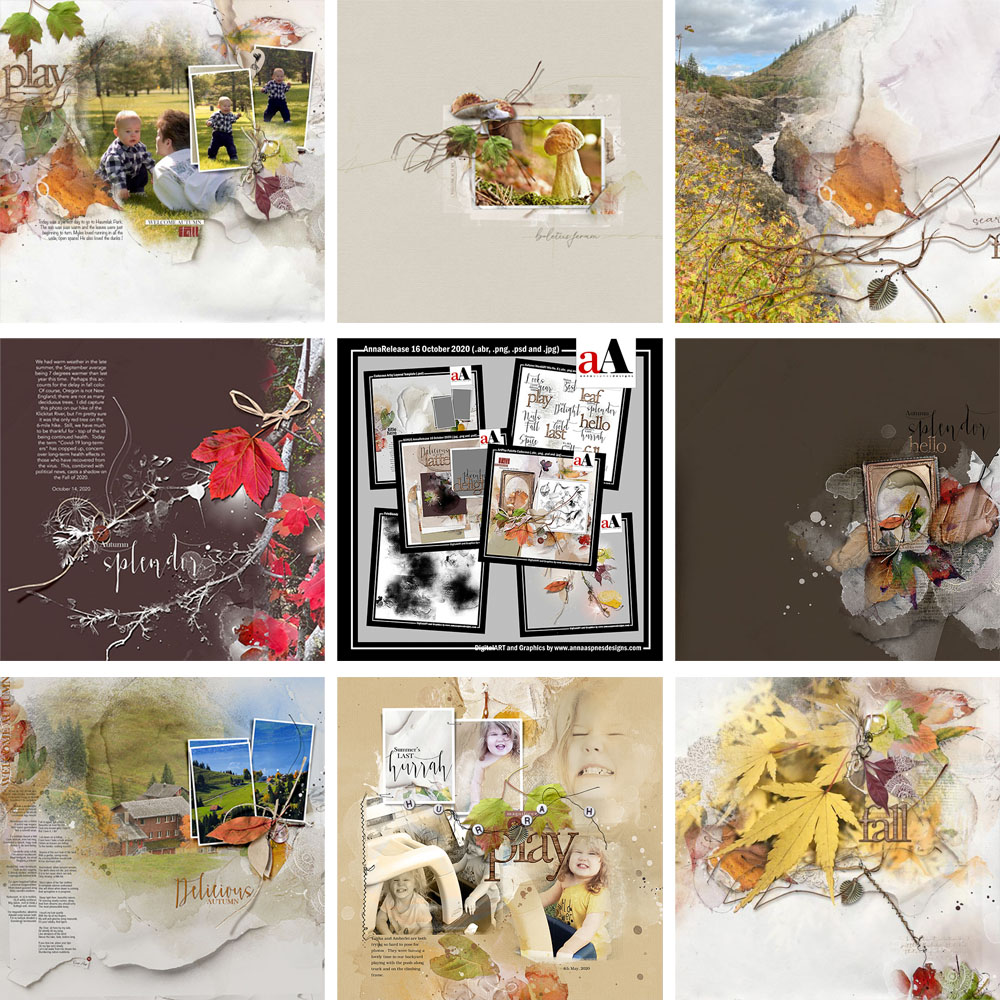 Happy Monday! Today I'm happy to be sharing ArtPlay Caducous Inspiration.
This post is intended to give you guidance on using the latest ArtPlay Caducous Collection to arrive in the Anna Aspnes Designs store at Oscraps.
ArtPlay Caducous Inspiration
Click on the images below to access complete digital design supply lists and process notes.
1. Lead the Eye
Place elements with distinguished LINE to intentionally move the eye.
Notice how the stitching connects the photo to the MultiMedia element.
This then 'moves the eye' down through the string to the bottom of the photo artistry design.
It almost completes a 'full circle' through the all the Focal Points.
See also:
2. Extend the Theme
Use digital elements to extend your photo and support the theme of your artsy digital scrapbooking layout.
Notice how Diane has used Elements and a Transfer from ArtPlay Palette Caducous to support her photo.
She adjusted the color of the leave element to better mirror the red leaves in her imagery.
Winter Branches No. 1 Photoshop Brushes with the application of a Drop Shadow Layer Style extend the Theme of her design.
See also:
3. Play with Color
Use your 'creative license' and pick a totally fun colored background.
Notice how Laura's color choice mirrors some of the ACCENT colors in her artsy digital scrapbooking design.
This in turn create a Visual Triangle which leads the eye around the parameters of her masked photo.
It also provides an unexpected element of TENSION to the photo artistry.
See also:
4. Modify your DigitalART
Use the tools in Photoshop to adjust your digital assets to better support your photos.
Ulla-May rotated a clipping mask from FotoBlendz Overlays No. 17 to change the ORIENTATION to landscape.
She also blended 2 papers using Blending Modes to create her layout foundation.
Notice how this increases the depth of color to better support her photo.
See also:
4. Frame with Textures
Use paper texture brushes or overlays to frame your blended photos.
She duplicated the layers and applied Blending Modes to enhance COLOR and increase DEPTH.
A 'Paper Texture' overlay from ArtPlay Palette Caducous was used to frame the masked photo in her artsy digital scrapbooking design.
See also:
Want More Photo Artistry and Digital Scrapbooking Inspiration?
Find more ArtPlay Caducous Inspiration in the AnnaGallery, the AnnaTeam Layouts board on Pinterest.
We invite you to post your pages and share your digital scrapbooking and artistry to uplift and inspire.