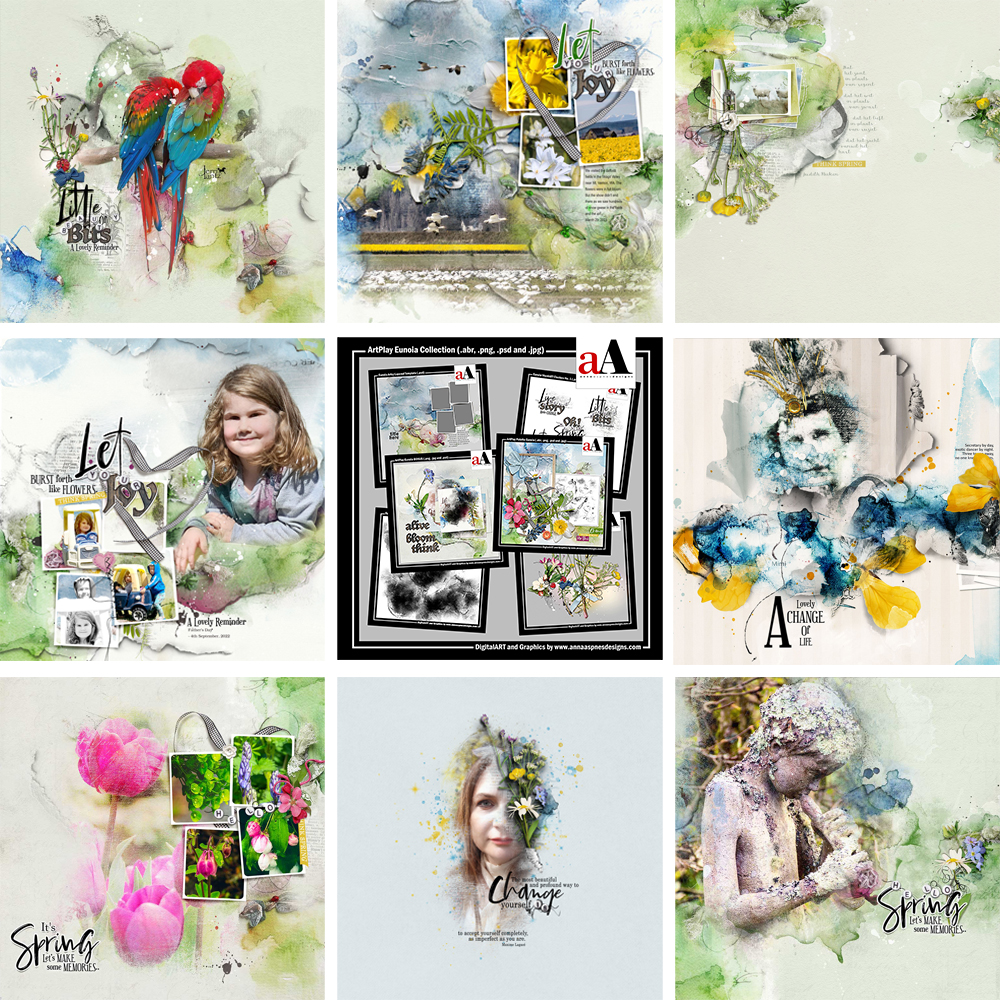 ArtPlay Eunoia Inspiration for digital scrapbooking and photo artistry in Adobe Photoshop and Elements.
This post is intended to give you guidance on using ArtPlay Palette Euonia and co-ordinating digital assets.
ArtPlay Eunoia Inspiration
1. Encircle for Emphasis
Use elements to encircle focal point to create emphasis in your photo artistry.
Notice how Michelle has placed the heart ribbon Around the 'joy' component of her Eunoia WordART Cluster.
This not only Leads the Eye to this element but the ribbon also Connects and creates 'relationship' with her Focal Image.
The Off Center positioning also adds Tension and therefore visual interest to her digital scrapbooking page.
SEE ALSO:
2. Frame Element Matte
Layer multiple frames on top of one another to create an interesting focal point in your digital scrapbooking pages.
Notice how ViVre has layered multiple Template frames on top of one another and clipped Artsy Papers to the mask layers (instead of photos.)
The Rotation of the frames increases visibility of the artistry and creates variation within the photo artistry.
The slightly smaller differing Focal Frame is then encircled by the stitching to create Tension.
SEE ALSO:
3. Embellish With Color
Inject a visual interest into a poor quality photo using bright colored digital art supplies.
Strategically place color according to Design Principles and use Visual Triangles to Lead the Eye.
Notice how the 'Pop' of Color grab your attention as you look at this photo artistry design.
Also see how Adryane has Embellished her subject's head 'gear' with digital art.
SEE ALSO:
More Inspiration
Click on the images below to access complete digital design supply lists and process notes.